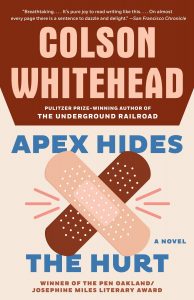 Double-Pulitzer winning author Colson Whitehead's 2007 satire novel Apex Hides the Hurt centers around an African American nomenclature consultant, whose crowning achievement was naming a new multicultural bandage that revolutionized the adhesive bandage industry. Flesh-colored be damned – no matter your skin tone, Apex will match it, or your money back.
The discussion over "flesh-colored" band-aids is not new. In 1968, African American comedian Nipsey Russel asked the following question of Band-Aid salesman Both Cuthbert during an episode of game show What's My line?
Nipsey Russel: "Do you have a flesh colored band-aid?"
[Audience and Cuthbert laugh.]
Nipsey: "I dare you to say yes."
[Audience laugh, applaud and cheer.]
Bob Cuthbert, donning a perfect salesperson's smile: "Nipsey, we make Band-Aid brand sheer strips which blend with any color skin."
Of course no transcript can ever do a heated moment justice, and the clip is well worth watching.
So it is with great pride that Johnson & Johnson announced this week, that it will "embrace the beauty of diverse skin" and release BAND-AID® Brand Adhesive Bandages* not just in transparent plastic, but also in a variety of light, medium and deep shades of brown and black skin tones. The timing is perfect, coming in the midst of the current (June 2020) Black Lives Matter protests sweeping the US.
A 1955 ad for J&J Band-Aids. "Neat, flesh-colored, almost invisible"…if you're white.
Previous Attempts at Skin Tone First-Aid Strips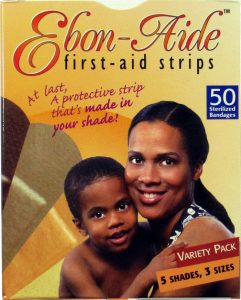 It is worth noting, as pointed out in reactions on social media, and covered in HuffPo and other sources, that competitors Browndages and Tru-Color have been available for years. They're sold both direct to consumer and through big chain stores like Target, and there is something to be said about supporting smaller companies over congolmerates, though this creates a cost barrier and distribution uncertainty for consumers. What current coverage fails to mention is the history of one such failed competitor, Ebon-Aides, which in the late 90s not only led the way with darker toned products, but successfully convinced national chains like Walmart and Rite Aid to stock their range. Unfortunately, the stores didn't place the products on shelves with the Johnson & Johnson items, instead placing them in specialty sections for African Americans and Hispanics. No doubt also hindered by the poor branding (name, logo, design) within a few years the company had only sold 2% of the 1 million boxes made, and the company folded in 2002.
For Johnson & Johnson, I have no doubt other color band-aids were already in the works, especially after one man's social post on the emotional impact of having a Tru-Color brand band-aid in his skin tone went viral, just 14 months ago.
It's taken me 45 trips around the sun, but for the first time in my life I know what it feels like to have a "band-aid" in my own skin tone. You can barely even spot it in the first image. For real I'm holding back tears. pic.twitter.com/GZR7hRBkJf

— Dominique Apollon (@ApollonTweets) April 19, 2019
Proving that the post went truly viral, emotional replies and reactions themselves also went viral.
Why Did Skin-Tone Band-Aids Take So Long To Come To Market?
Was Nipsey Russel's public question to Johnson & Johnson in 1968 heeded? To quote LA marketing consultant Harry Webber, the person responsible for the advertising of Johnson & Johnson's Band-Aid from 1963 to 1968, the product's "flesh color" shade was "a non-issue" during his the time he was promoting it. "Johnson & Johnson's consideration was this was a mass market product, and as mass market product you look at what is the largest faction of that market and you create the product for that faction," he said. "So for non-whites, at that time being between 12 percent and 15 percent of the total population, there was no way anybody was considering making a Band-Aid Brand adhesive bandage to mask the color of skin that is the complete spectrum, from pink to ebony." Read the full piece at The Atlantic. 
For comparison, in the 2010 US census (the most recent year for which data is available), 28% of the population identified as non-white, and white births have been the minority since 2012. With 64% market share in 2013, it's great to see Johnson & Johnson, the market leader in adhesive bandages taking this step, even if it is a century late.
---
Tesco Brings Skin Tone Plasters to Mass Market in the UK
On February 24 2020 British supermarket chain Tesco launched their own home brand fabric plasters in stores.
According to The Gauardian chair of Tesco staff network Paulette Balson said: "No UK supermarket had ever stocked plasters in a range of skin tones before and we saw this as an opportunity for Tesco to lead the charge and make a genuine difference. Through our research, we know how emotive a product like this can be. For example, one colleague reported that their child had felt self-conscious wearing a plaster on their face to school recently, because it didn't match their skin tone and stood out."
Nicola Robinson, health, beauty and wellness director at Tesco, commented: "As one of the largest retailers in the UK, we understand that we have a responsibility to ensure our products reflect the diversity of our customers and colleagues.
"We believe the launch of our new skin tone plaster range is an important step and a move that we hope will be replicated by other retailers and supermarkets across the country." It's generally in sustainability, safety and labor practices that a brand hope to lead industries forward and set a new trend, though we sometimes see this in product range or diversity.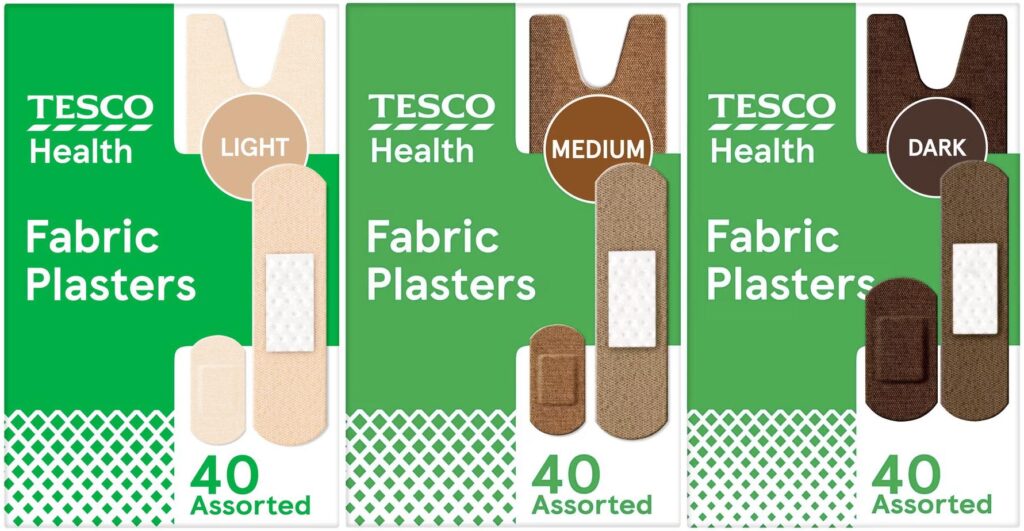 Tesco has stores in the United Kingdom, Ireland, the Czech Republic, Hungary, and Slovakia.
Skin Tone Band-Aids Come to Mass Market Globally
Lagging over 1 year behind Tesco, Johnson & Johnson launched the OURTONE product line globally in April 2021.
For more information on the launch, check out essence.com's exclusive interview with J&J VP of Marketing Dawn Hampton.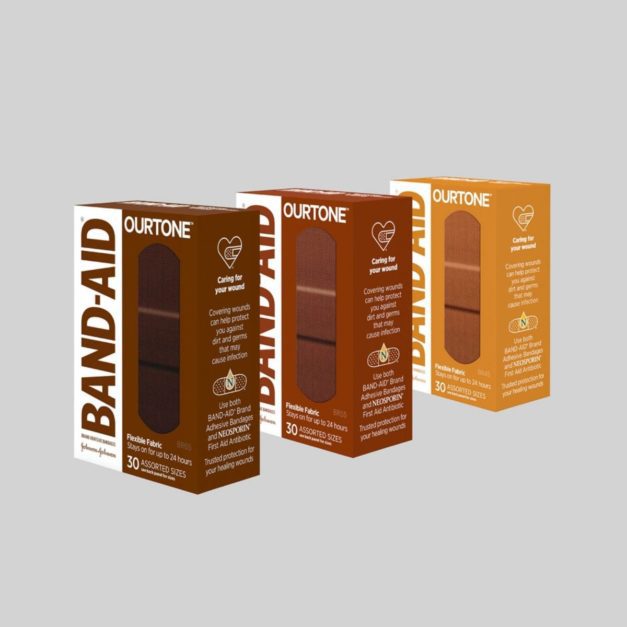 ---
Confused about the term "band-aid"?
Originally a protected trade-mark of Johnson and Johnson, the term has become genericized, making its way into everyday English in the US and Australia, along with other terms like "hoover" to mean vacuum cleaner, and "kleenex" to mean facial tissue. As a result, Johnson and Johnson always use the special capitalization and full phrase "BAND-AID® Brand Adhesive Bandages."
Further reading: Skin Tone Crayons and Makeup:
Crayola Launches Box of Crayons with Diverse Skin Tones to 'Advance Inclusion in Creativity' | People.com
Crayola also plan to sell a 32-count pack, comprised of 24 skin tone colors plus an additional four hair and eye colors.
The Story Behind BAND-AID® Brand OURTONE™ Adhesive Bandages | Johnson & Johnson
How Inclusive are Makeup Brands? | Good Marketing Club