As a kid, I was an absolute sucker for McDonald's toys and amassed a pretty solid collection of toys over the years. KFC and Hungry Jacks (Burger King) had some good toys over the years as well, but McDonald's was the most consistent in quality and is definitely their "Happy Meal" brand that everyone remembers. Not the Hungry Jack's "Kids Club Meal" or just "Kids Meal" as they call it today or the KFC "Fun Bucket" which now seems to also be called "Kids Meal" and no longer include toys.
I know there is controversy about marketing junk food to kids and I personally still let a good kids meal toy dictate my buying habits (such as the 2019 Detective Pikachu toys at Burger King/Hungry Jacks). But let's ignore the current climate and talk about these toys in the context of the time period it came out which was the late 1980s.
McDonald's Changeables Happy Meal Toys
These are essentially toys of McDonald's food items that turn into simple "Transformers" style robot characters. There were 3 series of these released in 1987, 1989, 1990. This series, though over 30 years old would still make a great Happy Meal toy today and I'm disappointed McDonald's never tried to do these again (excluding the 1993 Food Fundamentals toys), as they seem to only do toys for 3rd party licenses now.
McDonald's Changeables Happy Meal Toys Series 1 (1987)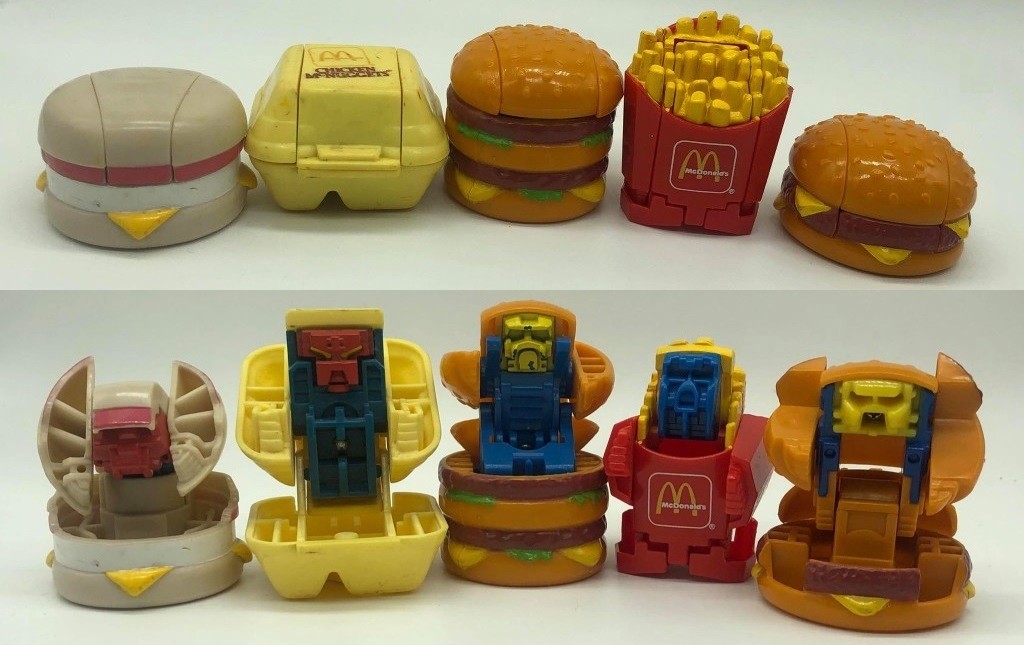 his is probably the more iconic of the 3 sets. It includes some of McDonald's most iconic menu items. Part of what makes these toys great is that most of them still resemble the modern menu items today, except for the McNuggets box which is no longer made of polystyrene and is now more biodegradable cardboard.
Big Mac Burger
Large Fries
Chicken McNuggets Box
Milk Shake (not pictured)
Egg McMuffin
Quarter Pounder
McDonald's Changeables Happy Meal Toys Series 2  (1989)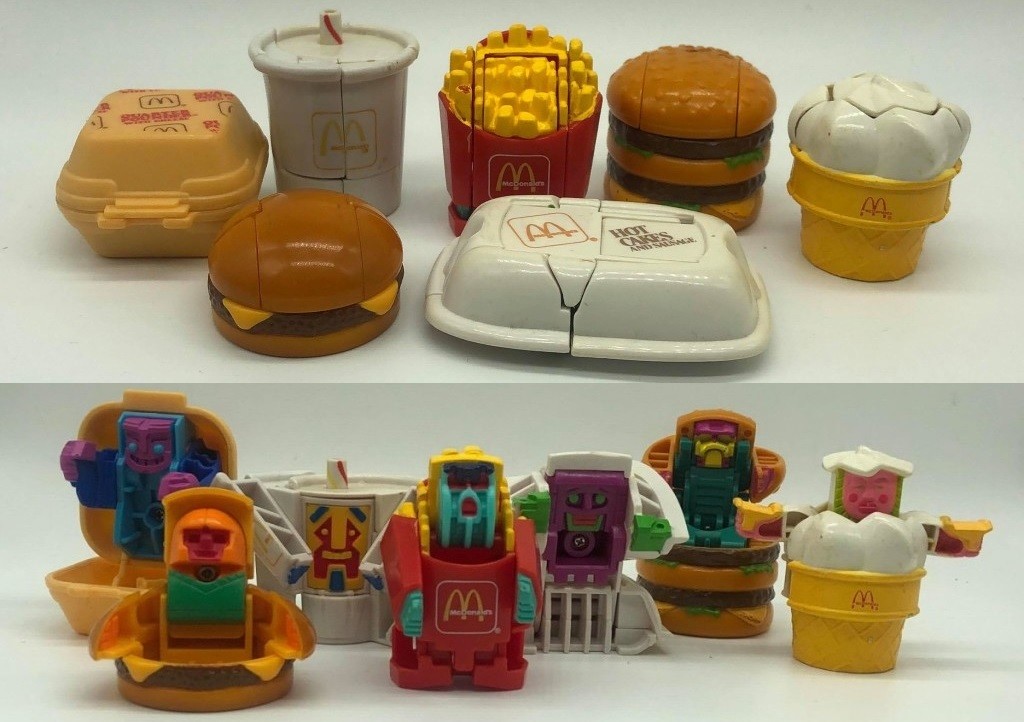 This time they rereleased two of the original toys where the robot part was in different colours and also added character names to each toy. Again it features a toy in a Polystyrene box, but the rest still look pretty similar to their contemporary menu items. This series introduced more colours to paints and plastics used on the robots.
Macro Mac (Big Mac recoloured)
Fry Force (Large Fries recoloured)
Krypto Cup (Small soft drink)
Fry Bot (Small Fries)
Gallacta Pounder (Quarter Pounder Polystyrene box)
C2 (Cheeseburger)
Turbo Cone (Ice Cream)
Robo-Cakes (Hot Cakes)
McDonald's Changeables Happy Meal Toys Series 3 (1990)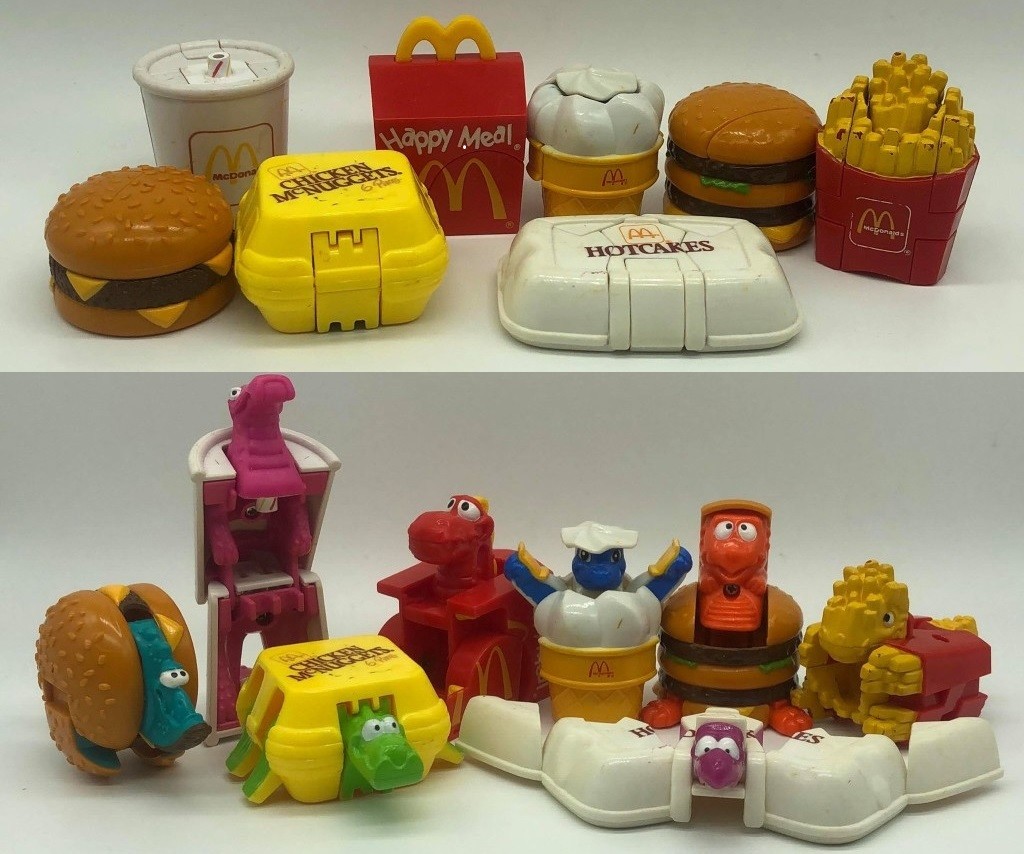 This time they changed it up a bit replacing generic robots with dinosaurs and doubling down on the questionable character names.
Happy Meal-O-Don (Happy Meal Box)
McDino Cone (Ice Cream)
Hot Cakes-O-Dactyl (Hot Cakes)
Fry-Ceratops (Large Fries)
Big Mac-O-Saurus Rex (Big Mac)
Tri-Shake-Atops (Milkshake)
McNuggets-O-Saurus (McNuggets Box)
Quarter Pounder with Cheese-O-Saur (Quarter Pounder With Cheese)
Plus there were two non-transforming toys for children under 3 – Bronto Cheeseburger and Small-Frycerotops, but I've never come across these in real life. I don't recall if Australia, it seems these toys came with a coupon book for discounted products in the USA. Perhaps my dad brought these back from a work trip for me.
Why McDonald's Changeables Were So Great?
If you Google any list of There are multiple reasons why these are such a good promotional toy. Some reasons may be less obvious than others.
Playability
There is no denying these toys are inspired by the Transformers, Go-Bots and other transforming robot toys that were already popular in the 1980s. These toys, especially wave 1 and 2 could easily be mixed in with collection of Transformers toys. The small size of these worked well with the scale as well.
Quality
The engineering on these toys is great. Each toy has about 3 moving parts for simple transforming and they were so simple to transform, anyone could figure them out. The quality of the plastic was also particularly good for a fast food toy, ensuring they were durable enough to easily last 30+ years.
Brand Awareness
This is the part that might worry some parents today, but for McDonald's itself, it was genius to produce such good quality toys that promote their own food products.  What better way to keep McDonald's food top of mind than by getting toys that look like your products into the toy boxes or shelves of your target demographic.
Other Transforming Happy Meal Toys
I feel like this style of Happy Meal Toy could have continued beyond 3 series. If series 3 had dinosaurs, why not do a season 4 with other animals? or the McDonaldland characters? Or maybe some different menu items or more in their packaging.
They did release other transforming toys over the years, but never anything as cool as the Changeables.
McDonald's Food Fundamentals Happy Meal Toys (1992)

In 1992 McDonalds released a collaboration of toys that represented each of the food groups in partnership with the American Dietetic Association. This seems bizarre as most of these products are food items that you could not buy at McDonald's, especially in 1992. Each also came with a leaflet about health-related tips. I guess McDonald's really wanted to look like it was trying to care about the health of children? These toys are quite disappointing as they permanently have their faces visible even when transformed. All you do with them is hide their arms and legs inside their bodies. This was so unremarkable I didn't even bother taking a photo of them folded up. There's a few more in the set, but they're not worth seeing.
Transformers McDonald's Toys

Over the years, McDonalds and other fast food chains have produced over 30 sets of officially licensed Transformers figures, but most of them are pretty basic and nowhere near as fun or interesting as the old Changeables figures. This includes many figures that don't even transform from the recent Michael Bay films and newer TV shows. Whilst some have charm in their own way, most seem a little disappointing and will not be remembered as fondly as the Changeables. Above is one from the 2004 Transformers Energon series which included removable Energon cubes that light up and can be swapped between figures.