There is absolutely no denying the power of the Yellow Pages in the late 1900s. As we now enter the third decade of the 2000s, It's safe to say that the Yellow Pages has not been relevant or worthwhile in decades.
What is the Yellow Pages?
Historically, this directory was a massive book of local businesses categorised by what they do, eg. dentists, electricians, plumbers, pest control are all typical businesses that used to spend heavily in the Yellow Pages. By default, everyone would be categorised alphabetically and to stand out, you can page extra to have larger fonts, or images with your listing to make your ad stand out. The Yellow Pages website has a style guide which they've not updated since 2016, which is kind of awkward given that was now 5 years ago. You can kind of tell they've given up on their own flagship product.
Another common trick used by Yellow Pages customers in the past was to game their way to the top of their category list by adding lots of "A" letters or "A1" to the front of their business name, making them come first alphabetically. You can still see businesses around today with names like this that are clearly inspired by gaming the system here.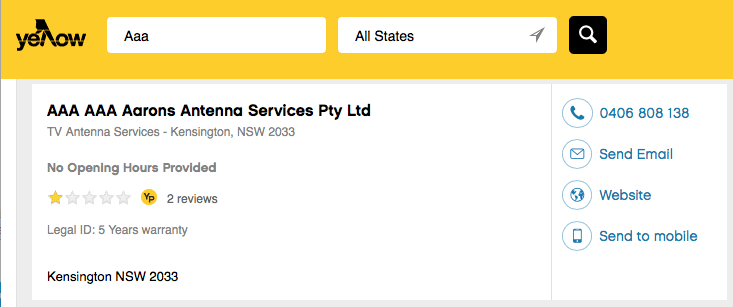 Shops and schools and all other types of businesses would also appear, but might not bother spending as heavily as these smaller trades used to.
Why is the Yellow Pages dead?
The rise of the internet has made Google and its products like Google My Business and Google Maps become the way most people search for a business or service. These services are free and with Good SEO you can optimise your profiles to get more traffic. Unlike the print version of the Yellow Pages, you can also see reviews on a Google My Business profile, allowing for you to get an idea of quality for the service, whilst Yellow Pages listings didn't give you an idea of quality, only an indication of their marketing budget.
In Australia, you no longer get the Yellow Pages delivered to your door each year. In around 1997 or 1998, my Scout troop used to go around on the back of trailers delivering the Yellow Pages or White Pages to all the houses in our suburb, which was a fundraising exercise for us. Even back then, I noticed that as we were delivering these, many houses had dusty copies of these massive books sitting outside their houses from past years. As these were delivered to everyone, many people who didn't want them were receiving them anyway.
Public payphones used to have a copy of the Yellow Pages and White Pages in them which you could use to find whoever you're trying to call. Public payphones are now very rare themselves, I'm not sure if they still have books with them.
Nowadays the Yellow Pages are mostly online. You can pay for better visibility on their category listings online like you could with print, but the chances of getting customers from this company seem slim. As a test, I just did a Google search for "Dentist Werribee" to see how the Yellow Pages website ranked for this term for dentists in my home town and it was at the very bottom of page 2 of Google in position 19. I just did another test for "Plumber South Melbourne" and found Yellow Pages in position 5, which is a much better ranking, but when given the opportunity to look at a list of plumbers in South Melbourne when you're already looking at a list of these on Google, wouldn't you prefer to check out their website for all their services and particular information, rather than reading a small description and performing additional steps and winding up back on their site via the Yellow Pages site? This might be a good way to quickly call for several quotes in a row, but it is surely not the behaviour of most users.
It could be argued that there's still some branded search traffic to the Yellow Pages website, people who work there would likely want to promote this fact, but according to SEMRush data, a large chunk of these searches seem to be for the phone number for the company, probably from their own customers looking to cancel or renew their services.
Are the Yellow Pages still being Printed in Australia?
The Yellow Pages is now an opt-in service, which is a great outcome for the environment. Whilst I'm sure the Yellow Pages would be printed on recycled paper, it's still a waste of recycled paper when it's getting delivered to people who don't want it. Modern Yellow Pages books are now much slimmer than they used to be as fewer and fewer businesses add themselves to the print version each year.
How to get a Yellow pages Phone book
If you want to order a physical copy of the Yellow Pages, it's actually a bit tricky to find how to do it on their website, but if you check in their footer there's the option to "order or cancel the book" which will take you to this website below:
https://www.directoryselect.com.au/action/home
Here you can order your own copy of the Yellow Pages or White Pages for your home or business.
Phone Number for The Sensis Yellow Pages Australia
Since a lot of people seem to have trouble finding the Yellow Pages phone numbers here they are.
Yellow Pages Australia sales number – 132 489
Yellow Pages Australia customer support – 1800 359 321
Should you use the Yellow Pages for your business in 2021 and beyond?
The free listings in the Yellow Pages are still worthwhile. From an SEO point of view, this is perhaps the best business directory website for submitting your website for NAP consistency. NAP stands for Name, Address, Phone number which is very important for making your Google My Business profile rank well in Google. All businesses should still be on the Yellow Pages website in a free capacity, but unfortunately, the paid benefits are not what they once were and there are many more effective ways you can spend your money.
Does a link from the Australian Yellow Pages help your SEO?
The links to your website on the Yellow Pages website are tagged with rel="nofollow" which means that the link does not pass SEO value to help your site rank better in Google. It is just a good local citation.
If your business has had great experiences with the Yellow Pages in the 2020s, I'd love t o hear from you. I'm sure there are some niches, such as services for the elderly where the Yellow Pages still has an audience.
My experiences with the Yellow Pages
Whilst this article probably makes me sound I dislike this brand, I have a lot of respect for it and what it had achieved in its heyday. As mentioned earlier, I look back fondly on my memories of riding in a trailer handing out Yellow Pages books with my local Scout group. The Yellow Pages was also the topic of the first-ever article I wrote for this site and an experience with them helped me get a new job once. Read on for my mildly interesting anecdotes.
Attempting to solve an issue with a Yellow Pages listing for one of my SEO clients in 2015 actually helped me land a client-side job at Australia's 3rd largest real estate portal, which was great for my career. This happened when a childcare franchise client of mine was not appearing in Google Maps for one of its locations, despite permanently closed competitors appearing. I noticed that their Yellow Pages listing was not complete and was categorised as an aged care facility, not a childcare facility. I got stuck in a loop of customer service incompetence passing me between departments back and forth for days. The profile was not complete and there was no owner name associated with the profile, they could not talk to me as I was not the owner of the business. But because there was no owner of the business listed, they would not speak to the owner either. Luckily I knew a senior manager there who I contacted on LinkedIn with who I was able to discuss the issue with and he was horrified at how unhelpful his customer service was being and got it sorted. He also put me in touch with a recruiter he knew who was hiring for that real estate portal, and soon after I was in my new job.
Once at the real estate portal I worked at, I recall our CEO who was in his 60s once made a big fuss about having a paid listing in the Yellow Pages. This was at a period when our marketing budget was cut very thin. The irony of paying money to have your wholly online business listed in the Yellow Pages book was completely lost.
The first article I ever wrote for Good/Bad Marketing was about their highly memorable "Not Happy Jan" ad from 2000, which is one of the most memorable Australian TV commercials of all time.