Last night, popular Sydney crepe shop Love Crepe in Drummoyne posted an Instagram Story announcing that "Love Crepe believes being forced to wear a mask is a crime against humanity" and has made it clear that their staff are not planning to wear masks when preparing food during the peak of New South Wales' current COVID-19 outbreak. This is despite rules requiring hospitality workers being required to wear a mask under current restrictions or risk a $200 fine.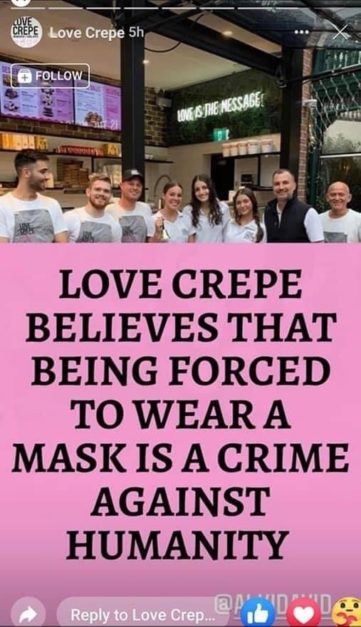 The post also tags Alki David, a billionaire who posts coronavirus misinformation online.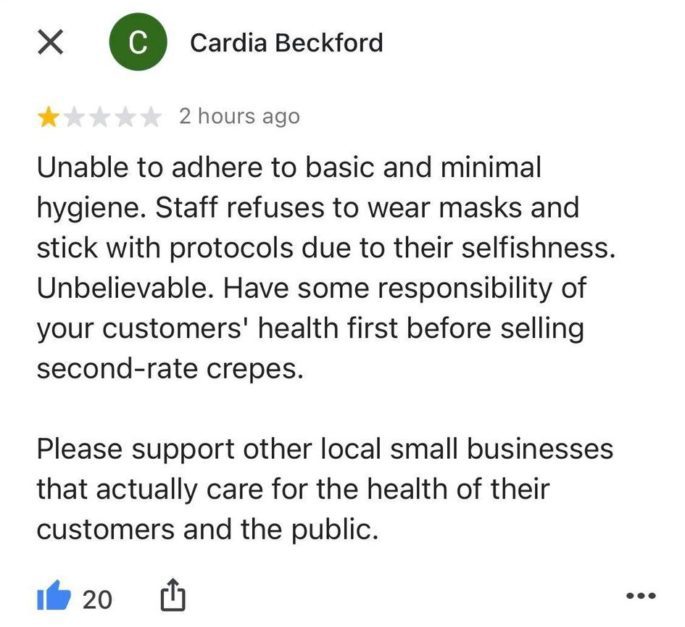 Naturally, this led to hundreds of negative reviews popping up online. It seems they disabled their Facebook reviews and the hundreds of negative reviews warning people of the potential health risks of eating at Love Crepe. I took a few screenshots last night, but due to a non-COVID-related family emergency I decided to wait until the morning to collect further screenshots but now they're all gone.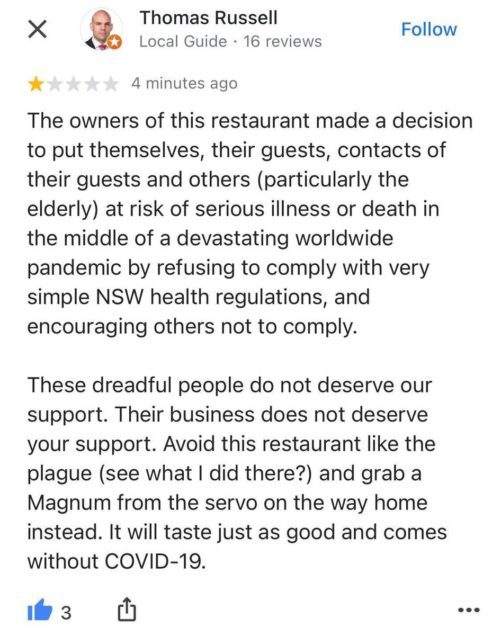 I'm quite impressed to see Google My Business acting so swiftly on this, typically their responses to review bombing has been much slower, but this might have become a more common thing in recent times. The last I saw, the number of 1-star reviews was about the same as 5-star reviews.
Why was this post dangerous?
Anything that puts your staff at risk of getting fined, or your business getting shut down by the authorities is highly irresponsible. It's good to try and stick up for your staff, but intentionally flaunting the breaking of health regulations. Putting them at risk of monetary loss or unemployment is highly irresponsible.
It brings into question the cleanliness of your store. Do they wear gloves when preparing food? Do they wash their hands? What other basic health standards do they not believe in? Do they clean the tables after each customer has been there?  Are they required to wash their hands after using the bathroom? These are all questions that your potential customers should not be having to think about.
Receiving hundreds of negative reviews from people who haven't been to your business can be a longterm reputation ruiner. It is also going to be highly stressful. The media attention where you are painted as stupid and dangerous has also got to be a bad thing to put yourself through and will be bad for your mental health and that of your staff who might be wondering what to expect tomorrow.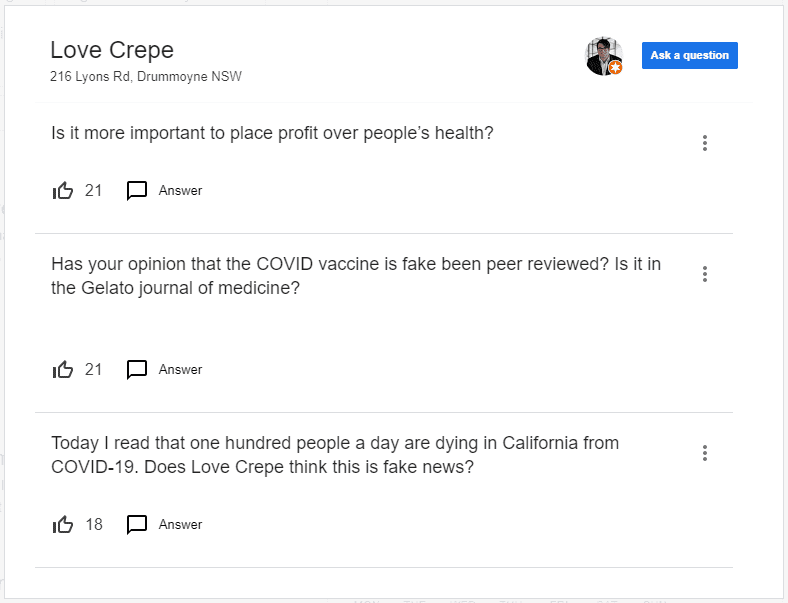 Are you likely to catch COVID-19 from Love Crepe?
From a map, Drummoyne appears to be a reasonable distance away from the current Northern Beaches outbreaks and it's likely that none of their staff currently have the disease. However, the coronavirus can move very fast and it would make people question if the staff would get tested if they did come in contact with the disease. If COVID-19 does reach this location and the shop does become a hotspot in the future, the existence of this post could make for an even more devasting public backlash for the company. It is likely that this documented stance on the topic might also cause legal issues if the location does negligently spread the virus.
A strange hill to die on
It is really best for your business to remain neutral on world issues and to focus on doing whatever it is that you do best. Highly polarising left vs right, science vs religion or discriminatory views can have a strong impact on your existing customer base who may choose to stop supporting you.
This is reminiscent of many other food outlets who have ruined their reputation by letting their owner or staff's personal beliefs such as cake shops who have refused to make wedding shops for gay couples, or Condado Tacos where staff refused to serve police officers.
Closer to home, Yilmaz Grill and Bakehouse in Sydney also received a massive online backlash for its owner's social media posts like "Why should gay people have rights when we don't have the right to not have to put up with seeing them in public? Share this if you are against gay people.", "International students and travellers keep us going. If these ppl don't come to my shop I won't lose a cent of my net worth".
A new audience for Love Crepe
On a positive note, this group has started getting a lot of positive attention from members of white supremacy groups and conspiracy theory groups who have similar anti-China and anti-science views, who are helping the company fight back against the review bombing, sharing posts of support encouraging other group members to support the local business. I suppose it's good to appeal to a niche customer base, but typically when random new supporters come out of the woodwork online, they are very rarely going to be in your immediate area and might not count for much in terms of real-world revenue.