So why is Burger King called Hungry Jack's in Australia? This is a point of confusion for overseas travellers arriving in Australia, either trying to find a familiar place to eat or noticing the oddly similar logo whilst out and about.
Like McDonald's and KFC spreading their franchises all over the world, Burger King also attempted to enter the Australian market. But for them, it was not so simple.
Why is it Hungry Jack's, not Burger King?
In 1971 the rights to Burger King in Australia were purchased by John James "Jack" Cowin. Jack had a strong understanding of the public desire for fast food and had already opened 8 out of his eventual 10 KFCs in Western Australia.
Awkwardly though, the name "Burger King" was already trademarked in Australia by a drive-through burger shop in Adelaide, South Australia and therefore it could not be used here by the burger giant.
Who Owns Hungry Jack's?
Competitive Foods Australia owns Hungry Jack's and is therefore its parent company. This is Jack Cowin's company and they currently own over 400 Hungry Jack's stores in Australia and have previously also owned several KFC restaurants as well.
The Original Australian "Burger King"
This independent store was owned by Don Dervan. An American who knew that Burger King had not bothered trademarking the name in Australia. He opened his store in 1962. You can see some old photos of that store here.
How Hungry Jack's got its name
Pillsbury, the parent company of Burger King at the time showed Jack Cowin, the first Australian franchisee a list of their other trademarks to see if they owned anything else that might be appropriate.
Given, he called himself Jack, the name of one of Pillsbury's pancake mix products "Hungry Jack" stood out to him and they added an apostrophe "s" after it, making it "Hungry Jack's" possessive rather than singular. In the US, the original Hungry Jack product range still exists and continues to make various baking mixes and syrups.
But what about the other Burger Kings that came to Australia?
Australian readers might recall that we actually did have Burger King restaurants here at Melbourne Airport and a few other locations many years ago. These came due to a legal battle that is highlighted below.
Burger King Corporation vs Hungry Jack's Pty Ltd
In 1991 the franchise agreement between the Burger King corporation and Hungry Jack's Pty Limited was renewed and it allowed Hungry Jack's to license third-party franchisees. A condition of this contract was that a certain number of new locations needed to be opened each year to meet the terms.
In 1996, Don Dervan's trademark was gone, which freed up the Burger King name. Burger King Corporation used this as an opportunity to claim that Hungry Jack's had not been opening stores fast enough as per the contract and tried to terminate it. Burger King then started opening their own stores which competed with Hungry Jack's and were thus sued.
A major element of the lawsuit stated that Burger King had not been acting in good faith and had breached terms by denying Hungry Jack's the financial and operational approval for new restaurants which is why they could not meet the new store rollout requirements. As you might expect, Hungry Jack's ultimately won in 2001 and now has all the Burger King rights in Australia.
They eventually got control of the few Burger King restaurants and rebranded them, and that's why there are no Burger Kings in Australia, only Hungry Jack's.
Should Hungry Jack's change its name to Burger King?
Whilst Hungry Jack's now has the rights to the Burger King name, the Australian public has been calling it by this name for nearly 50 years. There is more than enough goodwill from the public to keep this name running here, despite Australia being the second largest franchisee of Burger King in the world.
Australians will often kick up a fuss over "Americanising" things or even when racist food products get their names changed. It simply isn't worth the effort, cost of changing all the signage and packaging across 420+ stores or new marketing campaigns, especially when Hungry Jack's is still seen as the underdog against the fast-food king that is McDonald's.
Where was the first Hungry Jack's Restaurant?
The very first Hungry Jack's restaurant was opened by Jack Cowin in Innaloo, Perth in 1971.
Is Hungry Jack's an Australian-owned company?
Yes, Hungry Jack's Pty Ltd is wholly owned by Competitive Foods Australia, which is the exclusive master franchisee of the Burger King Corporation. It is an Australian company.
Is Hungry Jack's Burger King?
Since Hungry Jack's is the exclusive master franchisee of Burger King in Australia, it is safe to say that it's the same thing. Do not expect to ever see actual "Burger King" branded stores in Australia again, as this name surely isn't going anywhere.
How Many Hungry Jack's stores are there in Australia?
According to the Hungry Jack's website, there are over 420 Hungry Jack's restaurants in Australia. They employ over 19,000 people and serve 1.7 million Australians each week and are located in every major population centre in the country.
Why do Hungry Jack's Toys say "Burger King" on them?
When I was a kid in the 1990s and teenager in the 2000s, Hungry Jack's often had fairly basic and uninspiring toys compared to the overseas Burger King toys I'd collect on my travels. This is because they often had different toys that were unique to Australia. I believe this was originally due to lower budgets and the inability to use the "Burger King" name or logo anywhere whilst the other Burger King still had its trademark in Australia.
In 2001, when there were still US-owned Burger King locations operating in Australia, I used to travel to one (possibly at Water Gardens in Victoria) to get the American Lord of the Rings Burger King toys instead of whatever boring toy was available at my local Hungry Jack's.
Today, now that the legal battles and lawsuits are all over, Australians will often, or possibly always get the same toys that were released at overseas Burger King locations. This includes co-branded baggies on the toys and Burger King copyright information on the toy itself.
A recent Nerf gun toy I received locally even included the Burger King logo embossed onto it.
Hungry Jack's & Burger King Logos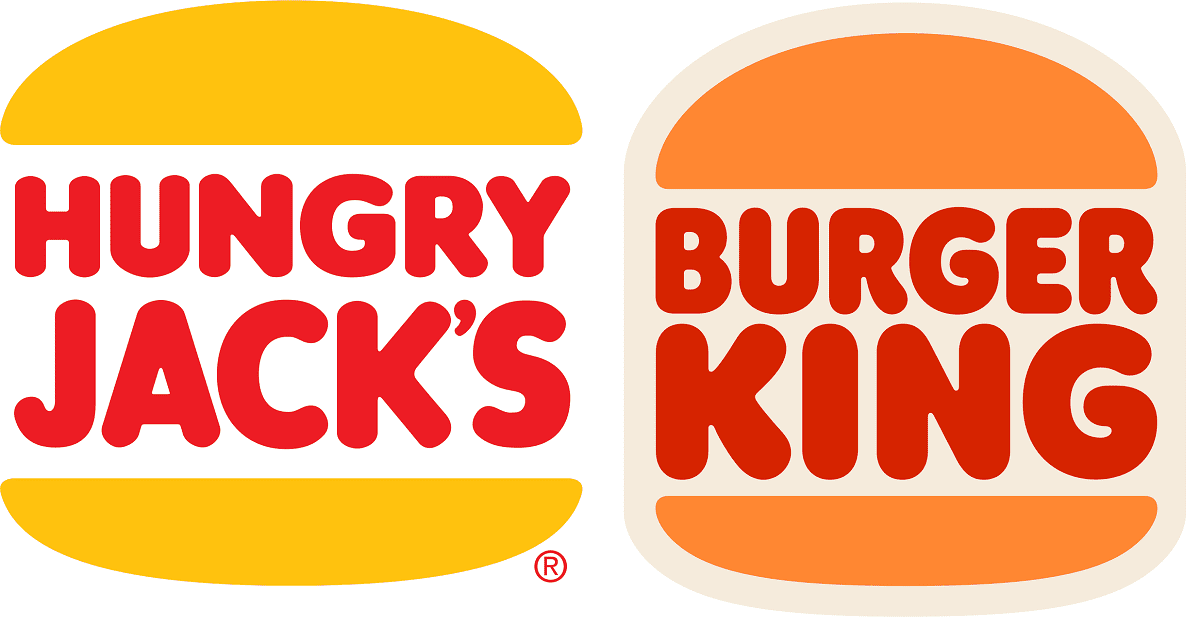 These are the current logos for Burger King and Hungry Jack's, they are both very retro-looking.