How can food be racist or homophobic? Food doesn't judge. 
Australia, much like the USA and many other western countries has a weird history of naming and designing some of its products in ways that would not be tolerated today. Often many of these brands have since changed the names or redesigned the packaging to be more palatable. 
Allen's Redskins / Red Skins Confectionery – Racist?
Originally labelled "Redskins", this raspberry-flavoured lolly has had a long history in Allen's variety mixes, school canteens and milk bars for decades. Until the late 1990s, it featured a picture of a Native American chief with a traditional headdress.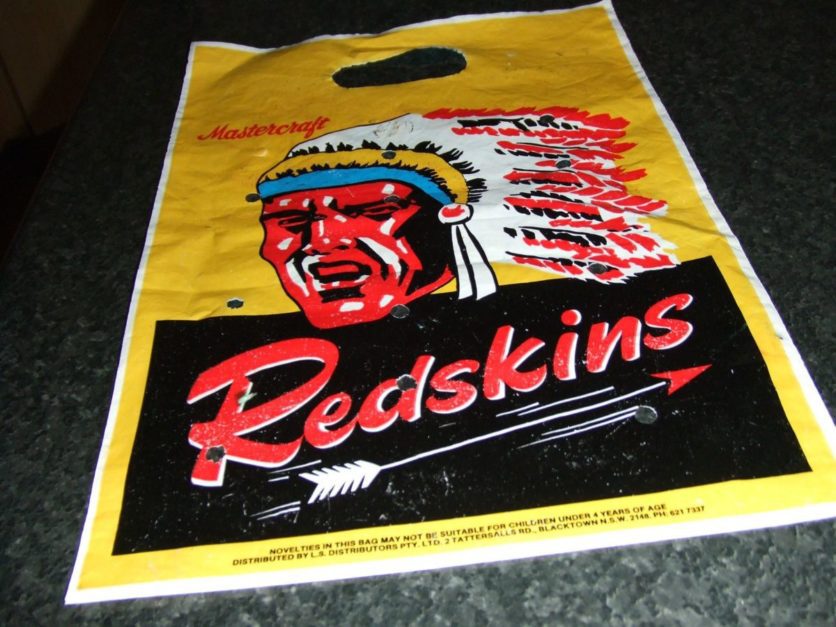 What have they done to change?

The new logo that is still around today just features red and purple colours and text. They appear to be called "Red Skins" now as two words rather than one, which is a very subtle change. 
What could they do better? 
A name change is probably still required. I'm offering some free alternatives include raspberry chews, red stretches, red chews, red sticks. I don't see much of a marketing push on these products anymore, surely a name change would increase publicity for a short while and boost sales.
Arnott's Golliwog/Scalliwag Biscuits – Racist?
Based on the fictional character created by Florence Kate Upton in children's books from the late 19th century, these chocolate biscuits were popular in Australia through to the 1990s. 
Golliwogs were popular toys in the 1960s and 1970s with black skin, red lips, an afro or frizzy hair and big white eyes. The term "golliwog" also became a racist slur, but are looked back on fondly by many baby boomers in Australia and the UK.
What have they done to change?
It was in the late 1990s that people started realising that racist minstrel characters are not OK. In a weird response, the name was changed to Scalliwag but the design remained the same until it was discontinued.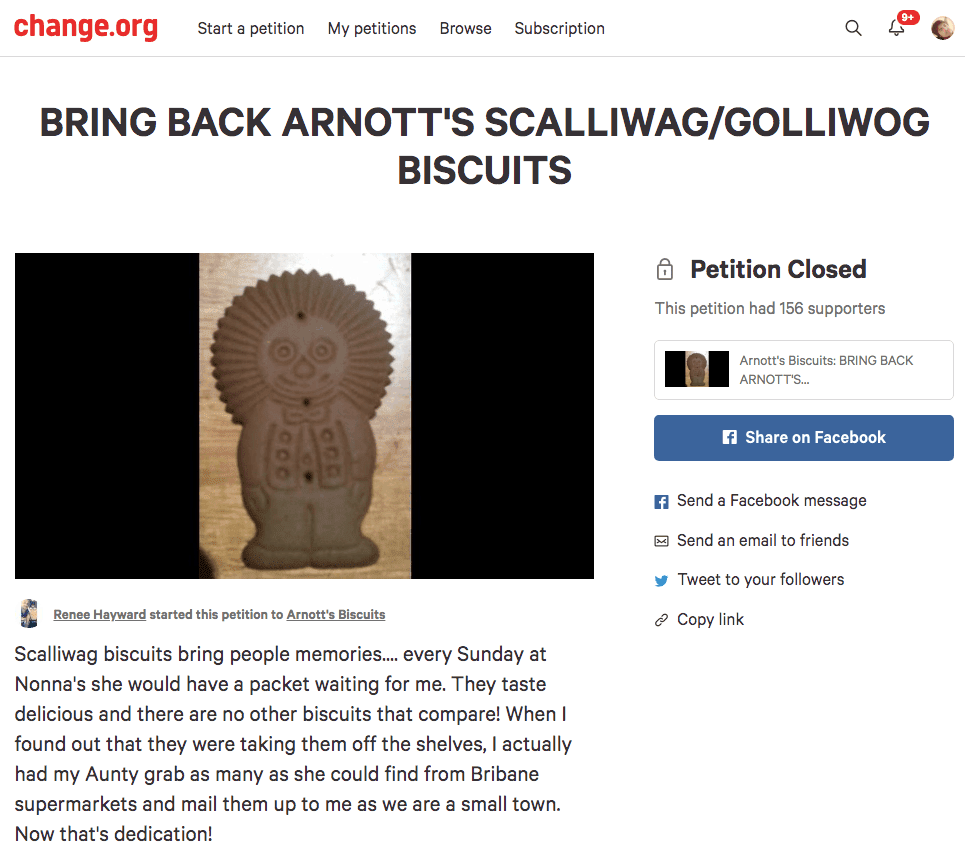 What could they do better?
Strangely they never re-released these in different shape and name, They could have re-released them as a chocolate version of their Teddy Bear biscuits. It's the flavour that matters for a biscuit, not the shape or the name. 
Riviera Confection FAGS – Homophobic?
For some reason, this company thought it was a good idea to start making candy cigarettes marketed towards children. These were originally thin white sticks with red tips that resembled a lit cigarette. The word "fag" was Australian slang for a cigarette at the time and has also been used a homophobic slur.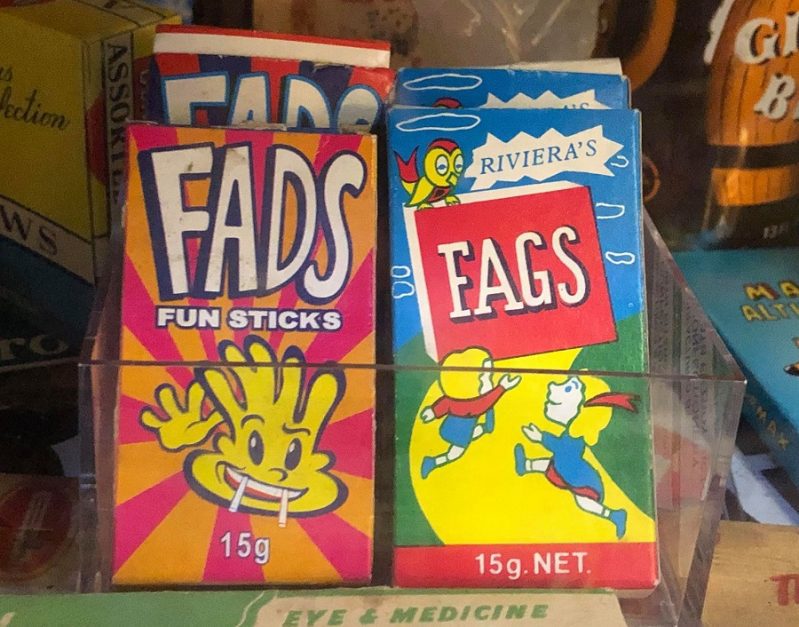 What have they done to change?
In the mid-1990s they changed the name to FADS, whilst keeping the package design the same. They also removed the red tips to further disassociate itself from cigarettes. In the 2000s they changed the design of the packaging artwork and changed the name to FADS Fun Sticks.
What could they do better?
They've done a pretty good job distancing themselves from the original name and design. Now they are just plain white musk sticks, without the musk flavour and a rounder shape. Kids today will probably find them boring, unless their parents teach them to pretend to smoke them.
Allen's Chicos – Racist?
These are chocolate flavoured jelly babies and are dark brown in appearance. The controversy here comes from the name, which is Spanish for children. Sometimes people refer to them as Chico babies but this has never been an official name of them. These may be considered racist and offensive to people from Spanish speaking countries.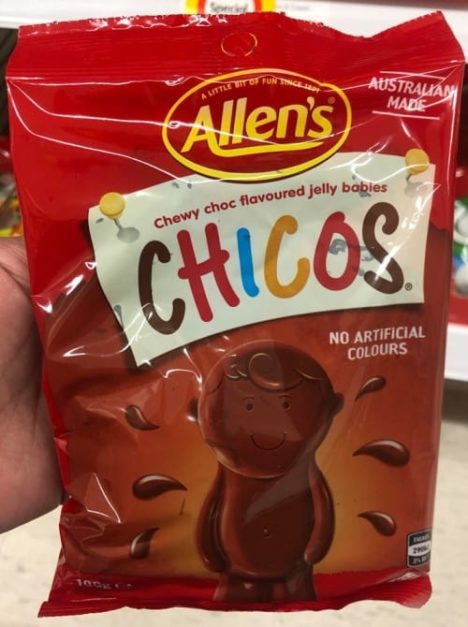 What have they done to change?
It doesn't look like much has changed with these, but when researching this I found a huge number of negative reviews from 3 years ago (2016) where they appear to have changed the recipe, which is not what people were asking for.

Coles Creole Creams Biscuits – Racist?
Australian supermarket giant Coles produced a home-brand version of Oreos by Nabisco with the name "Creole" in 2009. This word has been used in the past as a racist word to describe people of mixed African and European heritage. The context of this referred to what percentage of each race's blood was in your bloodstream, which echoes the kinds of ideas the Nazis believed in. This seemed like a particularly poor choice of name for a chocolate and cream biscuits.
What have they done to change?
A coles spokesperson insisted the biscuit was named after the spicy Creole cooking of Louisiana, which sounded insincere as these are not spicy and inspired by Oreos which are from New Jersey. 
They did eventually change the name.
What could they have done better?
They probably could have just changed the name right away instead of saying this biscuit is named after this food:
This misstep was significant enough that the item made it into the collection at Museums Victoria. 
Coon Cheese – Racist?
This is an Australian brand of cheddar cheese that is named after its American creator Edward W. Coon (1871–1934) who patented this method of cheese making. It is manufactured by Warrnambool Cheese & Butter and has been produced since 1935.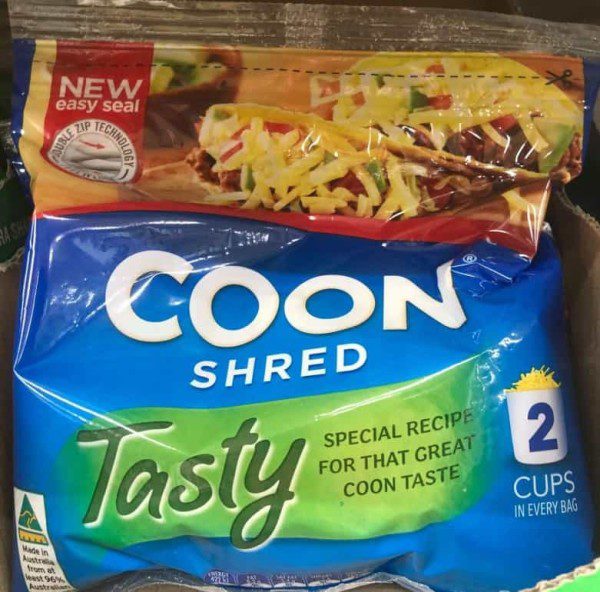 The name is problematic as this is an ethnic slur in various parts of the world and according to Wikipedia it is used towards black people in the US and UK, Pacific Islanders in New Zealand and Aboriginal Australians here in Australia where the company is located. 
What have they done to change?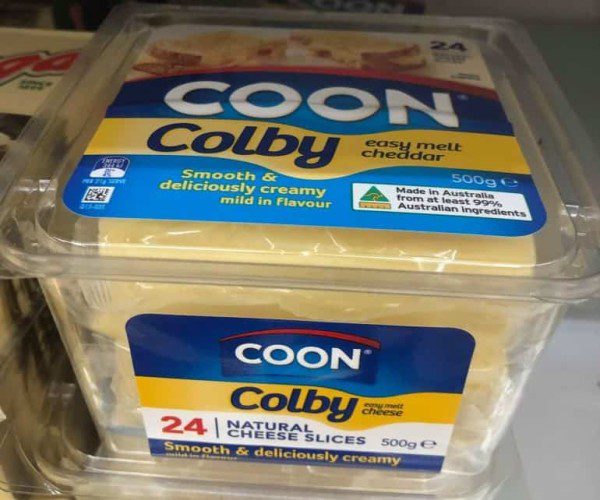 As their name hasn't changed, I guess not a whole lot, but when researching this article there seemed to be fewer instances of people calling for a change here compared to some of the others, perhaps due to having a more acceptable reason for the name. The racist sounding name does always make the top lists for articles such as this, however. They do offer a Coon Toastie Truck for community events which helps fundraise for local events, so that's nice I guess.
What could they do better?
Whilst all the other examples mentioned in this article are a singular item, this is an entire line of dozens of slightly different products and the most recognisable range for the company, so changing the name does seem financially riskier. The company itself is also much smaller than most of the other brands, so they might also be less likely to afford a total rebrand.
That being said, there may be an opportunity for a lot of positive PR for such a change if handled correctly. 
Peters Ice Cream Eskimo Pie – Racist?
Introduced to Australia in 1921, this is a chocolate-coated block of vanilla ice cream. The Australian version of this ice cream has never included a popsicle stick. It was originally sold at theatres and sporting events and were a novelty as they were an ice cream that you could eat like a chocolate bar. This is the oldest ice cream bar that the company is still producing. Ownership of this product has changed hands several times over the years and you can find out more about it on the Australian Food History Timeline. 
The problem with this product is again the name, as many people native to the Arctic regions consider this a derogatory term as it was widely used by non-native racists. When researching where to buy this, it seems they are not that widely available, with only smaller supermarkets and independent stores selling them. I'd have guessed that the bigger stores do not sell them due to the name, but they still stock Chicos and Redskins, so perhaps they're just not that popular.
What have they done to change?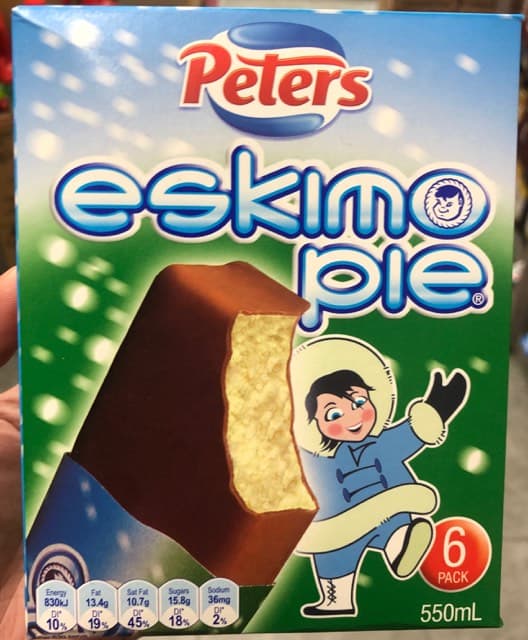 As you can probably imagine, early packaging for Eskimo pies both in Australia and in the US featured stereotypical Inuit characters in native clothing. Their newer marketing appears to be using blue-eyed white kids in more modern looking ski gear. Whilst white-washing is typically seen as a negative thing, this is likely a deliberate move to distance the brand from racial stereotypes. 
What could they do better?
Considering this is one of the lesser-known Peters brands and is an incredibly basic and simple product, a name change might not be as difficult as in the Coon example. However, considering how many more interesting gourmet ice cream options are on the market now, it would be very difficult to make this product stand out.
The National Licorice Company – Nigger Boy Licorice – Racist?
Wow. I wasn't familiar with this liquorice brand that changed its name to Lucky Boy Licorice in the early 1960s. Due to the White Australia Policy that was in place until 1966, there were virtually no African or Asian people in Australia. As a result, offensive brand names like this existed including Nigger Brown Shoe Polish but were not understood to be racist at the time by most of the general public. 

Luckily the messages from the Civil Rights Movement in the US made their way to Australia and brand names like this started to disappear. 
Streets Golden Gaytimes – Bonus
This doesn't really belong on the list as it isn't offending anyone, but the name does raise eyebrows with people encountering it for the first time. This ice cream with a vanilla centre, surrounded by a layer of toffee flavoured ice cream, dipped in chocolate then covered in biscuit crumbs.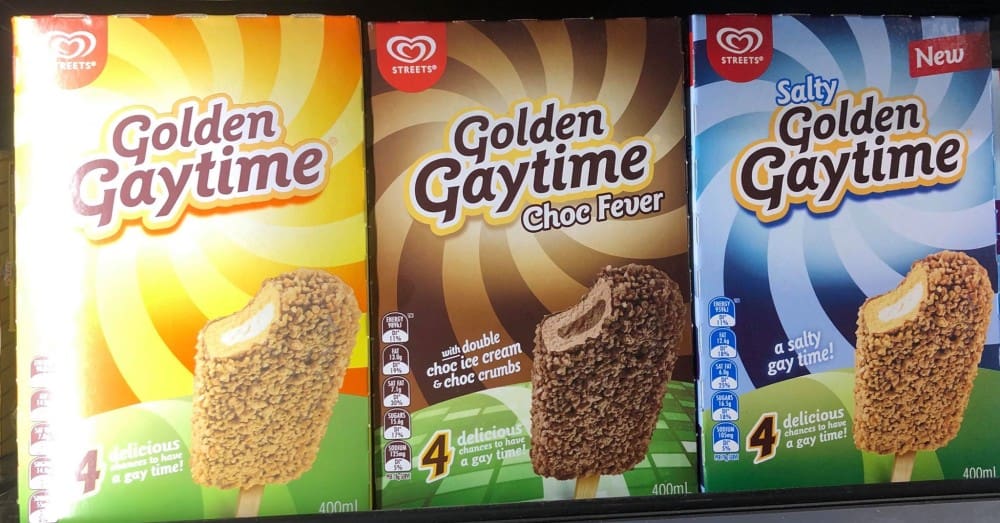 The original Gaytime ice creams created by Streets in 1959 were not golden, but strawberry shortcake flavoured. The famous Golden versions you see today arrived in 1970. The name predates the use of the word 'gay' as a sexual orientation, but the ice cream and its slogan with its new double meaning "it's hard to have Gaytime on your own" has been embraced by the gay community. 
There have been many other versions of the Gaytime over the years and currently, in 2019 you can also buy Golden Gaytime Choc Fever and Salty Golden Gaytime. In New Zealand, this is called a "Cookie Crumble" which is a much less fun or memorable name. 
Given Australia's racist and homophobic past, there are probably other items out there that I have missed, but luckily these sorts of names are slowly becoming a thing of the past as brands become more sensitive and inclusive.