Supermarkets are looking to test a range of high-tech solutions to a costly problem. It is the latest effort in an attempt to curb the problem of customer theft. According to the Australia and New Zealand Retail Crime Survey, which covers a quarter of all Australian and New Zealand retail sectors, of all losses of stock from damage, error, or theft,  57% was a consequence of customer theft. This rampant practice now bears the hefty price tag of $3.37 billion (in the year before July 1, 2018). Clearly it is no longer enough to simply rely on the keen eye of security officers and store detectives, as these businesses have done in the past.
One area in which supermarkets are particularly susceptible to theft, is with the widely used self-service checkouts. As Steven Campbell, the Sales Manager at Checkpoint ANZ, told 9news, "People seem to be taking advantage of the ease of stealing from self-service checkouts because they don't have to deal with an actual person and feel like they can beat the system without any real consequences". The most common way to cheat self-service checkouts is to put more expensive items through as a cheaper item. For example, entering that you have a kilo of cucumbers when you have avocados can lead to substantial savings.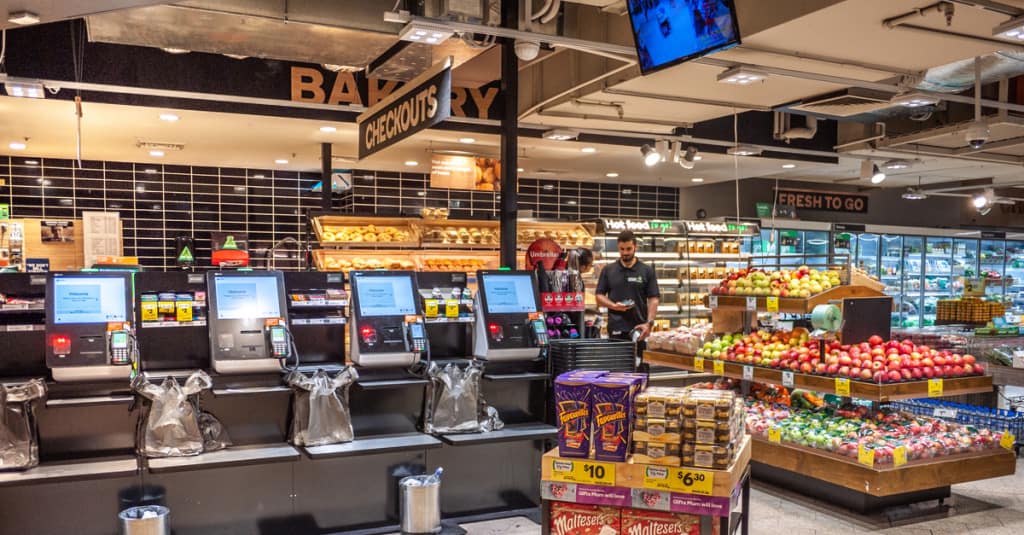 One of the solutions being tested at self-service checkouts is customer facing cameras, which display live footage of the customer back to them, giving them the impression that they are being watched and recorded This is likely to deter some of the more opportunistic thieves but such a  solution will certainly not help in the case of people deliberately trying to cheat the system.
The Melbourne company black.ai are working with supermarkets to create 3D depth sensors that track shoppers as soon as they enter the store, and track which items that shoppers pick up and put down. The machine will notify the customer if they select the wrong item at the checkout (weather it was done accidentally or intentionally). 
A similar strategy is being pursued by the company Tiliter Technology who are developing ways to automatically identify a product so customers don't even have the option of lying about what they are checking out. Their approach is based on machine learning and artificial intelligence which was taught to differentiate types of fruit and other produce. A camera at the checkout automatically enters the product information and the company claim to be able to tell the difference between apples such as Red Delicious, Pink Lady, Fuji, and Royal Gala.
Mark Gentle, the vice president of Checkpoint Systems, told iTnews that an additional layer of security will come from supermarkets adopting radio frequency identification (RFID) tags to better understand exactly where items in the sore are in real-time. Gentle says, "That can also help you track stock through each stage of the supply chain, so you know where and when shrinkage occurs.". RFID will indicate to retailers exactly when to restock shelves, requiring less products on display, limiting the number of items that the thieves are able to steal at a given time.
Another system being developed is a real-time pedestrian heat-map, in and outside of the store, which has the potential to show the activity of groups of thieves who work together to case a store or distract staff.  
In a more egregious case of theft, a woman in Queensland stole $4500 in groceries from Coles and Woolworths. To carry these off, she photocopied barcodes from 65c and 72c noodle packets and used these to print her own labels. By sticking her labels onto a variety of expensive items, she racked up thousands of dollars of savings. For supermarkets,to battle these cases of theft, the new technologies could not come quicker.