Australian Football clubs' marketing departments are constantly required to re-brand their membership campaign with an exciting new phrase, often at times when their team's on-field performance is hard to get too excited about. 
We've seen many that have missed the mark over the years, from Carlton's infamous "Can you smell what the Blues are cooking?" campaign to Essendon's "Whatever It Takes" slogan, which they were forced to abandon in the midst of their 2013 drug controversy. 
Determining the Hashtag
In 2015 the Western Bulldogs were facing another year of pain, after losing their captain, coach and CEO during the off-season. They had a few seasoned veterans and a new $1 million a year recruit in then teenager Tom Boyd, but the team was staring down the barrel of another disappointing season and not a lot of respect from the football community.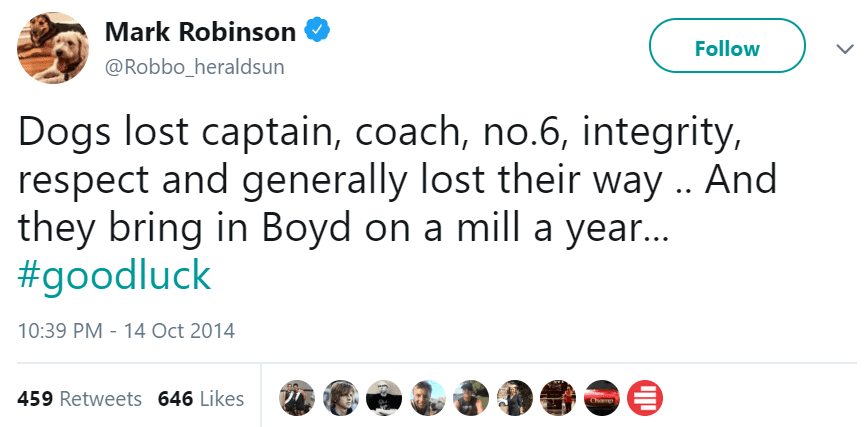 In 2015 the Bulldogs continued with their previous campaign "Gather the Pack" to try and band their fans together during that tough period, but throughout the year "Be More Bulldog" became more prevalent in their marketing, including the "Be More Bulldog" match guernsey. This fan-voted guernsey was worn in Round 6 of the 2015 season and featured the new club logo alongside the traditional red & white hoops. They ended up moving away from "Gather the Pack" after an unexpected, but successful return to the finals series in 2015 and made "Be More Bulldog" their official campaign for the 2016 season.
Embracing the Hashtag
Fans were initially unsure what it meant to be "more" Bulldog. What does it mean to "Be Bulldog" exactly? With a few clubs rolling with very similar "We Are Port Adelaide", "We Are Gold Coast" and "Be St Kilda" in 2016, the Bulldogs had the potential to let their slogan be lost in a sea of similar campaigns.
Instead, the club engaged the agency Poster Boy Media and released a series of bite sized ads which highlighted what it meant to "Be More Bulldog". The ads included:
#BeMoreBulldog – Nursery

Panning across newborn baby cribs in hospital with traditional names on the signplate, finishing with one crib decked out in red, white and blue with the name "Libba".
#BeMoreBulldog – Kids Party

Children at a birthday party getting their faces painted, and despite asking for Superman, having red, white and blue painted on their faces.
#BeMoreBulldog – Wedding

A man attending a "black tie" event and refusing to wear black & white due to the Collingwood connection, and instead attending a wedding in a red, white and blue suit.
These ads featured on Foxtel and across digital platforms, with over 200,000 views on the latter. Fans became more engaged with using the hashtag across social media and its value as a truly unique hashtag became more apparent.
Evolution of the Hashtag
In 2016 the Bulldogs won 15 games for the season, finishing 7th on the ladder with a win-loss record that would rival most top 4 teams in previous seasons. They faced the in-form team in the first round of the finals, the West Coast Eagles in Perth. Building off their existing hashtag that already had great buy in, the club then coined the hashtag #BeMoreFinals for their finals campaign. After unexpected victories in Perth, followed by wins over Hawthorn and Greater Western Sydney, the Bulldogs were facing their first Grand Final appearance since 1961. The hashtag for that week became #BelieveMoreBulldog, encouraging their long-suffering fans to believe that premiership glory was possible after a 62 year drought.
Beyond the Hashtag
Following their premiership success, the Bulldogs continued with the #BeMoreBulldog branding for another season, before deciding that they needed a refresh. Despite more recent attempts with #RealStrength and #MightyWest, the hashtag #BeMoreBulldog continues to be used by Western Bulldogs fans with more regularity. It has become bigger than a seasonal campaign for their fans, it is the mindset that saw their team reach Everest and seems to be here to stay.