Of rice Krispies and all cereals, Kellogg's has been one of the leading brands for cereals in a box for decades already. With the fun it brings, it also associates a lot of mascots and fictional characters with their boxes. But before the rise of the ever-famous Tony the Tiger, Kellogg's has introduced various characters for their brand.
Dating back from the 1930s up until today, Kellogg's has been one of the notable brands to use fictional characters for their cereals. Yet, how has it been way back before?
1930s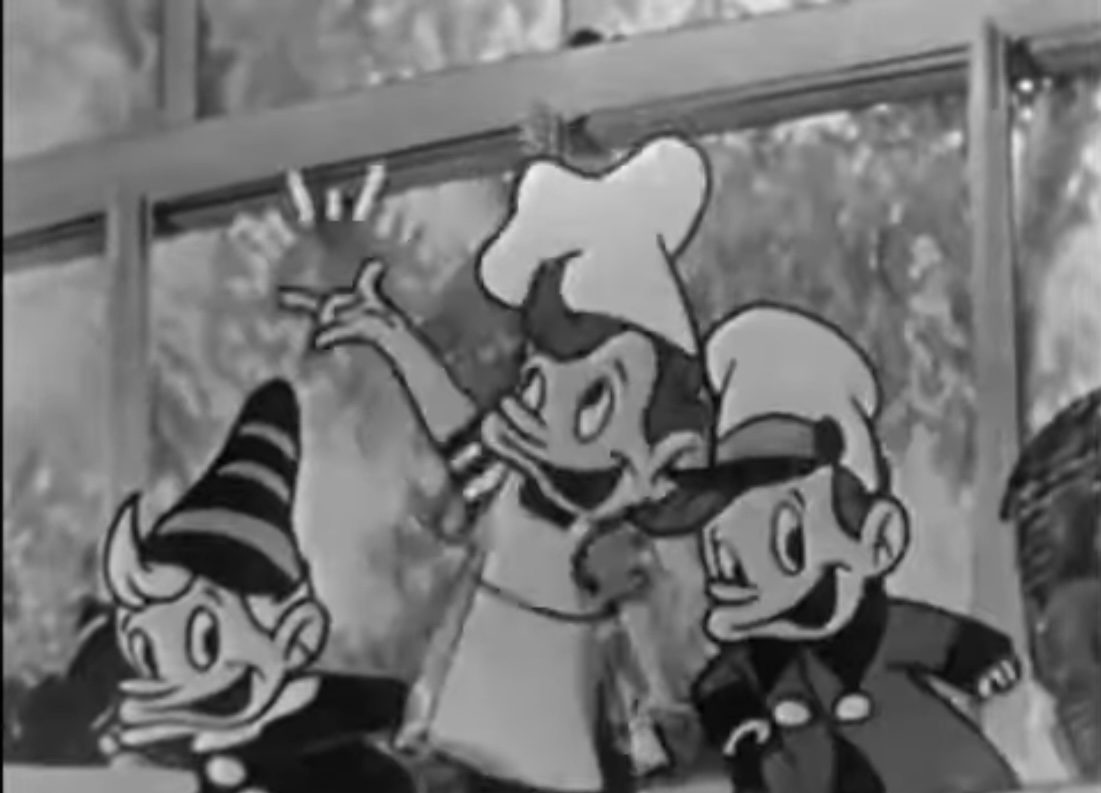 Snap!, Crackle!, and Pop!
You may have seen them in some boxes today, but they have been the first mascots for Kellogg's. Snap, Crackle, and Pop are gnome-like elves with different personalities —— like brothers you may say. Originally, Snap! was the first character for Kellogg's who portrays wearing a chef's hat, toque, and a red neckerchief. He is the eldest and is known as the problem solver among the three. On another hand, Crackle! portrays wearing a red or a striped sleeping cap with a white neckerchief and is also known as the doubtful middle child who always jokes around. Consequently, Pop! wears a shako (a drum major's hat) or is sometimes seen with an odd combination of both; he is clumsy and always the centre of attention. Yet, as times change, the three continue to evolve especially with their fashion sense.
1951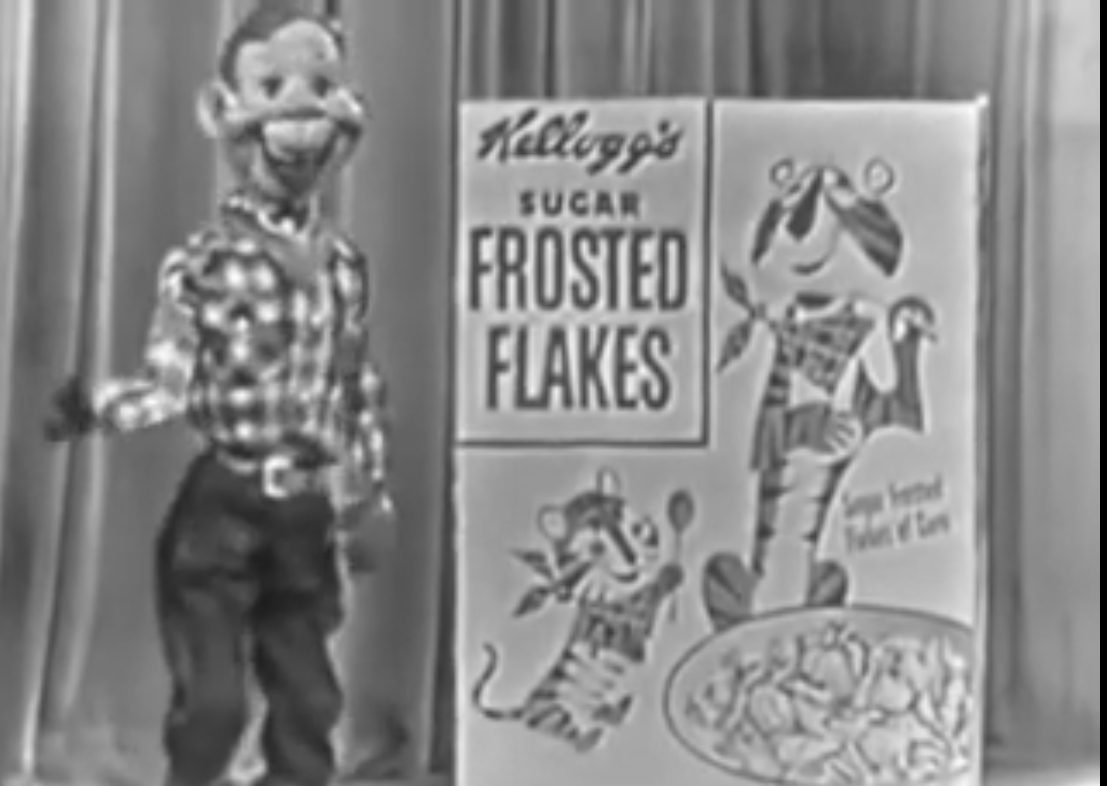 https://youtu.be/dVGIz5SUE9Q
Howdy-Doody
Howdy-Doody was a dummy wooden puppet who goes around saying, "What time is it, kids?" He was one of the initial faces of Kellogg's Rice Krispies.
1952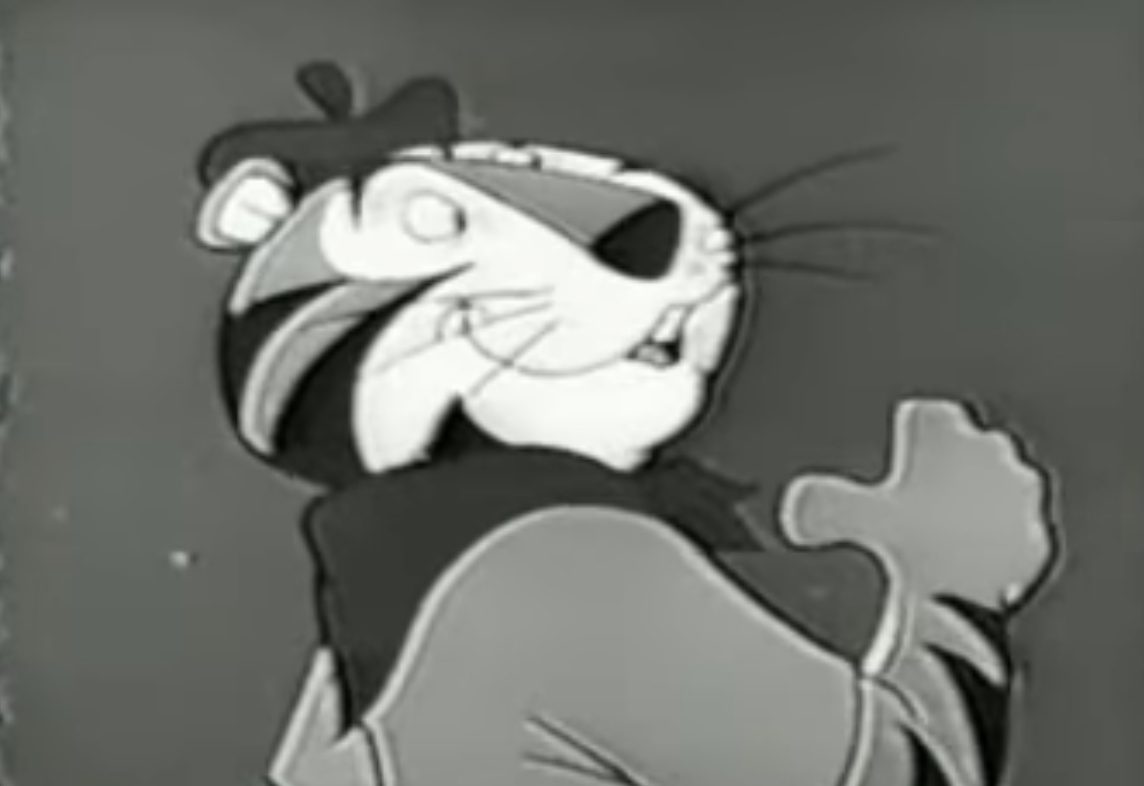 Tony the Tiger
The most famous of all, Tony the Tiger was developed by Kellogg's in the early 1950s to feature a more friendly character for kids. Tigers can be dauntless but why not make them cute, right? He was introduced together with Katy the Kangaroo, Elmo the Elephant, and Newt the Gnu, as part of the contest for Kellogg's packages and to also introduce the brand's new product, Kellogg's Sugar Frosted Flakes of Corn™. As part of the contest, Tony was voted the most adorable of all, making him box-ready and be the new face of Kellogg's for various cereal products. Well, many children adore him —— this is why he appeared in commercials, guestings, and even children's parties. Nevertheless, as years have gone by, he had a makeover from a simple sketch to 3D, to a full real-life mascot for the brand. Also, he has a son named Tony Jr and even had an entire family too!
In 1958, Kellogg's launched a marketing campaign called "Put a Tiger on your Team". The campaign reached out to various children's sports organizations and teams which made him popular worldwide even more.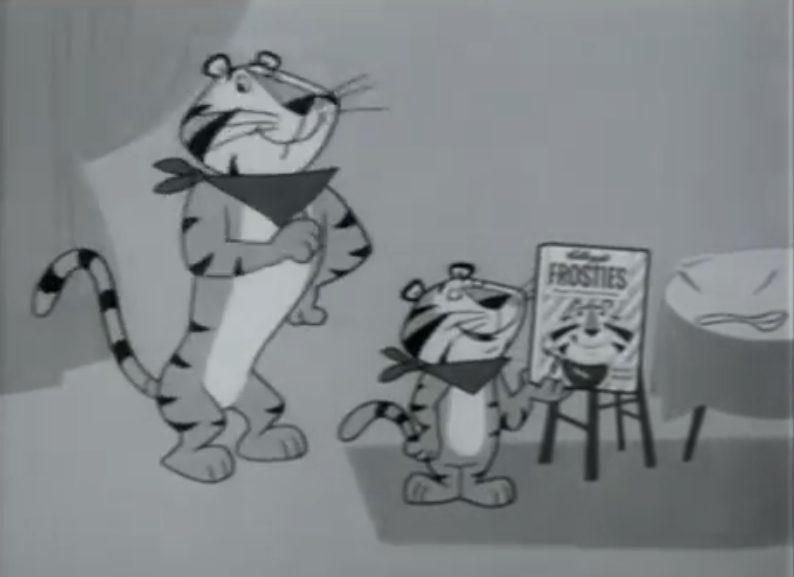 Tony Jr
Tony became a huge face for Kellogg's and what's more to it than adding a family member for him to have another character on his side; by then Tony Jr was introduced (Tony's son).
1953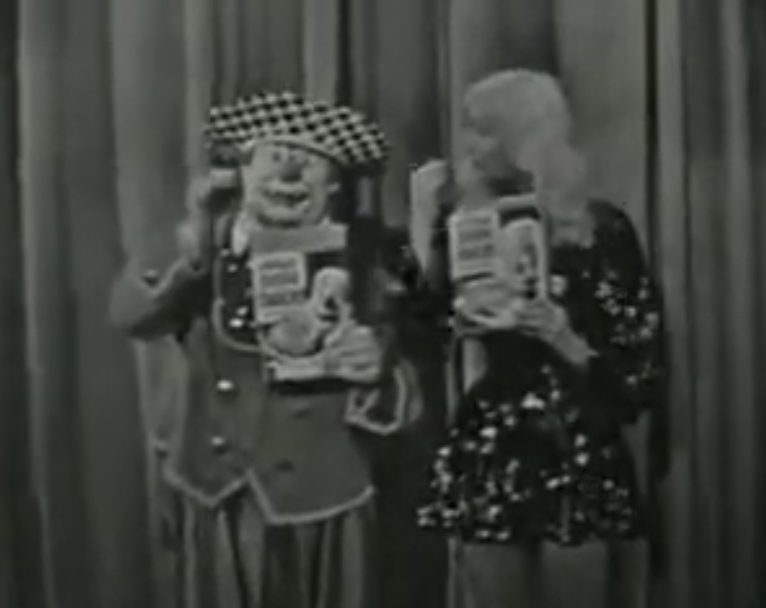 Cliffy the Clown
Cliffy the clown was Kellogg's mascot for Kellogg's Sugar Smacks in 1953. He appeared in commercials and boxes too, alongside other mascots for other breakfast cereal variations.
Like Snap, Crackle, and Pop, Cliffy had sidekicks too by the name of Scrampy and Nicky. But before he became one of the faces of Kelloggs', Cliffy the clown had debuted on the family-oriented show Super Circus. With his influence, Kellogg's also wanted to associate his fame with the cereal, and thus became one of the brand's clowns. However, the series had to move to New York in 1955 leaving Cliffy unemployed and falling short as one of Kellogg's ambassadors in 1956.
1957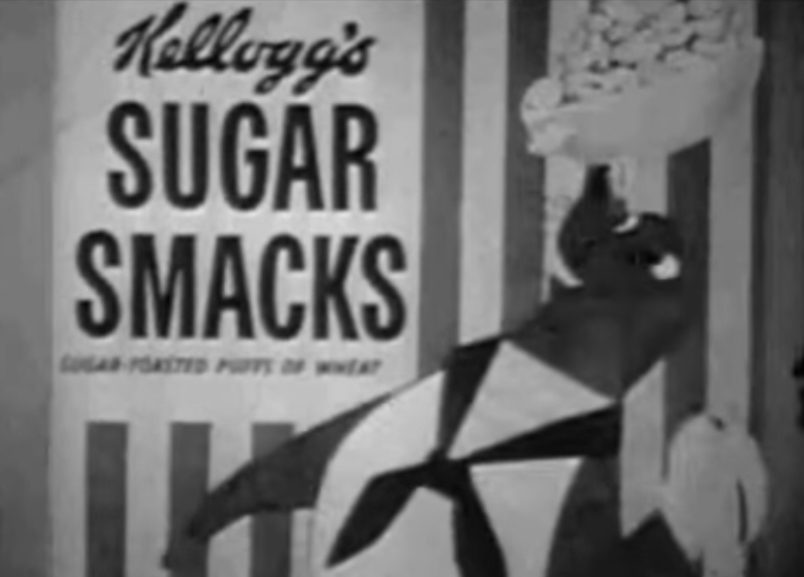 Smaxey the Seal
As Cliffy the Clown went downhill, Kellogg's once again devised another character to make their Sugar Smacks popular. Thus, they incorporated another animated animal for their product, named Smaxey, a seal who wore a sailor suit. Smaxey apparently "makes breakfast the happiest meal of the day", given that Sugar Smacks are as sweet as honey. Now, who would not love something sweet, right? Yet, he also fell short with Kellogg's marketing goals; in 1959, he was ditched for another character.
1958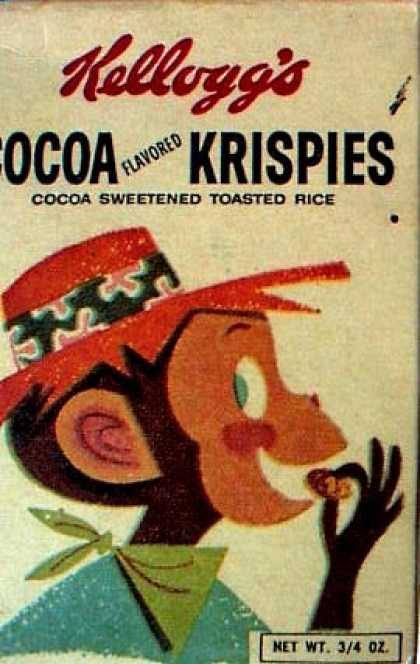 Jose
An animated monkey named Jose was first seen as Kellogg's ambassador for their Cocoa Krispies in 1958. He was a little monkey wearing a bandana and a cabana boy-type straw hat. However, because a lot of Mexican-Americans complained about the ethnic stereotype of Jose, he was then replaced by another character in 1960.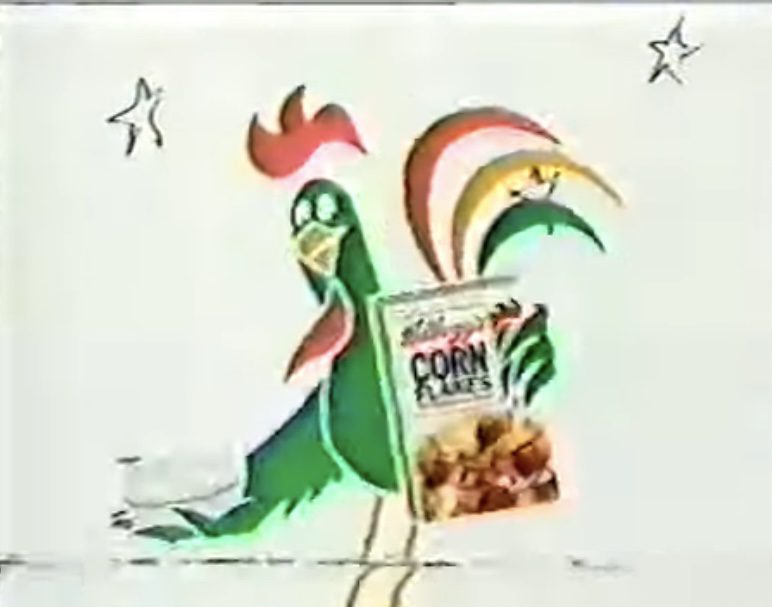 Cornelius
A green rooster with a red comb and a yellow beak, Cornelius was the face for Kellogg's cornflakes back then. CORN-elius as you can observe, and rooster because cereals are for breakfast, isn't it?
1959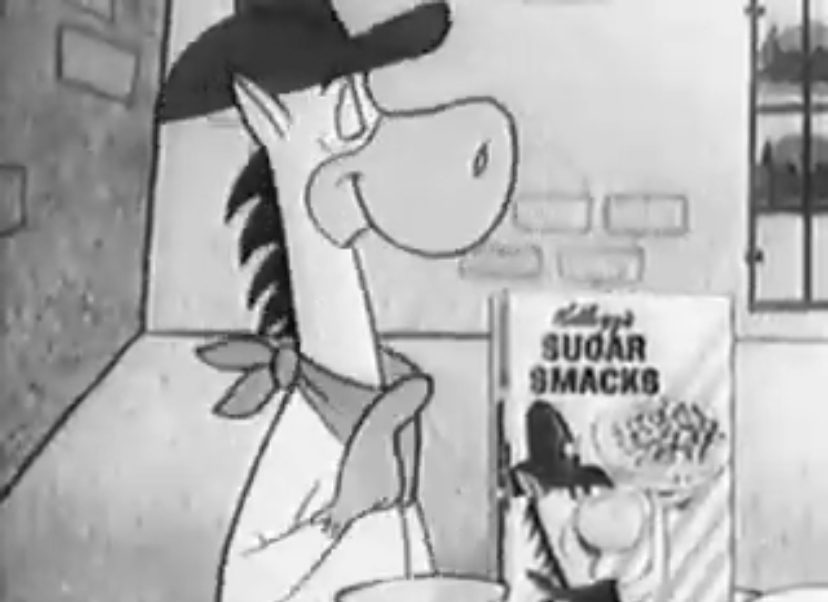 Quick Draw McGraw
Another popular character from a TV show (sponsored by Kellogg's), Quick Draw Mcgraw was a new face for Kellogg's by the end of the 1950s. He portrayed a horse caricature that walked with 2 legs and even rode a horse going to town. Nevertheless, this was a show about western comedy, which kids and adults loved as well. Thus, a fun character that shows the enjoyable side of Kellogg's Sugar Smacks.
1960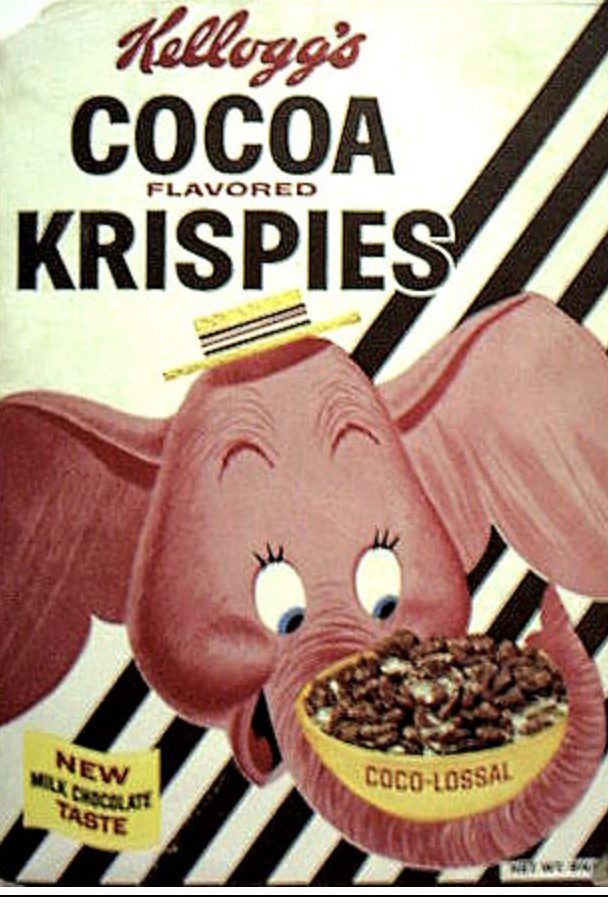 https://www.mrbreakfast.com/cereal_ucp_slideshow.asp?id=80&picid=1153
Coco
Coco the Elephant was Jose's replacement for Kellogg's Cocoa Krispies in 1960. He was a baby elephant, who was also wearing a straw hat and was the face of Cocoa Krispies from 1960-1962, replacing the seemingly racist Jose.
1962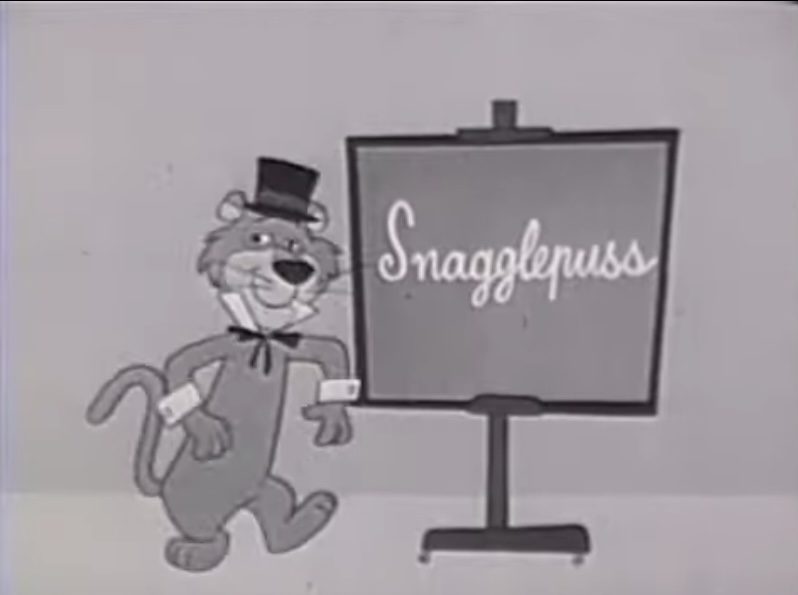 Snagglepuss the Lion
A cartoon character from a famous Hanna Barbera Cartoon was incorporated with Kellogg's Cocoa Krispies. As the brand always does, they tend to have a character that most children adore; Snagglepuss is one of the many.
1963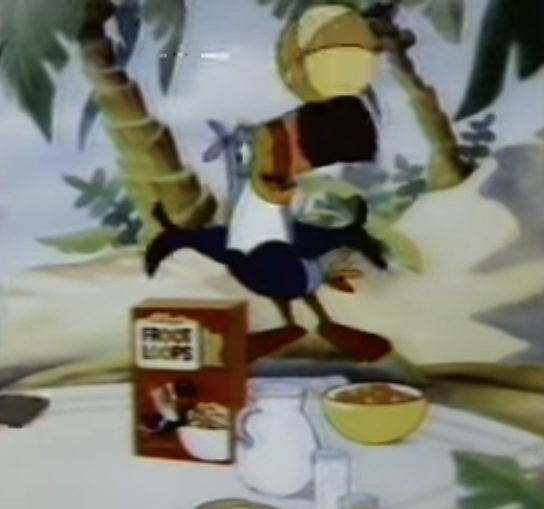 Toucan Sam
Toucan Sam was a landslide for Froot Loops; he was the face of almost every box of loops from Kellogg's, which promotes the fruity flavor of the cereal. He has undergone a lot of colors before and now has brighter shades to show his personality more. Nevertheless, he was the one responsible for the famous tagline, "Follow your nose, it always knows…"
He was even the face of the brand's marshmallow products for years!
1964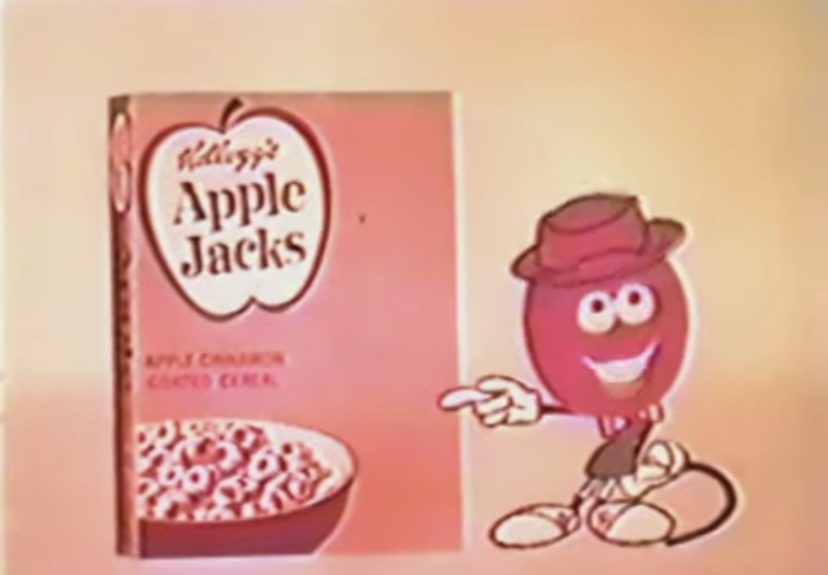 Apple Jack
Apple Jacks was a character for Apple Jacks (a cereal with apple bits), who had the head of an apple and a tiny body. However, in reality, he actually looked like a dark potato!
1966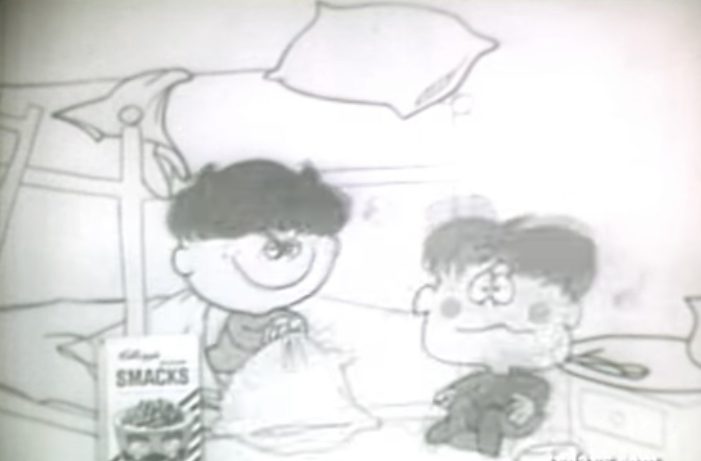 Smackin' Brothers
"Sugar Smacks. Honey on the outside, Sugar on the inside, Puffed up wheat, smackin' sweet, a taste that knocks you off of your feet" —- portrayed by 2 youngsters wearing boxing shorts and gloves, both smacking each other. Consequently, it shows that one smack can release the sweetness in the cereal, hence the famous line, "one, two, punch —- honey and sugar".
1967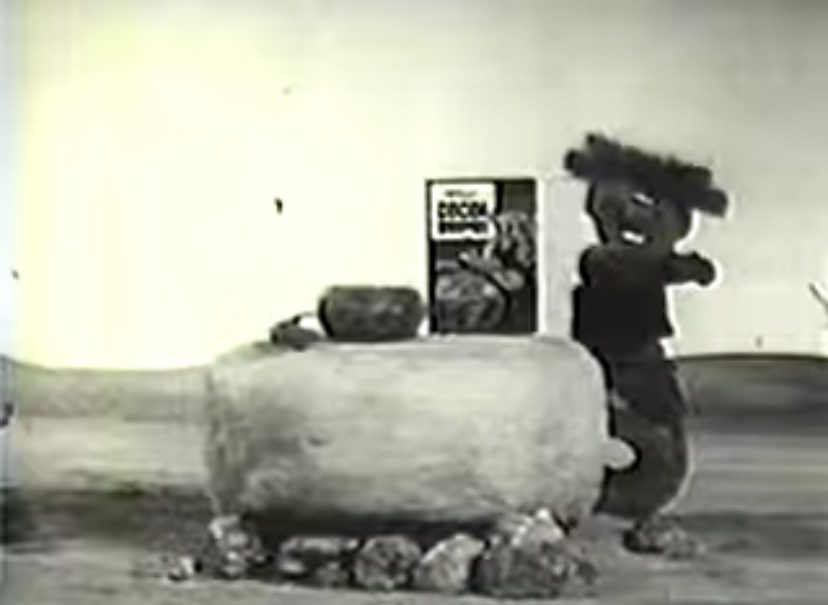 Ogg
Kellogg's wanted to try something different, so they happened to distant their branding with animated animals for their Cocoa Krispies. Hence, Ogg was introduced, a stocky little caveman with Kell (from KELLogg), a son named Marty, and a cow named Charlie. They also fell short with fans and had to be replaced 3 years later.
1970
https://encrypted-tbn0.gstatic.com/images?q=tbn:ANd9GcQcYk28IvBiEda-VhpmxaXouF0Fs63suxZD7A&usqp=CAU
Another character was introduced as another face of Kellogg's, but not a fictional animal anymore. He was a nameless Indian Chief who has appeared in commercials to show how the cereals give him the energy to start the day. However, it was a short-lived character for the brand.
1971
https://www.insider.com/frosted-flakes-fun-facts-2018-11?amp
Tony Jr, Mrs. Tony, and Mama Tony
As Tony the tiger came to rise and gained more popularity than any other actor on commercials, Kellogg's has incorporated an entire family for him; of course, to show that breakfast in a box must be enjoyed by families. Tony Jr (Tony's son), Mrs. Tony (Tony's wife), and Mother Tony (Tony's mother) appeared in commercials having breakfast together. Tony's family commercial was a huge boom for Kellogg's during the 1960s up until the 1970s, but was later on dropped and just focused on Tony even more.
1972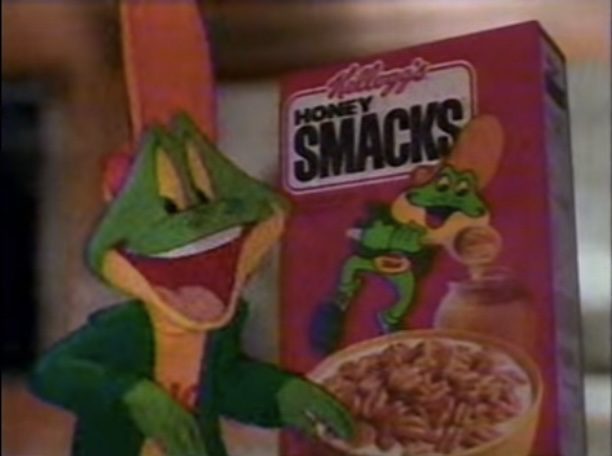 Dig 'Em Frog
Of course, another animated animal for Kellogg's; an awesome green frog wearing a baseball cap. He was the official spokesfrog for Kellogg's, having a big voice despite his cuteness. He hopped around the Sugar Smacks box until 1986, even when Sugar Smacks was replaced by the name Honey Smacks in 1983 to make it sound healthy but still sweet. In Dig'Em Frogs commercials, he would appear eating with other kids enjoying the cereal together. But then again, he was replaced. Nevertheless, he still went back to stardom in 1987 due to his huge fans club!
1981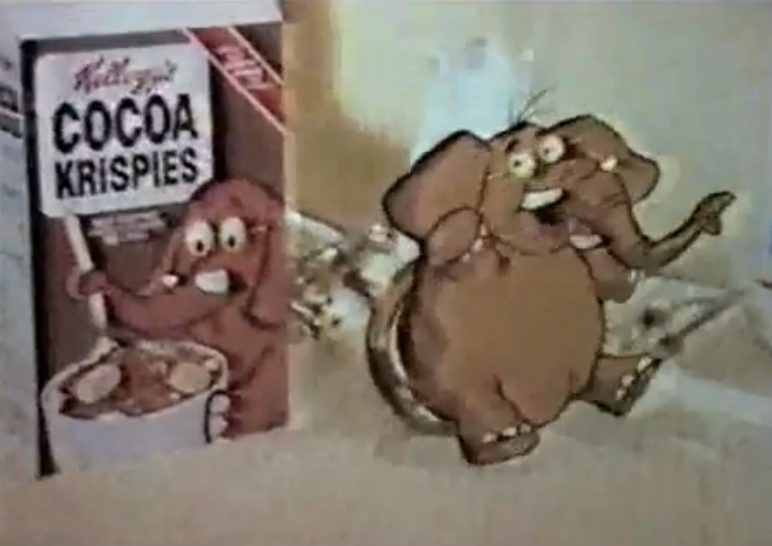 Tusk the Elephant
Another Elephant in the room! But not an issue, just a normal animated elephant for Kellogg's. As chocolate was a childhood favorite even before, Tusk was always saying "Kellogg's Cocoa Krispies… They are so chocolatey, That when I get a taste of them, I trumpet happily. Toot toot toot too!". He was a nerd who wore glasses, making him an intelligent elephant even though he technically isn't. Tusk lived for 10 years as Kellogg's valued character, but then again was replaced after.
But hey, the original Snap, Crackle, and Pop came back to represent Kellogg's again in 1981.
1986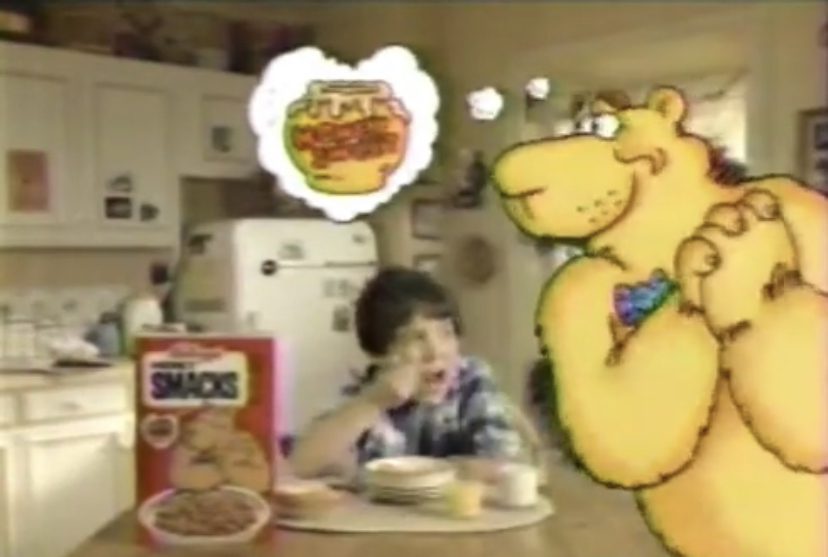 Wally the Bear
Kellogg's wanted to associate another character that relates with Honey. Thus, a bear, about Winnie the Pooh. They introduced Wally to the consumers to commercials and new boxes and appear to be admiring a box of Honey Smacks; in contrast to how furious a bear is. Nonetheless, Wally always appears to be admiring the Sugar Smacks but is not allowed to get any. Thus, he's just daydreaming over the famous cereal.
1994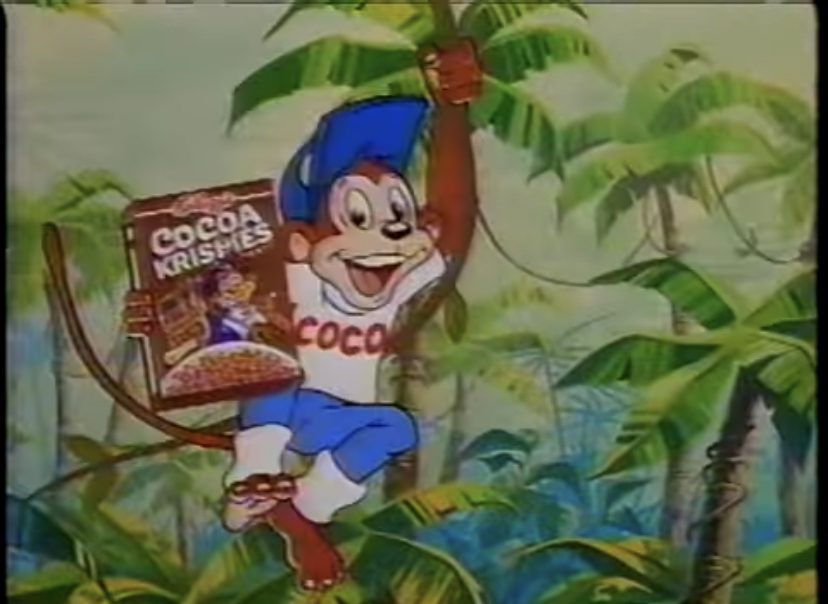 Coco the Monkey
Coco was revised to a monkey from an elephant. He was a happy-go-monkey, just swinging around his jungle who happens to protect his cereals from tricky animals. He also wore a shirt and a hat, and had a lot of trustworthy jungle friends too!
1994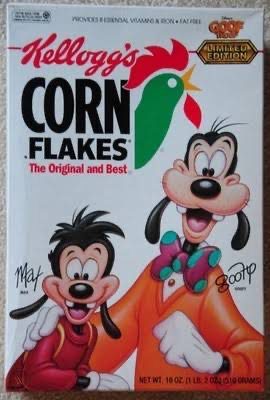 https://encrypted-tbn0.gstatic.com/images?q=tbn:ANd9GcTzEe9Zqw7nWWDf-k_w0XhUCEBytXm3yxPhxg&usqp=CAU
Goofy and Max
Another father-son combo aside from Tony the Tiger and Tony Jr, Goofy and Max appeared in corn flakes boxes in 1994. Don't remember Goofy? Then don't you dare like Mickey Mouse!
2001 – Present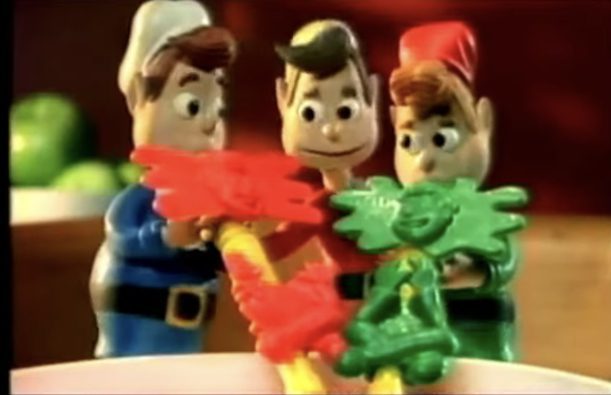 Snap, Crackle, and Pop
The three became the undisputed trio for Kellogg's Cocoa Krispies. Now they became more colorful and enhanced, and have also adjusted to a 3D animation but still endorsing their favorite cereal. Their favorite tagline? —— "Cocoa Krispies. Tastes like a chocolate milkshake — only crunchy".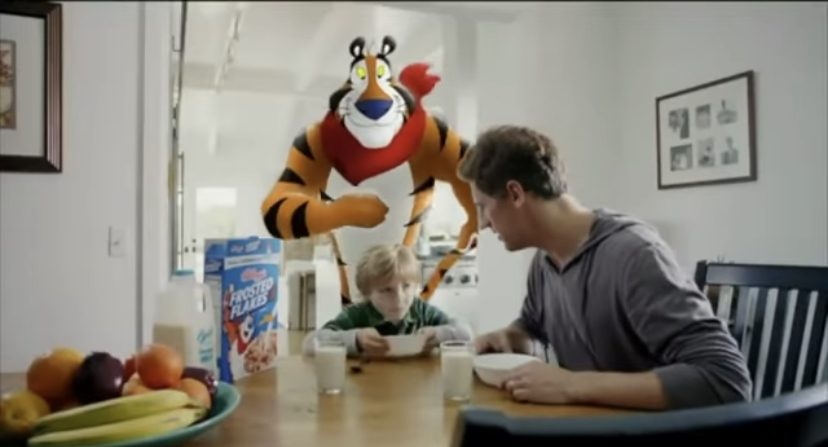 Tiger Tony
Uhm… need we say more? Come on. He's been Kellogg's face for decades already and shows no signs of aging (well, just others copying him). Tiger Tony has developed and now appears in schools, sports activities, and even at homes. He is now a household character, with nothing but the cereal to provide you with the radiant energy and positivity to jumpstart your day. Well, that's Tony, folks!
For the past decades, Kellogg's has introduced original animated characters and collaborated with shows to get the kids' soft spot. Almost a century of mixing, matching, and inventing characters that can bring justice to their brand, not just solely be the face of packaging.
Mind you, there are still a whole bunch of mascots that were not mentioned, but they had their glorious days as well even in the shortest of moments. The prominent ones were Snap!, Crackle!, and Pop!, and also Tiger Tony. Still, will their glorious days be permanent? As brands and faces evolve over time, so as mascots —— hence, better get ready for new characters on your cereal boxes and TV commercials soon!