I find fast food advertising fascinating, especially when it comes to toys. I have so much nostalgia for old fast food toys I've recently completed a few sets of my favourites from the 80s and 90s. There is a lot of content online regarding the best Happy Meal toys and whatnot, especially on YouTube but the iconic Happy Meal boxes themselves are less spoken about.
I suppose this is because most people simply throw these in the trash once their meal is over. It's a weird thing to keep, greasy cardboard with pictures on it. I completely understand why most people wouldn't collect them. Then again, I still own a Star Wars Episode 1 KFC kids meal box from 1999, much to the disgust of my family.
Back in December 2020, I ended up finding hundreds of old Happy Meal Boxes for sale on eBay. I thought I'd save the images in case any of these are hard to find pictures of later given that eBay purges old sold listings after a period. Saving the images for a future article, the one I'm writing now. It's a lot easier to store these boxes online than to store them in my house!
Happy Meal Boxes in the 80s and 90s
Back in the 80s and 90s, the golden years of fast food advertising to children, every McDonald's Happy Meal box was covered in bright colourful artwork. The Happy Meal box was always themed to match the current series of promotional toys available. They were covered in pictures of the characters from the latest Disney film, popular toy series or cartoon. Acting as a further advertisement for whatever McDonald's is promoting. The whole point of these toys and meals is to advertise something else to kids after all. Yes, you get to keep the latest Minions toy, but really they are encouraging you to consider buying a ticket to see the new movie.
The Happy Meal boxes would almost always include activities to keep kids entertained whilst sitting at lunch or dinner. This was probably a godsend to both parents, other customers and the workers at McDonald's restaurants, buying precious quiet time whilst they eat before they run off to burn calories in the McDonaldland playground.
Not only that but there was usually multiple different Happy Meal boxes per toyline. Usually, 4, so that each time you went back to collect the next toy, you'd have a different box to distract you whilst you guzzle your french fries.
The typical Happy Meal box activities included jokes, word searches, comics, "connect the dots", letter scramble puzzles, hidden objects to find, facts and matching games. A lot of these actually involved some level of reading comprehension so one might argue there was a mild educational value here.
Some of the best and most memorable Happy Meal boxes included cut-out or pop-out cardboard features. This could include making scenery, backdrops, dioramas or houses to interact with your toy. Sometimes you'd need to get multiple different Happy Meal boxes from the same series to connect the cardboard elements together to make something such as a train track.
Modern Happy Meal Boxes
These days Happy Meal boxes are far less interesting. Living in Australia, we are lucky to get a single themed box for the whole set, let alone 4 different ones to see each week. Now that kids can play games on their phones or watch videos on it, activities on Happy Meal boxes are no longer as interesting. Most Happy Meal boxes I've seen from the US don't even include unique themed artwork on all sides of the box. There's always a plain red side and often a kid's artwork promoting that 1 penny from each Happy Meal sold goes to supporting the Ronald McDonald House charity. Sometimes a Happy Meal App is also promoted.
I asked my friend who manages a McDonald's here in Australia and she said that depending on the licensing agreements with the promotional partners, not all Happy Meals in Australia have their own unique box art. Then depending on current stock levels of the generic boxes, some stores might not order all of the unique boxes.
1979 Star Trek Movie Meal
Star Trek was the first movie-tie in for a Happy Meal.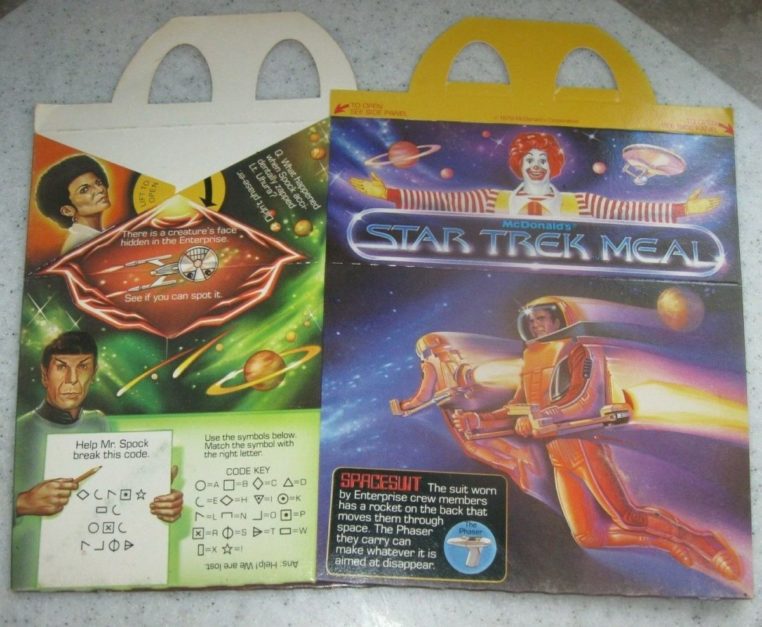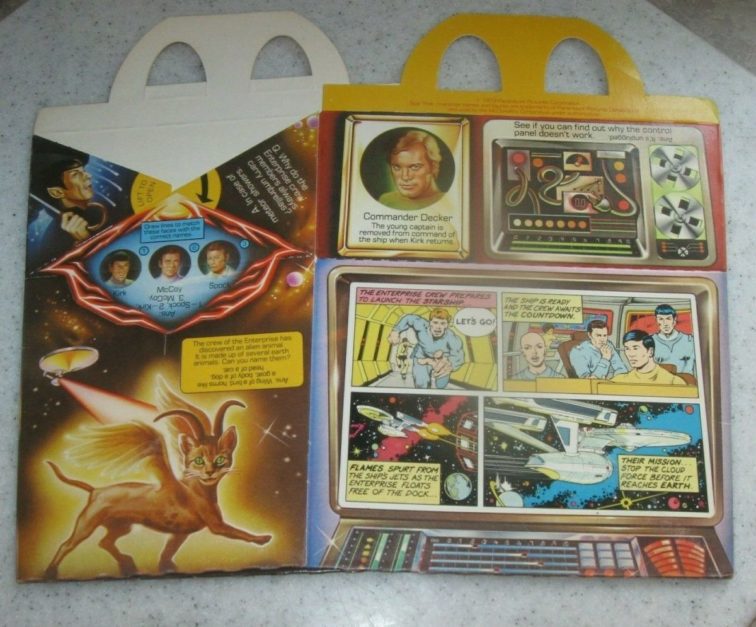 1981 Aventures of Ronald McDonald
This set has 6 different artworks, making it one of the biggest and most interesting old Happy Meal box collections. There's a lot of custom artwork and a lot of activities to do on each box.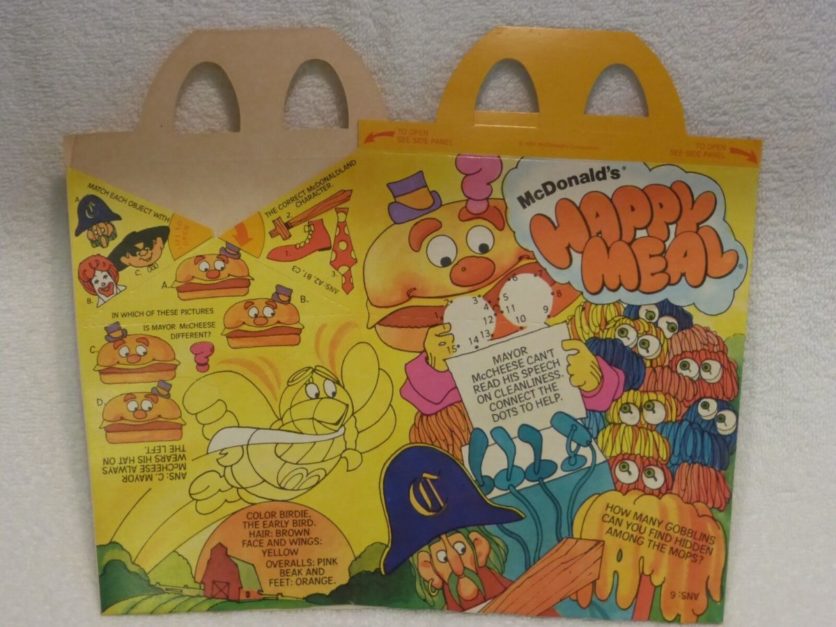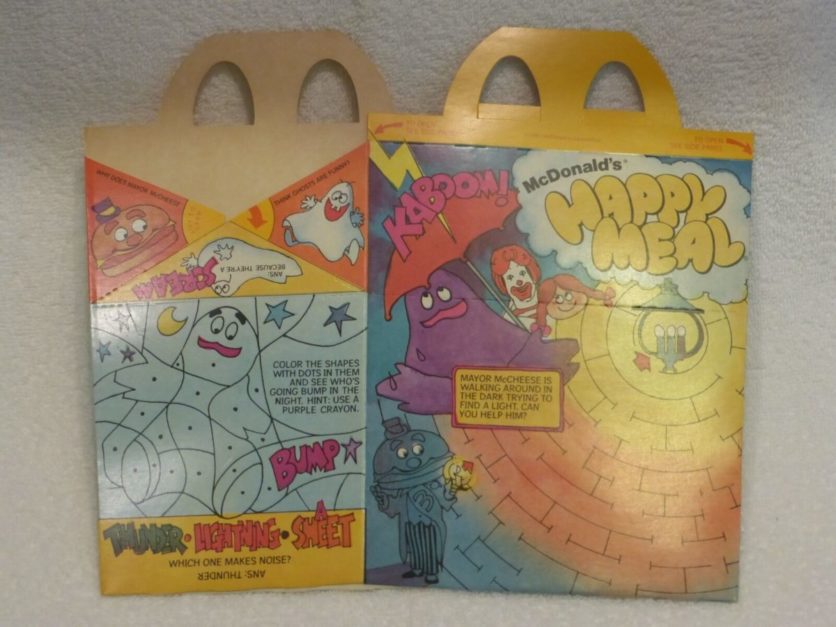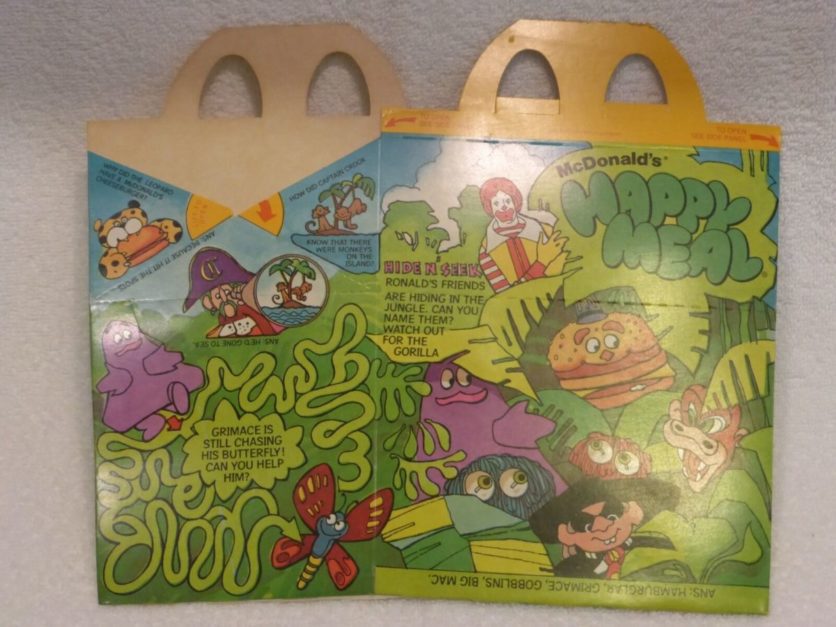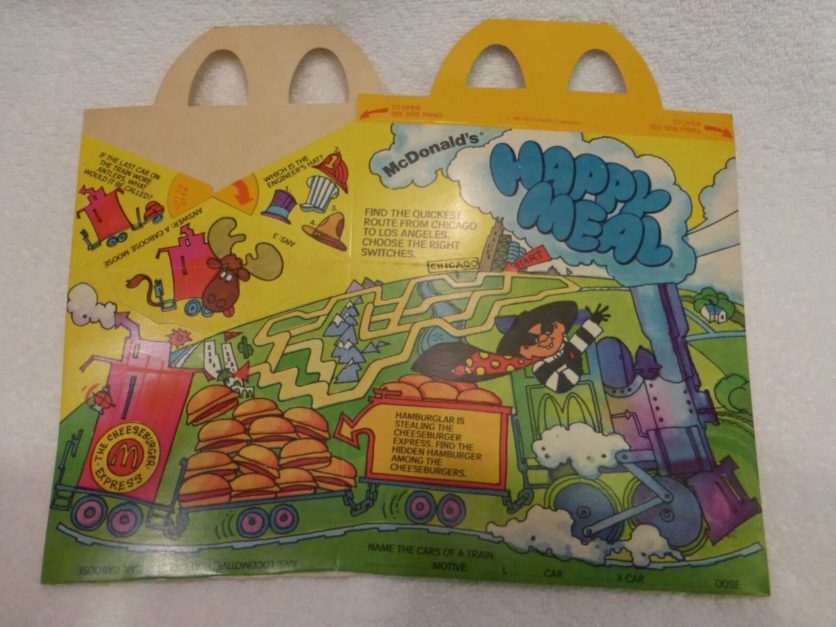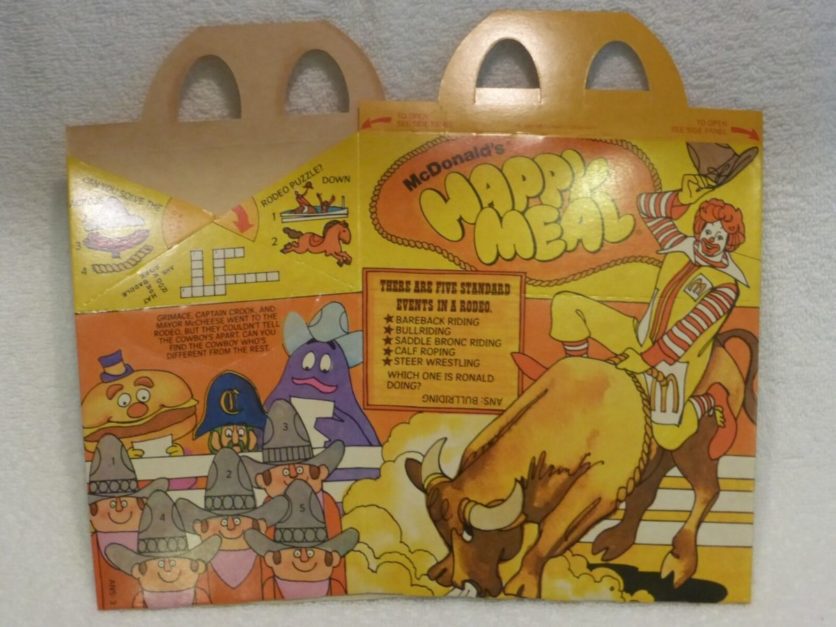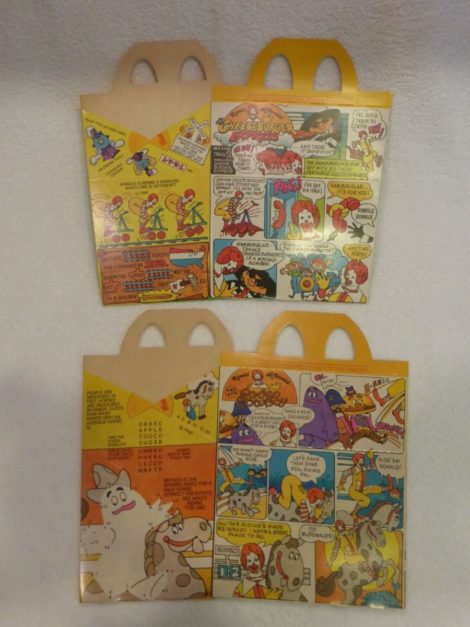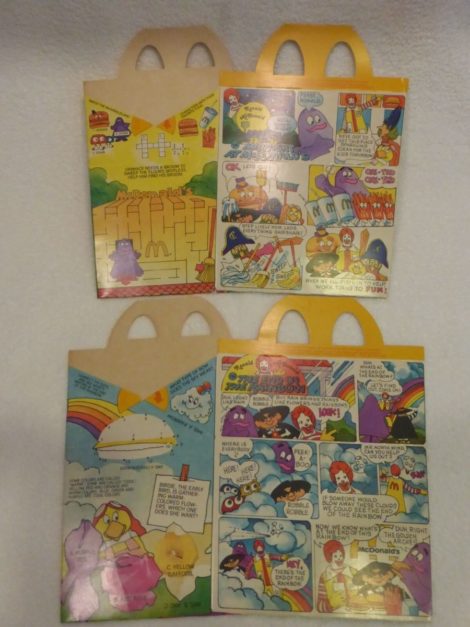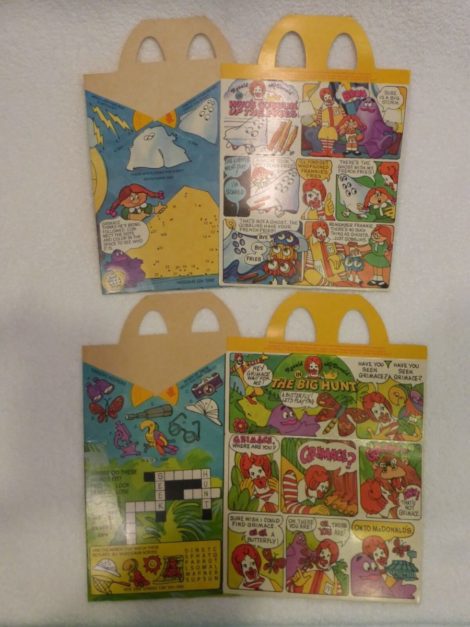 1981 Going Places
These include facts, mazes, connect the dots, word searches and more.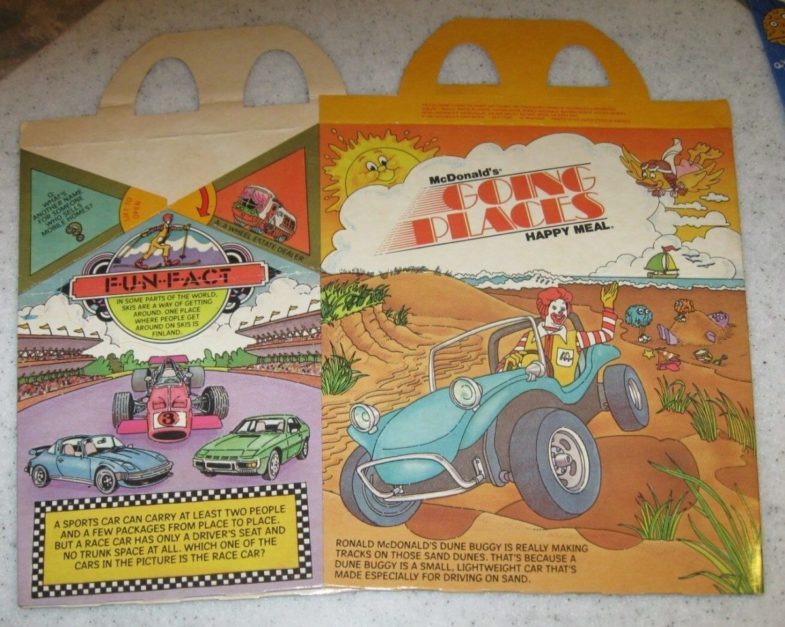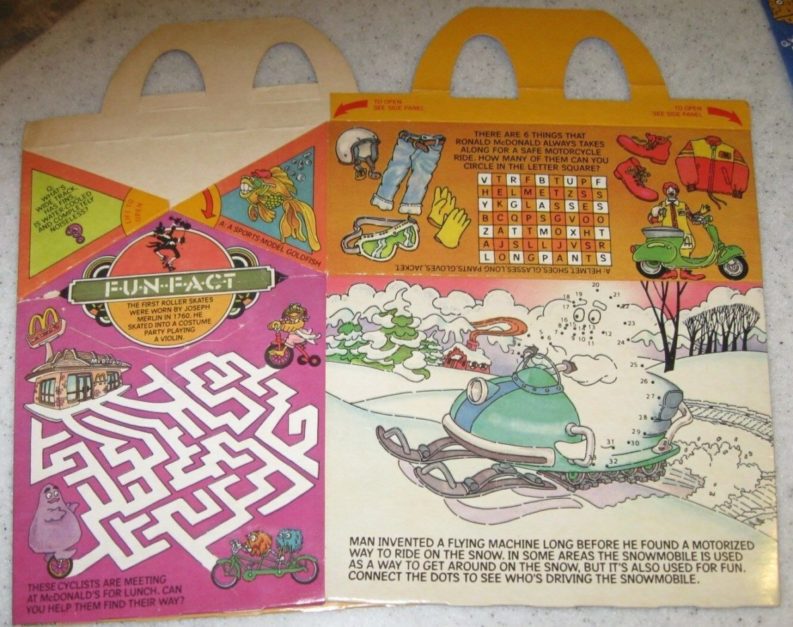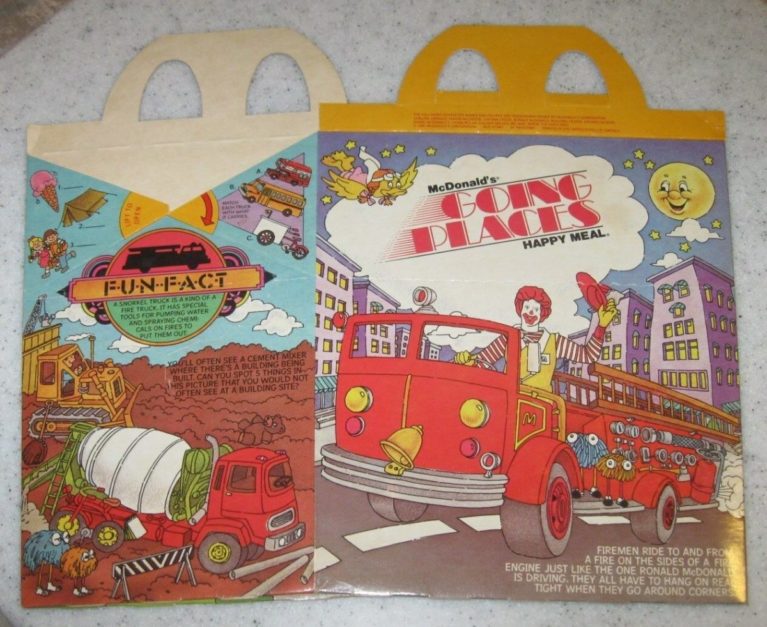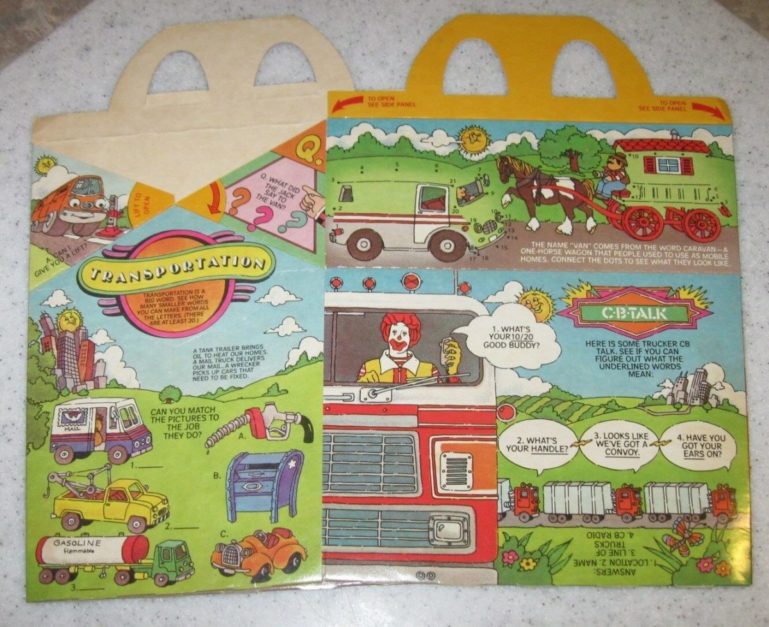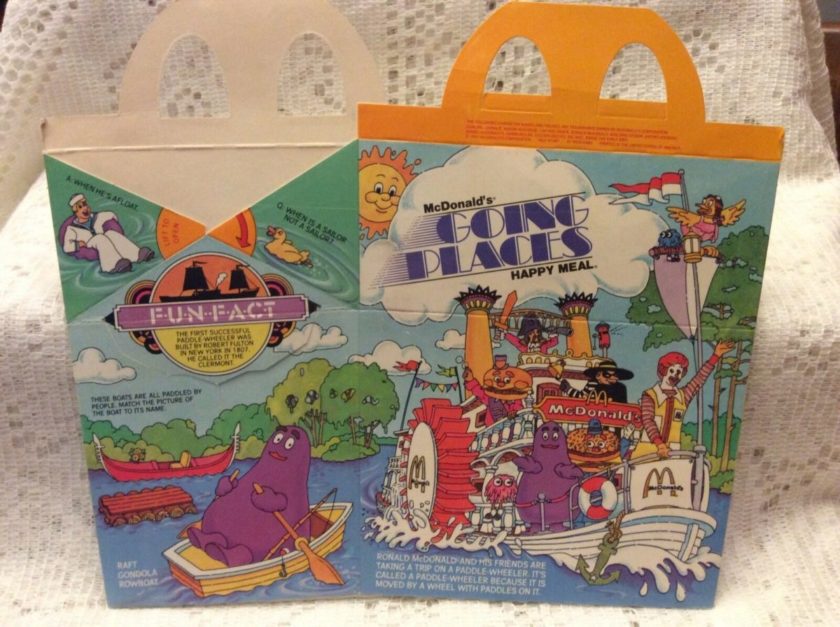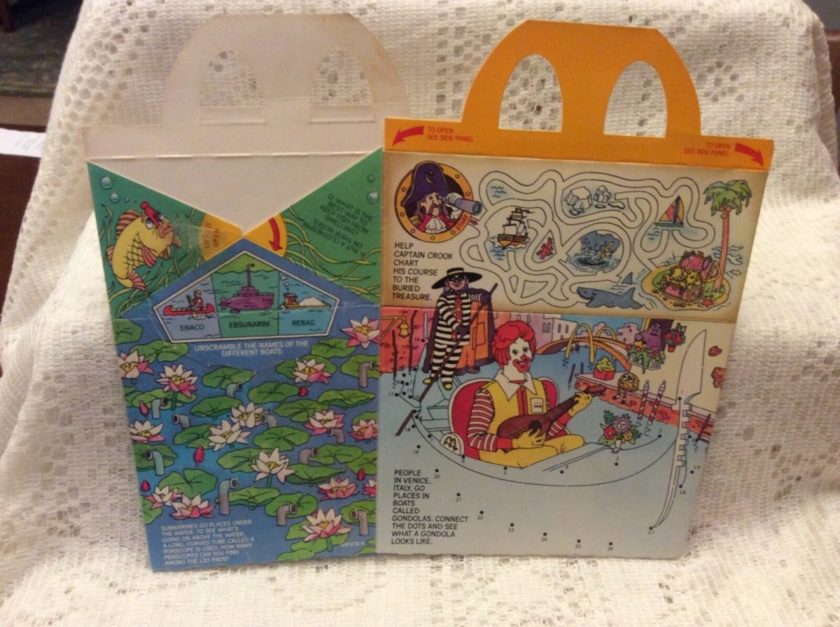 1982 Little Golden Book Happy Meal
This advertises the free books in the collection, plus has a bookmark and a puzzle to find the hidden letters.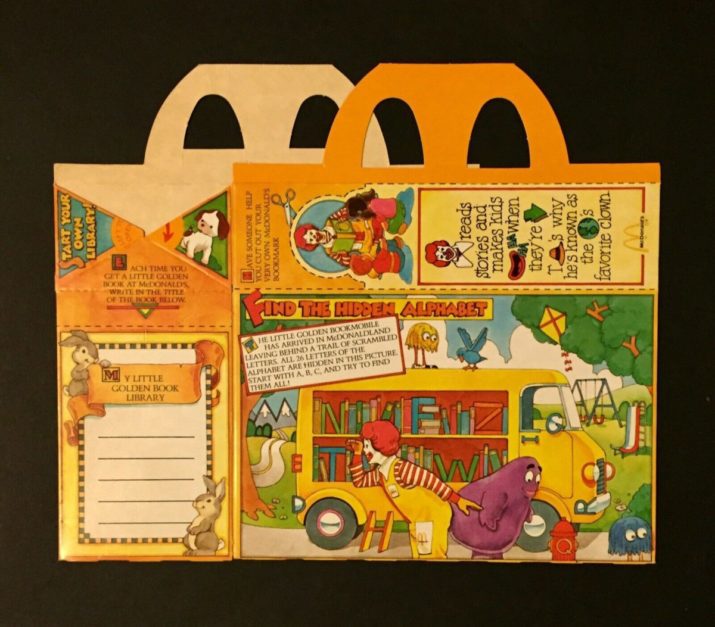 1983 McDonaldland Junction
These boxes came with train tracks for the little toy train carriages you could collect.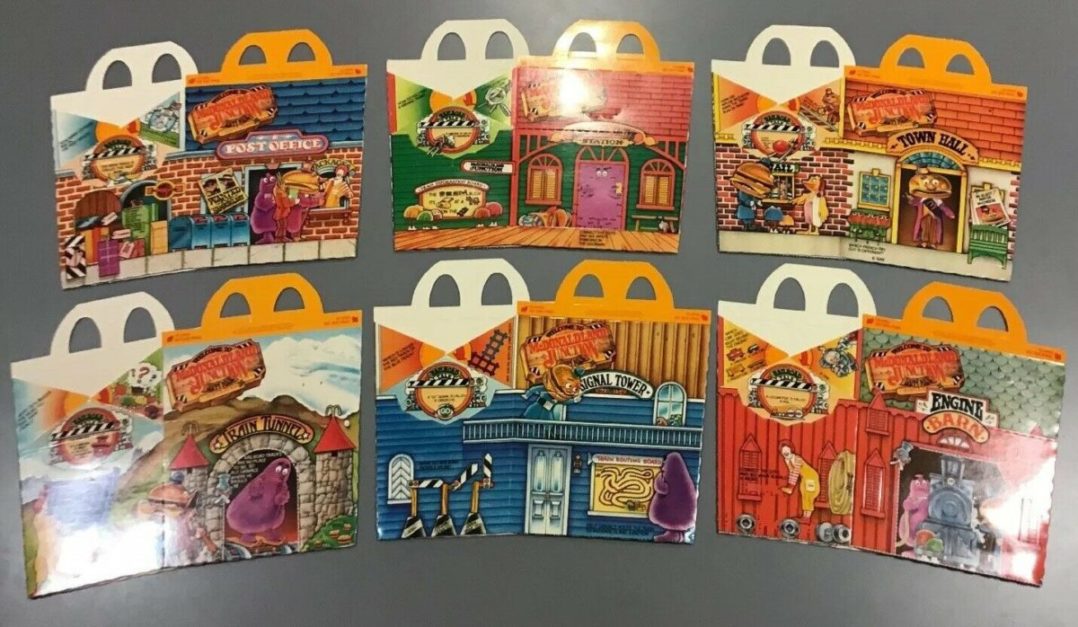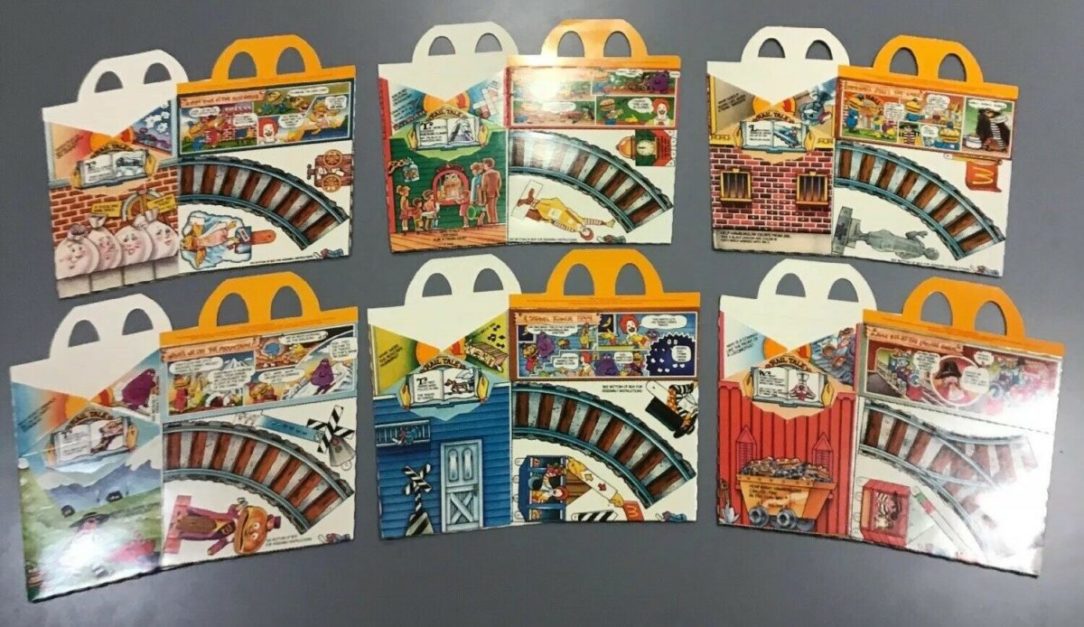 1983 School Days Happy Meal
This series contains facts and history but on the "Old Glory" box design there is a misprint on the box. It should be Guion Bluford (astronaut), not Guilon Bluford. He was the first African American Astronaut in space.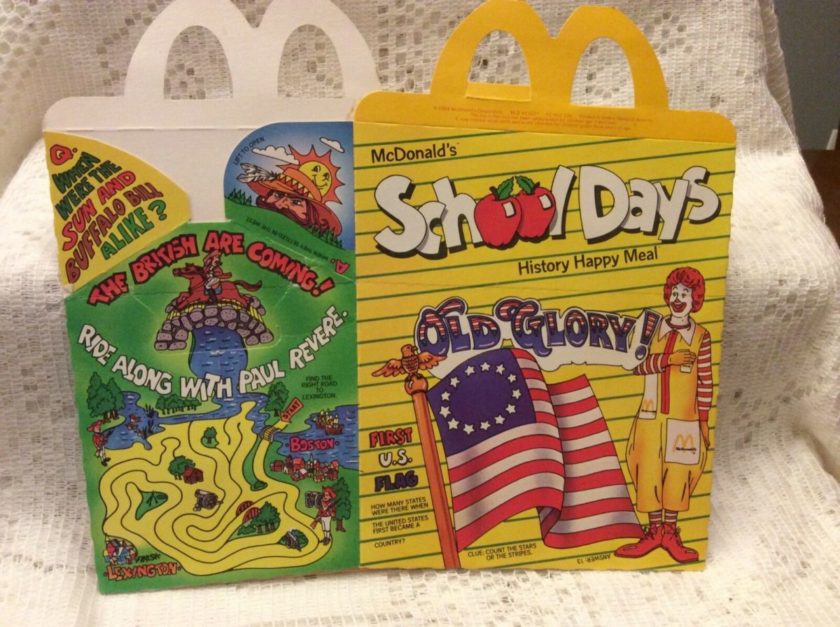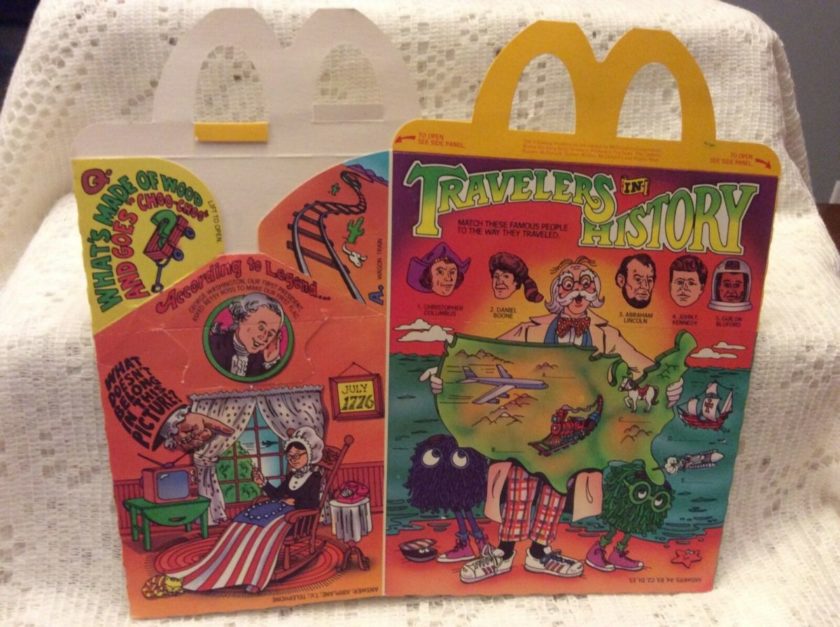 1985 On The Go
As well as puzzles, there are parts of the box that open up so you can play with your vehicles, such as the garage.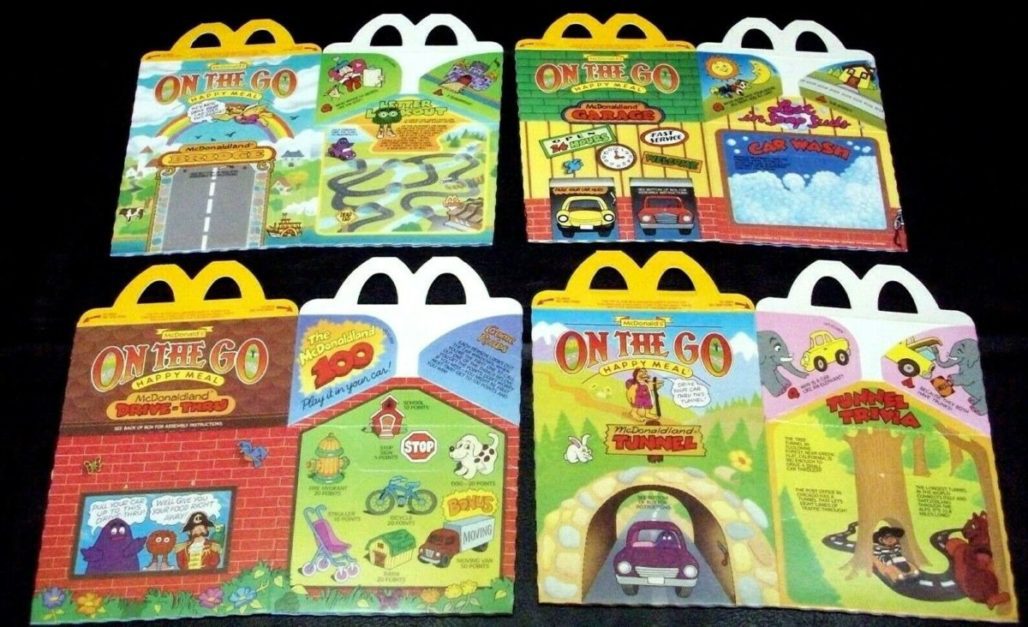 1986 Lego Happy Meal
This shows a lot of Lego vehicle creation ideas, which is cool as little Lego sets were included with the meal.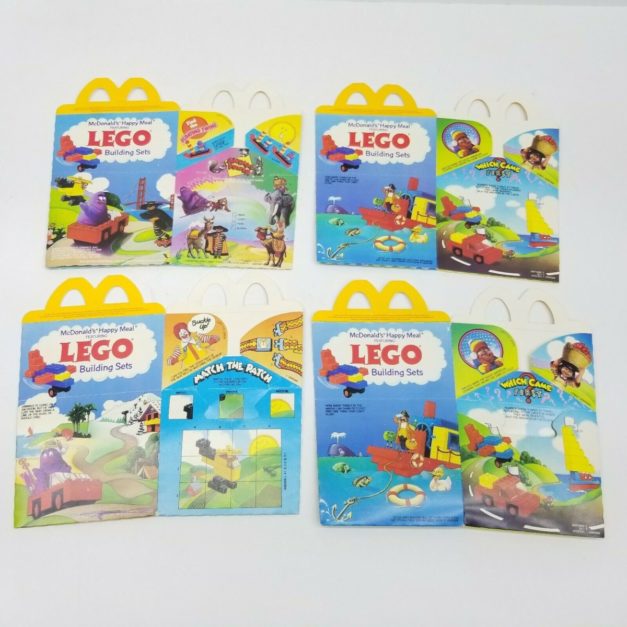 1986 McDonaldland Band
This includes a lot of musical themed facts and games including filling the blanks in nursery rhymes. I'm sure that giving kids noisy musical instrument whistles made life hell for staff. I don't think they've done many noisy toys since.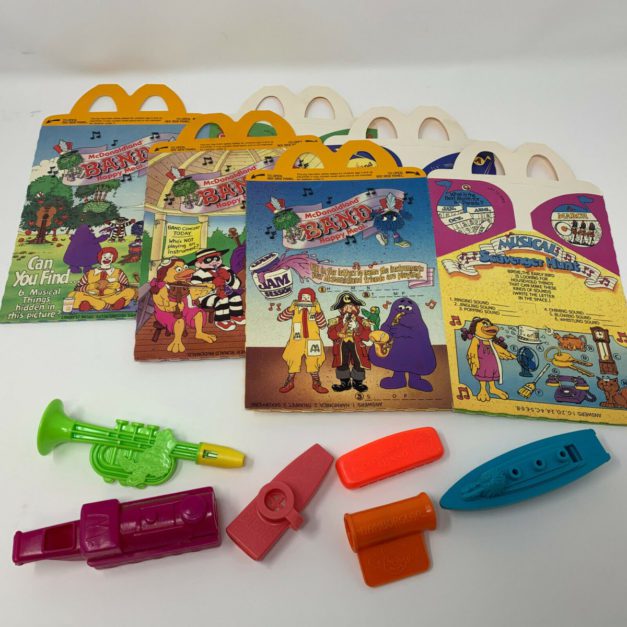 1986 Crayola Happy Meal
Since this is to do with crayons, there are lots of things to colour and draw on for this set of boxes. I wonder if Crayola Crayons actually work on this type of glossy cardboard?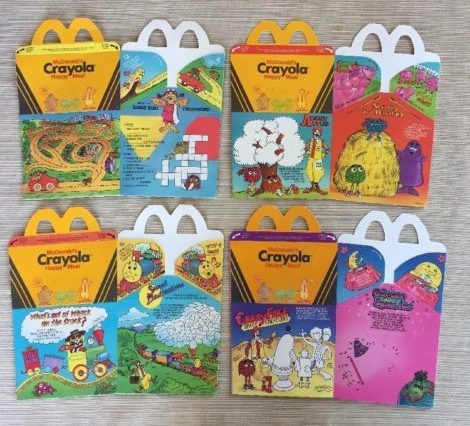 1986 Play-Doh
I really like the punch-out accessories that can be placed into the Play-Doh that came with this Happy Meal set. I also like that it teaches the types of shapes you need to make to create different animals with Play-Doh.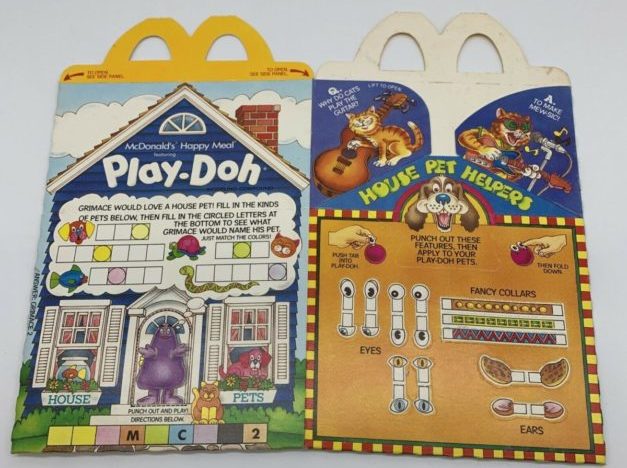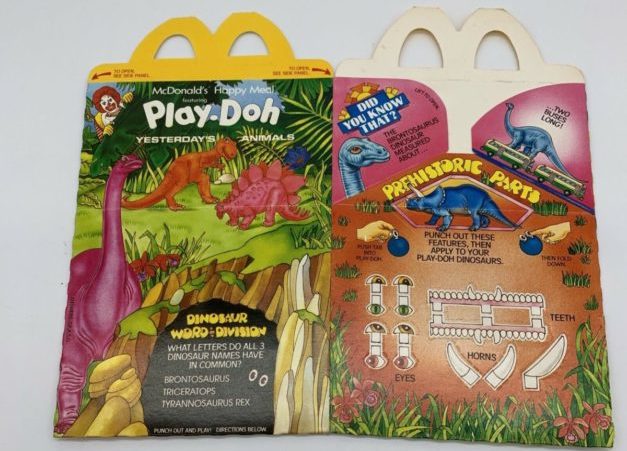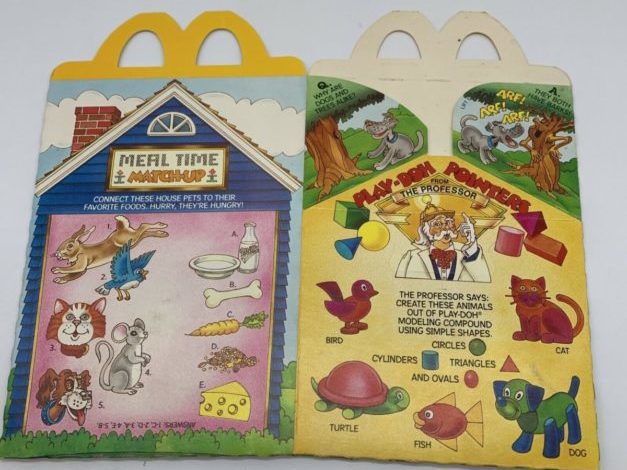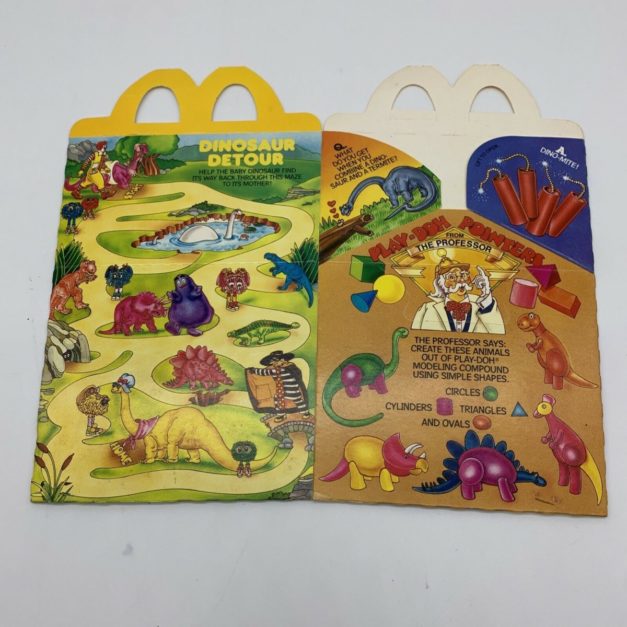 1987 Matchbox Super GT Happy Meal
This set stood out to me as it's usually  Hot Wheels partnering with McDonald's, not Matchbox. This box is cool because it somehow creates a "speed ramp" for you to play with your Matchbox cars. It also has a connect the dots and maze to complete.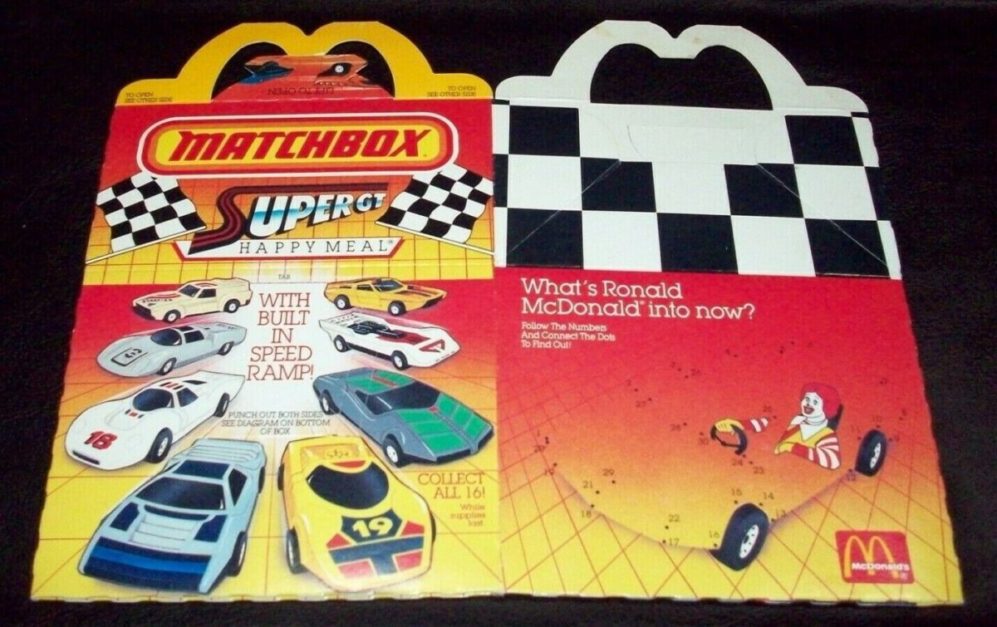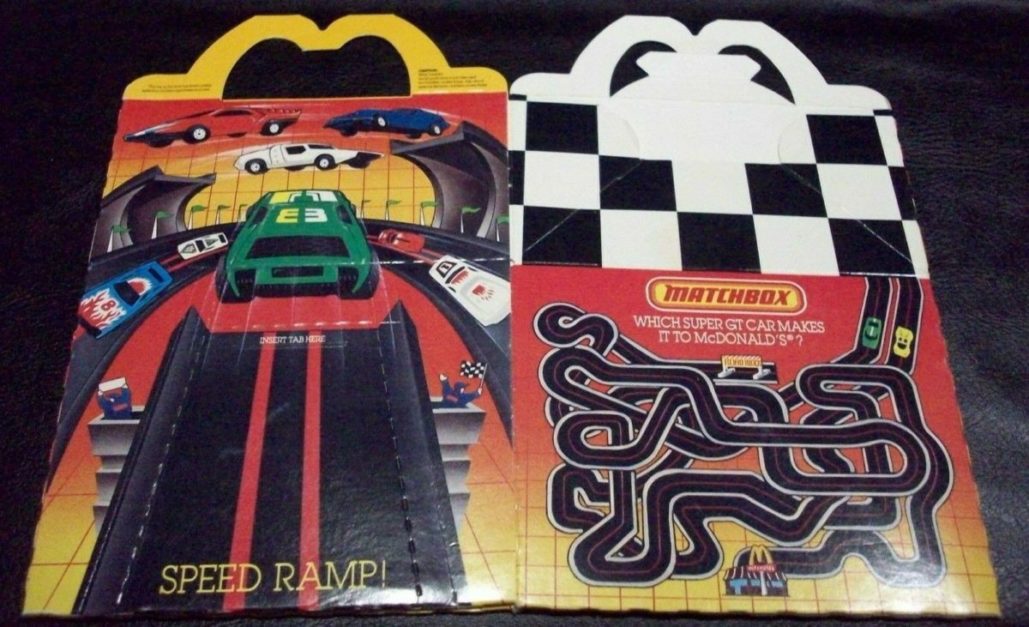 1987 The Real Ghostbusters Happy Meal Box
This includes word games, finding hidden ghosts, jokes, a maze and a word search. A great example.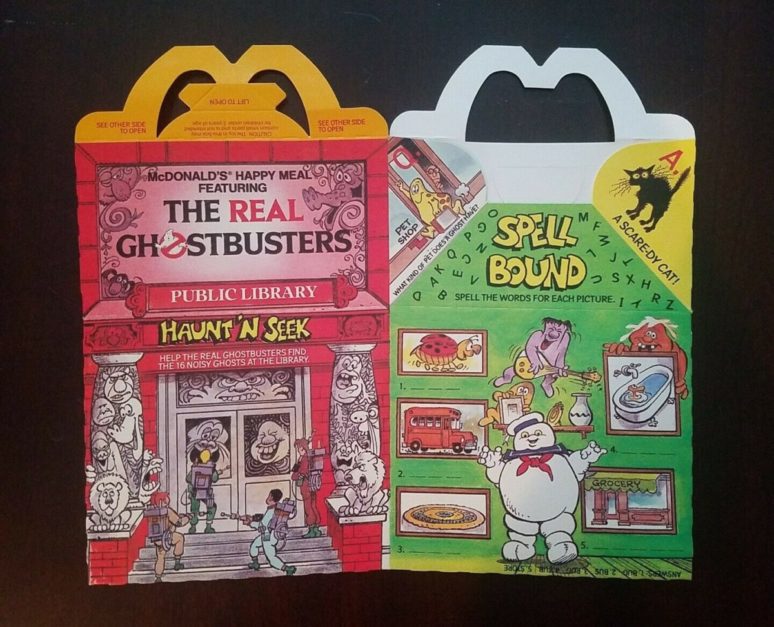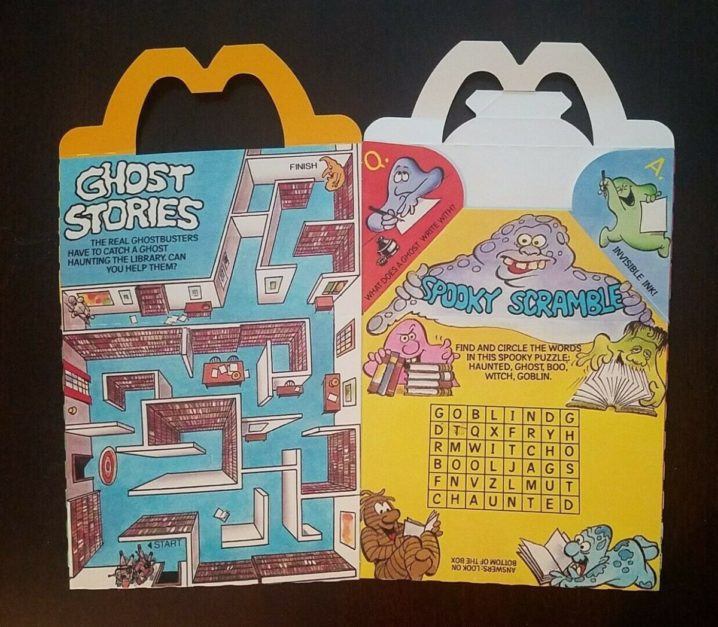 1988 Jim Henson's Fraggle Rock Happy Meal
This box features a cutout cave for the Fraggles to live.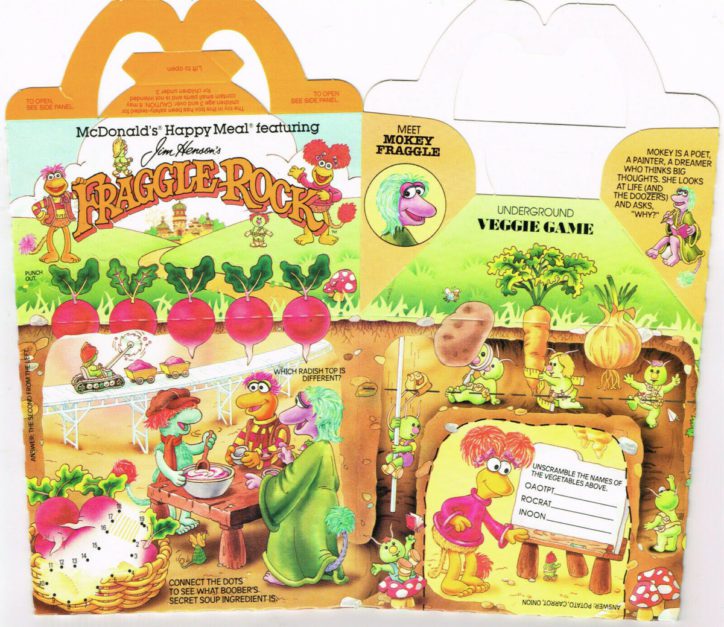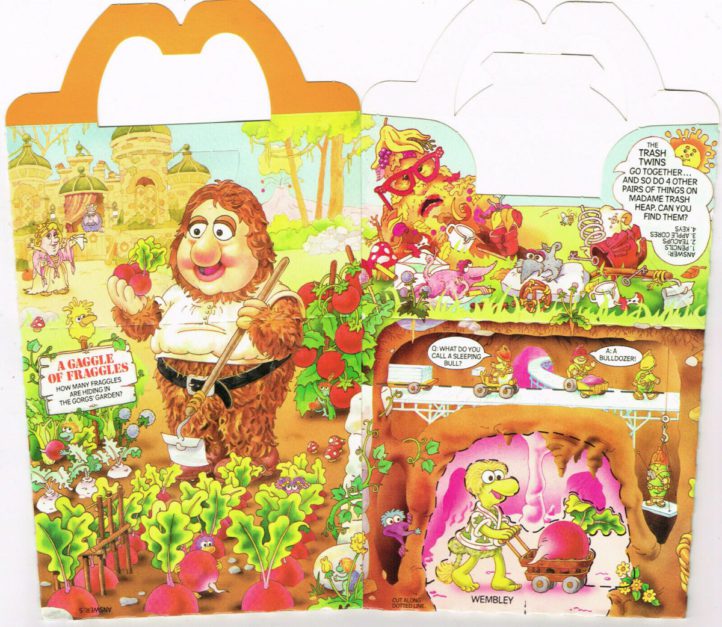 1988 Disney's Bambi
Below are two different boxes, one is for Autumn/Fall and the other is Winter. There were also ones for Spring and Summer.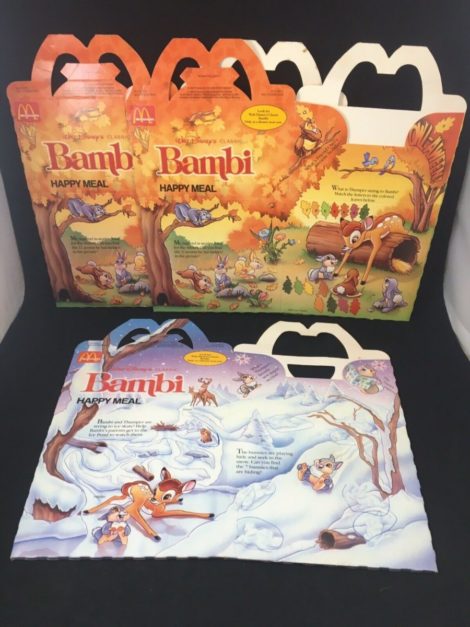 1988 McNugget Buddies Happy Meal Box
I love the McNugget Buddies, these boxes include very cute artwork, jokes and various puzzles.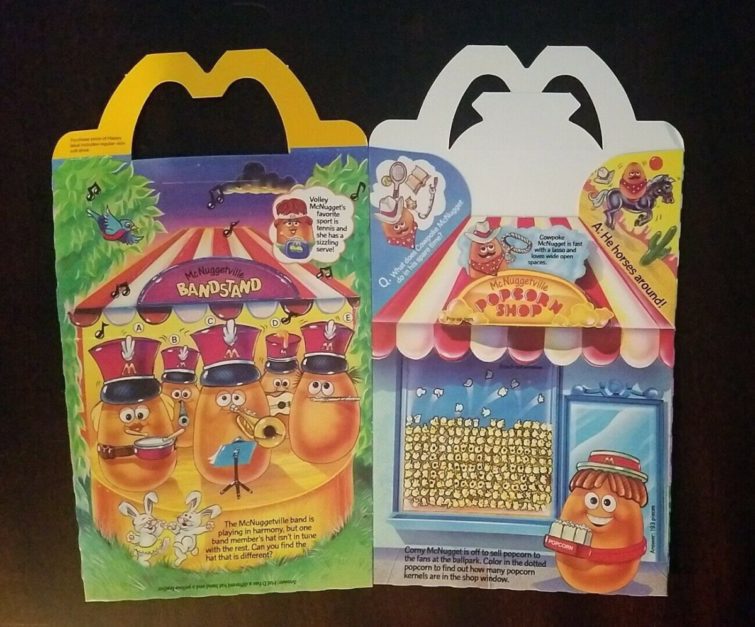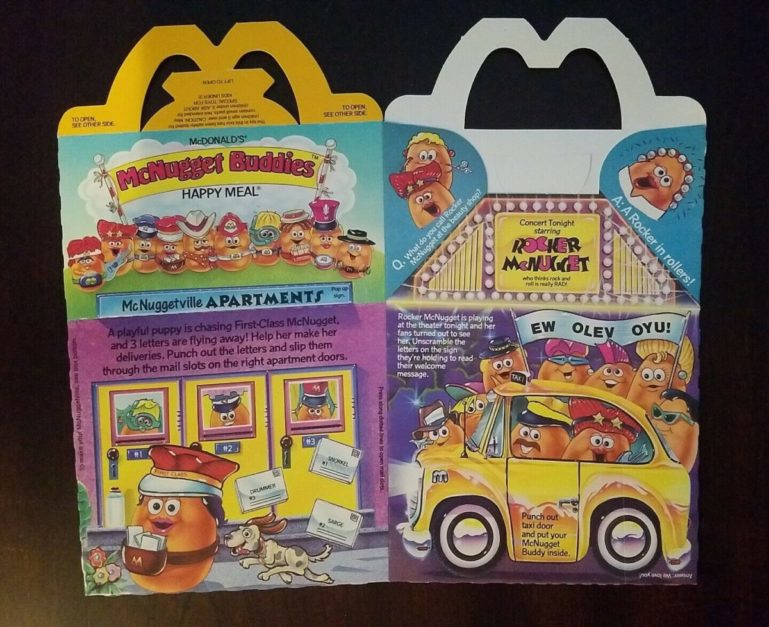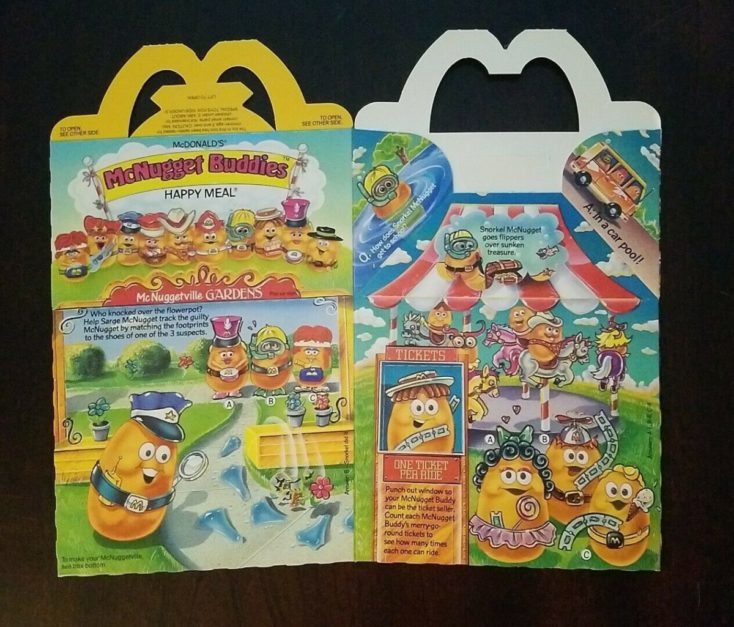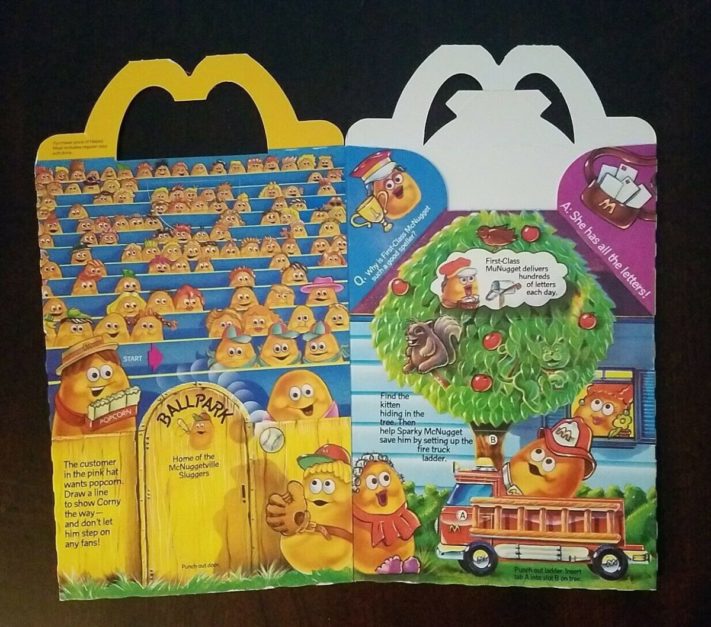 1989 Chip n Dales Rescue Rangers Happy Meal
This features a comic strip that wraps around the whole box.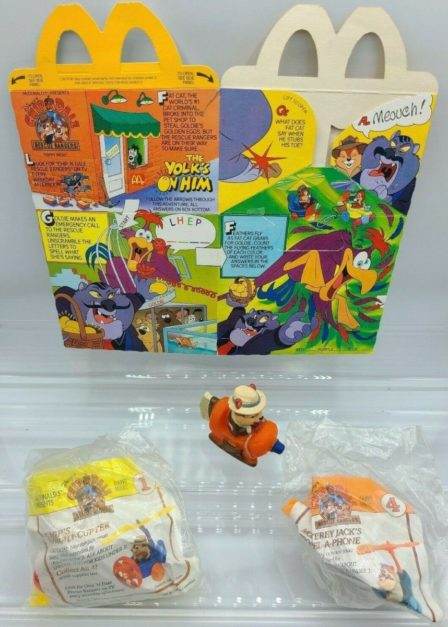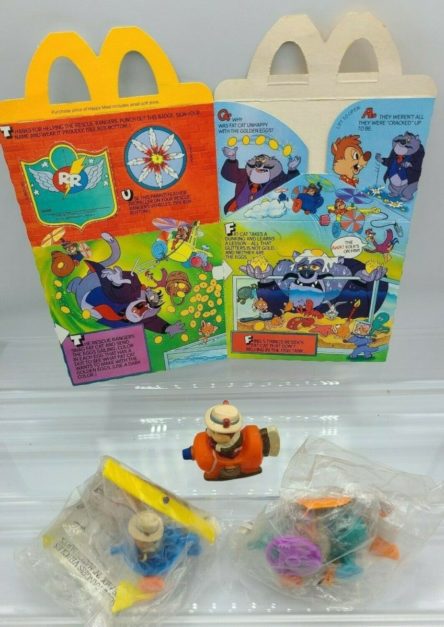 1989 Garfield Happy Meal
The food matching puzzle seems very difficult, perhaps not all are meant to have matching pairs?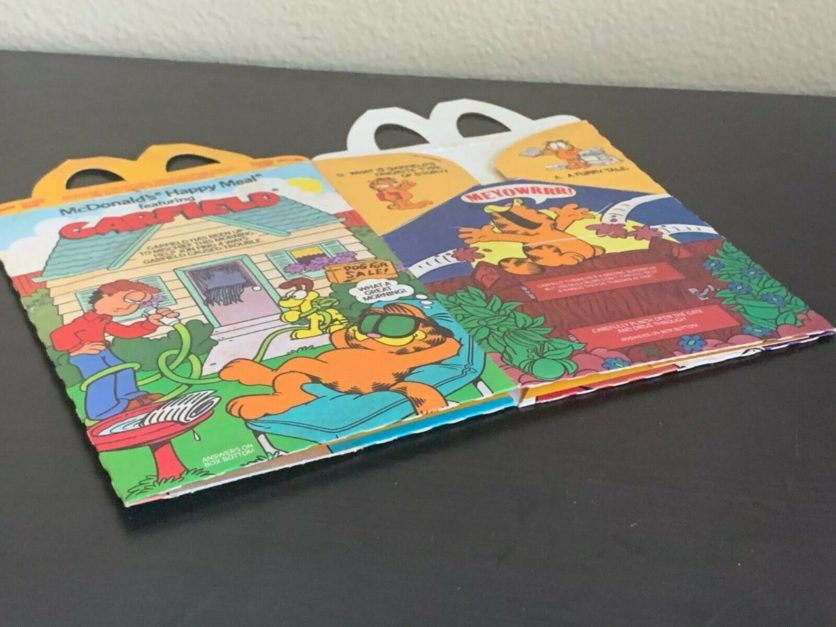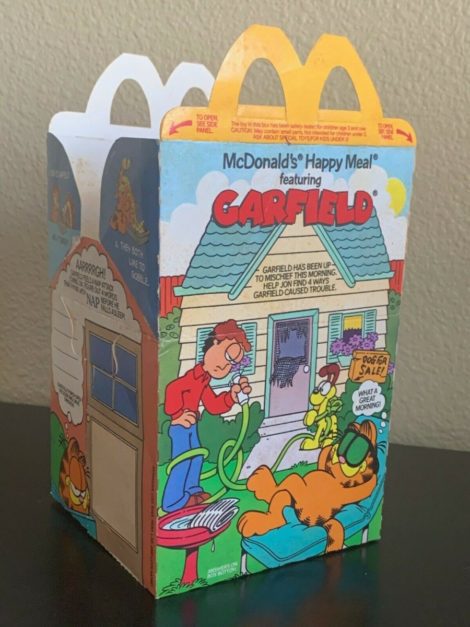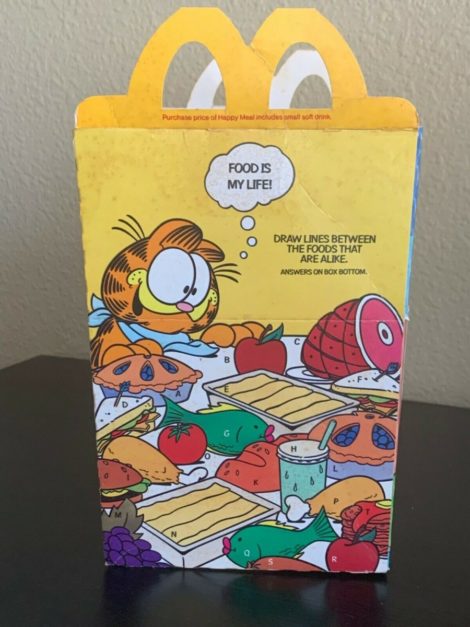 1989 Raggedy Ann and Andy Happy Meal
This features pop-out sections to make a diorama and a crossword.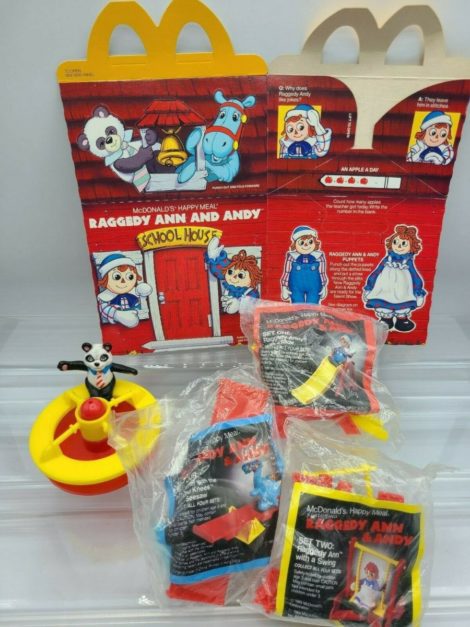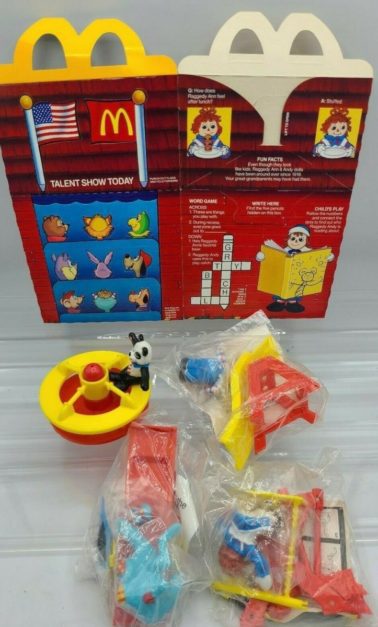 1989 Dink The Little Dinosaur
With a few puzzles, this helps identify the species of each character in Pink The Little Dinosaur.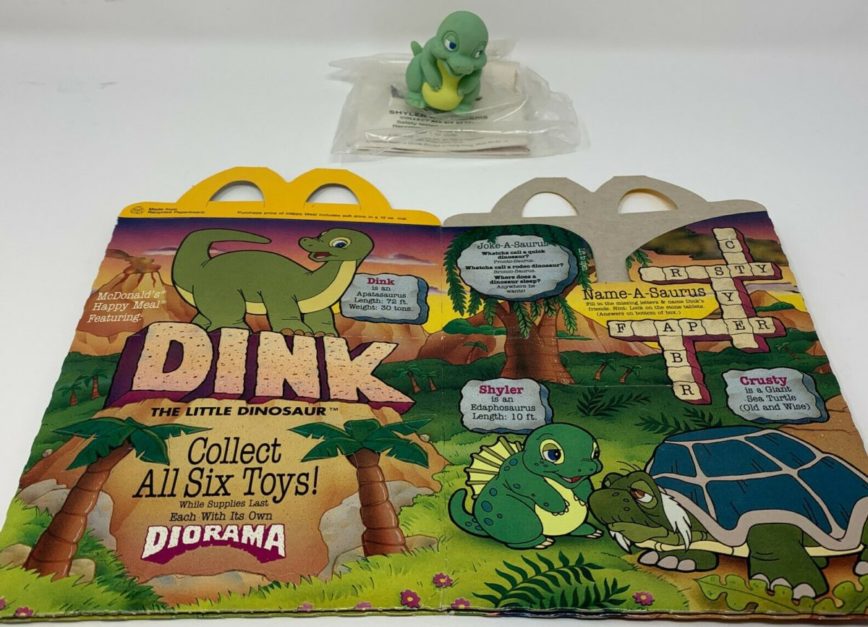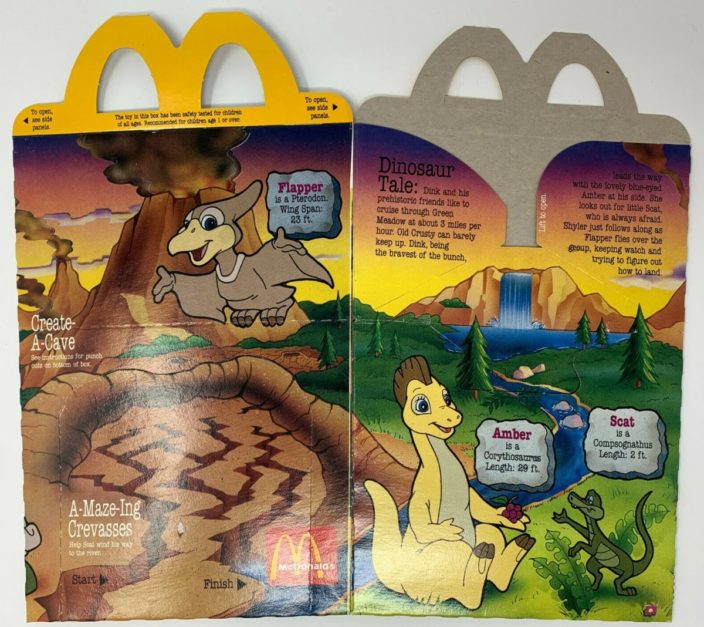 1990 Walt Disney's Tale Spin Happy Meal
This includes connecting the dots, jokes and a word find.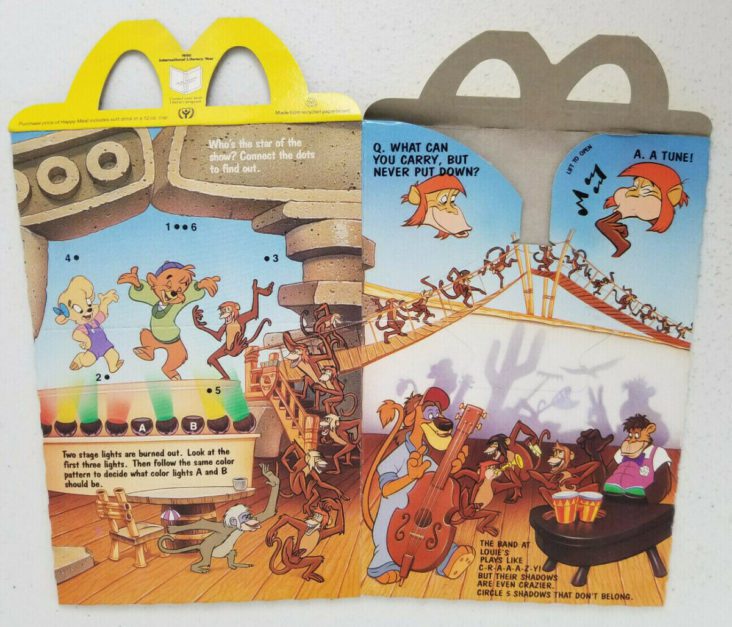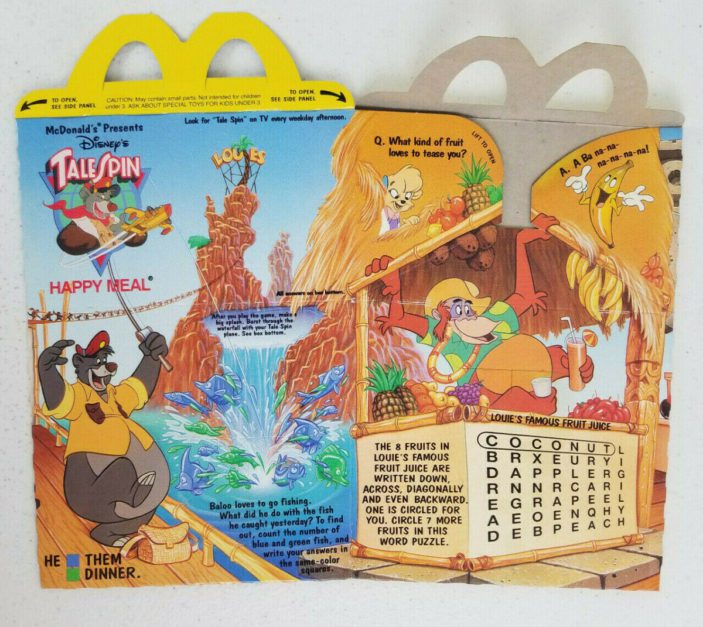 1990 Tiny Toons Happy Meal Boxes
There's a lot to read and do on these.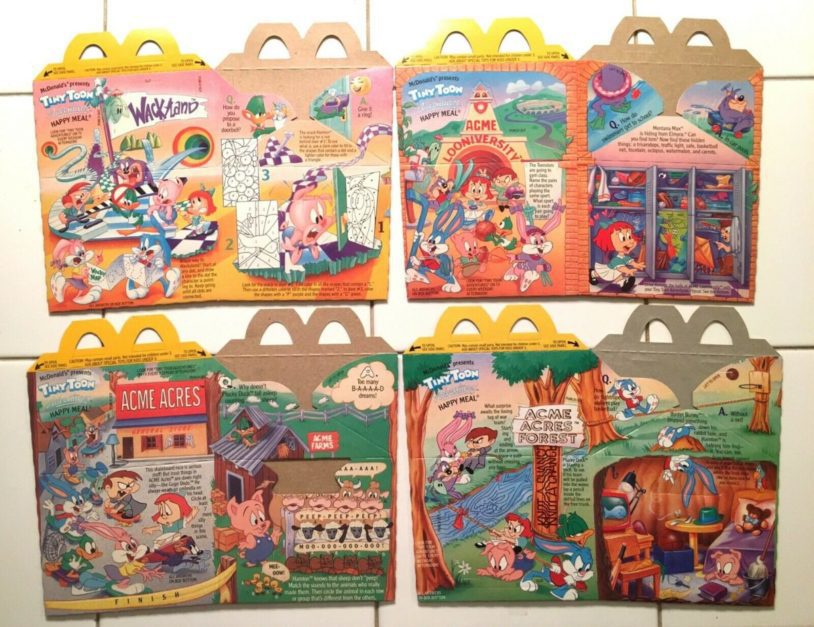 1991 McDonalds Hook
This was a 4 week series with multiple toys per week.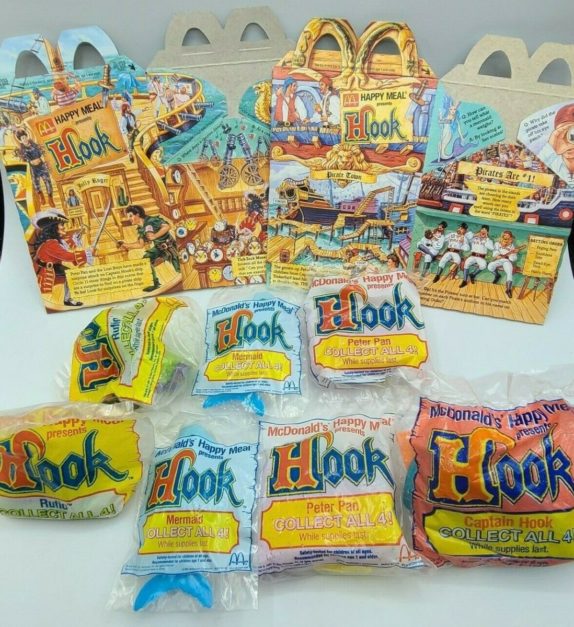 1992 Looney Tunes Quack-Up Car Chase Happy Meal
There's definitely a lot going on here.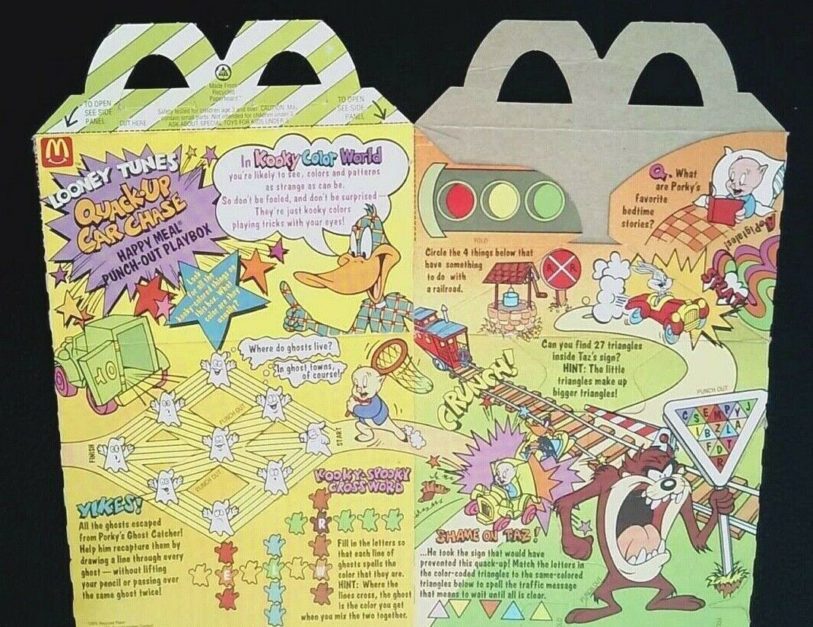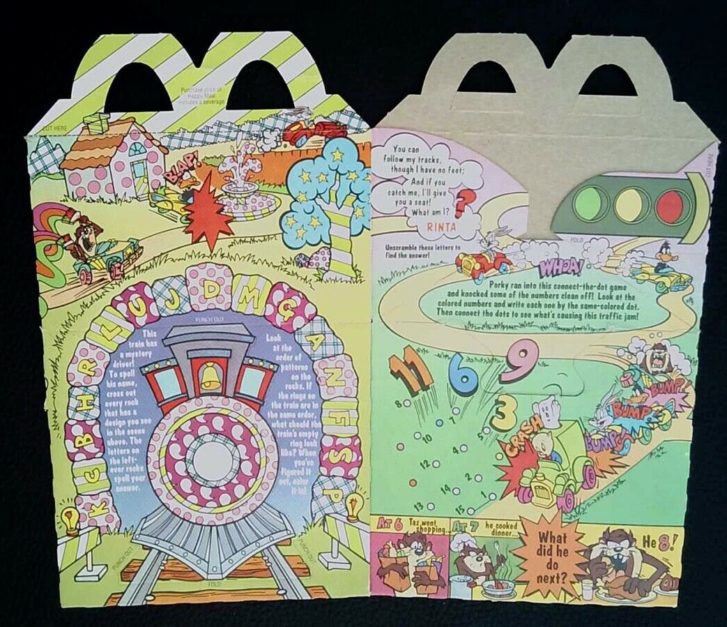 1992 Barbie Magical World Happy Meal
This set involves jokes and various puzzles, I think I recall my sister having the toys from this set.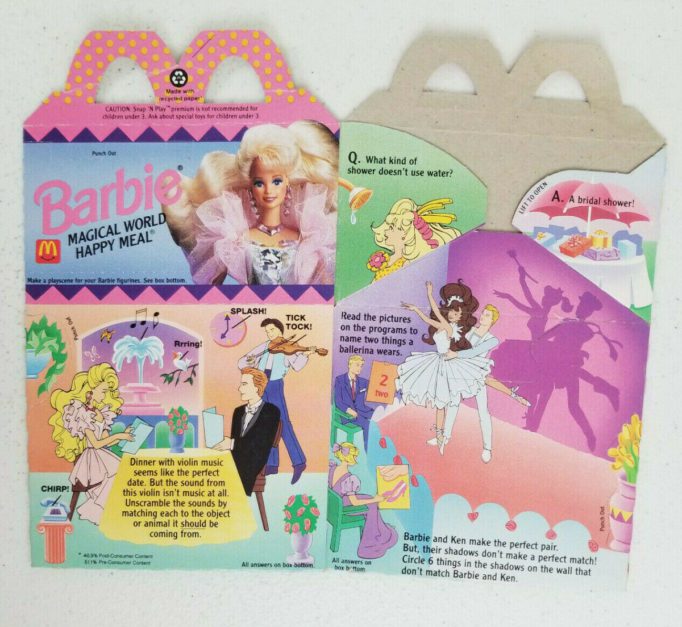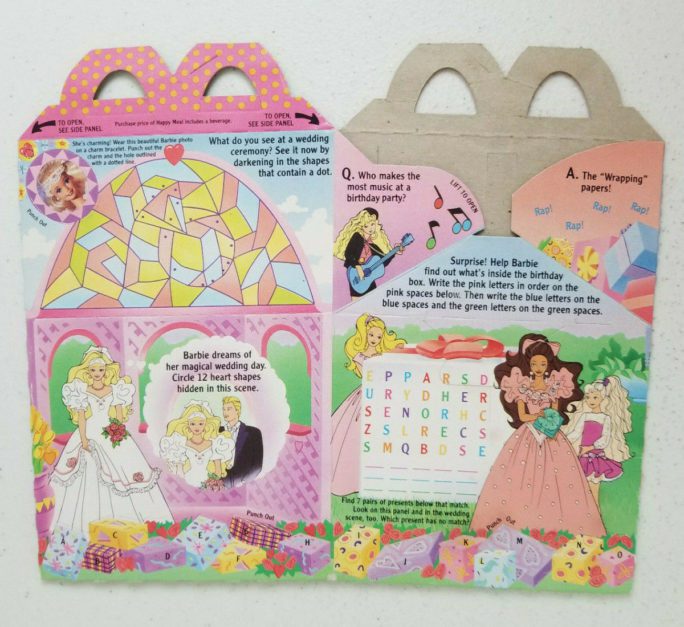 1992 Disney's Snow White
This set has a lot of activities to do!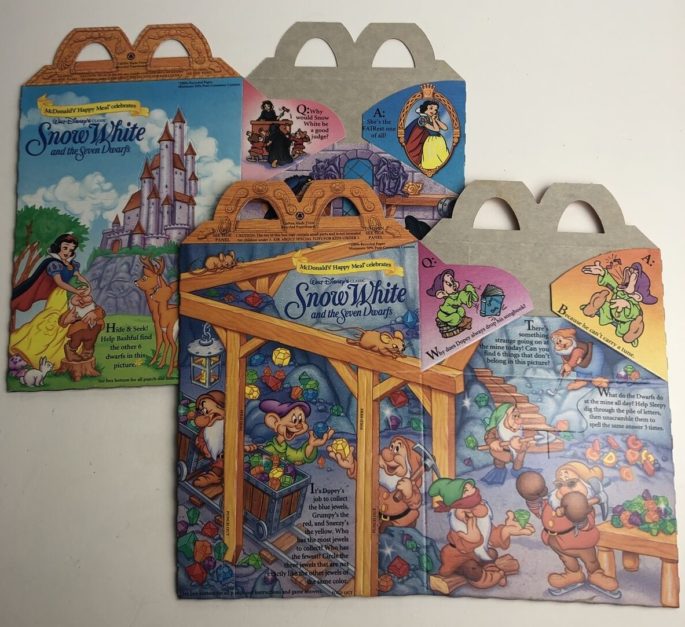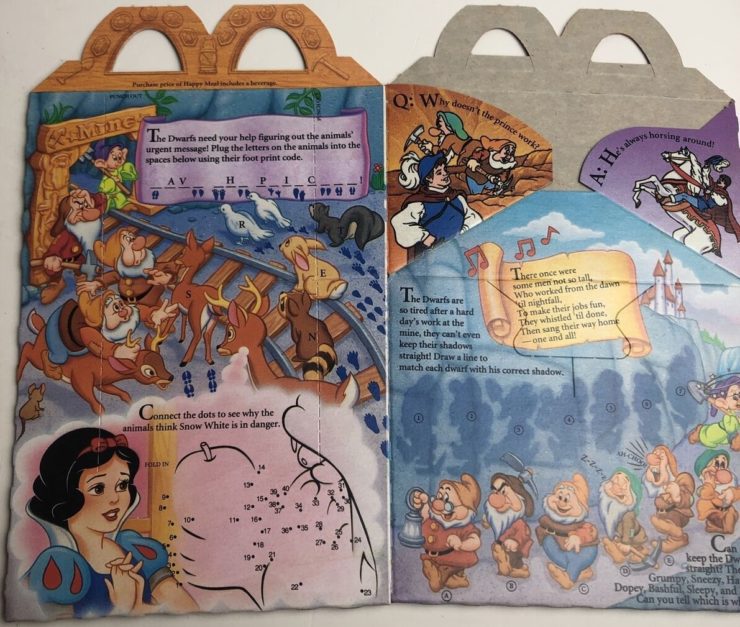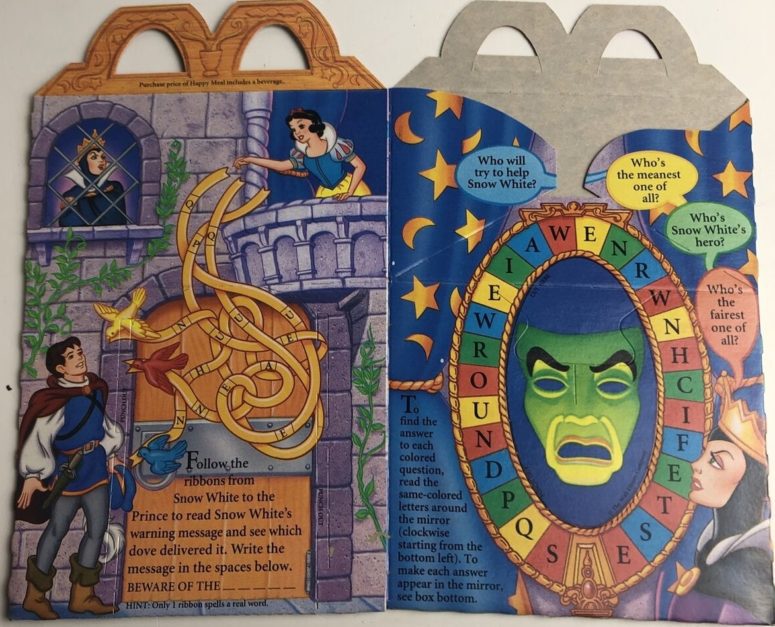 1993 Batman The Animated Series Happy Meal
I love that they have a bat logo on the "M" handle. Each box is themed to a different Batman villain including Catwoman, Two-Face, Poison Ivy and The Joker.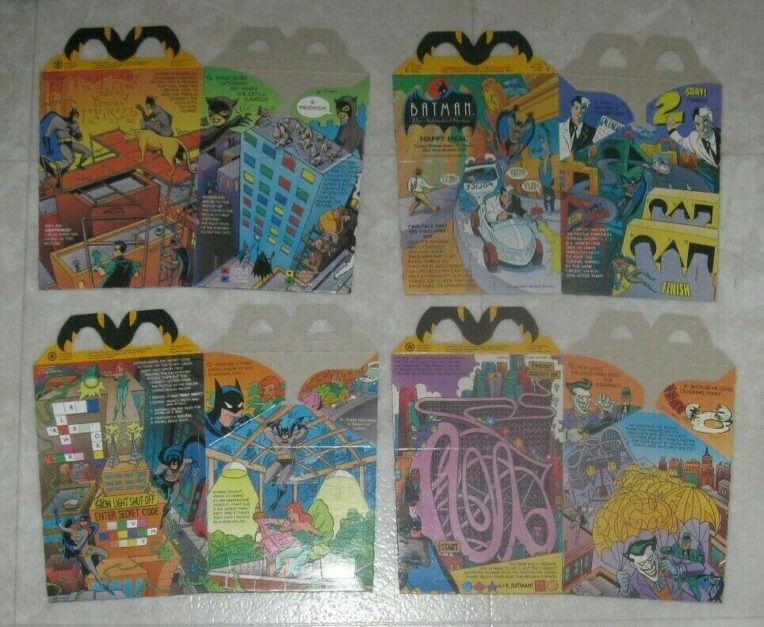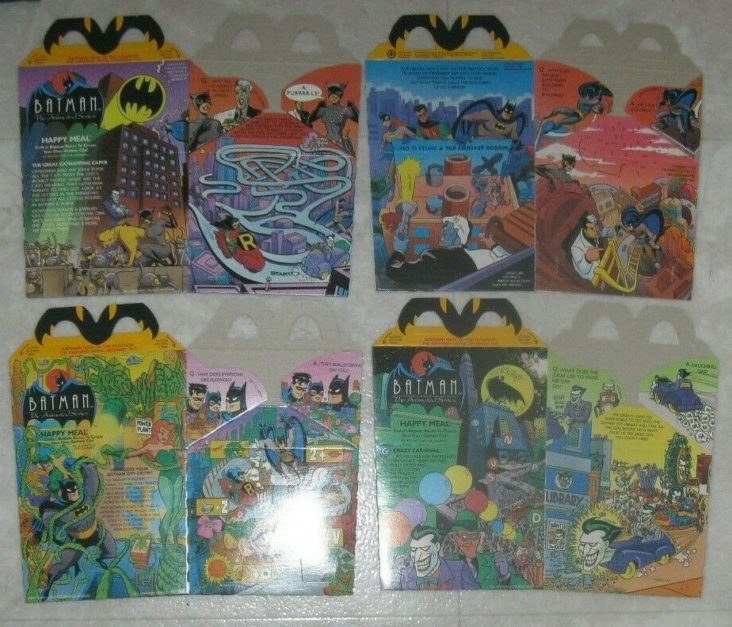 1993 Dinosaurs Happy Meal
This set was unusual coming with a longer shaped box and didn't appear to be promoting anything in particular and were just generic Dinosaur toys. I think this might have been exclusive to Australia as I can't find much about these online. Other countries seemed to get larger dinosaur toys around the same time.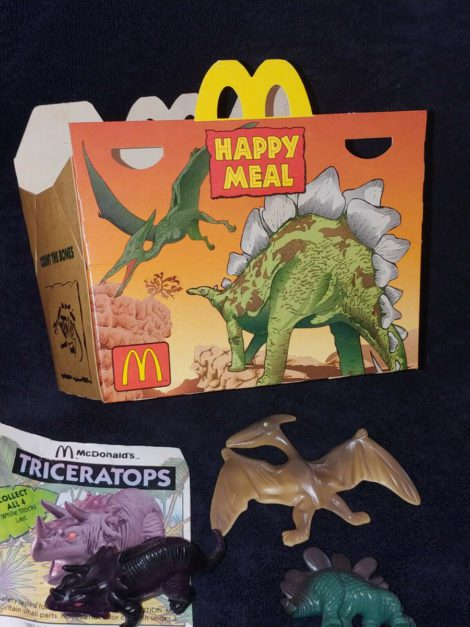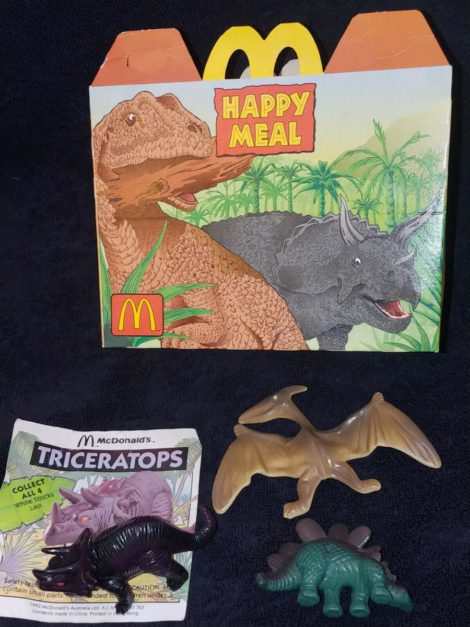 1994 Animaniacs Happy Meal Boxes
These boxes are good at capturing the spirit of the show.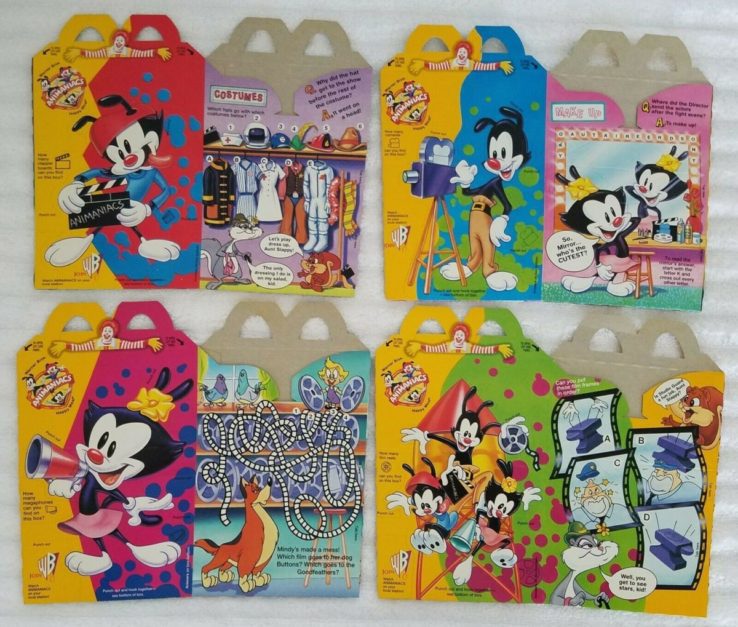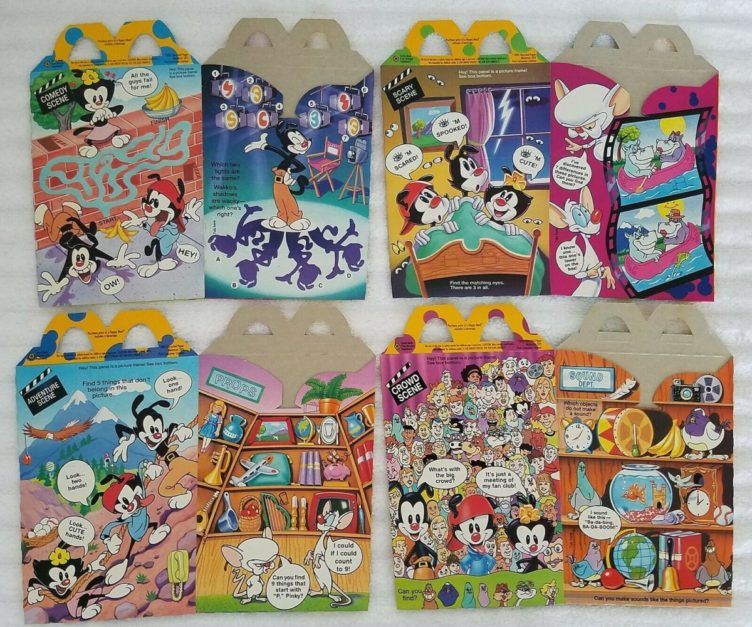 1994 Disney's Epcot Center
There's lots of variety in puzzles and activities on these boxes.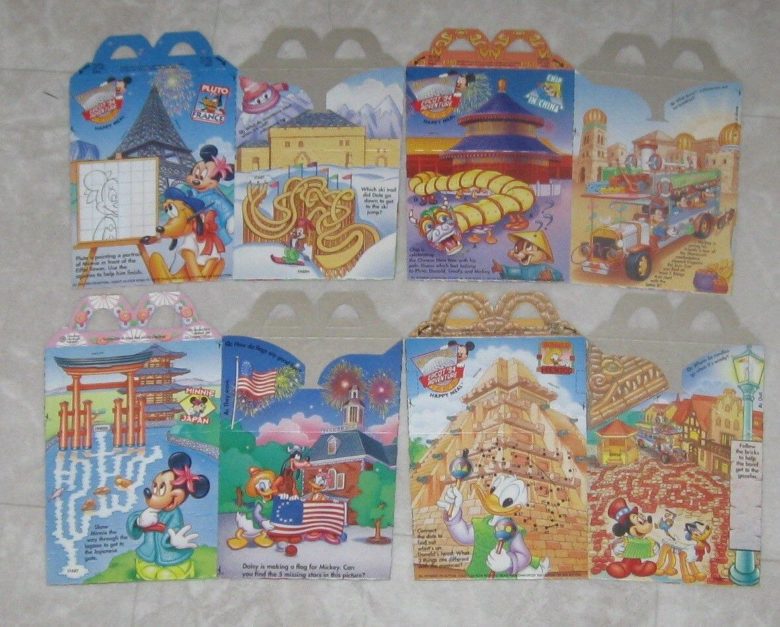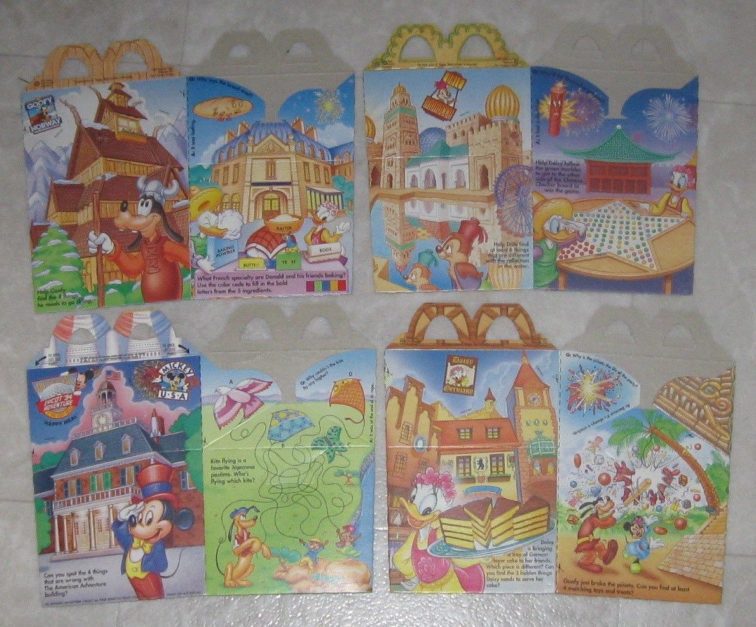 1996 Barbie Dolls of The World Olympics Happy Meal
To promote the 1996 Atlanta Olympic Games, Mattel put out this Barbie collection which taught a word in different languages representing different countries. This particular box features Swahili (Kenya), Spanish (Mexico) and Japanese. It also featured representations of national dress for Mexican Barbie, Kenyan Barbie and Japanese Barbie characters and had cut out items you could add to the diorama around the lower half of the box.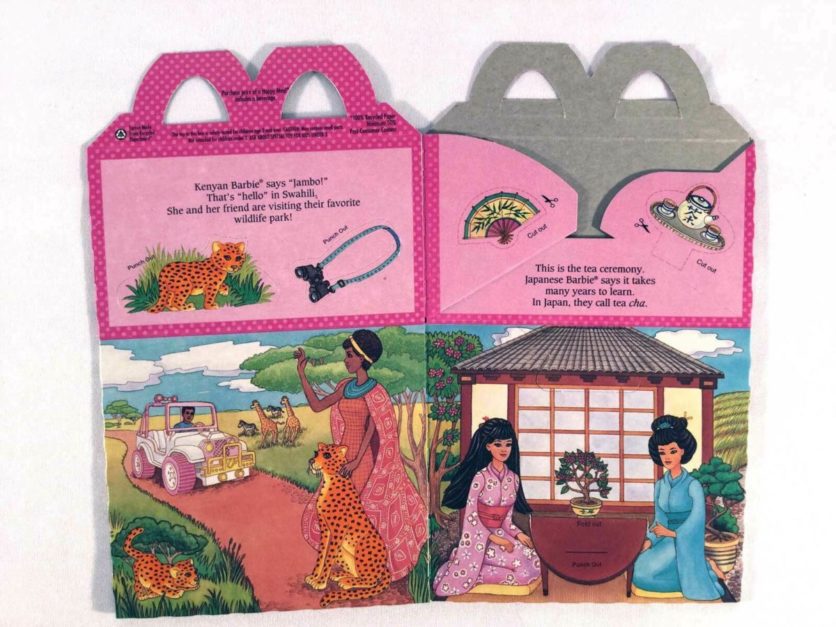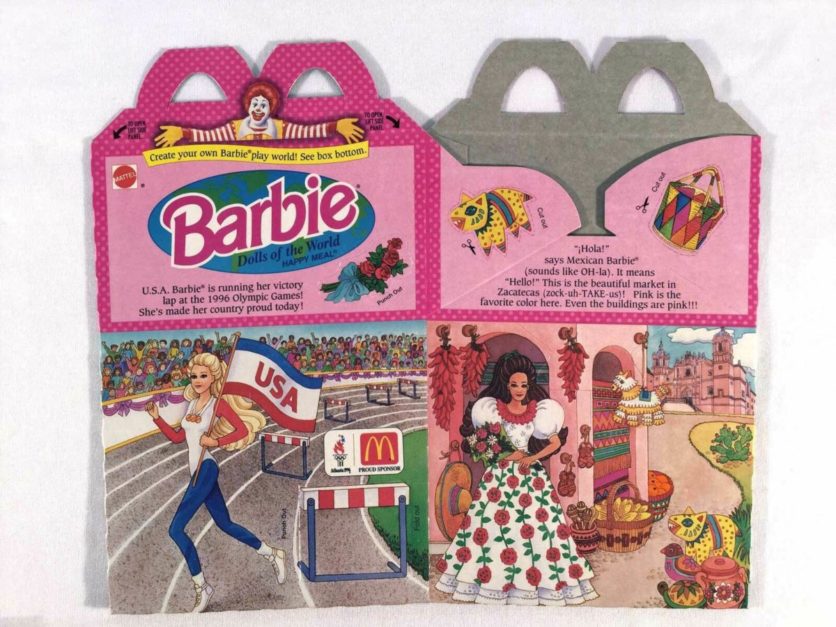 1996 WWF World Wildlife Fund
This seems to be an Australian set as well and includes the differently shaped box. I remember this set being particularly disappointing as a kid as each toy is just a container with some fact cards inside it. These facts should have been part of the box!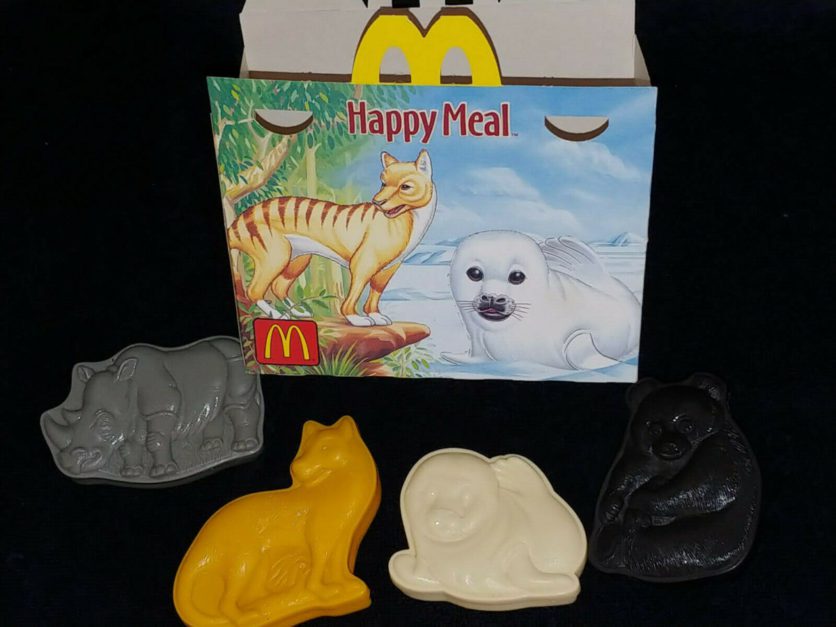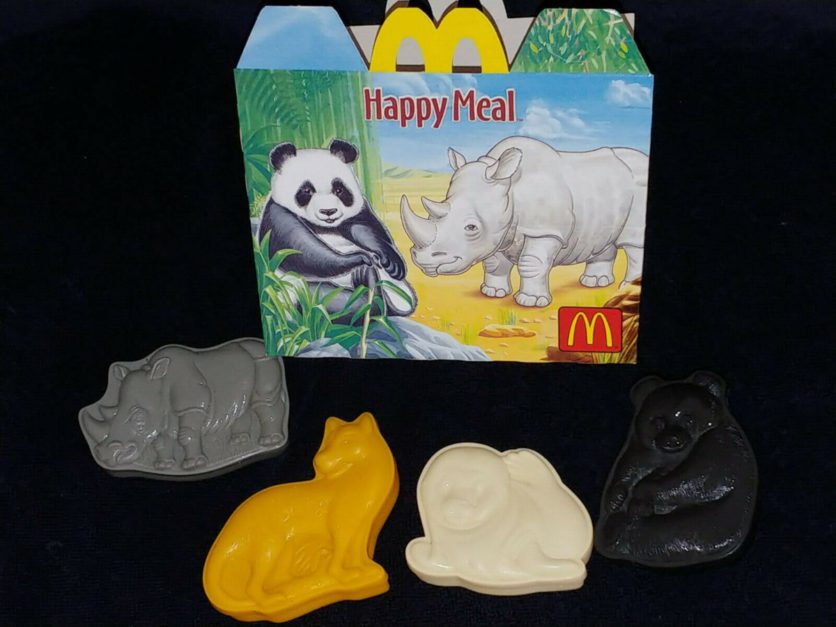 1997 The Little Mermaid Happy Meal
This just has a few jokes on it and the characters pop out.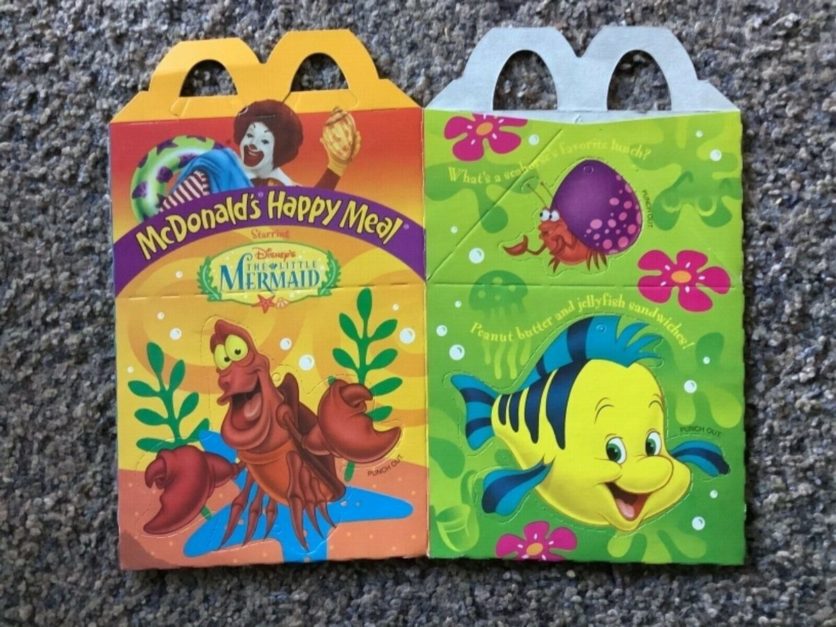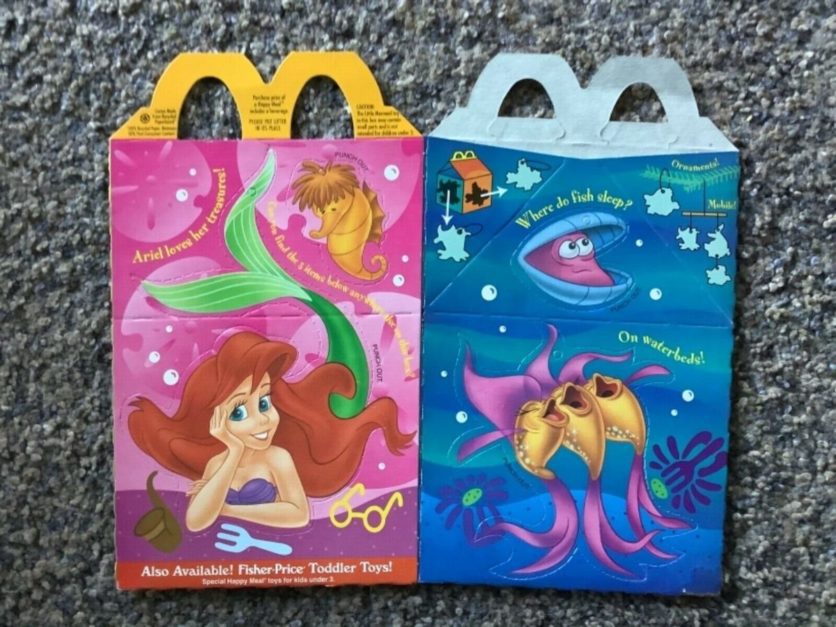 1998 Disney Hercules Now On Video
This includes punch-out pieces that give the Pegasus 3D wings and allows Hercules to give Meg a flower. There are also hidden objects to find on the box art.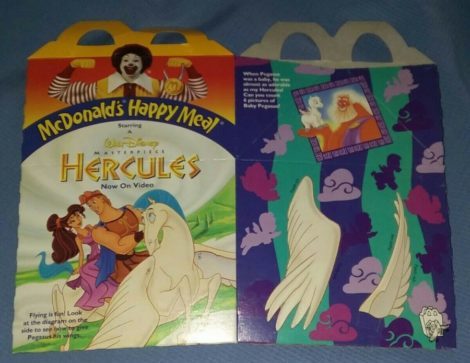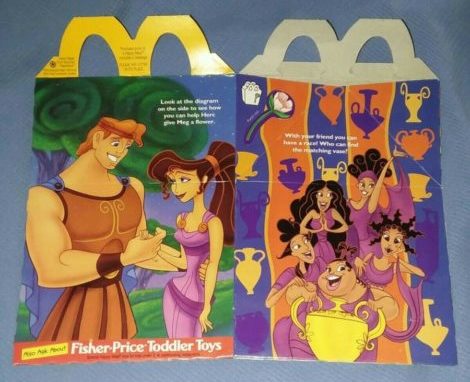 1998 Disney's Mulan
Here are two sides of two different boxes. They appear to have punched out characters so that you can hang up the pictures. This would have been when the famous McDonald's Szechuan sauce was first introduced.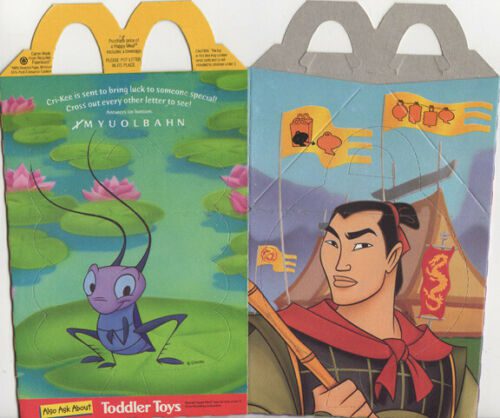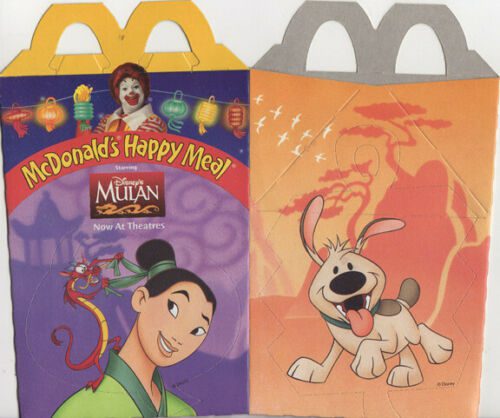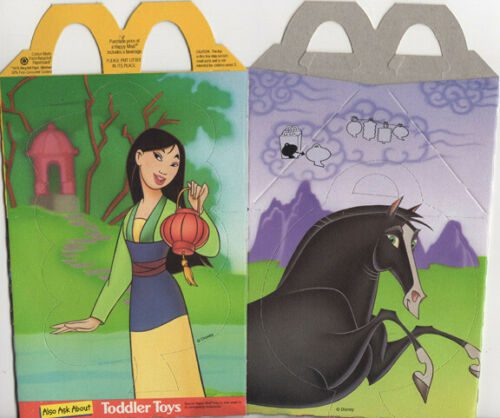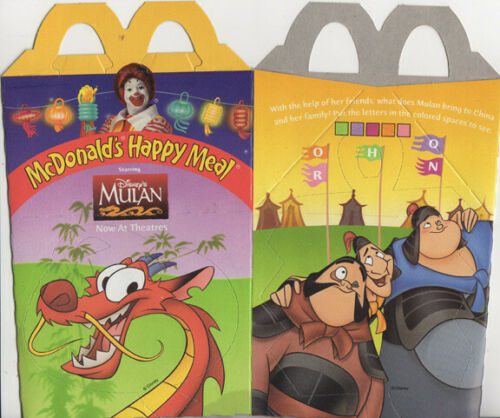 2000 Tony Hawk / My Scene
Here the art is split between toys aimed at boys and toys aimed at girls.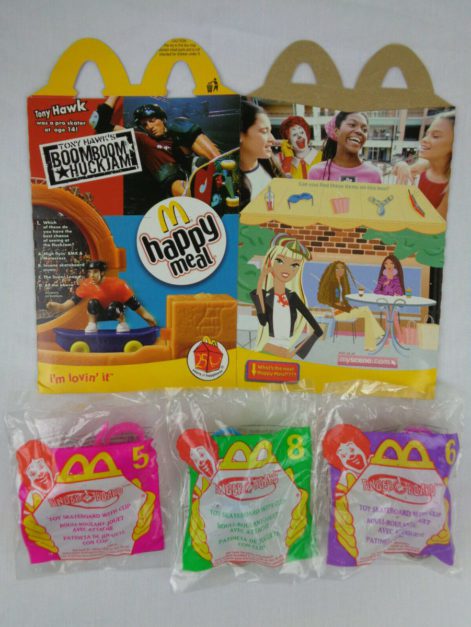 2001 Barbie / Hot Wheels
This box featuring Hot Wheels and Barbie feature punch-out accessories for the matching toys.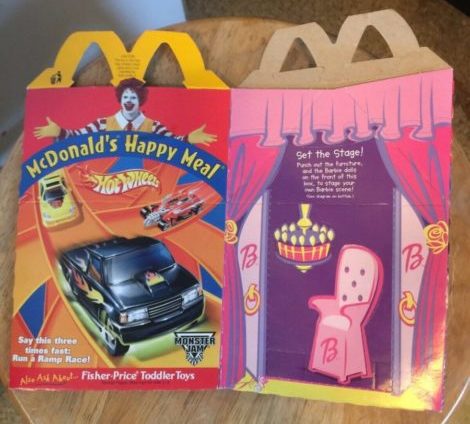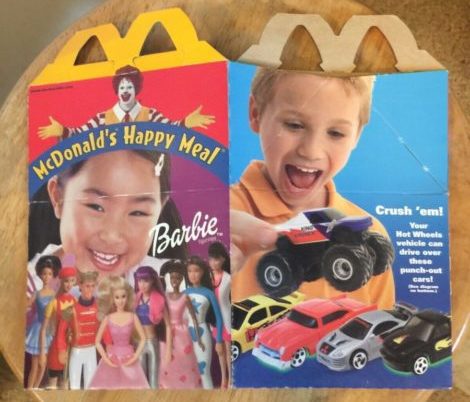 2001 Walt Disney's 102 Dalmations
This box is incredibly cute and whilst it has no text or games on it, it pops open to become a dog house for your dalmation toys.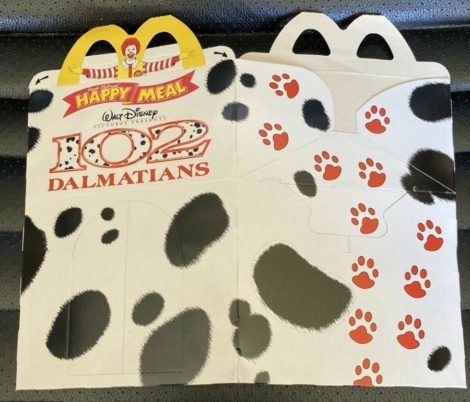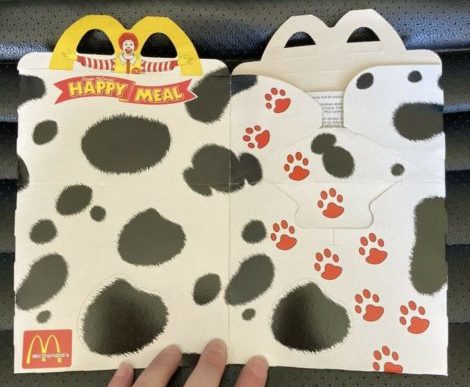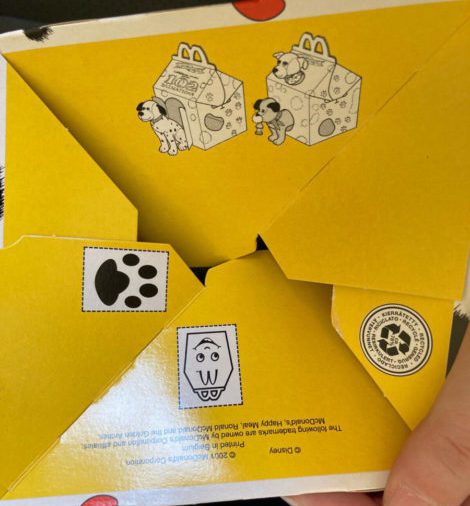 2003 He-Man and the Masters of the Universe + Bratz Happy Meal
I honestly love Masters of the Universe and it's a shame we didn't get these toys in Australia (that I know of). The play feature to get your figure to punch through the punchout cardboard of Castle Greyskull here is pretty cool.  The Bratz punch-out matching feature is pretty boring.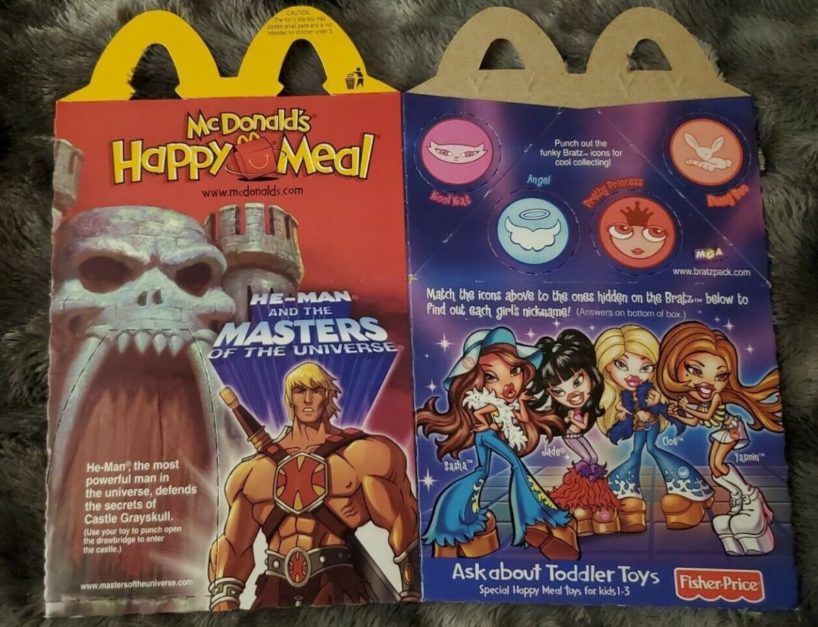 2005 Chicken Little
There's a lot of positive messages hidden on here.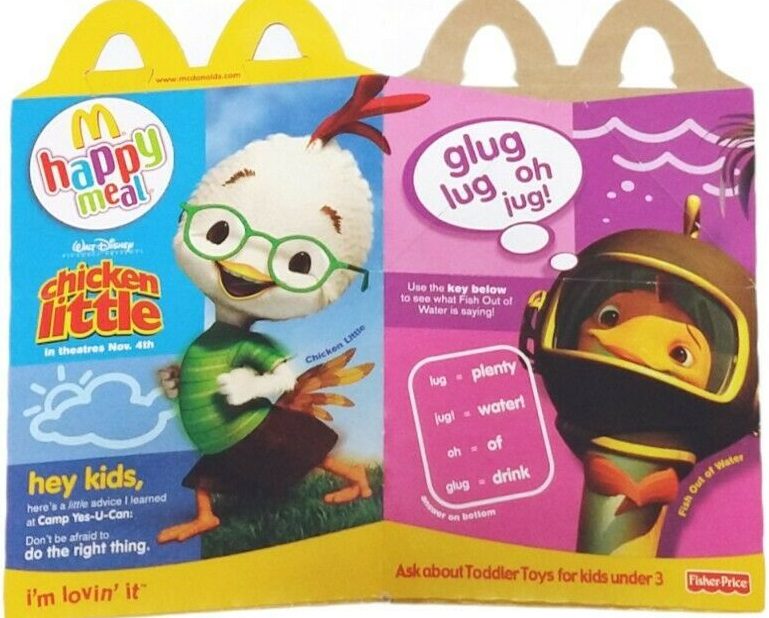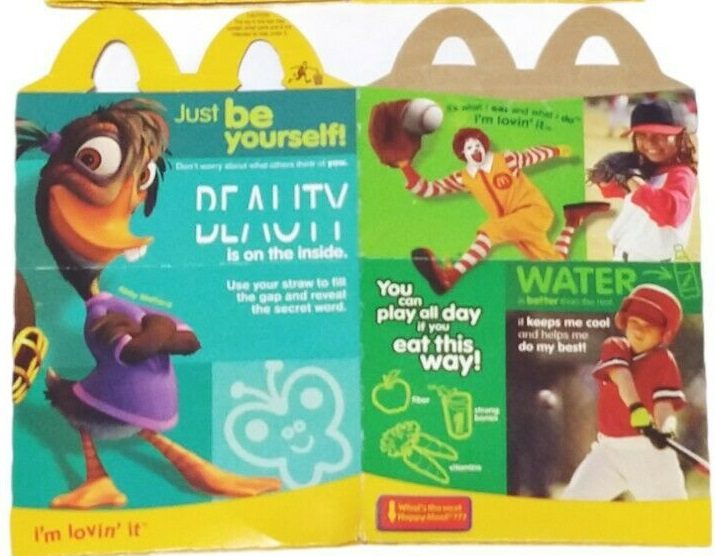 2005 Crash Bandicoot & Spyro Happy Meal
This box seems to be encouraging kids to eat fruit, where apple slices were now an option instead of fries.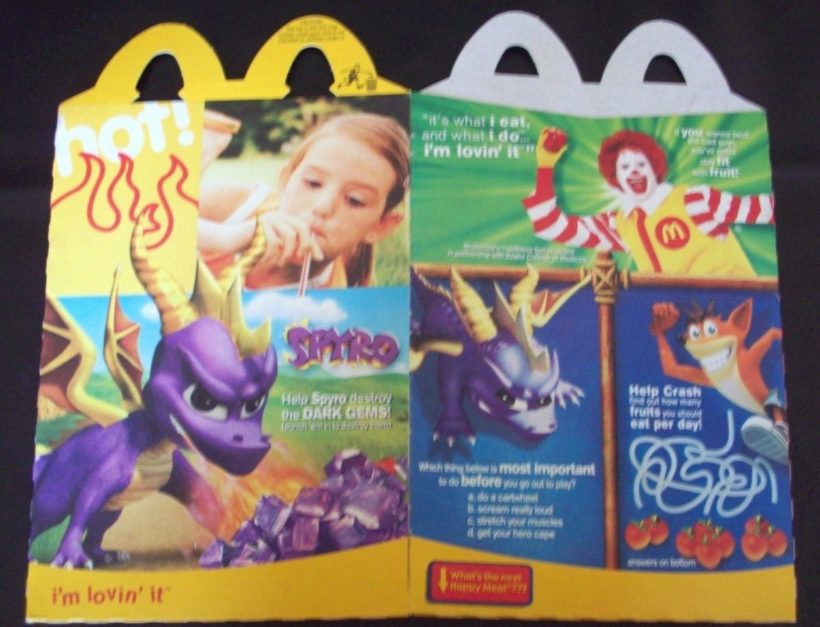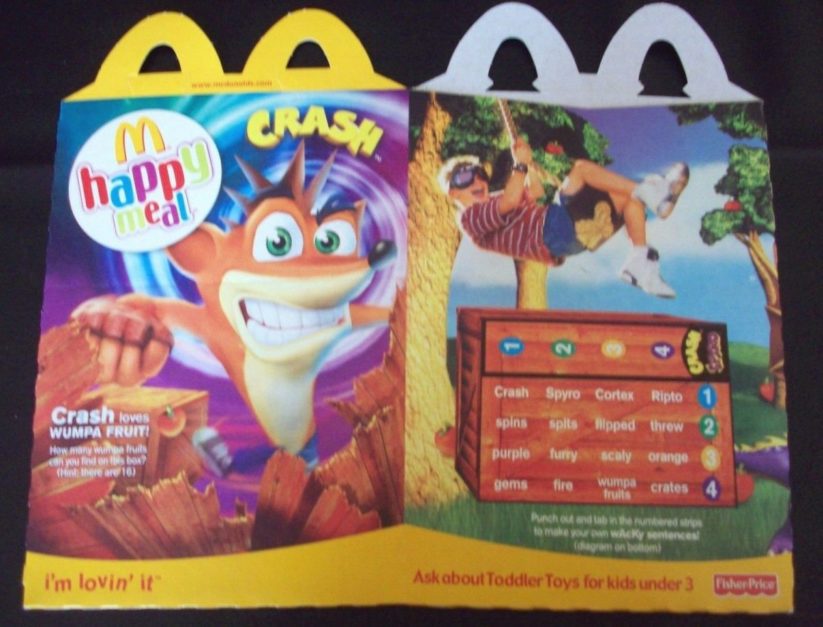 2005 Neopets McDonalds Happy Meal Box
This is now just promoting healthier menu options and going out for exercise.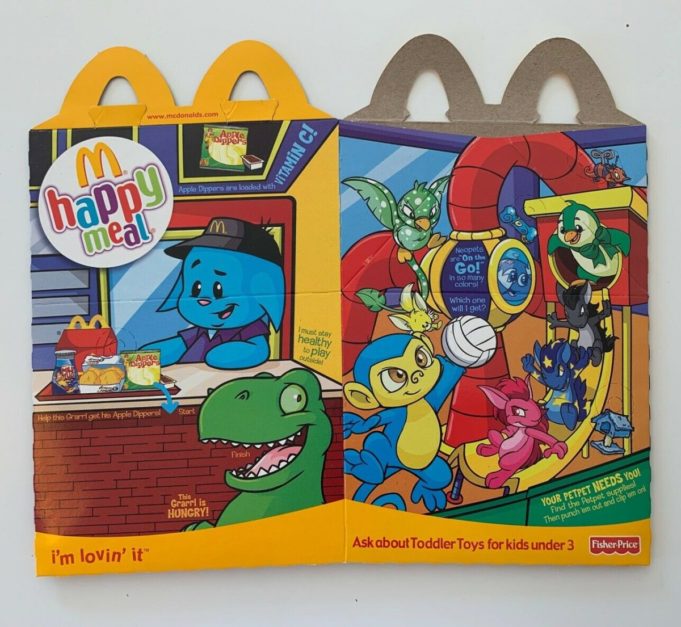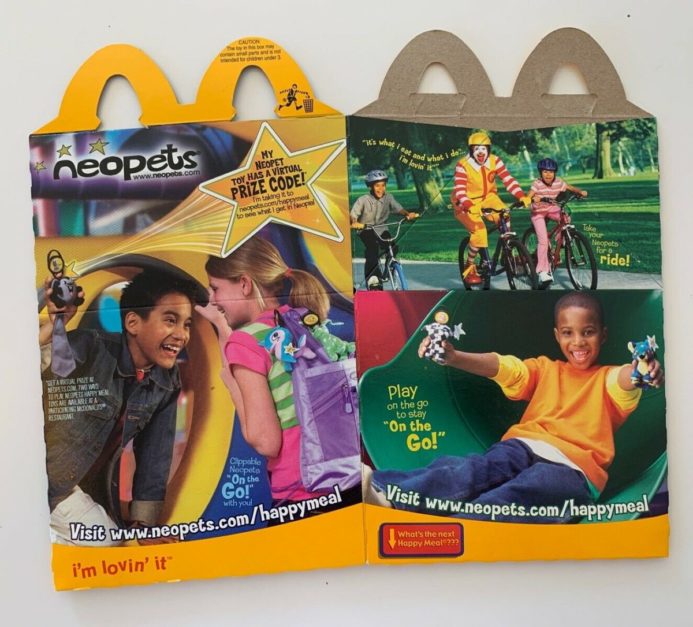 2017 Mcdonalds Holiday Express Train
This shows the full set of toys available, which are all different brands such as Hot Wheels, Minions,  Barbie and Jurassic World which will be popular at Christmas. It also informs parents of the apple juice options.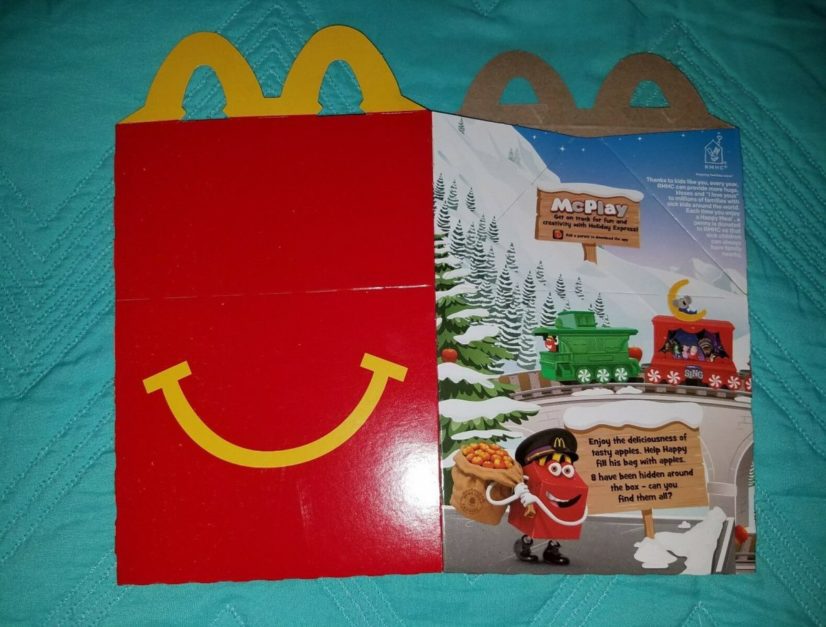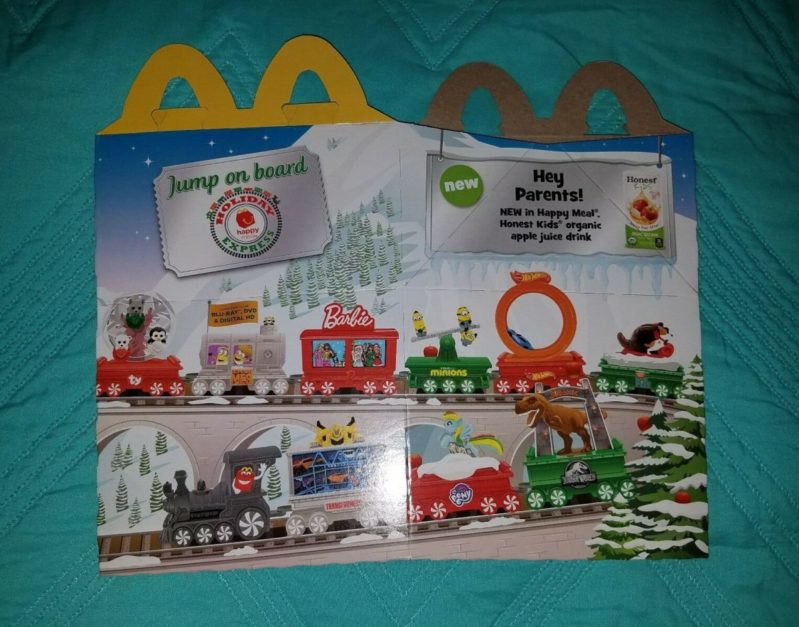 2019 Secret Life of Pets 2
This includes some punch-out accessories that I assume fit the toys. There are advertisements for the milk drink product and also a Puzzle promoting the = RMHC.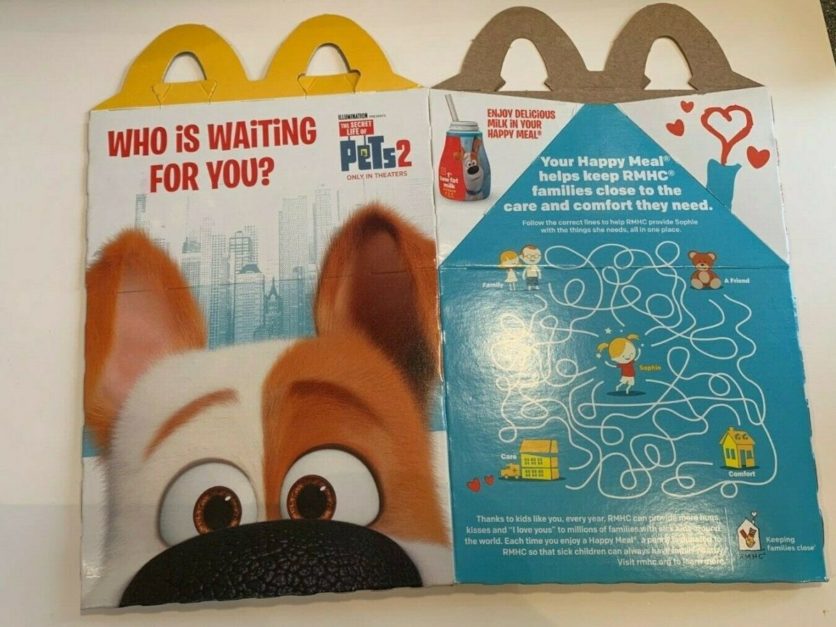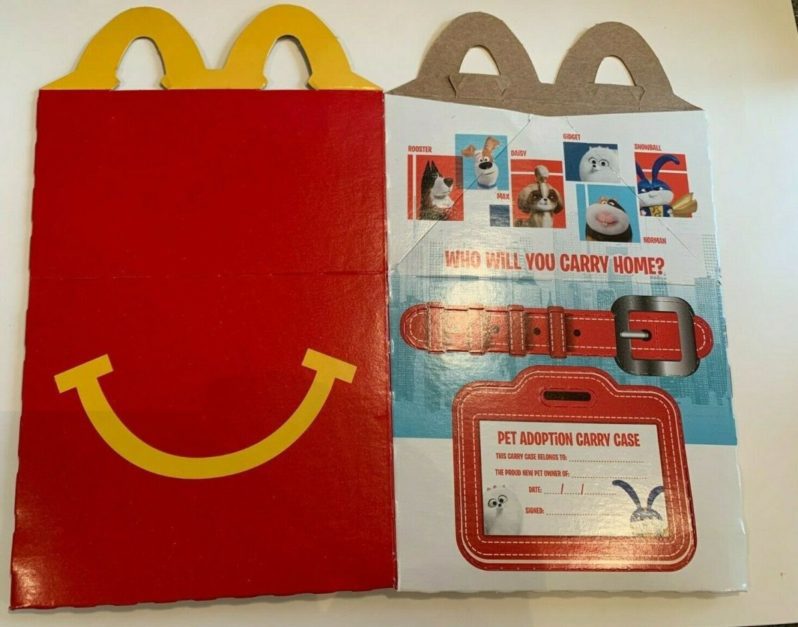 2019 Pokemon & Hello Kitty
This series of toys was absolute chaos. There were 8 Pokemon toys (intended for boys) and 8 Hello Kitty toys (intended for girls) but of the Pokemon toys, there were 12 random cards to collect, where 1 was randomly included with each toy. Chaos.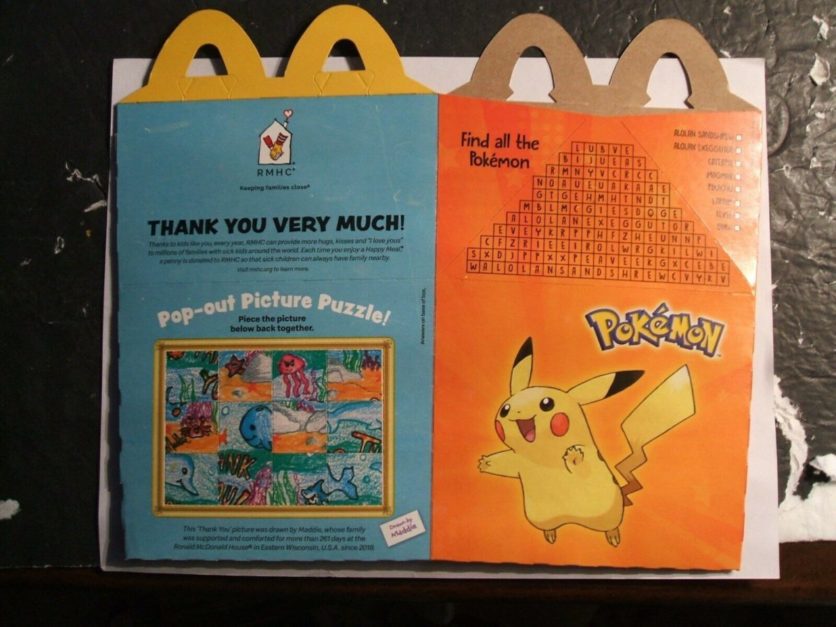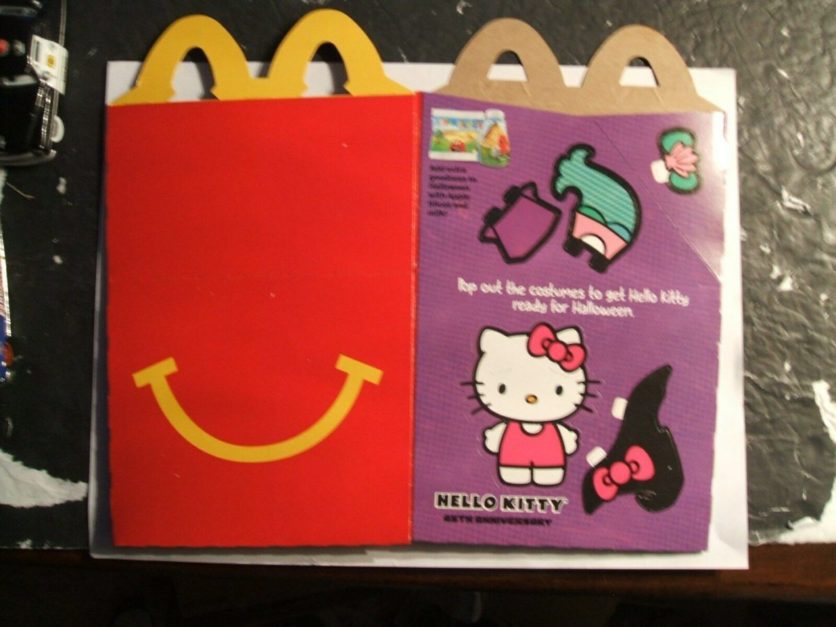 2020 Mickey & Minnie's Runaway Railway
This has a few jokes and promotes a prize to win some tickets to Walt Disney World. It is promoting the new Mickey and Minnie's Runaway Railway ride at Walt Disney World, the first-ever ride that actually focuses on these key characters!