We all know the marketing principle "sex sells." It's surely the most famous marketing idea in the world. It can be either quite explicit with suggested nudity and an attractive model, or it can be more subtle with erotic imagery, colours, colours and subliminal messaging. Either way it is meant to catch your attention and get you to notice whatever it is promoting.  Here are some brands that took this to the extreme. 
Calvin Klein (2017)
Calvin Klein may have taken this too far with their 2017 Spring ad campaign by using a very youthful looking model in an underwear ad in a provocative pose, making many people complain and assume she was much younger than 18 and that this ad is sexualising children. Complaints led to stores removing the advertisement from their shop windows.
Lulu Tenney was in fact over 18 at the time of this photo and had already been modelling for many other big brands as well as CK, including Ralph Lauren.
You can see the ad and find out more about it here: source.
Tom Ford (2007)
When designer Tom Ford left Gucci to make his own label in 2006 he was sure to make his early campaigns get noticed. His 2007 campaign for his cologne definitely turned heads.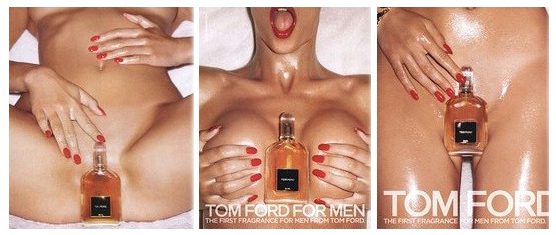 Sportsbet (2018)
Most ads that seem sexual in nature are objectifying women in some way, but here is an example from Australian betting company Sportsbet. In 2018 they had a television commercial featuring a naked man shaving his manhood. He slips and cuts himself when the voiceover startles him. A major problem with this ad was that it suggests that gambling is a better way of boosting sexual appeal than personal grooming. This ad received 793 complaints to the Advertising Standards Bureau. It was pulled from air for showing suggested nudity in an innappropriate timeslot for children.
Read more about this ad here.