For a long time, the exact ingredients of Big Mac Sauce was a secret. Not quite as secret as KFC's secret 11 herbs and spices, but certainly up there. Food regulations require bottles of sauce (and all other food products) to include a list of ingredients, so I guess this is why it is so rare for McDonald's to make their most famous sauce easily available.
McDonald's in Australia has released the sauce in tubs and bottles a few times over the years, finally allowing Australians the ability to enjoy Big Mac Sauce at home with their own cooking. However, it is always produced in very small batches and it sells out fast.
Why is Big Mac Special Sauce in a bottle such a big deal?
Normally if you want some Big Mac Special Sauce to go with your McNuggets or fries, they will give you a dollop of the sauce in a little plastic tray, and if you want more than a dollop you need to get additional small plastic trays which is very difficult to transport. I know this because in 2011 my friends tried to recreate Epic Meal Time's Fast Food Lasagna, which required a litre of it. I don't know if we actually got a whole litre's worth, but there was a stupid amount of plastic waste involved.
Bottles of Big Mac Special Sauce for Sale in Australia in 2019
In November 2019 McDonald's is selling 144,000 bottles of Big Mac Sauce across participating restaurants across Australia. They are $12 a bottle, which is a little steep, but considering how much people have paid for the sauce in the past (see below) and the fact that the profits go to the Ronald McDonald House Charities, these will surely sell fast and probably already gone!
These bottles are being sold in the lead up to the annual McHappy Day, where $2 from every Big Mac sold goes directly to Ronald McDonald House Charities. Another fun item they are selling are socks with a Big Mac pattern on them which come in child and adult sizes and retail for $5 each.
Big Mac Special Sauce ingredients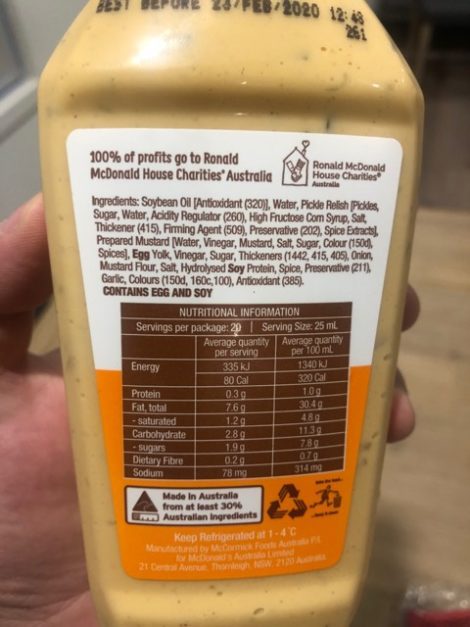 The back of the bottle shows the full ingredient list and nutritional value. I like that their serving size is per 25mL, which is the size of a regular fast food sauce tub.
McDonald's also sold tubs of Big Mac Special Sauce in 2015
Back in 2015 McDonald's auctioned off 200 bottles of the Big Mac Special Sauce on eBay for charity with #1 of 200 selling for a ridiculous $20,600 AUD on eBay.

These were again for charity. For those of us unable to spend tens of thousands of dollars, they also released 25ml tubs at 50 cents each at 920 of their restaurants around the country. What made this promotion special, is that Australia was the first country to ever sell Big Mac Special Sauce in these little tubs.
Each store had just 600 tubs each and they ran out quickly. I was lucky enough to drive past a McDonald's on a freeway, which was quite out of the way for most fast food enthusiasts to get to, so I managed to get a few tubs, which I still have today.