I was surprised to find a bin full of Super Mario themed UHU Glue Stic products in the "back to school" section of Big W today, all marked down cheap and also promoting a contest to win a Nintendo Switch console. To enter you need to buy 3 UHU Super Mario products from Big W and use your receipt number on the UHU website. This promotion is exclusive to Big W stores in Australia.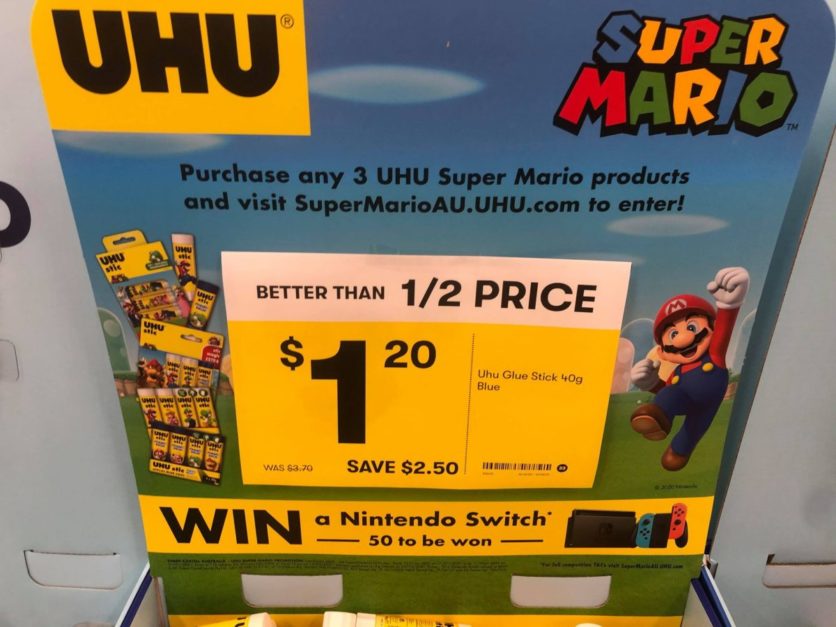 Given these were better than half price at $1.20 each, it seemed rude not to buy any, it was like buying raffle tickets at $3.60 each to win a Nintendo Switch.
To achieve maximum odds I bought 6 glue sticks in total – 3 UHU Super Mario regular glue sticks, and 3 UHU Magic Blue glue sticks and made two separate transactions so that I could enter twice.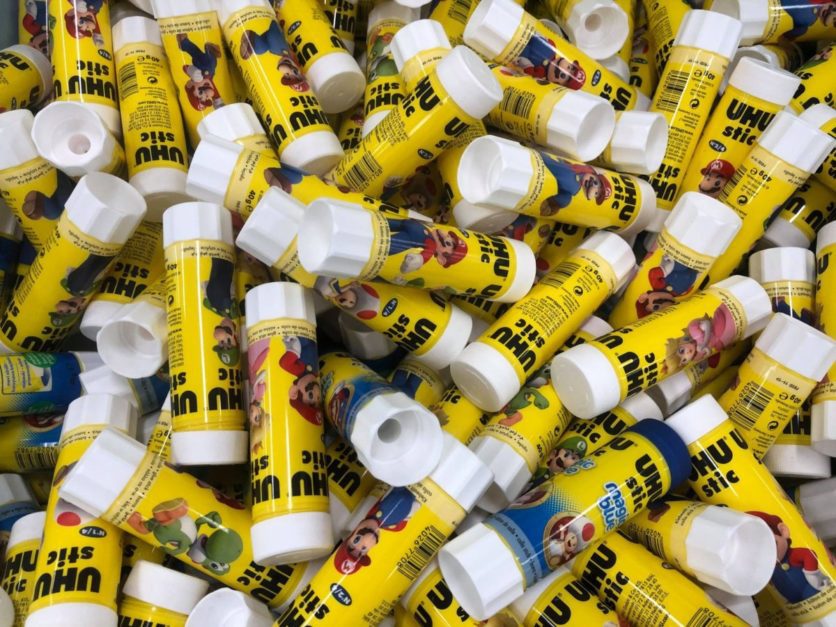 I actually made a mistake when grabbing these. Each glue stick has two character designs on them and I thought there was only 3 of each type, but I can see in this picture there's at least one I'm missing. Perhaps I'll have to go back and grab more later.
My Super Mario Bros UHU Glue Stic Collection
I never thought I'd have a collection of collectable glue sticks, but here we are.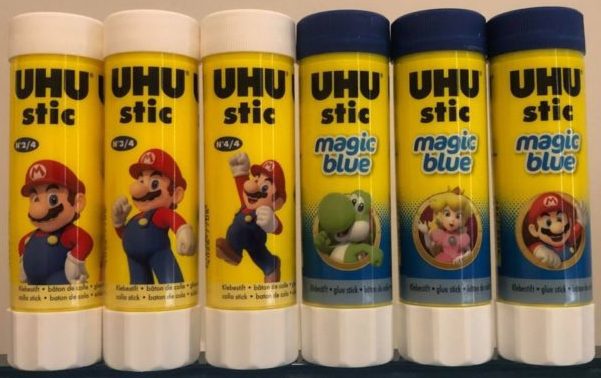 Here's the left side of each. The regular ones have numbers out of 4 on them, so I guess this is their set number. The Magic Blue ones do not seem to be numbered.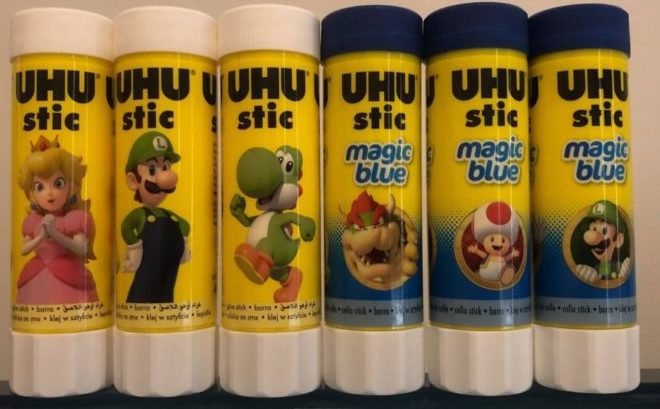 Here's the right side of each, so that gives us Mario + Princess Peach, Mario + Luigi, Mario + Yoshi, Yoshi + Bowser, Toad + Peach and Mario + Luigi.
UHU x Nintendo Official Product Images
Here are some product images off the UHU website that I'm saving for historical documentation as this theme is probably limited.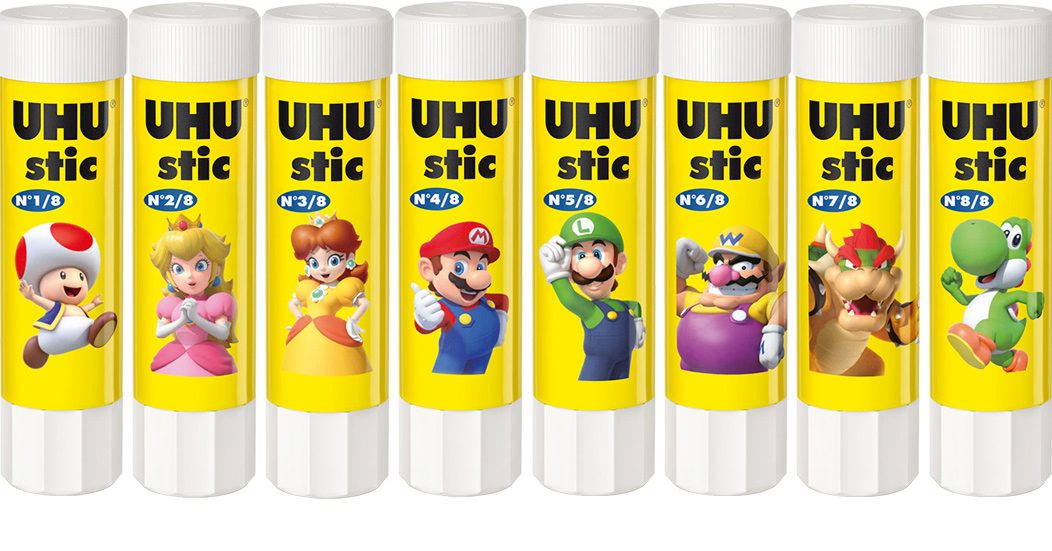 Here I notice that there's a mix of extra characters such as Princess Daisy and Wario, as well as different poses for other characters and they are numbered out of 8 instead of 4. Perhaps other countries had more options or these were placeholder images.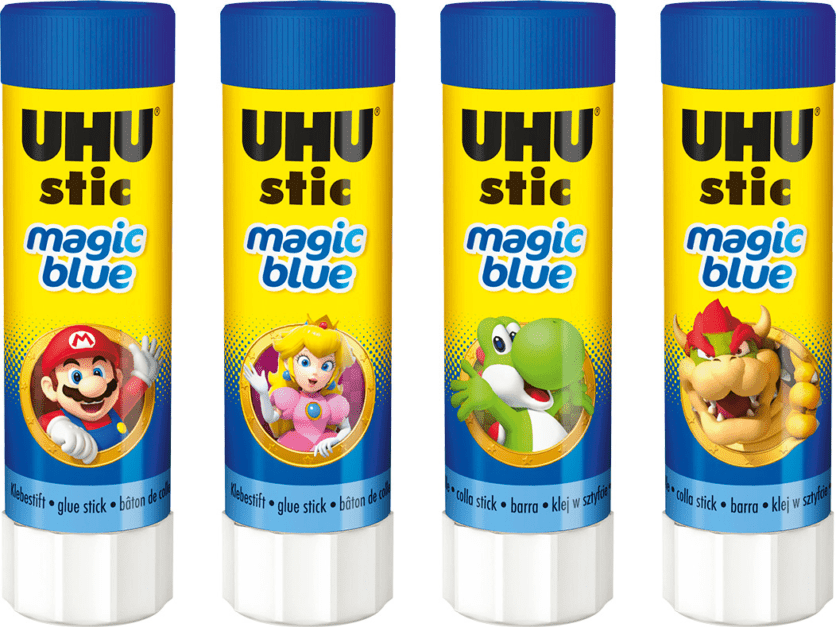 The third image here shows a different Yoshi to the one I have, which is on the alternate size to Bowser. Perhaps this was available here but I didn't notice it.
Is this Good Marketing?
Apart from the confusion on what the actual complete set looks like for me, I think UHU and Nintendo made a pretty good cross-promotion here. Why else would anyone ever usually buy more than one glue stick at a time?
It appears these were released around August 2020 in time for the Super Mario Bros 35th anniversary, where several other brands launched cross-promotional products including the Super Mario 3D All-Stars Collection, a Super Mario Bros Game & Watch, various Super Mario LEGO sets, Monopoly, Jenga, Nintendo Switch controllers by HORI & PowerA. It wasn't just gaming and toys either, Levis, Puma, Black Milk and Uniqlo also put out clothing and shoes as well.
By launching this product in the midst of the Super Mario Bros hype, they would have had a lot of collectors pay full retail for these items. Then by the time the hype has died down, such as now in January 2020 when the "Back to School" sales hit in Australia (our school year starts late January) they can be marked down and suddenly classrooms around the country will be full of Super Mario glue products. I'd have definitely needed these for my pencil case in primary school.