Product mascots are probably one of the easiest and most efficient marketing strategies that have been used across brands up until today. They can be great for product recognition. When you see a familiar mascot, you are instantly reminded of what they sell. Consequently, brand mascots are still alive and well to this day, but some companies have limited their use of them in recent years, particularly in the fast-food industry.
One of the fast-food chains that have been associated with the use of mascots is Burger King. Their brand mascot, The King, had a series of commercials where it promoted how good their burgers are even for breakfasts. The King is widely used in advertisements, paving a way for it to be recognized among kids and adults and across almost every continent. I say almost every, as Burger King is called Hungry Jack's in Australia so we never had the mascot here. In particular, the mascot is very popular in the United States, and almost everyone recognizes the King.
Yet, the mascot, together with its popularity, still garnered notoriety from many people. Given its seemingly disturbing and close-to-real face unlike the usual cartoon mascots, it has been deemed an upsetting face for others. More so, it came out in commercials that were quite absurd, making it an infamous mascot for those who clearly have overthought its appearance
Here are some of the ads that made The King gain its notoriety:
Wake Up With The King Commercial
Wake Up with The King. This commercial depicts a man sleeping with the King reclining beside him, The King's frozen visage, staring him in the face, waiting for him to awake. Upon the end of his slumber, our poor protagonist rather than reacting with sheer horror at being greeted with the King's unblinking eyes and forced rictus grin moments after sleep like a normal human being, accept a Burger King meal and they laugh together. Only in the surreal world of self-aware commercials is this acceptable, and only then half-so, considering just how weird this ad is. Mind you, considering my love of fast food, I'd personally probably be ok with this too happening to me, but I'm pretty sure I'm the exception to the rule. I'm pretty sure most people would call the police.
Wake Up With the King BK Joe Commercial
This is Burger King's commercial to endorse its BK Joe coffee. It shows a construction worker battling to wake up to do his job, and then The King shows up, with a smiling face but wide eyes, peeking at the man as The King helps him with what he's doing. In the end, the commercial shows The King jokingly pushing the man slightly so that it looks like the man might fall off the girder and to his death. This dark comedy makes The King even more menacing.
Burger King Reverse Pickpocketing Commercial
This Burger King Reverse Pickpocketing Commercial launched their new Cheesy Bacon BK Wrapper, and promoted it as an affordable product anyone can purchase. It starts with a man on a Manhattan sidewalk filing a police report for a man slipping money in his pocket, which the officer dubs "reverse-pick-pocketing," followed by a sighting of the King and a police chase through Manhattan. The King had been putting 2 dollars in people's pockets, there was some controversy due to The King being seen running from the police. He even gets hit by a taxi in the process. In modern times, the police chase scene probably wouldn't make it onto TV.
BK's Breakfast Muffin McDonald's Ripoff Ad
Introducing a blatant ripoff of your closest competitor's signature breakfast product is difficult, but this ad managed to humorously communicate that they were self-aware of this fact, and convey their own unique selling point, once again by using crime as a plot device and for humour. The ad depicts the King breaking into McDonald's corporate office and stealing the recipe for their McMuffin recipe, followed by a voice-over acknowledging their new product is identical but cheaper at only a dollar. A little silly, but a depiction of crime nonetheless. Way to go, BK!
The ridiculous commercials pulled out by Burger King partnered with the creepy face of The King made the company revisit their commercial plans and mascot branding. Instead of aiming for the greater good of the fast-food chain, the company made both their strategy somehow infamous that they had to pull out The King from the scene and instead focus more on showing their products and their underlying awesomeness to the customers. Thus, The King is no longer seen on scenes anymore, making people wonder how and why it happened; and so the commercials explained why.
The Face of Burger King

Burger King has had several iterations of The King since its inception in 1955. Originally a cartoon character used on signage and cups, the character was usually portrayed sitting on the chain's famous signature burger. This version of the mascot lasted until 1969 when the character was changed to become more child-friendly.
The 1970s saw a more welcoming, more cartoony version of the character. This child-friendly mascot's hands were spread in a gesture of warm greeting for all – a good move typical of the era. However, he was still not brought to life, only remaining on vouchers and paper-based promotional material. If Burger King later desired a mascot that was more alive and could help them compete with Ronald McDonald
10 years later, Burger King brought the character to life. The 1980s King was a real-life character who had a real human face, a new signature moustache, and red hair to show that The King physically existed. This new King appeared in a multitude of television commercials and was actively present in other promotional campaigns. Massive change for the character came in 2010 when the human mascot's face swapped for a plastic, semi-cartoon-ish look for more surreal ads.
Granted, asking modern consumers to watch an ad is a bigger ask than ever before, and having a memorable ad is a challenge at the best of times, but is creepiness the path to success? The mascot, face frozen in the rictus of an unchanging creepy grin, isn't the only way these ads are creepy. The ads became infamous due to the commercials' absurdity and mischievous behaviour of the corporate mascot no other brand currently depicts their mascot, the very embodiment of their brand, being committing social faux-pas, thoroughly being weird, or committing crimes, as The King is frequently depicted in commercials. The King's face went from surreal to notorious, necessitating change.
Burger King: Focusing more on the quality and value of the products
Burger King's edgy commercials did not result in sales gains. Although their ads have had wide distribution, received praise by a generation of jaded consumers tired of polished, positive promotions greenlit by committee, Burger King's sales dropped at about 6% in 2011, compared with their rival, Mcdonald's, whose sales increased by 3% in the same period. Much like how the memorable, award-winning Rolo chocolate ad didn't actually result in increased sales for the brand, communicating "fun" and even going viral wasn't enough to change consumer behaviour and sell more burgers. Burger King hired a new ad agency together with a change in management to battle the decrease in sales and to open up a new advertising strategy for the fast-food chain.
Crispin Porter & Bogusky, the ad agency with whom Burger King partnered for several years, was a hotshot of marketing strategy in the 2000s. The ad agency utilized television commercials and showed how companies can popularize their brand in the quirkiest way possible. By then, Burger King became famous with their product marketing which targeted their "superfans" — that is, young adults and teenage males who consume their fast food products almost daily. This is why Burger King's commercials were rich in sarcasm – it made the ads unique, especially in the crowded food commercial space. Instead of using The King as a protagonist (or antagonist) in their ads, the ad agency featured The King as a cameo, depicted this time more abstractly as a massive bobblehead made of plastic (and of course, some still found it creepy). This nod got admiration from fans, though the ads still fell short in terms of sales and product revenue. The brand still could not beat its greatest rival, McDonald's, even though their marketing strategies were hugely popular for the most part. Yet, due to economic recessions and the decline in profitability, Burger King's owner TG Capital divested its brand ownership and the brand was later acquired by 3G capital through a leveraged buyout.
3G Capital was best known to balance their sheets by cost-cutting, creating a strategy that does not outspend on materials and manpower that often do not lead to greater revenue. As this happened, Burger King began to have a major budget-tightening which made more and more employees getting terminated from their jobs at Burger King. Yet, it was a jumpstart of a more efficient budget spending for the company; franchisees were much welcome to open a Burger King spot in their areas which paved a way for the company to battle up the loss in finances and debt as well. Nonetheless, the company also flipped their advertising strategies which reached out to all age categories instead of just their young adult superfans.
Most Burger King commercials in the early stages of the 2000s were targeted to stunts that called out their greatest rival, McDonald's. While this made a statement for Burger King, it did not quite do good on its sales. This, in turn, made 3G capital decide to pull out CP & B's usual advertising and later focused on the brand's food preparation.
…and behold the Mouldy Whopper!
While this may be an odd piece of commercial for someone enjoying Burger King's all-famous Whopper, it reached out to social media and various ad platforms for the benefit of the company. The commercial did very well in garnering attention, showing how their product was made without any preservatives at all to reiterate that their burgers were always made fresh for everyone.
Yet, some commentaries blasted out and accused Burger King of shock tactics. However, the global chief marketing officer of Burger King, Fernando Machado, devised the idea and firmly suggested in a Forbes interview that, "We thought, let's show that the beauty of real food is that it actually gets ugly," and added that, "The biggest risk is to do something that doesn't get noticed. If I were to compete just with media money, I would lose the war before the first battle starts because there are bigger players in this category. If I want to get noticed I need to do bold things." This opened a silver lining for Burger King to focus more on the food preparation to showcase how the Whopper is different from the others. More so, instead of attacking and imitating McDonald's which was the usual tactic of CP&B, the company made a positive name for their own.
Returning to the Classic Burger King Logo in 2021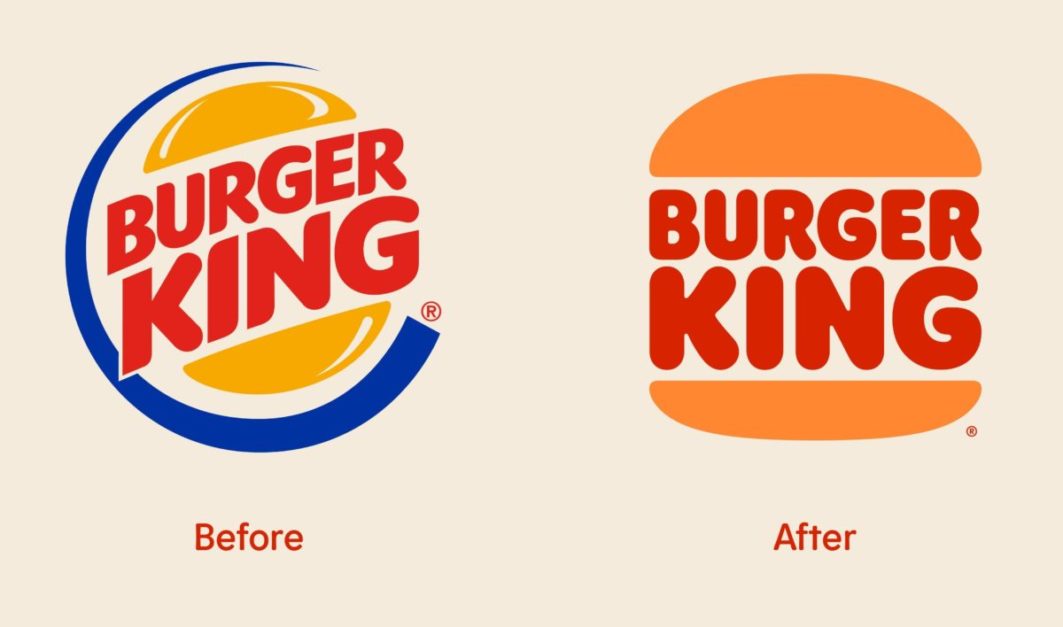 With the major revisions of Burger King's marketing strategies and company statute, the brand also redefined its logo. In recent years, Burger King's logo was that of the tilted Burger King wording, matched with a circular blue outline. While many others found it a bit simple, one explanation for the previous logo is that the blue swoosh was to show how they are giving importance to fast preparation and service back then. The problem is, this was the range of food preparation in 1999. 20 years later, fast services and drive-thrus are now a usual thing and there is no point in giving the logo longevity anymore. Thus, by the start of 2021, Burger King's logo was changed but not entirely, apparently.
Burger King's new logo dates back from its roots in the 1960s to the early 90s. The fast-food giant's rebrand was made from the designs from when the company started but with fresher, cleaner, and more vibrant colours. The colours that were incorporated with the new logo were suggestive of food and meat, creating a simpler and bolder effect for Burger King. More so, the company's ad materials were that of their products alone, leaving The King behind to focus more on what's good with their food; more straightforward and neat identities of the menu to unconsciously engrave to the consumers that Burger King is always about the food but with the tastier side it has always been.
Burger King's New Era
From the economic turmoil and the challenges Burger King has faced, it was a hard lesson for the company to not overspend their budget on marketing alone. Since the start of 3G Capital's ownership, the company's expenditures were focused more on efficient spending that can result in good margins and higher revenues. Nevertheless, focusing more on food was a substantial phase wherein they get to showcase the advantages of their goods apart from how it was seen before.
Furthermore, the new owner's decision on taking away The King was a logical move to boost up sales. Rather than on PR stunts directly getting into their greatest rival, the company focused more on what's substantial for them; letting people know more about the food they make. This in turn created a simpler way for Burger King to advertise the brand, but with low costs while being able to target across countries to reach out to their customers.
Perhaps you miss The King. But oh, well. Let him be just the quirky old man you always thought he is. For Burger King, there is no point in bringing him back; just giving much more attention to food can make their brand worthy of praise and distinction.