A few days ago, on a Saturday, one of my SEO clients with multiple physical retail stores awkwardly called me to let me know that 3 of their 4 Google My Business profiles had mysteriously disappeared and that they were kind of freaking out. Since this business focuses more on retail and local pick up than actually shipping a lot of their products, Google My Business and Google Maps is highly important.
All 3 customer-centric shops were totally gone. Not marked as permanently closed, but simply gone. As if they were never there. All the past reviews, photos, missing. GPS directions to the store gone. Everything was gone!
I was quite busy on the weekend but reached out to my work's Facebook chat group to confirm that all our other clients still appeared to have their Google My Business profiles safe and sound. These accounts were missing from our account, but everything else is still there. This issue was exclusive to this client. This got off us the hook, but I still needed to help find out what happened and what the solution would be to fix it. I did a few Google searches around losing your Google My Business page, deleted Google My Business page,
This morning, on Monday I started Googling again and finally found some support questions that appeared to answer the question. I'm surprised at how little documentation seemed to be online answering questions about possible causes for Google My Bussiness profiles and Google Maps
Why has my Google My Business Page Disappeared?
From what I researched, the main reasons your Google My Business profiles will be deleted is if you've been behaving inappropriately, perhaps making lots of duplicate listings or maybe keyword stuffing your business name or something even shadier. I was initially worried about hacking or disgruntled former employees who still had access getting revenge.
In this instance, it wasn't that at all.
I saw a piece that said that if the main "owner" account of a Google My Business profile is deleted, then their accounts get deleted as well. For some reason, when you delete the main email address, despite having other accounts with admin rights, it does not automatically assign the ownership to another user. It just deletes it all!
Unbeknownst to my client, other people in the business had a clean up of the Google Workplace (formerly known as G Suite) and had assumed that the old admin@ email for the brand wasn't actually being used for anything so they deleted it.
Don't delete the admin account of your Google My Business profile
Whenever you are deleting a past staff member or generic email for your brand, actually log into it and check what it's connected to. Most services will email you regularly, so it shouldn't be too hard to get an idea for what the site is connected to. Do a search in the account for "login" "register" "thank you" "receipt" etc to find any important signups for the account. You might find some other important things in there.
What to do if your GMB owner email has been deleted?
In most business situations, it is possible to reinstate an email address that has been disabled. I'm unsure if all their past emails get restored or not, probably not. But you should be able to have your IT guys reinstate the email address and then access your Google My Business listings again. But that's just the start. My client found that upon getting access back, that he had to reverify them. This means whilst he got all his reviews and photos back, the listings were not live immediately! This was particularly frustrating as he had only recently verified his newest location.
Reverify your Google My Business via Phone
If your business is in a position to do phone verification for Google My Business, this should not be a big issue for you, you can press a button to ring your location, where a robot voice will read out the number. If you have multiple locations and you're not physically there, it's quite easy to coordinate with staff to get them to pass on the phone number. However, this is not an option for them as their phones make you press 1 for sales, 2 for support etc. I suggested seeing if they can disable that feature whilst they do the verification, but then a colleague found this method for support.
How to Contact Google My Business Support
You might think this is a very obvious thing to do, but for some reason, Google support is always difficult to find. There is a contact form to submit your GMB issue and request a manual verification if you choose the right settings. If you are unable to reclaim your email address, or the page has been removed for other reasons, you should also be able to sort it this way.
https://support.google.com/business/gethelp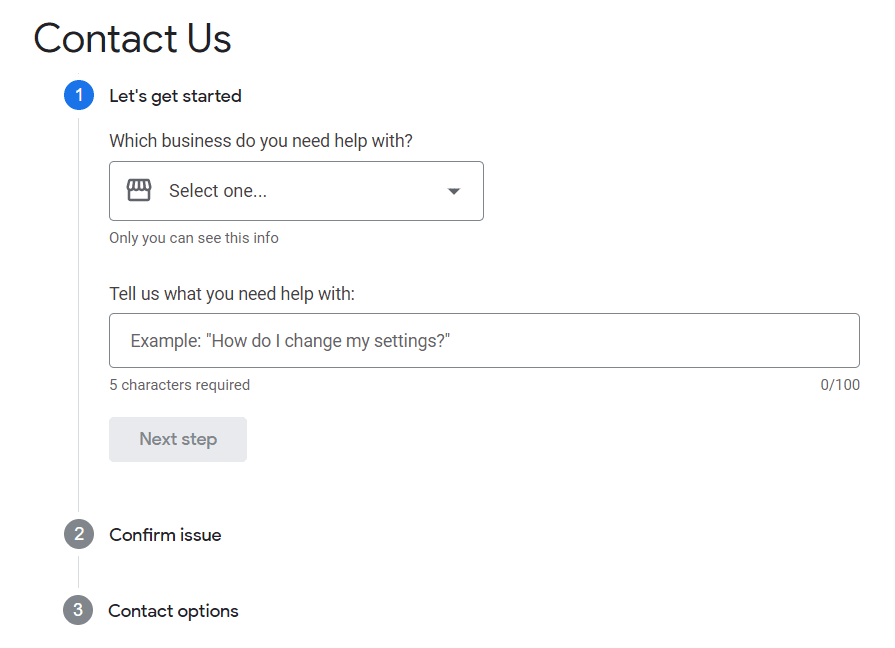 You will also need to attach 3-5 unedited photos in the later steps.
The business' storefront as seen from the street and/or in front of your store
Signage showing the name of the business and its entrance
The inside of the business, as a customer sees when entering
If available – link showing Google Street View imagery of the street and/or neighbourhood in which your business is located
If applicable – name and website URL of the venue in which your business resides (e.g. shopping mall)
If any of the above formats aren't possible for your business, provide the best photographic proof possible of the business's surroundings and how a customer can find it.
We have not finished verifying the locations, but I'm confident this will work. But if anything goes wrong, I'll update this article later.