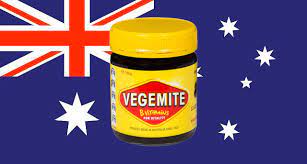 Vegemite is the most popular spread in Australia. Surpassing the peanut butter and jam that is widely common in the United States, Vegemite is an Australian staple made from leftover brewer's yeast that has a rich and salty taste and is also a symbol of Australia's national identity. With its never-ending popularity, it has been a part of the Aussie breakfast that is perfectly paired with toast or just regular bread anyone can have every morning.
Perhaps a lot of Aussies and foreigners alike are curious about how it all started. With the uniqueness of Vegemite, how did it become an "Australian Food"?
1908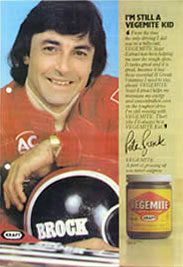 Fred Walker, an Australian industrialist, had established his import and export services on retail products. In 1908, he began to can various food for Australians, exporting to neighbouring countries first and soon worldwide, and Marmite was one of them. Marmite is a product of yeast concentrate, and a popular spread for English people, and then also imported to Australia for Aussies to try. Marmite had a rich and salty taste, enriched with vitamin B. However, because of World War I, his business went downhill due to the higher trade and manufacturing costs of food. It led him to seek for other alternatives to cut down the budget when it comes to trade, and create a way for his business to cut down costs, that would eventually provide him with higher net profits than spending it to move his goods from one country to another.
1922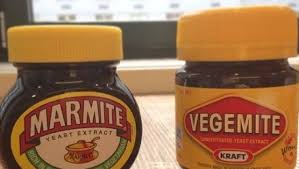 A few years after World War I ended, Fred Walker decided to have another go on the British Marmite for Australians. Yet, because he was then cutting down costs on trading, he began to have a partnership with Chemist Cyril Percy Callister, and have British Marmite introduced again. Nevertheless, instead of importing the product to the country, Walker wanted Callister to create a product that is similar to Marmite, however, it should be made in Australia using the country's resources to manufacture the spread inside the country rather than making imports for it. Thus, Vegemite was born.
Vegemite is largely similar to Marmite in the way that it is made from yeast concentrate. Still, it is different when it comes to the actual flavour, wherein Vegemite is infused with spices and vegetables, but still with vitamin B of course.
1923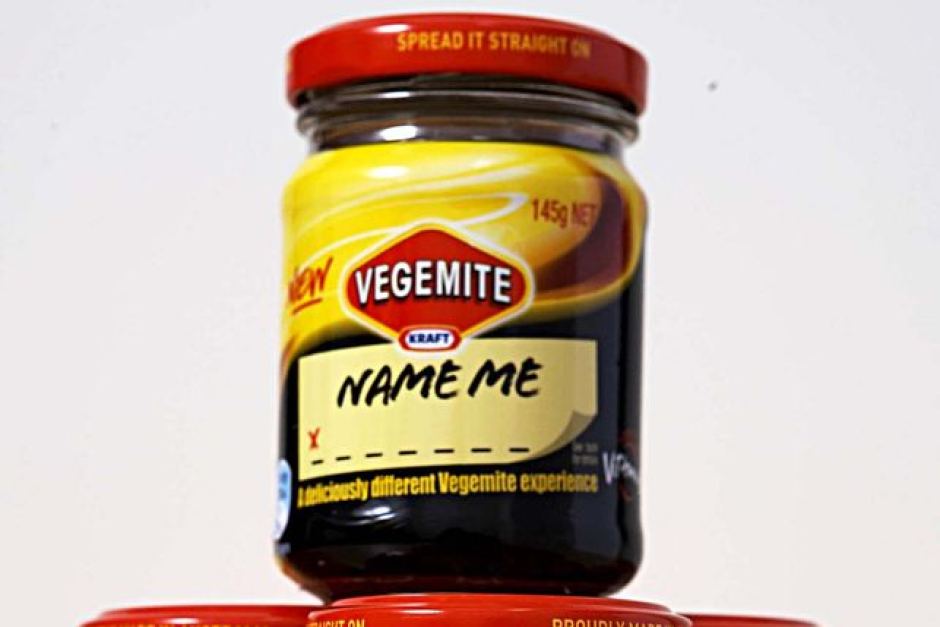 But before it became Vegemite, Fred Walker didn't have a name for the spread. To make the brand have its identity different from the British Marmite, he held a competition wherein he invited the Australian public to create a name for the spread with a prize of 50 pounds, where hundreds of people participated as well. It was then that Walker's daughter chose the grand winner for the competition, and Vegemite was the winning name for the new product.
In 1923, Vegemite launched its way to the Australian Market, sold on grocery shelves. It was described as a spread that can be paired with soup, stews, gravies, and even as a spread for crackers and breads. Yet, initial sales were low as yeast concentrated and the weird taste of the product were not innately what Australians were looking for.
1926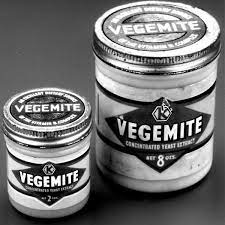 Fred Walker Company becomes Kraft Walker Foods. Consequently, the brand re-name was a joint venture between Fred Walker & Company Pty Ltd and J.L. Kraft Inc of the USA, establishing the Kraft Walker Cheese Company Pty Ltd. Kraft was a major manufacturer of cheddar cheese and other products including Vegemite, and they came up with an idea to boost Vegemite's sales since its initial launch, in an attempt to impart its sales more on the Australian Market.
In the same year, Vegemite launched a limited edition packaging, where it was sold in limited edition branded porcelain jars, and it had become distinct as a collector's item.
1928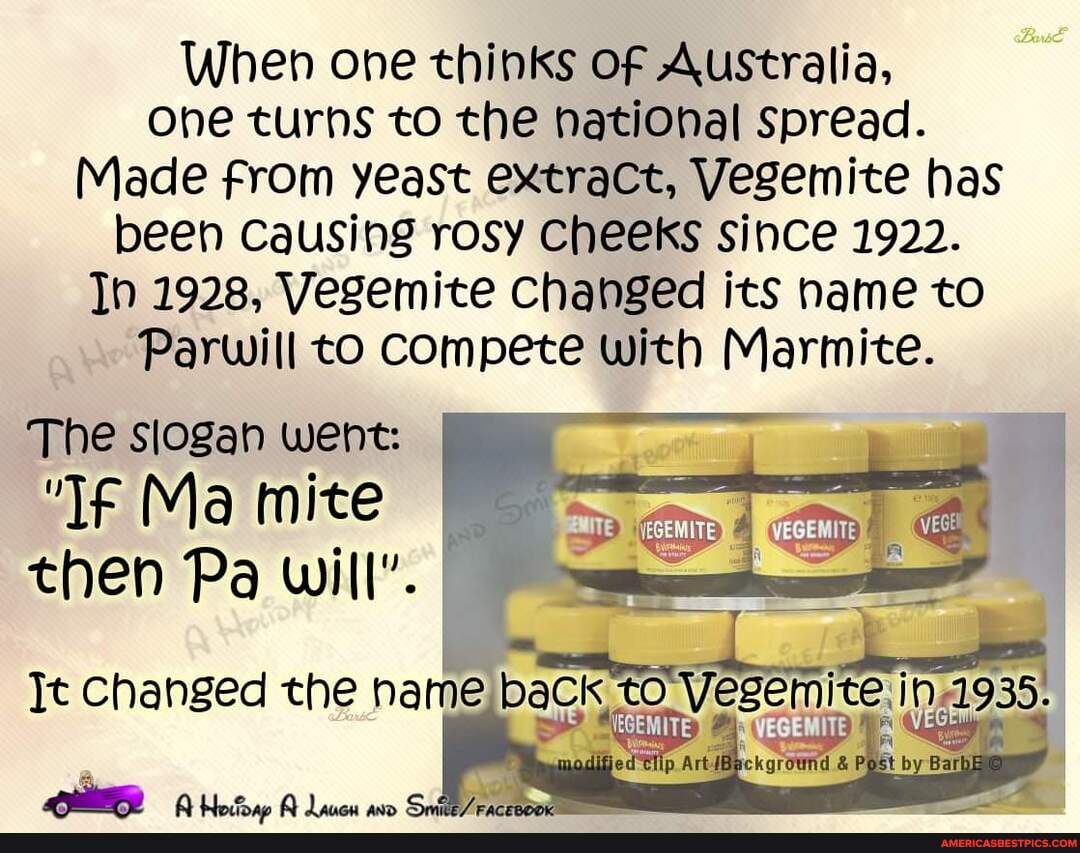 Vegemite still fell short and did not surpass its previous sales. Thus, Walker wanted to have a re-name of the spread and made it into Parwill to emulate the popularity of the well-known British Marmite. It had a catchphrase that says, "If Marmite…then Parwill.". By then it became a widely produced and sold product in Queensland only; it was not very popular among the other neighbouring regions or in Australia as a whole.
Hence, Fred Walker reverts to the original name, Vegemite, and hopes for the better regarding how they can manage to have it imprinted as a staple food for the Aussies particularly.
1930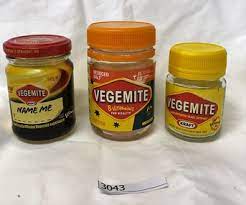 To meet the needs of Aussies, Vegemite began to have different packaging sizes. It was commonly sold in tin cans and jars, which were available in 2, 4, 6, and 8-ounce jars and 1 and 6-pound tins. Nevertheless, Kraft Walker Foods had a gimmick for their jars —— it was made to be multi-purpose, where the jars can be reused as egg cups, salt, and pepper shakers, or mustard pots (complete with a spoon), by the time all the contents are consumed. This led to a dramatic change where it became popular with the Australian masses, making way for reusable products to be known and preferred by the Aussies.
1931
Walker's company launched an additional variety in sizes for Vegemite. It ranged from 2-ounce opal glass jars to 6-pound tins cans.
1935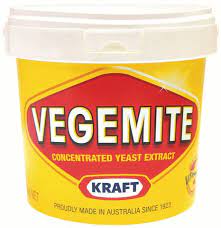 As Vegemite was part of Kraft's product, coupons for the product were included by the time anyone purchases cheddar cheese. This made way for sales to boost up 10 years after its first launch, as people are likely to avail of something free or something discounted to let them think that they're getting much from the bargain. Therefore, Vegemite created a reputation for itself as a spread that is nutritious and tasty, and by then started to catch the Australian market gradually.
In the same year, Fred Walker passed away, however, his tradition and innovation continued up until the following years. As Vegemite gained its long-overdue popularity, it continued to sail for the Aussies years after his death.
1936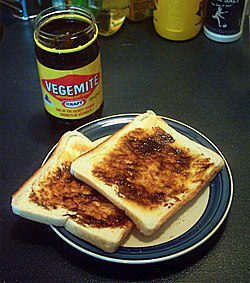 This year, the electric toaster was introduced worldwide, making it popularly known and purchased by Australians as well. During this year, Vegemite was considered one of the best spreads you can pair with toasted bread, and both had an inseparable partnership with each other. Thus, the toaster was a key component for Vegemite to be preferred by every household in Australia.
1940
During the height of World War II, the Australian Armed Forces requested for Vegemite to be manufactured in packets. This was a substantial food for the armies during the armed conflict, with the need to meet nutritional requirements to provide healthy and convenient food for the men and women at war. The military was provided supplies of Vegemite in 7 ounces, and also individual ration packs that contain 14g of Vegemite that they can use whenever and wherever. However, when demand was higher than supply, the company had to ration Vegemite per region, to control sales but still provide for every region.
By this year, Vegemite has gained a rise in sales, amidst the war happening, and even made a huge impact on the Australian palate.
1946
Vegemite's label was changed to have Concentrated Yeast Extract rather than Pure Yeast Extract. This is the same label Vegemite uses today, to give it a precise description of the contents of the product. Moreover, Vegemite was also sold in plastic containers, with cartoon characters from Disney, to also infiltrate them into kids; mascots were a thing back then just as much as it is now.
1948
The post-war era has increased Vegemite Sales. Though the substantial amount was with the armed forces, it was then that baby care experts such as Sister McDonald, have quoted Vegemite as the most essential spread. This turned out to be a revolution for Vegemite in acquiring a firm reputation that speaks volumes about nutrition for all ages.
1950-1952
The Kraft Walker Company shifts its name to Kraft Foods Limited. In 1952, Kraft also placed its logo on the labels of Vegemite, to establish a brand identity and association with the product.
1954-1956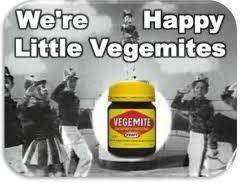 The "Happy Little Vegemites" jingle is aired and broadcasted on radio, wherein it promoted the idea of Australia as a "lucky country" that connotes well-being and nutrition among its people. This became a nationalistic symbol, as Vegemite was an Australian staple already, made in Australia that was also initially for Australia.
In 1956, the Olympic Games commenced in Melbourne, and Vegemite's jingle was also aired as an advertisement on television.
1960
Coles and Woolworths have opened in Victoria and New South Wales respectively, with the aim to boost Vegemite sales and keep up to provide the product according to the growing demands of Australians. Its jingle also made a comeback in advertising.
1967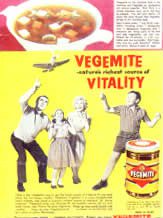 Vegemite initiates an advertising feature called "The Three Ages of Man". This ad creates a productive notion that Vegemite is a healthy spread for everyone in all age groups, providing nutrition daily for Aussies. The campaign has gone on for about 2 years, and by then hugely impacted how Australians see Vegemite today.
1976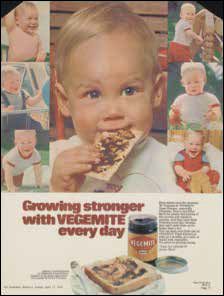 Another advertising campaign was launched by the company. It was called "Pass the Vegemite please Mum" and was also reworked as a coloured TV commercial.
1961-1980
Since the 1960s, Vegemite has transitioned to label and packaging modifications. Instead of a K inside a hexagon, Kraft has replaced it with the full name for Vegemite's label and in 1974, there was a regulatory requirement increase in labelling. In 1975, imperial information was dropped from the label, and in 1979, the ingredients for the product were listed on the label for the first time.
1991
Metal lids are replaced with yellow tamper evident ones, to provide Australians with a fresher look and that Vegemite looks exactly the same from the factory to their homes.
The brand also has an exhibit of Vegemite jars dating back from 1922 inside Sydney's Powerhouse Museum and commences during the July school holidays.
1993
A commemorative jar was introduced following Vegemite's 70th anniversary.
1994
Vegemite launched an outdoor campaign where it goes to schools and hands in samples of Vegemite to children. The gimmick also converted a bus to a toaster on wheels, to achieve the perfect pair of toast and Vegemite dating back decades ago.
1999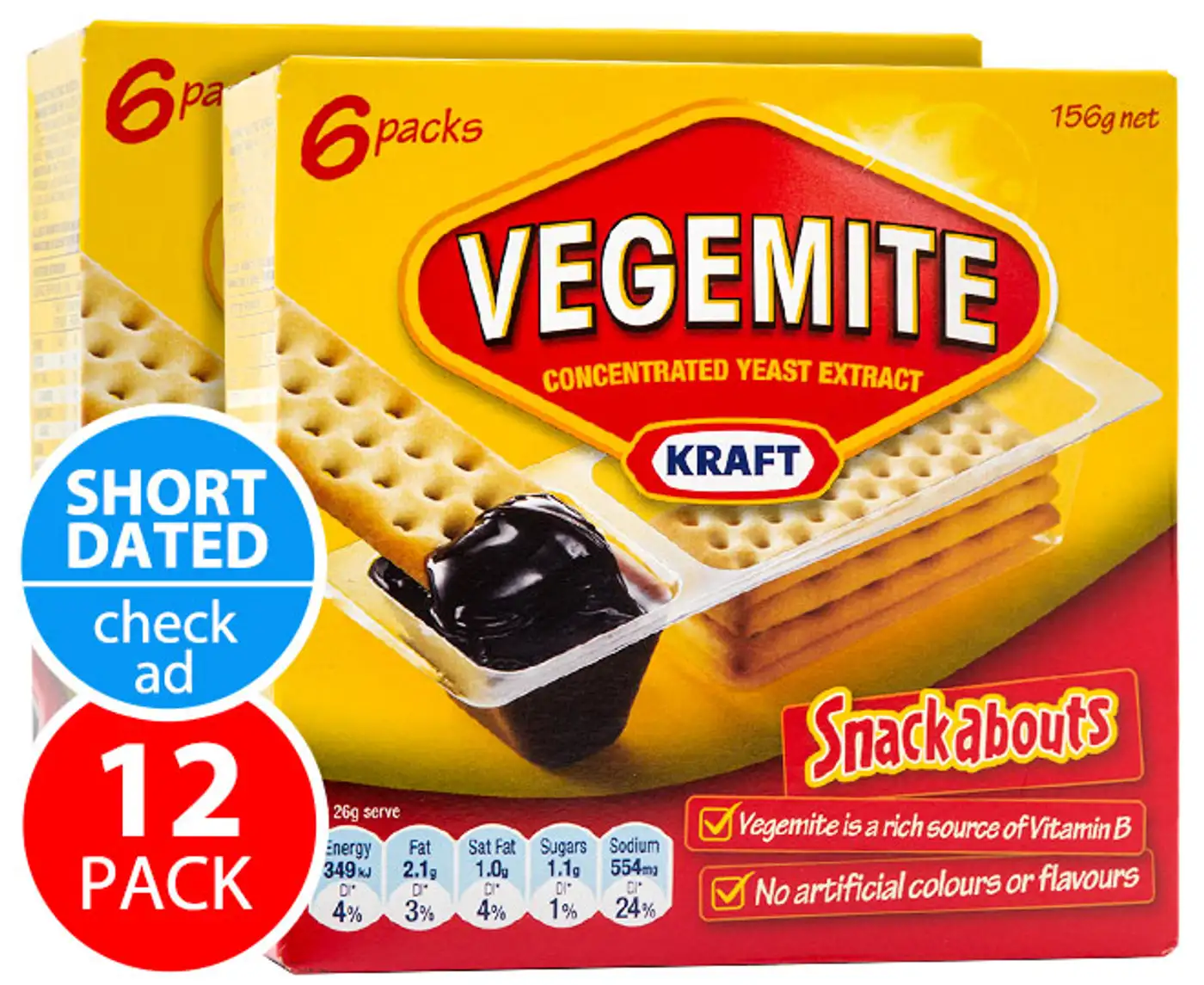 Kraft introduced a new snack to Australians. Instead of Vegemite being used as a spread, they did a particular thing of creating a biscuit that is infused in Vegemite. Hence, the "Snack About" came into production, making their way to be part of kid's lunches and even a snack on the go for the kids as well. The popularity of the snack was also assisted by the nutritional contents of the product, which is rich in Vitamin B1 and B2.
2002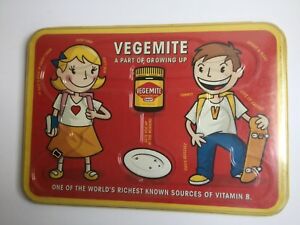 Kraft releases another collectible item for Vegemite, where people can redeem a magnetic placemat from tokens under jar lids.
2008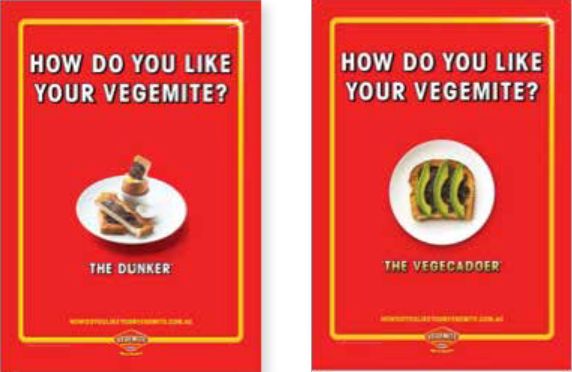 "How do you like your Vegemite?" campaign became a popular theme for Vegemite. It sought to ask Australians and tell them that Vegemite can be used in a variety of ways; from snacks to meal ingredients, or pairing it with tomatoes, Vegemite is always a part of the Australian palate.
In the same year, they also had a nationwide promotion for the "Billionth Jar'' where consumers were very eager to look for the billionth Vegemite jar and win Holden Ute, Quintrex Boat Package, Whitsunday Escape to Hamilton Island, Fuel and Groceries for a year, Mortgage repayments and more.
2009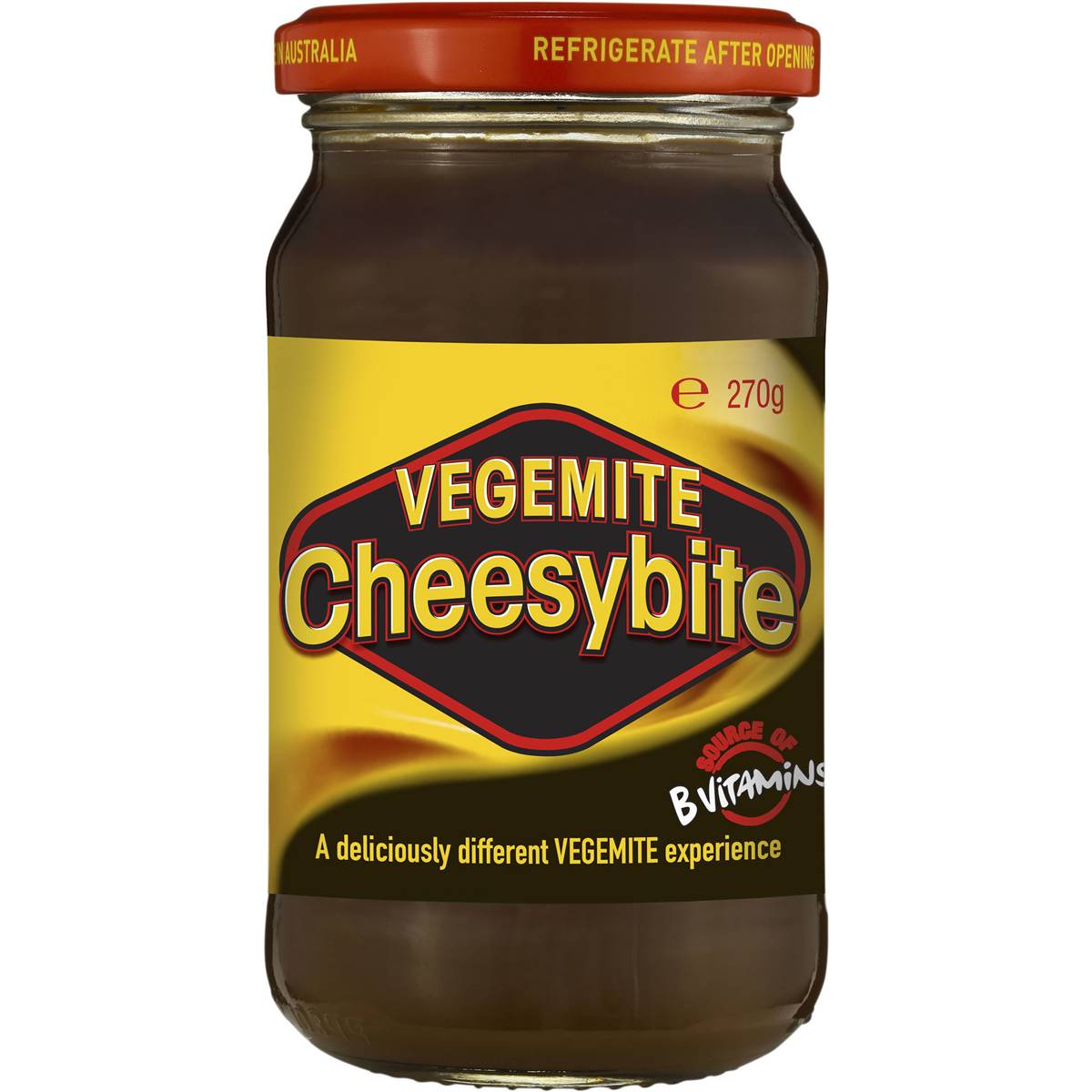 In July of 2009, Vegemite Cheesybite was launched to the Aussies. It is made from a mixture of cream cheese and Vegemite spread. Yet, like in the 1920s, the brand wanted to have a nationwide contest for its name. The name that was chosen for the grand prize was "iSnack2.0", however, was abolished because it did not reflect the brand.
2012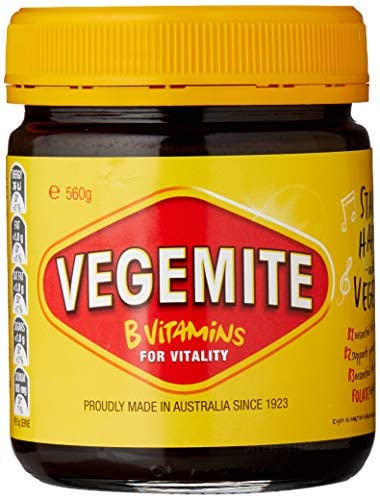 The party that owned Kraft Foods changed its name to Mondelez International. However, it was sold to Bega Foods in 2017, gaining full Australian Ownership of Vegemite again.
Vegemite is indeed an Australian staple. Though some people may not like it, the savoury texture and taste of Vegemite have already infiltrated the daily diet and palate of Australians.
If you're looking for the most Australian food, the Vegemite might be the best answer you can ever tell anyone.