As a consumer, I have mixed feelings about self-service kiosks at restaurants, fast food chains and even supermarkets. I always feel a tiny bit guilty when I use these instead of getting served by a real person and think about how many jobs these are potentially replacing. On the other hand, I always geek out over the technology and how futuristic it feels.
Today I was in a food court and noticed the KFC had three self-service kiosks next to the regular human at one of two registers. I usually only get KFC via drive-thru so I'm not sure how new these are in Australia. I think it's the first time I've seen self-service at a fast-food chain in a food court.
This immediately felt like a greater efficiency. Instead of 1-3 people on registers, there was now the ability for the store to have up to five people ordering at once. This seems highly efficient.
Here's a list of advantages of disadvantages I can see about these new POS systems at KFC:
Customers don't have to rush their orders.
Often when I'm ordering from a person, I always get flustered if I don't quite know what I want to order. Sometimes I just order something familiar if I'm under pressure. Many other people feel the same.
In an interview with Forbes Gavin Felder, KFC Global's CFO said "You can take your time at a kiosk and not have to worry about five people standing behind you that may give you anxiety. For us, any small piece of friction we can take away–from the ordering stage to the collection stage–customers are rewarding us for".
Customers can browse the full menu more easily
Unlike the big menus up on the wall, the menu items can be easily grouped into similar types of products. This allows customers to really drill into the offerings and perhaps try new things. This should naturally allow users to upsell themselves additional products they may not have normally considered.
It's easy to add on extra items
I rarely add any extras to my burgers. Some restaurants like Domino's and Pizza Hut have terribly expensive add on items for their pizzas, where most ingredients are an extra $2 regardless of value fo the product. I don't ask human staff how much each ingredient costs, so I new knew that KFC had good value extras available. Some things like sauces and basic salad and lettuce are free to add to your burger. Tomato only costs 20 cents more etc.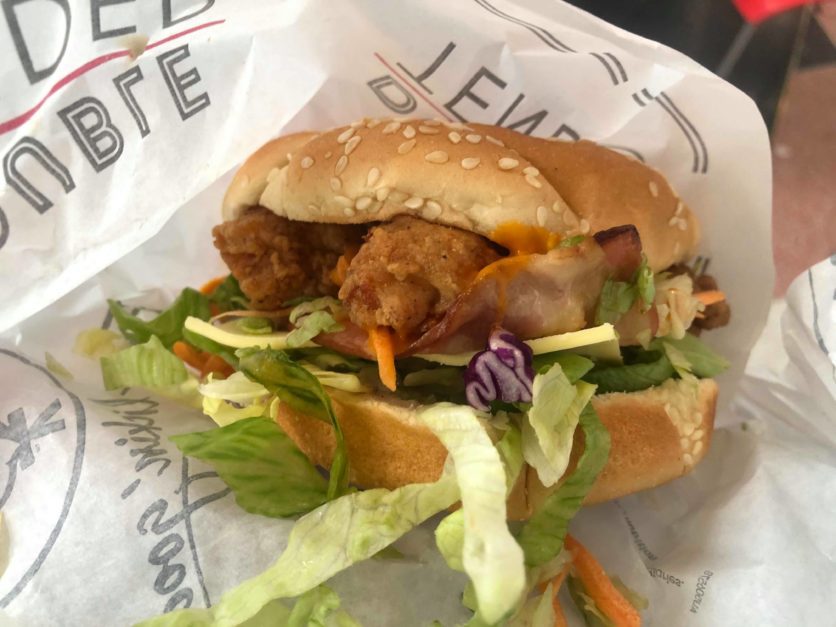 I bought their cheapest burger, the Double Tender Burger which is just a bun with two chicken tenders, lettuce and mayo pepper. For about $1 more I also added cheese and bacon plus free chopped salad and baconnaise sauce. I wouldn't have thought to add these items normally. They got an extra $1 out of me.
Self-service kiosks seem germy
I always feel the need to use my knuckles to touch these screens. Something seems wrong about letting everyone put their germy fingers on the same screen right before you're going to eat food with your bare hands. I immediately felt like I had to cough as soon as I started using the machine. I'm one of those gross people.
Ability to capture consumer marketing data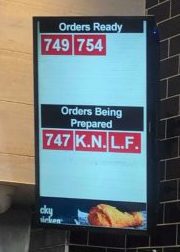 Above shows customers who have ordered via a staff member as a number. The ones with letters are the initials of the customers who used the self-service kiosk. When you are completing your order it then asks for your first name and last initial with an optional field to your email address. It then shows your initials on the screen, but I think the staff member still calls out your first name.
This perhaps offers better privacy than the screens used for food collection that Domino's has used over the years.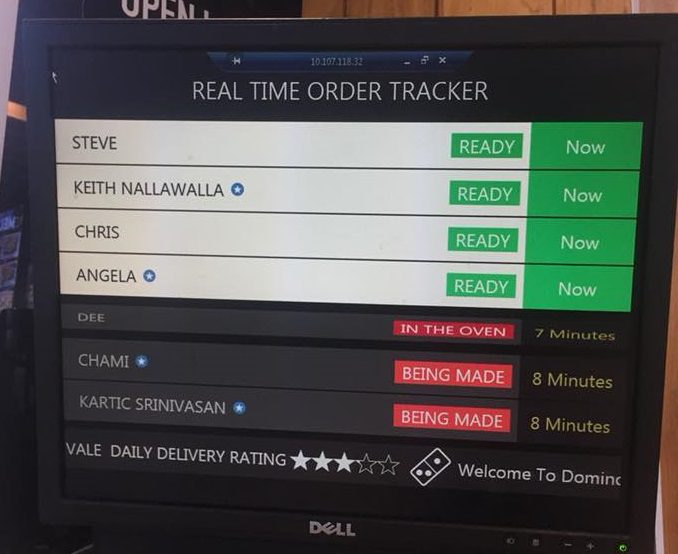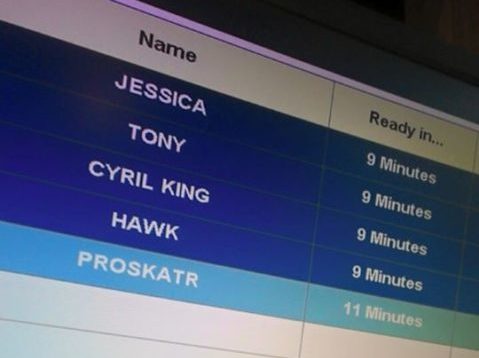 It could also limit the opportunity for customers writing silly things.
Kiosks can potentially free up staff to help cook
According to various statements by senior staff at the major fast-food chains, it sounds like they are planning to continue to roster the same number of staff, but will now be able to have more cooking at once and serving the meals to customers. This sounds plausible as the restaurants are now able to take more orders at once (as well as mobile and delivery orders), it would make sense to have more hands in the kitchen so as not to bottleneck the whole process.
Whether or not this is true, or remains to be true is yet unclear.