Ever since 2015 when David and I first bought the domain name for Good/Bad Marketing we had planned to create a mega-post of April Fools' posts by brands. Now, 6 years later I've actually remembered to save lots of them, plus I dug up plenty I'd shared with him in the past. So here's a collection of April Fools' post ideas for brands all in one spot, so if you're looking for ideas on how to fool your social media followers in the future, perhaps you can get some inspiration from what brands have done in the past.
The rules of April Fools' Day
In modern times, April Fools' Day has turned into a 24-hour event due to timezones being different across the world. The rules for it don't translate as well into the online world, as you are expected to do any pranks before 12 pm in your local time. This leads to lots of people in the United States who forget that other countries exist getting totally baffled when a viral April Fools' post from New Zealand or Australia appears in their feed a day early. Seriously, check the comments next time, you'll see plenty of people who think they are clever commenting that this Australian page has messed up by posting their April Fools' post a day earlier.
If you are an individual, famous or not it is in poor taste to joke about pregnancy announcements, engagements or breakups. Whilst brands don't really have to worry about such a thing, there's always a dumb celebrity who will post something that goes against this, with Tori Spelling faking the announcement of her 6th child for April Fools' 2021. So did Zayn Malik's sister Safaa Malik.This is of course offensive and insensitive to those who have been unable to conceive or had miscarriages, so please do not trivialise such a thing as April Fools' is meant to be a bit of fun, not something to polarise your friends or fans.
Subway's Coriander Cookie (2021)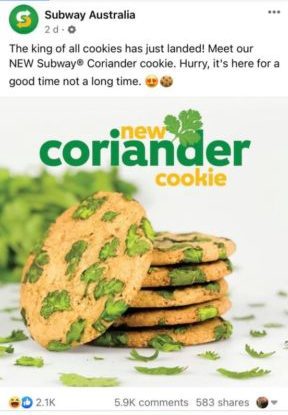 Subway in Australia and New Zealand (and possibly others) all shared this obviously fake image of coriander Subway cookies. This worked well as Subway is famous for its cookies and coriander is possibly the most polarising cooking ingredient ever. So why not tease your fans with something that will clearly ruin your best product? People definitely got a kick out of this, except for a bunch of confused Americans who saw this a day early.
Pornhub's April Fools' Prank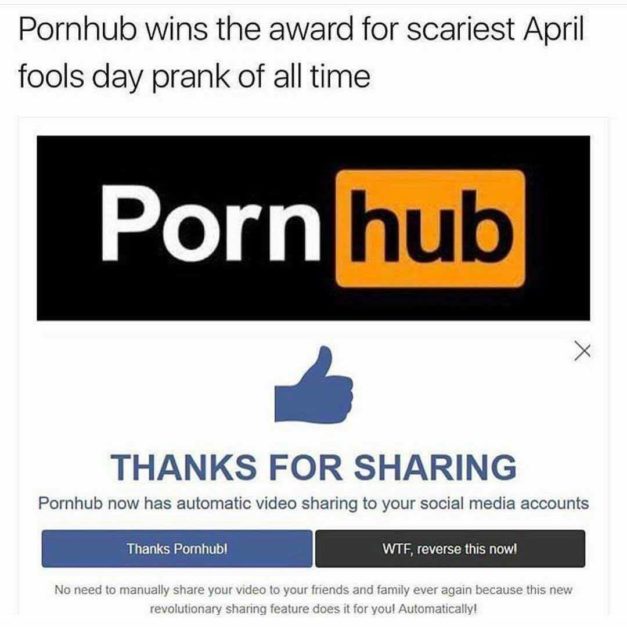 This is from a few years ago, after some research, I found that this was an actual popup that visitors to the site saw and it freaked them out. This led to a lot of funny Reddit posts.



I guess this prank was great because it was more than a simple social media post and it taps into the fear of many of its users.
Boost Juice's Underwear & Lingerie Line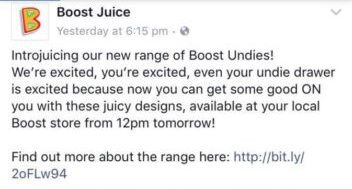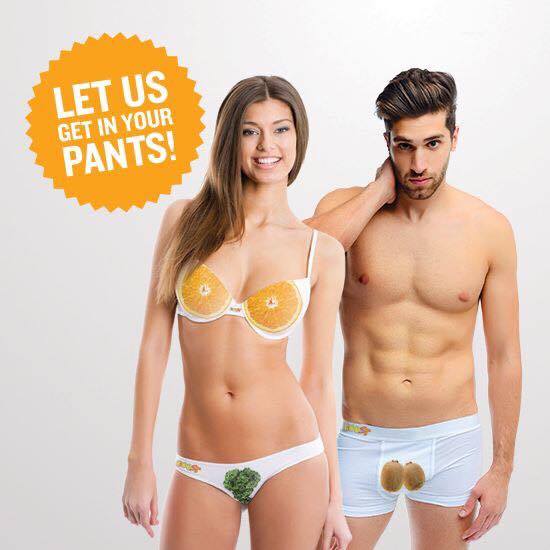 This juicy post is from a few years ago and it references the 12 pm rule, where April Fools' is over and is quite on-brand for this cheeky Australian juice chain. I imagine if this were a real product, it would have done well.
Boost Juice Removes Popular Menu Item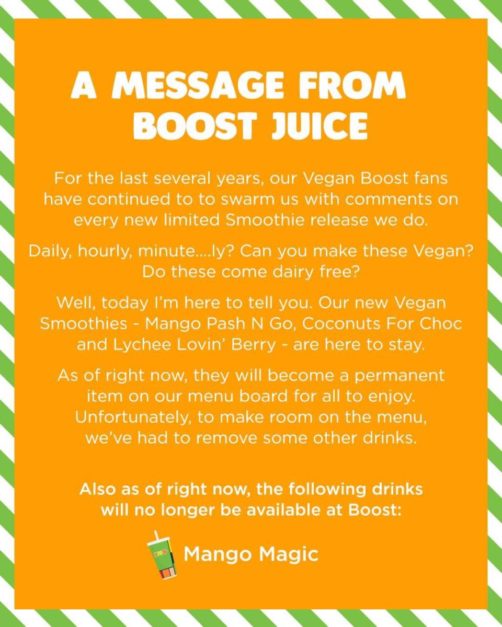 This 2021 post was successful as it introduced Boost Juice's real new vegan smoothy range, but the joke was that it was removing another popular item – Mango Magic. This triggered a lot of mango fans and their friends to rapidly tag each other in the post. A simple and effective way to get social media visibility.
Vegemite x Dare Iced Coffee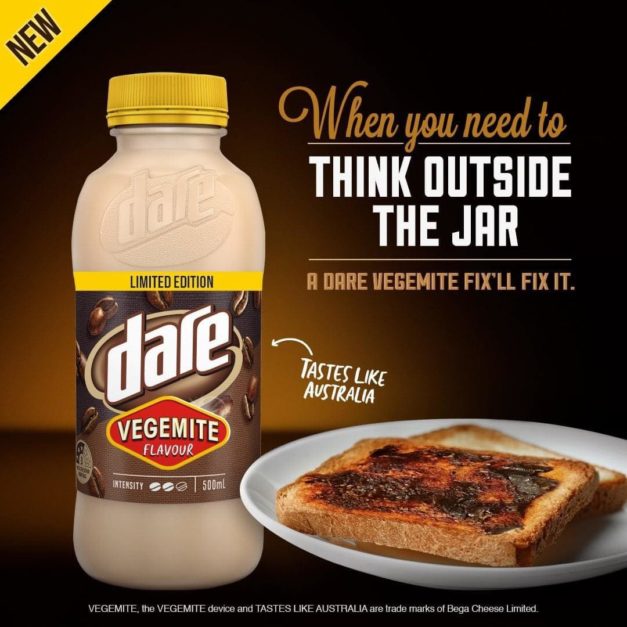 Vegemite has had some surprising real crossovers in the past, often ones no one was asking for but would try out of curiosity including Vegesmite Cadbury Chocolate, Vegemite crust pizza at Pizza Hut and Vegemite Boost Juice. This means that just about anything seems possible for them to try and crossover with, making their April Fools' posts seem that little bit more believable.
Above is their 2021 post about Vegemite flavour Dare Iced Coffee, an easy collaboration, as both of these brands are owned by Bega Cheese Limited, giving that extra cross-promotion for the parent company.
Vegemite X Volley (2019)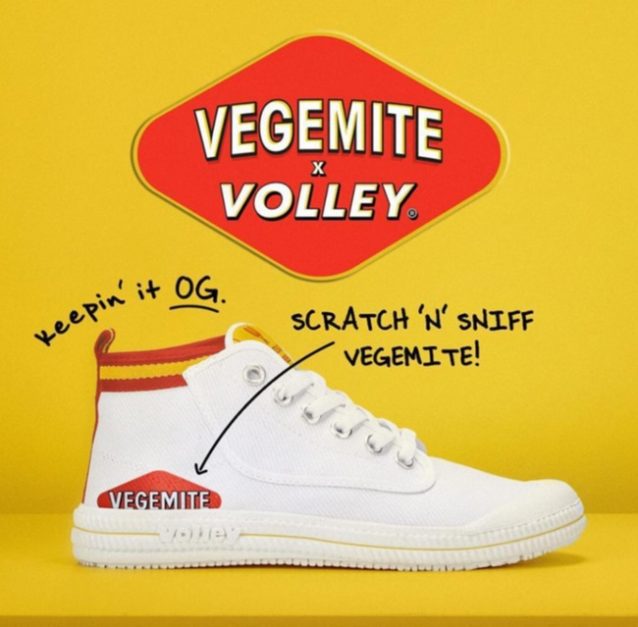 A fake collaboration with the shoe brand Volley, this 2019 April Fools' day prank pokes fun at all the crazy collaborations between clothing and shoe brands, which are still rampant to this day. The Scratch N Sniff function is particularly funny as no one really wants to sniff their shoes. This collaboration wouldn't be too surprising if it were real though, given Vegemite has previously partnered with Australian clothing brand Peter Alexander.
The Big Vegemite (2015)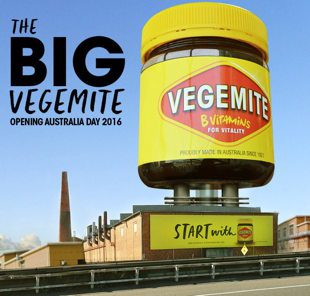 Australia is known for its oversized object roadside attractions, such as the Big Banana. Why not a giant Vegemite jar at their Port Melbourne factory?
Vegemite X Tim Tam (2022)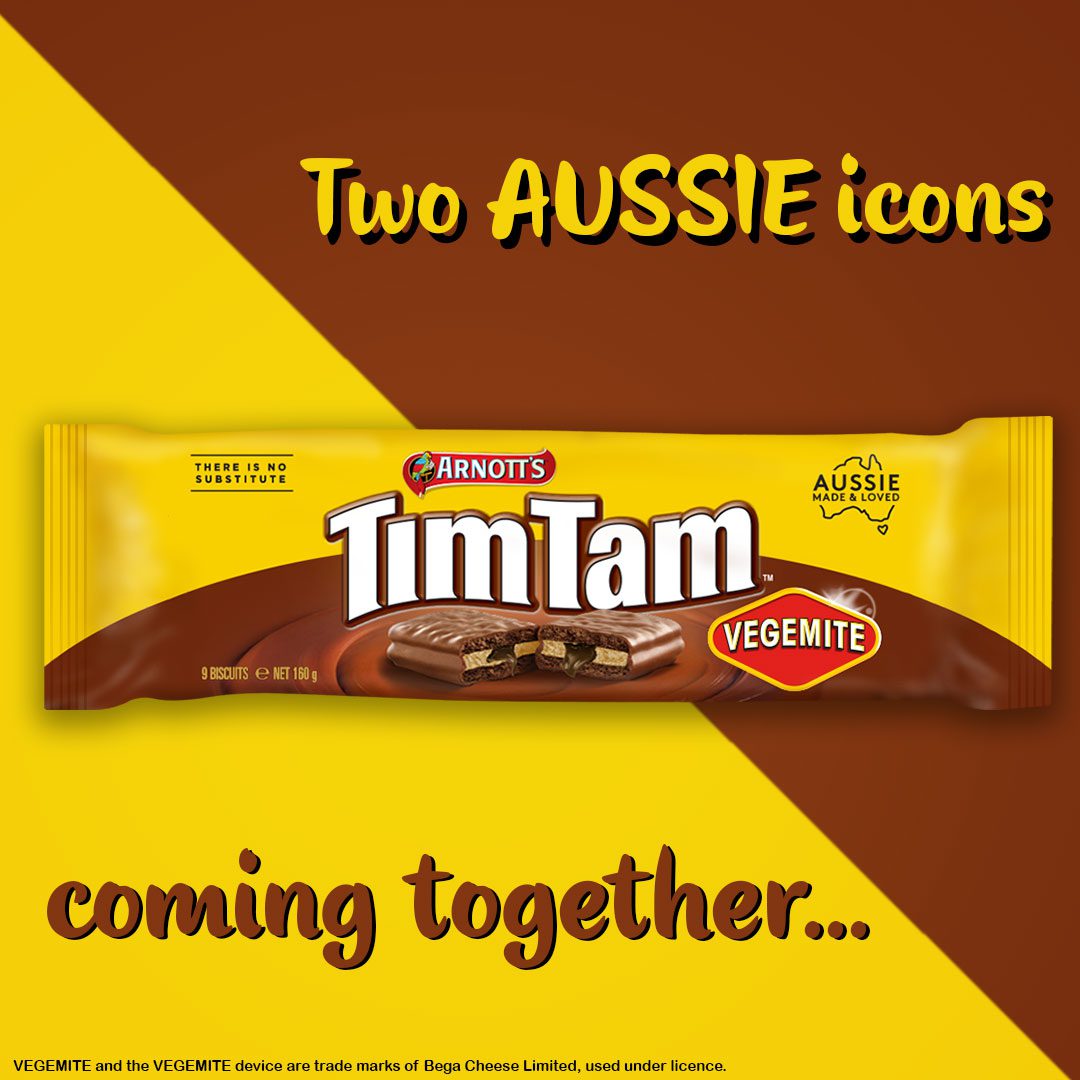 "This is no April Fools… Tim Tam VEGEMITE is REAL! Head over to Arnott's Tim Tam for your chance to win 1 of 5 packs of these MITEY delicious limited-edition biscuits!"
Even Government & Emergency Services can have April Fools' Fun

Here's a post from Queensland Fire & Emergency from 2019 – "Excited to 'launch' our new aerial swift water rescue squad. These specialist firefighters recently finished intensive jetpack training with some of the world's leading experts from NASA. They're now undergoing final testing before the jetpacks are introduced statewide by 2021."
Tasmania Police's New Drug Sniffer Pig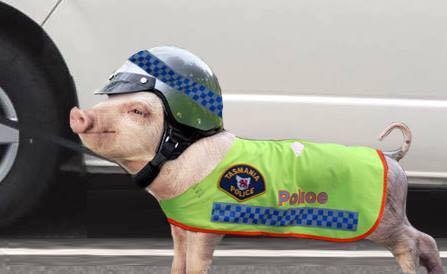 It's good to see that the police have a sense of humour, even if their Photoshop skills aren't so great.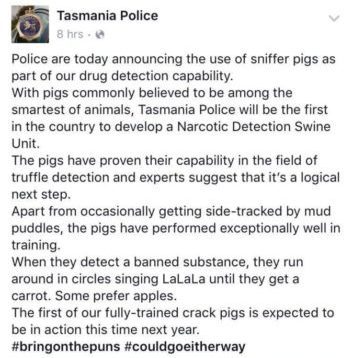 Travelodge's bed share (2019)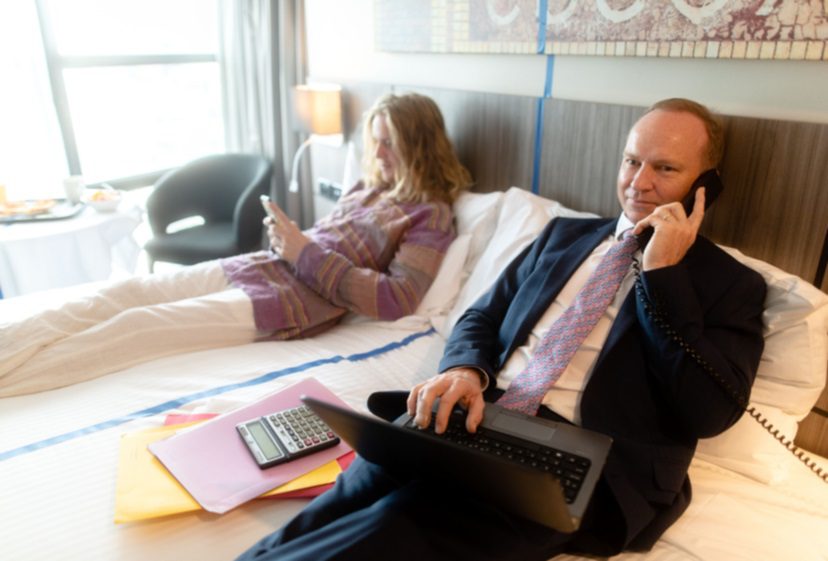 Poking fun at today's sharing economy with Airbnb and particularly, Uber's Uberpool where you can share a ride with strangers going in the same direction as you, Travelodge promoted a deal where you could get a 50% discount if you shared your room with another stranger.
McDonald's Three Fries Portions (2021)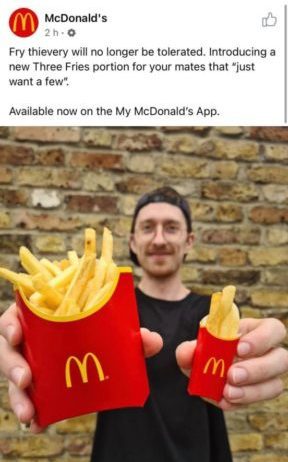 Whilst obviously an April Fools' prank, McDonald's has used this as a subtle way to remind people of the My McDonald's App, perhaps even making a few people check it or download it to look for the offer.
McDonald's McPickle Burger (2019)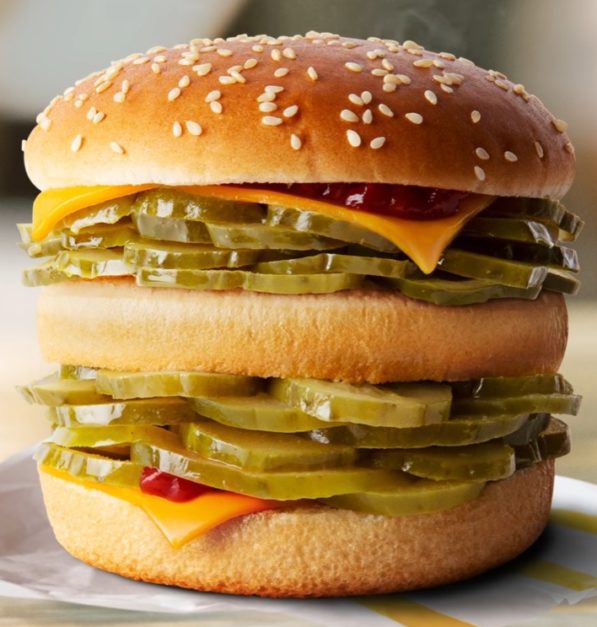 In 2019 McDonald's shared their image of the McPickle Burger. A Big Mac-style burger but with pickles instead of beef and lettuce. Highlighting the most polarising hamburger ingredient, the pickle in such a way is guaranteed to stir controversy and get lots of shares and tagging from people on both sides of the pickle fence.
McDonald's AprilFoolProof post (2021)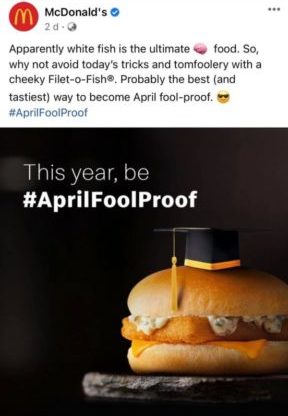 This is a different way to do an April Fools' post, that's for sure and by promoting an actual health benefit for one of its burgers for a change. This is a clever and different way to do an April Fools' post by a brand.
Coon Cheese Cheesy Pop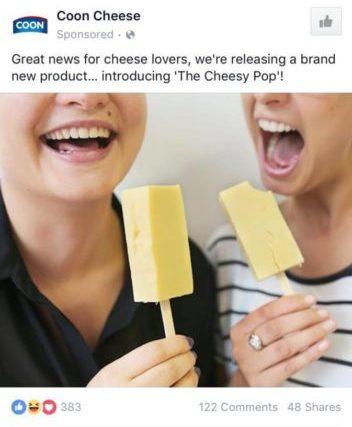 I saved this screenshot a few years ago, Coon, an Australian cheese brand has now renamed itself after the racist-sounding name of the brand. A few years ago I actually mentioned their troublesome name in my article about racist and homophobic products in Australia. Cheese on a stick though? Yeah, that's something I could get behind!
Coles Supermarkets Hover Trolley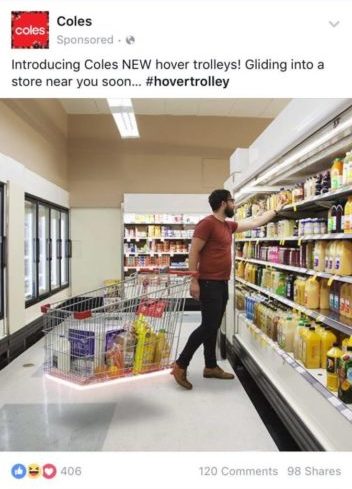 I find this to be one of the less interesting inclusions as it doesn't have any sense of believability to it. If it doesn't catch someone off-guard for a second, I don't believe it is fulfilling its purpose. That being said, a hover trolley at Coles would certainly be nice.
Destination Gold Coast – Underwater Rollercoaster (2022)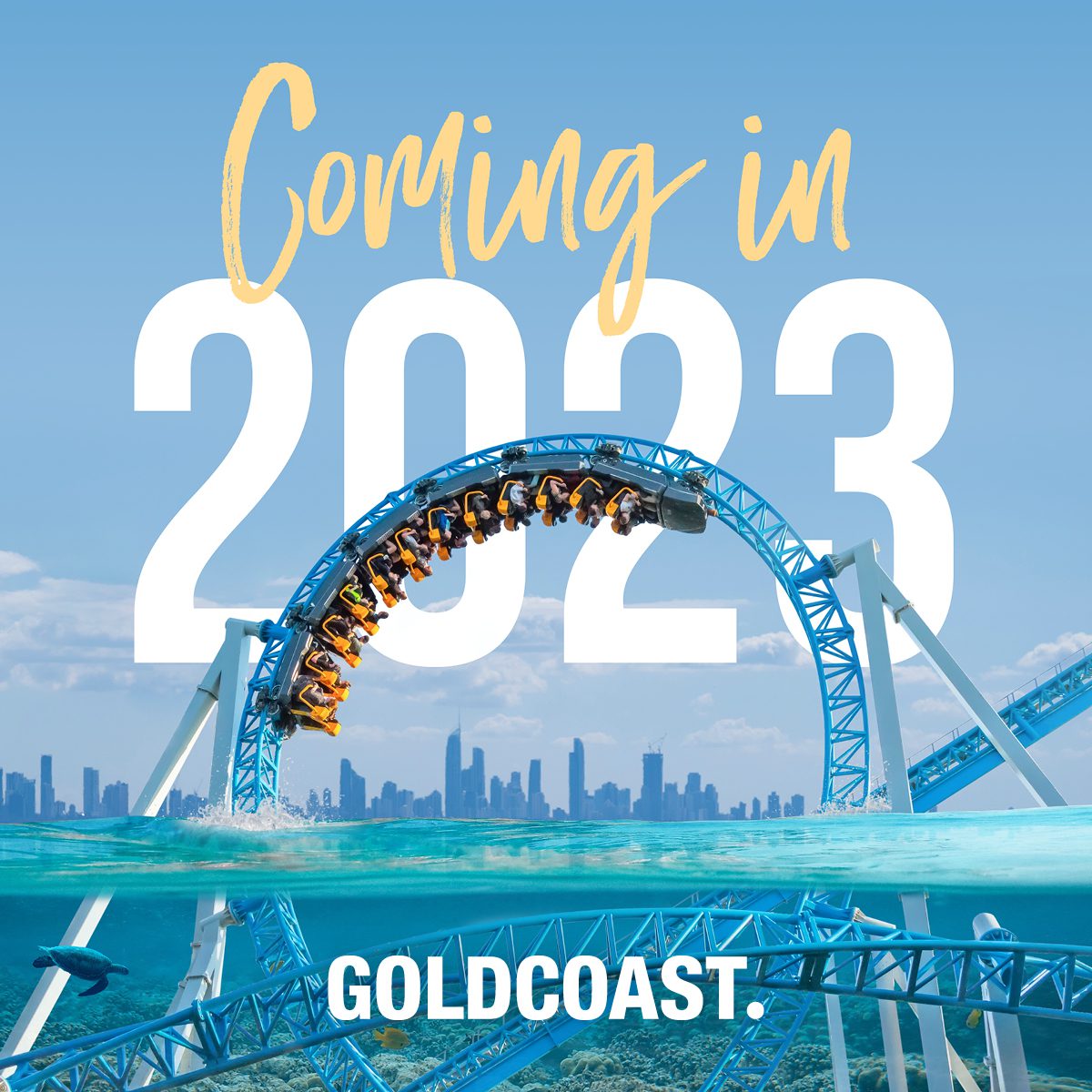 Hold your breath as the Gold Coast welcomes the world's first underwater rollercoaster. 
Not for the faint-hearted or the ocean-fearers, this new fully immersive experience stands a total of 40m tall, and roughly 20m above the ocean surface at full tide. 
 Riders will be taken on a 1km amphibious journey through the big blue, exposed to all of nature's elements including local marine life, coral vistas and the salty breeze and water. 
This multi-million dollar investment will see the Gold Coast elevate from Australia's favourite playground to the World's favourite playground!
The Office Movie by Amazon Prime Video (2021)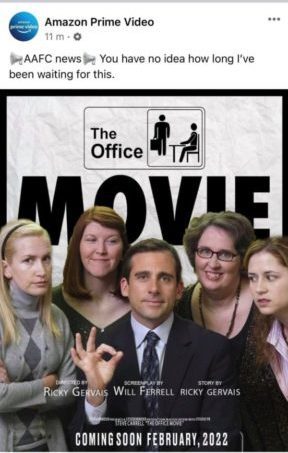 This is just cruel teasing a movie for the beloved sitcom The Office (US). It does well to tap into a rabid fanbase who would surely want to believe it to be real and share it and tag friends, even if they know it's fake.
Guinness Flavoured Milk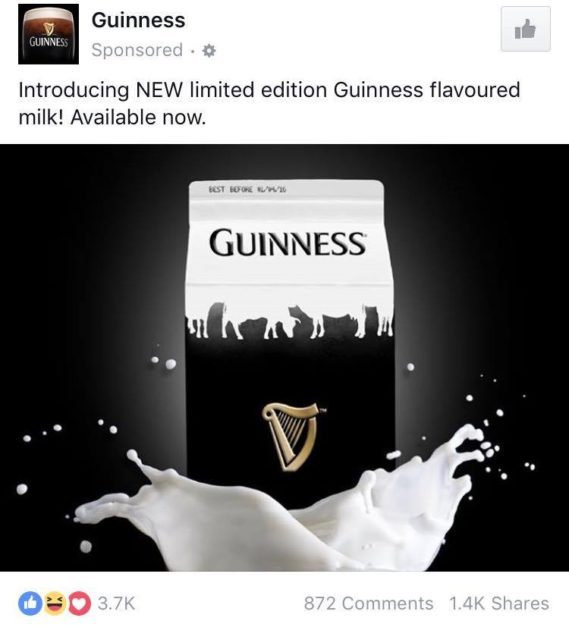 This isn't terrible, but some of the other brands have done the flavoured milk joke better by making it related to a second brand. Something about this just doesn't really feel real. The expiration date is a cool feature though.
WWF Australia's Zerangaroo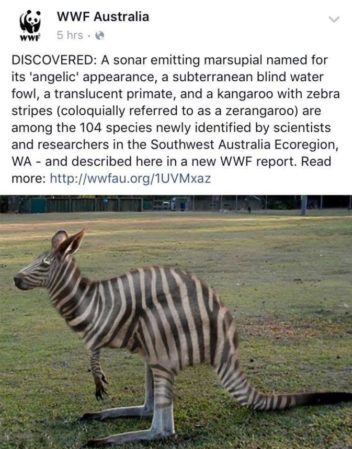 I don't think this fooled anyone, but it's good to see posts from a wide range of brands and businesses, including those in animal conservation.
IKEA's FLIKEA – Budget Airlines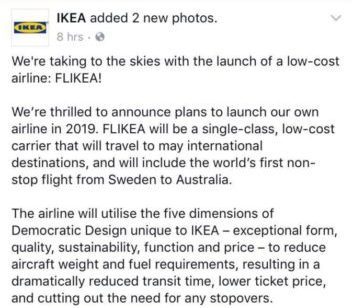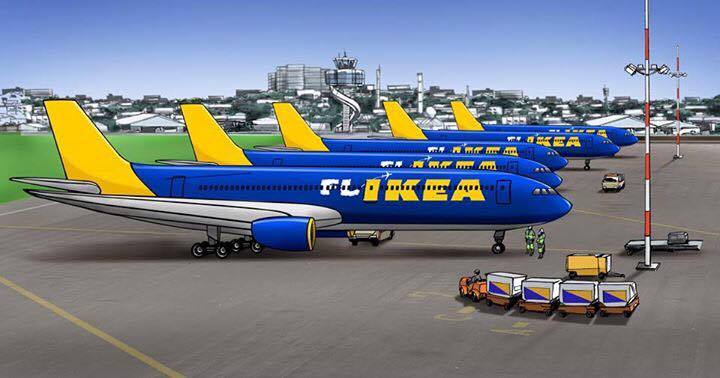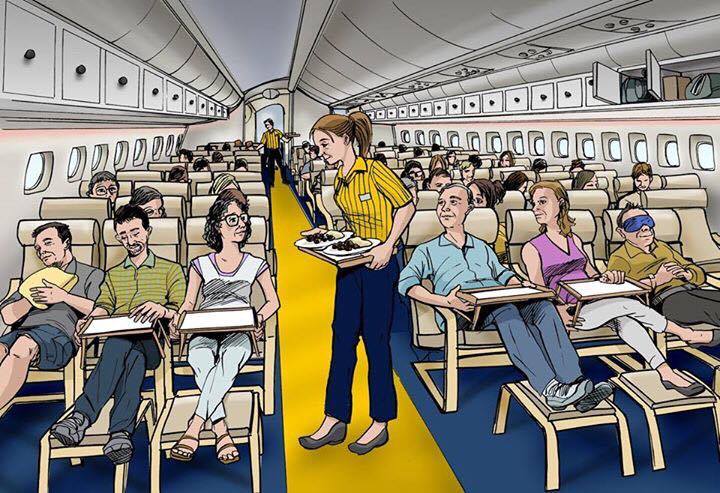 To be honest, if IKEA made an airline, it would probably be amazing.
IKEA HUND COUTURE (2021)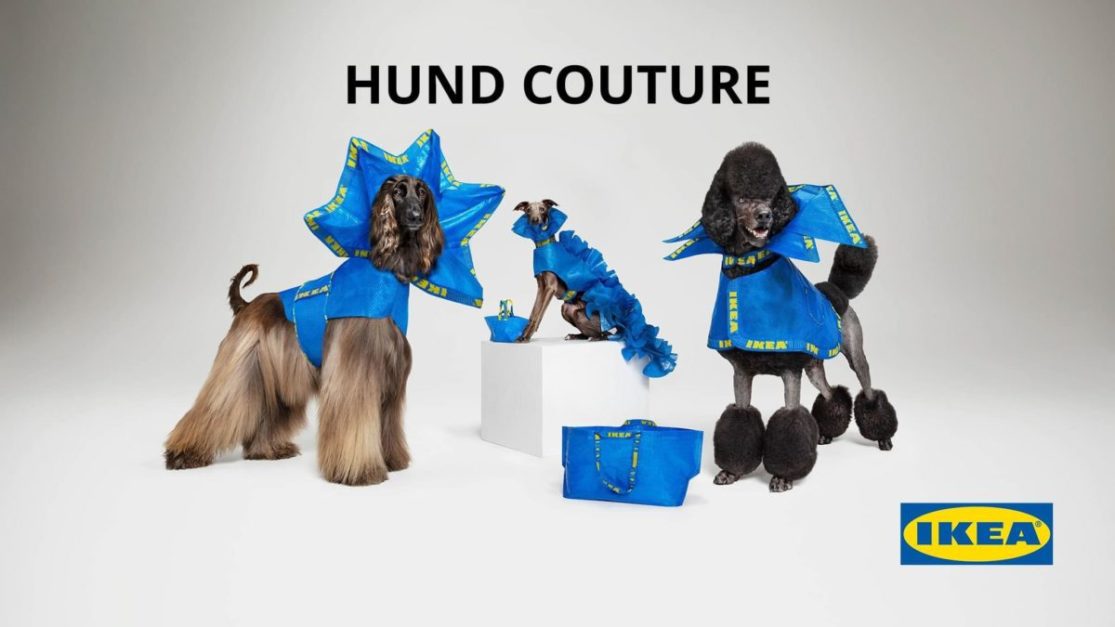 "We may have launched HUND COUTURE on April Fools' Day, but we take design seriously. That's why you can get your paws on all three outfit instruction manuals and patterns to make the outfits at home. It's time to grab some FRAKTA bags and turn them into something haute."
IKEA has truly gone above and beyond in 2021 with this video as well as printable instructions to make each dog costume at home.
For archival reasons, here are the download files for each IKEA Hund Couture design:
The effort involved in this is great. Well done!
Nando's Peri Plump Lip Kit (2021)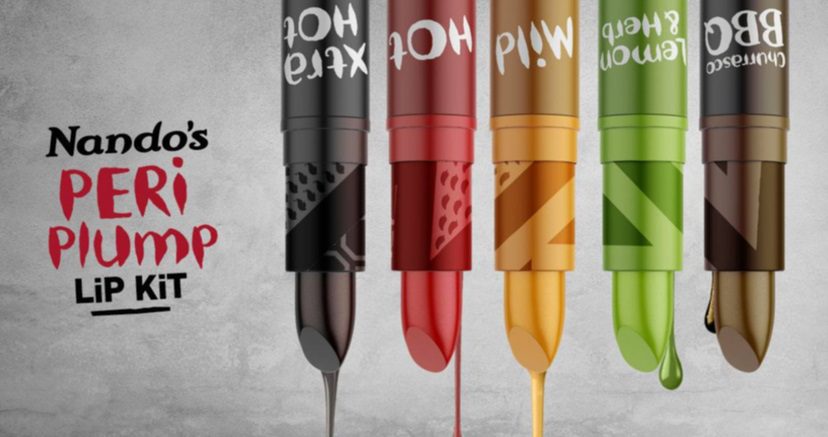 "Ever wished you could display your favourite Nando's basting on your LIPS? Of course, you have. And now you can…" People like their lips plump and their chicken plumper, this Nando's Peri Plump Lip Kit seems very on-brand. It highlights their range of peri-peri bastings and sauces in a way that likens it to different coloured makeup.
Weet-Bix / Heinz Baked Beans (2022)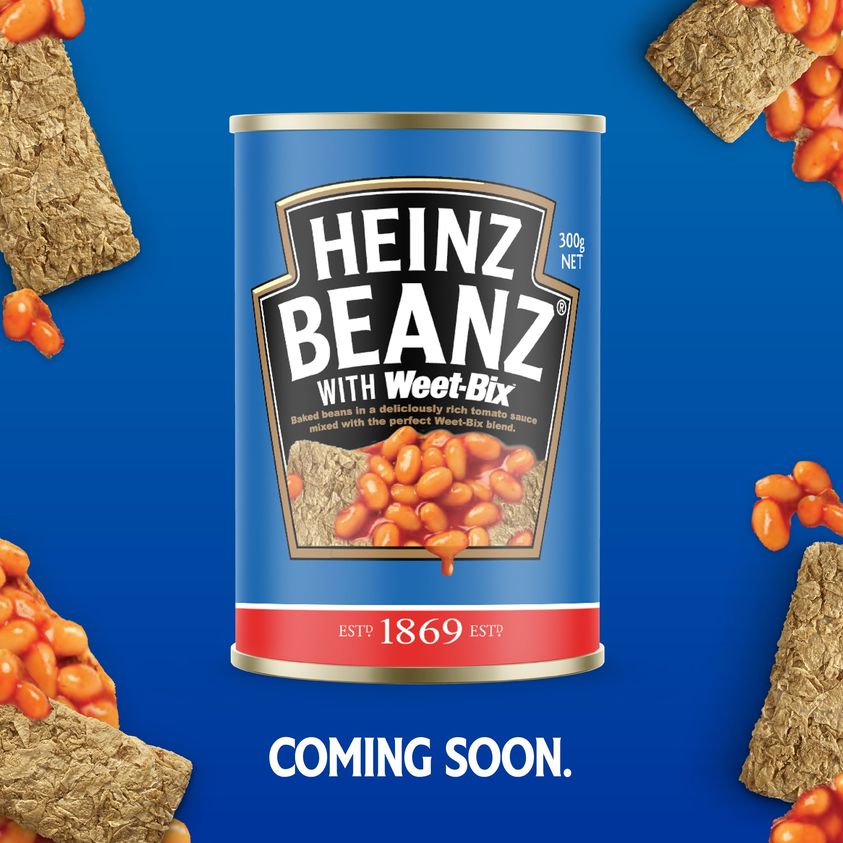 "We've been working hard with our friends over at Heinz ANZ to create an even more convenient brekkie option for Aussies. Introducing.. #BeansOnBix.. in a can! How do you do yours?"
The Jolly Miller Cafe (2022)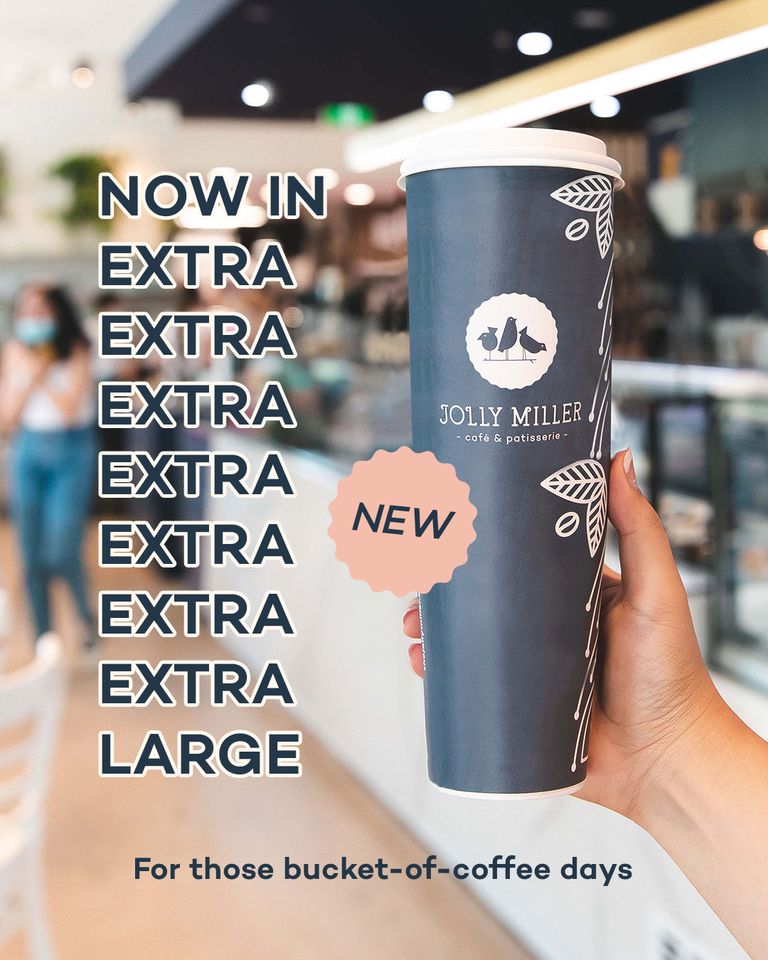 "So excited to introduce a new size offering for our beloved Takeaway Coffee
Supersize your Jolly Cup of Joe with the exclusive 7XL, available at all Jolly Miller Cafés from today.
Because there's no such thing as too much coffee
Tag a friend who needs this in their lives!"
Carnival Cruise Line Australia (2022)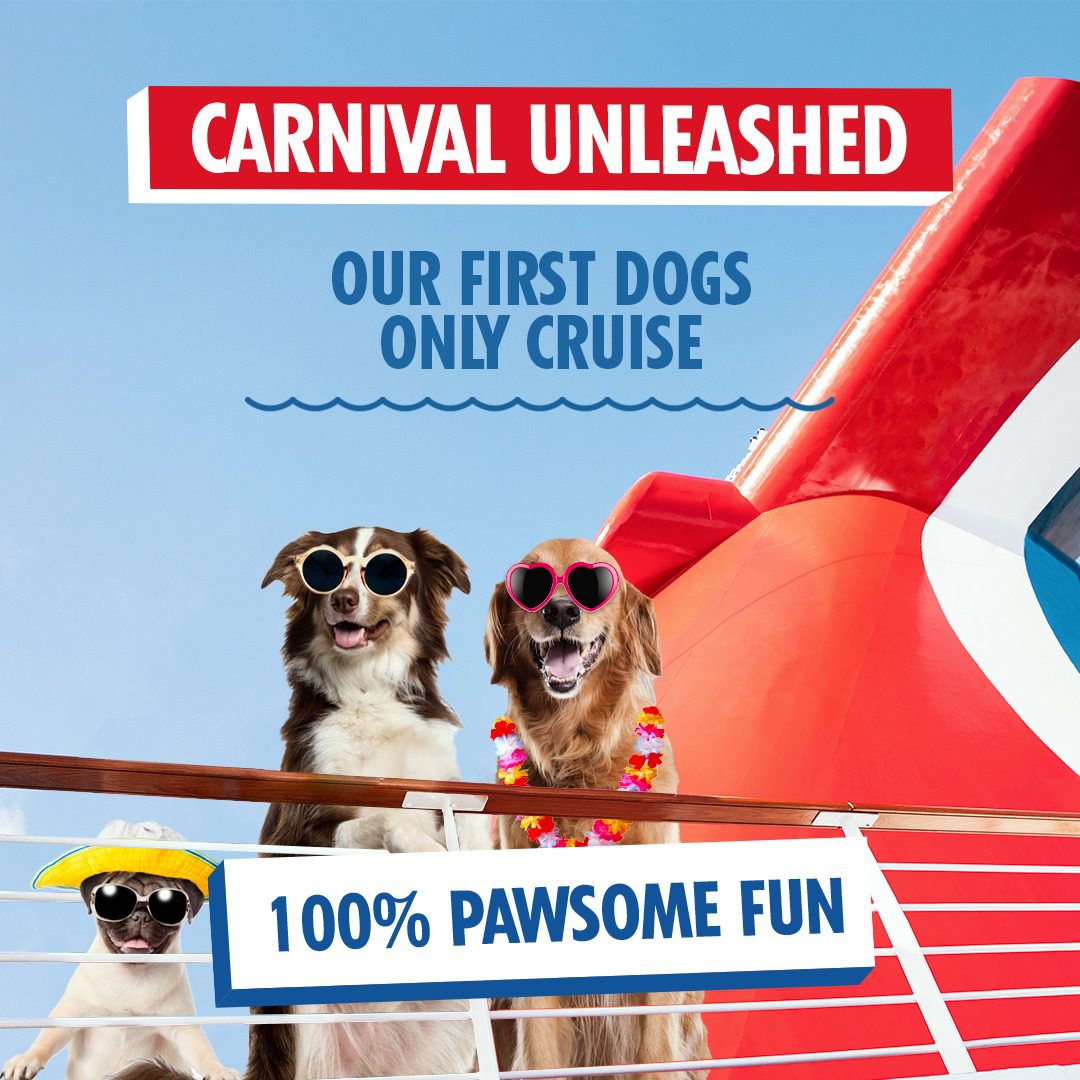 This was sneakily posted a day early on March 31st 2022.
"Time to raise the woof! Introducing Carnival Unleashed. Our first dogs only cruise, where your four legged friends can expect 100% pawsome fun. ​Comment below if you have a furry friend that should be first on board."
LEGOLAND Discovery Centre's Dan Andrews Sculpture (2021)

This one actually got me, being the first thing I saw when I woke up with no concept of what day or month it was. Legoland Discovery Centre in Melbourne shared an image of a sculpture of Victorian Premier Dan Andrews. This seemed like a weird choice of someone to build a sculpture of, given he is such a polarising figure. He was the Premier who had some of the hardest COVID-19 lockdowns in Australia, which many people were unhappy about. But it worked and Victoria has been basically COVID-free for a while now. Had this been a real thing, I'm sure it would have been vandalised.
This post was effective because they went to the actual effort to build a realistic image of the product, despite it looking a bit smaller than what is promised. It uses its Lego products and taps into s comically polarising character in its local area. Great job!
The post was also clever in that it linked back to their website with an article about the fake project. This is good as it helps promote the location, bring new visitors to the website and perhaps they have some remarketing banners coming soon.
LEGOLAND Discovery Centre Melbourne Architecture Set (2022)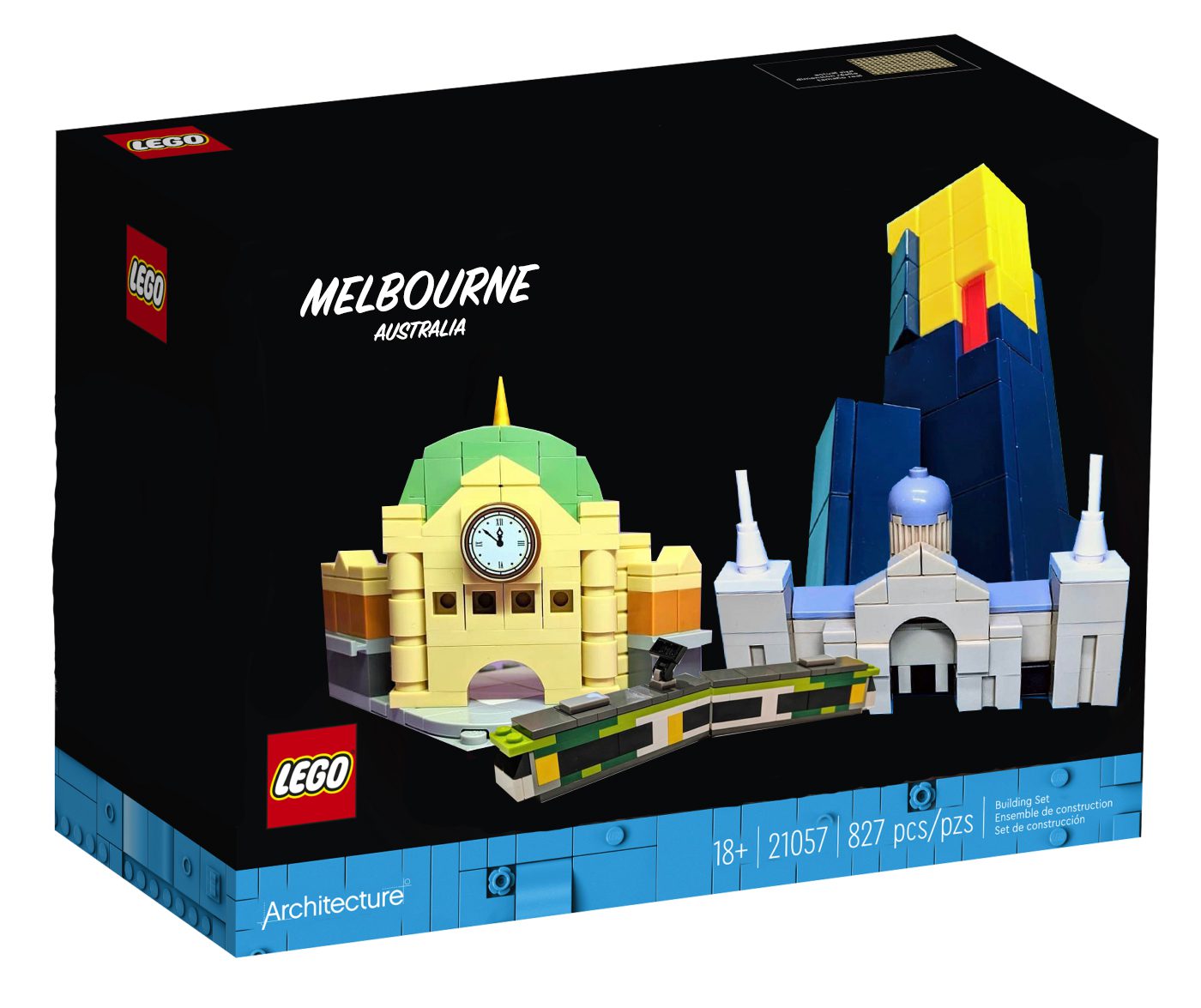 "To Celebrate the city of Melbourne's birthday (August 30th) LEGO are Launching a brand new Architecture set "Melbourne" 

Complete with brick built landmarks including The Eureka Tower, The Royal Exhibition Building, Flinders Street train station and a mini Melbourne Tram to help you navigate this amazing set! 

This set was designed by LEGOLAND Discovery Centres previous Master Model Builder Kieran in tribute to our great city"
M&M'S Australia – Skittles M&M'S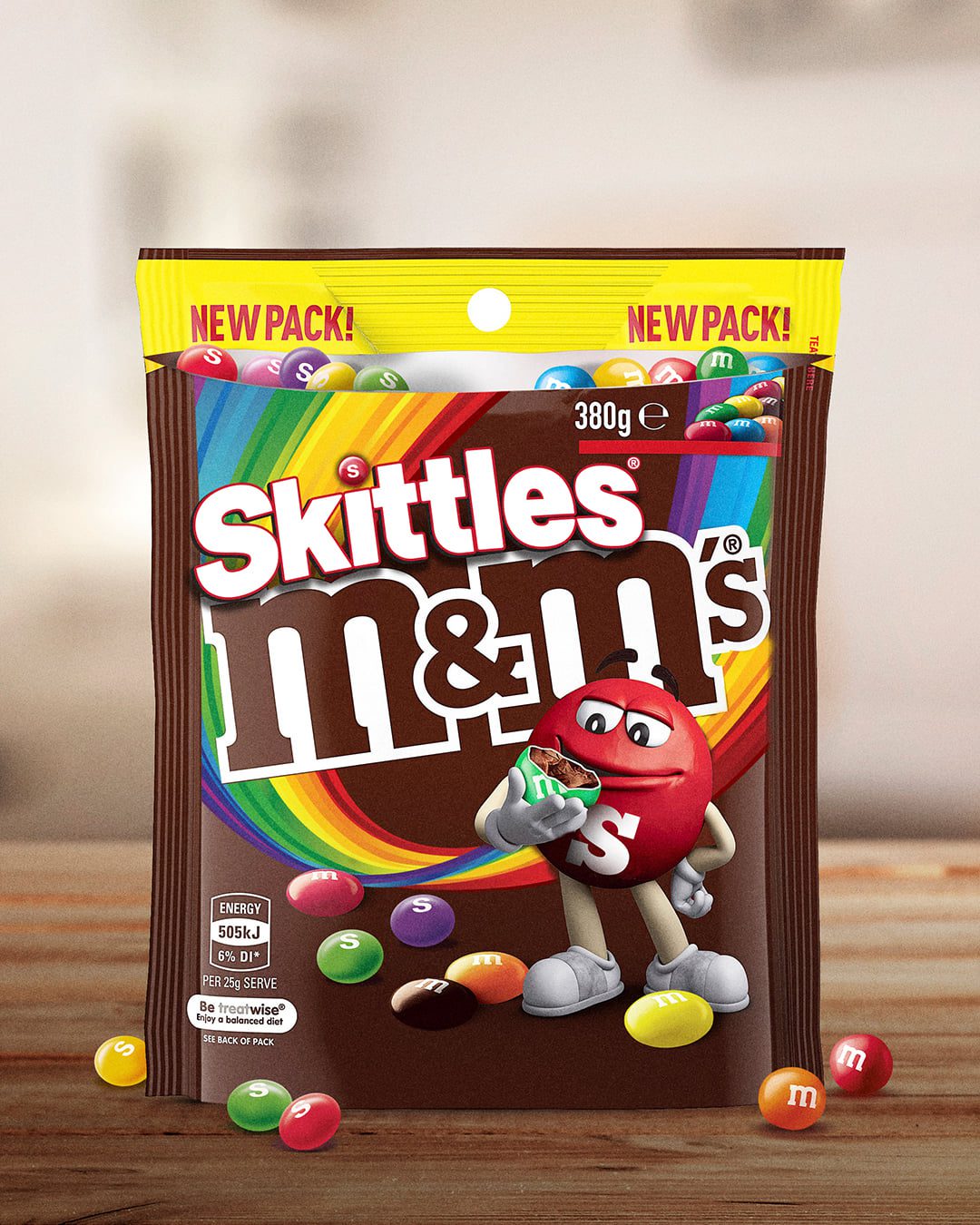 New! M&M'S and Skittles IN THE SAME BAG? 

We're excited to introduce this delicious new treat, with M&M'S and Skittles pre-mixed so you can enjoy a chocolate and fruity flavour in one bite. 
Big M Choc Berry (2022)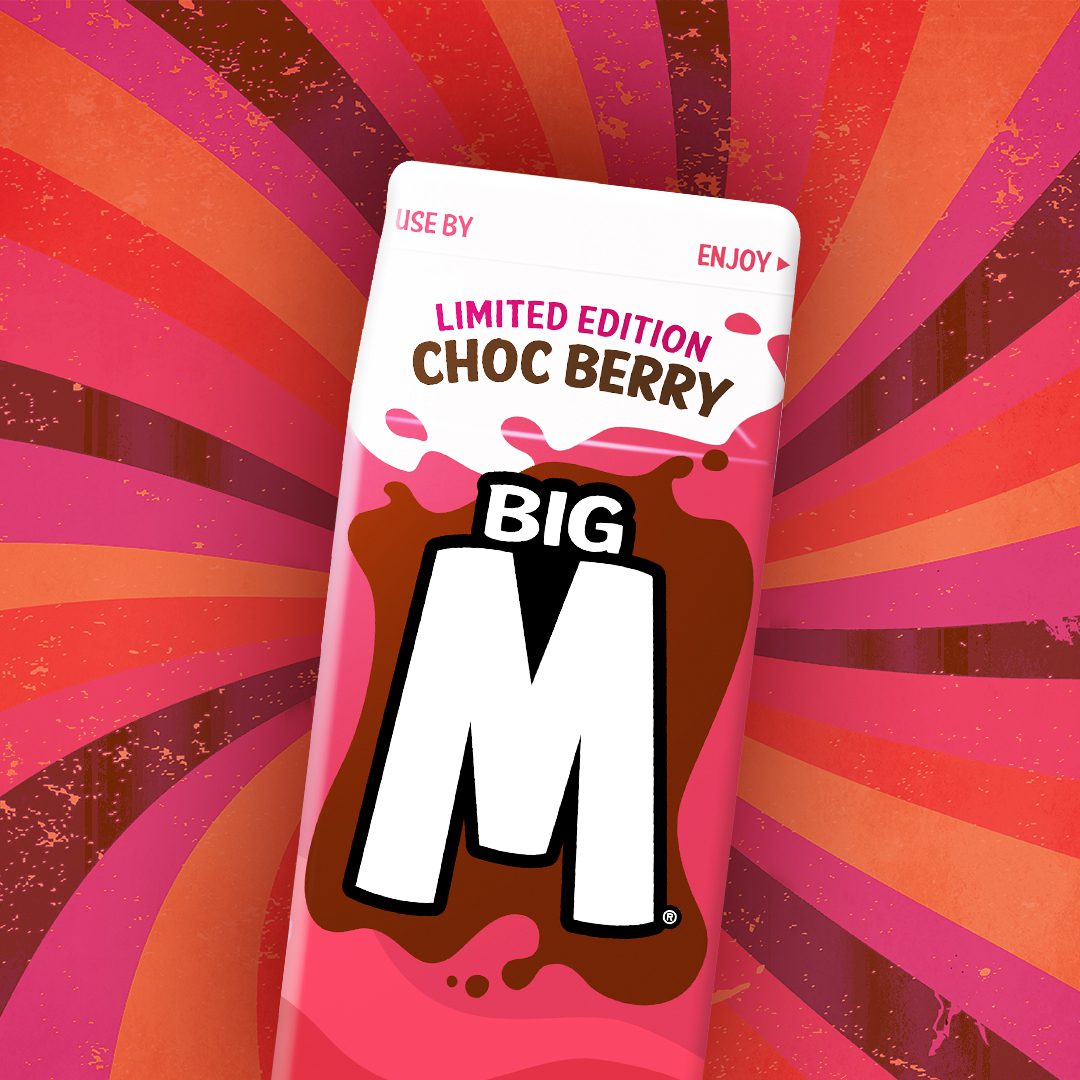 This was cruel, pretending a popular limited edition flavour was returning.
"April Fool's! Sorry to all the Choc Berry lovers out there, this old favourite isn't making a return. It's not all bad news though, something else is on it's way… 
"
Australian Young Greens – Potato Frisbees (2022)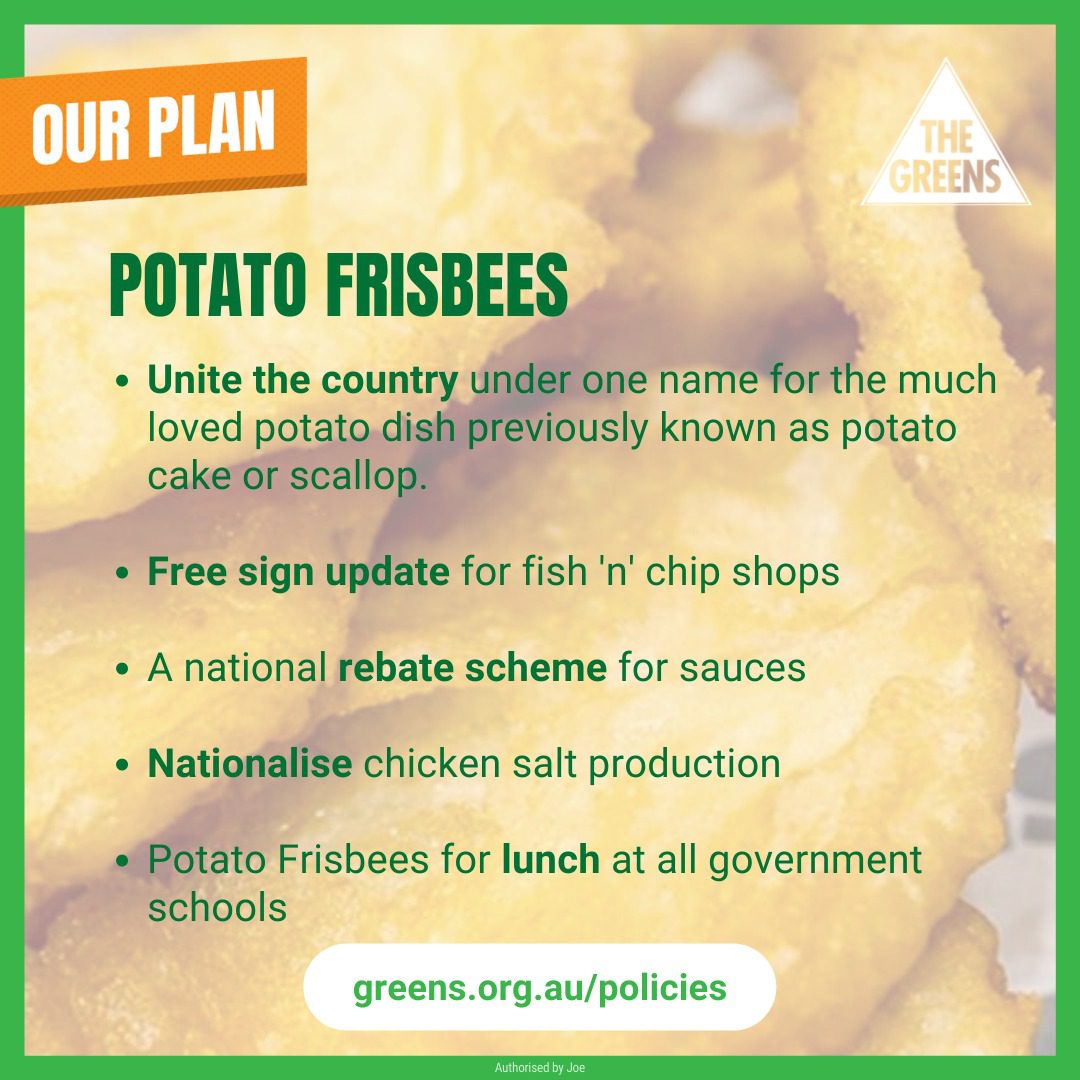 "For too long this nation has been divided!
We haven't been able to decide if it is potato scallop or potato cake but no more.
In the tradition of The Greens commitment to consensus decision making we are please to announce our new policy for potato frisbees. This way we can meet in the middle neither side can be smug.
And we're gonna pay for it by seizing the assets of the potato bourgeoisie and form the dictatorship of the potatoletariat 
"