A few years ago, I downsized my wallet to something very slim Secrid wallet that does not allow for dozens of paper loyalty cards in it. I always loved loyalty cards that would help me score free stuff. Luckily a large number of stores have moved away from paper cards and stamps and have moved into the digital world.
As technology has evolved and businesses have understood the value of capturing customer data such as email address and phone numbers, they have ramped up their reward programs. Whilst not all of these stores actually have a dedicated app, they will have a computer system that tracks your transactions and give you your bonuses without you needing to present your card if you can prove your identity.
If you are a marketer, take advice from these great apps. If your app isn't doing anything like these, you might need to rethink if it's even necessary.
If you're an Aussie looking to save some money with their shopping, go ahead and download and start saving!
My 7-Eleven App
There was a massive update for this app in June 2020 as well as a name change. They've simplified the process of redeeming offers and made the whole experience better than ever.
I've previously written about how much I love the old 7-Eleven Fuel app. The ability to lock in the best 7-11 petrol prices from the nearest 5 or so nearest stores for seven days. Previously you had to pre-pay for a set amount of fuel, which complicated the process, but now that step is removed and there's literally no strings attached at all.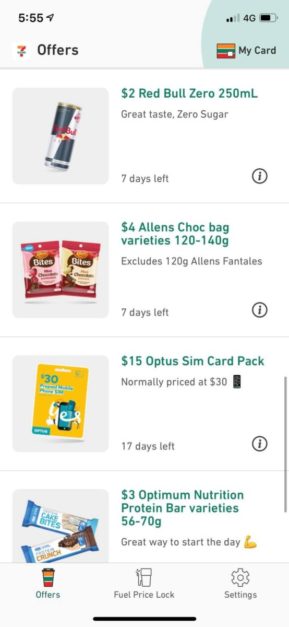 The App also gives exclusive discounts and presumably still gives you free coffee once a month. This app is still handy for anyone who lives or works near a 7-Eleven store even if they don't buy petrol.
I also love that it shows you how much money you've saved after each purchase. Back in 2019 when petrol prices fluctuated massively, I once saved about $16 AUD on a full tank.
Boost Juice App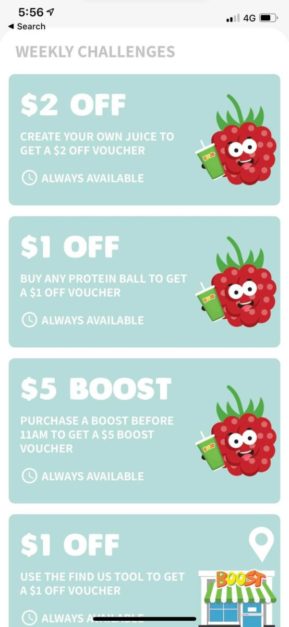 I've always loved Boost Juice and their old Vibe card which gives you a free drink after every 10 drinks plus a free one for your birthday. Today their app is even better, with the opportunity to earn vouchers such as $5 off for correctly answering trivia questions and to be able to store multiple vouchers for future use. This is a great way of bringing people back faster because if you've got a voucher, you've gotta use it right? Gotta get back up to 10 drinks for your next free one. Great stuff.
They also offer the ability to order your drinks in advance which is great. I've never remembered to do this, but it seems like a great idea as the lines at Boost Juice can get crazy some days. It's better to be able to order your own pickup order from your own app than to pay fees to UberEats or other delivery apps that also allow pickup services.
Woolworths Rewards Loyalty Card
I've had a Woolworths Rewards card for years and found that I occasionally get a $10 voucher to use here and there and I knew it stored my petrol vouchers for 4 cents off, which I didn't actually use too often. After a few instances of leaving the house without my wallet, but having my phone and Apple Pay I finally downloaded the app a few months ago and wow, I haven't looked back.
Not only can you see how far away you are from your next $10 voucher, but there's always a whole lot of offers available that are customised to your order history. Eg. I will often get an offer for bonus points if I buy certain cat treats or flavoured coffee sachets.
To think about how many times I've bought these products without activating a code when I could have got bonus points is kind of upsetting. The free $10 vouchers I was earning much faster recently have been quite handy during Covid-19 when I was on reduced hours at work.
Tip – You need to redeem the offer about 3 hours before you use it. This means you can't just redeem it when you're already in the store, you need to plan ahead. This is a good way of getting people to regularly check the app and choose to go to Woolworths over competitor stores.
You should also add the Woolworths Rewards card to your Apple Wallet, making it very fast and effective to use this app without even opening your wallet!
BWS on tAPP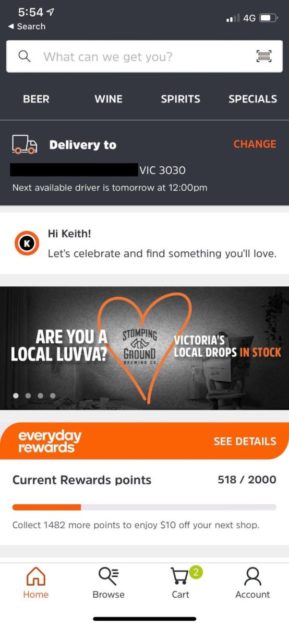 BWS also shares the Woolworths Rewards card details and can help you earn points towards $10 vouchers and there's also compatibility between the Woolworths Rewards App where you might get a special offer for bonus points when buying alcohol from BWS. They often have discounts for free delivery as well, when I first joined my first few deliveries over $100 were free. Recently there's been offers where you get free delivery if you order any Bundaberg product. As someone who is reasonably open to which alcohol he buys, it's also great to easily browse all the specials at once.
Using this app has made me stop shopping for alcohol at my usual places as often, so good on them for converting me.
Priceline Sister Club

Despite the name, Priceline's Sister Club is not only for women. They sell lots of products any member of the family can use. They incentivise you to spend certain amounts of money over a 12 month period to hit the Diamond tier and Pink Diamond tier rewards which allow you to earn 2x and 3x points per dollar spent. Your points can be spent on vouchers and you get exclusive discounts and free stuff too.
Gloria Jeans Coffee eSipper Club
Everyone has their favourite coffee shop and to become someone's favourite coffee shop and get that recurring daily or weekly revenue is a big win for any brand. Gloria Jeans has its eSIPPER club which has a rewards program that is slightly better than most. 
On a typical paper loyalty club for a coffee shop, they'll give you a single stamp regardless of your purchase value, then they'll probably give you a small drink as a freebie after X redemptions. 
Gloria Jeans instead gives you points based on the size of the drink, small (70 points), medium (100) and large (130), which you can then put towards a small drink (700 points), medium drink (1,000 points) and large (1,300 points). This means that you're not punished for always buying large drinks to then get only a free small drink in return, you can now mix and match to redeem whatever you want.
| | | |
| --- | --- | --- |
| DRINKS | POINTS YOU GET | POINTS REQUIRED TO REDEEM |
| Small | 70 | 700 |
| Regular | 100 | 1,000 |
| Large | 130 | 1,300 |
Dusk Rewards Program
This is not an app, but it works without having to keep your card on you.
I love scented candles. I'm not afraid to admit that and whilst a lot of Dusk's candles are a little too floral for me, they have a few good ones that I love and I do have a paid membership with them. Their membership costs $10 for two years and immediately pays for itself with 10% off all full-price items, an extra 5% off already discounted items, half-price shipping on their website, exclusive offers via email and most importantly an annual $20 birthday voucher which lasts for 30 days and I'm suddenly aware I missed my 2020 birthday voucher due to Covid-19 distraction. My local store was actually closed for much of this period, but I could have used it on their site. Oops! I still love Dusk for their scented candle accessories such as free refills on their brand of BBQ lighters.
EB Games – EB World
EB Games recently retired the EB World app for IOS, but you can still access your card and points via the website and at the register with a photo ID or identifying yourself by other contact details. This program is free and gives the best deals for members trading in old games or who want the best customer service in terms of return policies and preorder holding of items. They have four tiers of membership based on how many EB Games "carrots" you earn, which has a rough dollar to carrot conversion, but there are often ways to get bonus carrots. To get to the top level, level 4 you need to spend $10,000 or equivalent in bonus carrots to reach it. Level 5 is a secret temporary annual upgrade they award each year based on a set of rules that appears to apply to people who take advantage of all aspects of EB's services, including trading in items, which I never really do.
Whilst some people don't see much value in the EB Games EB World program, it has come in handy for me allowing me access to a few exclusive special editions over the years that you cannot normally get. Level 4 does come with the shame that you've probably spent close to $10k on video games, however, but with paperless receipts and other advantages, you really have nothing to lose in signing up here and passively gaining better trade values at least.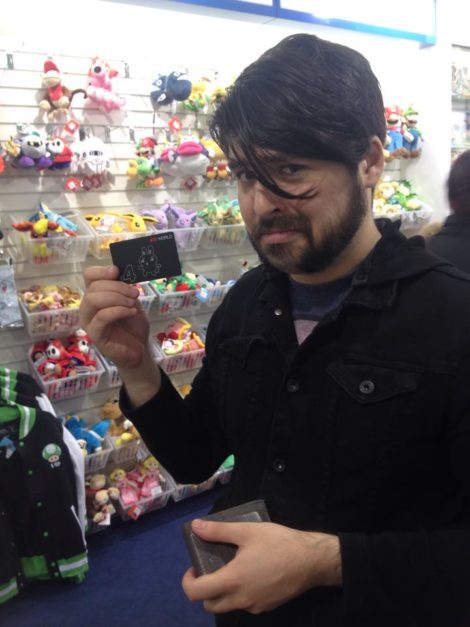 Here's a photo of me earning EB World Level 4 back in 2014 and looking ashamed at myself. Granted, EB Games, especially in Werribee has always been very good to me, giving me great freebies from Nintendo for being a top Nintendo customer and for my volunteer work at Pokemon midnight launch events where I used to run unofficial Pokemon Trading Card Game "learn to play" events.
ShopBack Cashback Buddy
This browser plugin has had me ensuring I'm doing most of my online purchases at a computer. A lot of websites that I frequently shop on offer a cashback deal if you have the plugin activated before each purchase. Examples include Amazon.com.au (up to 10%), Myer (up to 5.5%), Book Depository (up to 3.5%) and UberEats (up to 5%).
There's nothing worse than doing a big purchase and forgetting to use this first. During COVID-19 lockdown, our online purchases have been through the roof.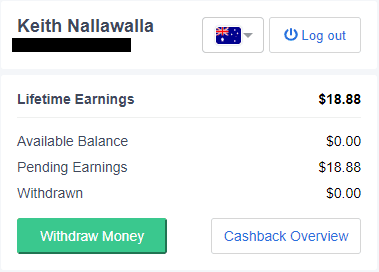 I've earned $18 of free money so far, but there's a waiting period before you can access it, I suppose this is to avoid anyone scamming the system by returning products for a refund.
It's a nice way to eventually cash out in the future after passively gaining money for things I was going to buy anyway.
Salvos Stores Club
Whilst this is a physical card and not an app, their computer system lets you use your store credit without a card if you can prove your identity by phone number and name. You get points based on each dollar spent at the store, which can help you use free store credit on future purchases. If you love op-shopping as much as I do, you'll find this program great. However, you might feel a little guilty getting discounts from a charity.