This article was originally published in 2012 on Social Media Overflow
One of the new big players in the social media scene is Pinterest. It has been growing rapidly over the past few months and is primarily geared towards females but males are starting to get into it as well.  It seems to draw inspiration from other content-sharing sites such as Tumblr, but everything about it looks neater and simpler.
I've been tinkering around with the site for a few weeks, I'm still trying to work out if I like it or not. I mean, it seems great but it isn't suited to everyone. It depends on how you want to use it. For personal use it is a great way to find and keep track of pictures of things you like, rather than simply saving an image file to your computer. The benefit here being that you do not only store the image into a folder that will be easy for you to find later, but it will link to the relevant website.
Now, I've checked out a few cooking sites a while ago when trying to find the perfect carbonara pasta sauce recipe (still haven't found it) but used the built in bookmarking functions of the particular websites, requiring me to remember multiple log in details and passwords. These functions would have been handy a few years ago when they were probably originally implemented, but now that there are so many social bookmarking sites and tools, doing this from within a particular site is becoming a thing of the past.
Here is my Pinterest "Food" board I quickly whipped up.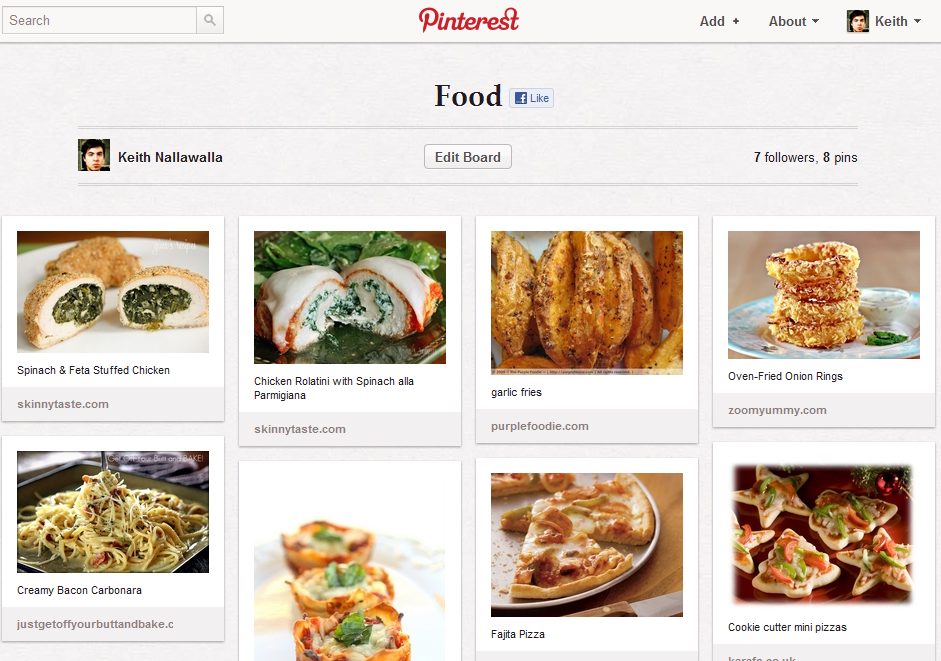 I found these pictures through Pinterest and repinned them. They all link to the original websites they come from and now, if I want to find these recipes again, I can just open my Food board and quickly recognise the recipe I am looking for. This is great if you end up finding several similar recipes for the same thing. I have seen so many recipes with varied methods and ingredients, but their titles are so similar it would be hard for me to recall which the best one was. This could help you to remember.
Another benefit of organising all your things in one place so your friends can also see it is a scenario like this:
Your partner, friend or family member might follow you on Pinterest, you post a picture of an amazing food item, they notice it and cook it for you.
Food recipes are only an example of one of the things you might find or want to share on Pinterest, instructions for craft projects are popular too, as well as all kinds of retail items.
These are the Categories you should try and fit your boards into:
Architecture
Art
Cars & Motorcycles
Design
DIY & Crafts
Educations
Film, Music & Books
Fitness
Food & Drink
Gardening
Geek
Hair & Beauty
History
Holidays
Home Decor
Humor
Kids
My Life
Women's Apparel
Men's Apparel
Outdoors
People
Pets
Photography
Print & Posters
Products
Science & Nature
Sports
Technology
Travel & Places
Wedding & Events
Other
Many of these can be useful for more than just sharing pictures. Just say you are on the market for a new T-shirt. You visit several e-commerce websites and Pin any items you like along the way (using the Pin It button that you can add to your browser). You then go back later and look at the Board you made and by visually seeing them all, you might be able to choose the clear winner out of all of them. Other people may also come across these pins you have put there and choose to buy them as well by following the links to the original websites.
Or maybe if you have a list of upcoming things you want to buy, one of your friends might end up getting it for you as a gift, or in the food example earlier, someone you live with might like the look of the recipe and make the food for you.
Here is a link to my Pinterest account, if you would like an invitation to leave your email address in the comments here or DM me at @TwempsAU and I'll send you an invite!