I've recently seen the launch of Sustainable Choice shared on LinkedIn, a new startup from Melbourne, Australia where I live. Being a marketer, though not for any particular brand, I'm quite intrigued. I've worked closely at my previous workplaces doing what I can to ensure Nespresso Pods are recycled (when we had a Nespresso machine) and soft plastics in each office, which we return to RedCycle bins. I also collect old CDs, toothbrushes, batteries etc around the house which I recycle at my local library.
Sustainable Choice is attempting to get brands to put their QR code on their labels so that greater detail can be given on recycling the smaller components. This kind of information is something that might not easily fit on a label, or perhaps something that might need to be updated over time without updating packaging. They are also making it easier for consumers to identify which products by their favourite brands are the most sustainable, both via their search function and via Google.
I've been sceptical of QR codes for a long time, with my first ever business cards in 2010 featuring one that was meant to show my updatable contact details and social media channels. When that company went broke, my codes stopped working and my cards were useless. The same goes for one of my favourite bands Apoptygma Berzerk, whose album the Black EP Volume 2 in 2011 even had a QR code as its cover art and on its T-shirts. These QR codes no longer work due to their former record label removing their landing page.
Now, this kind of service or business is one that could only possibly work in a post-COVID world. For a long time, QR codes were used very poorly (see the hilarious 2013 book of QR code fails – QR Codes Kill Kittens by Scott and Alison Stratten) and you had to use a dedicated app and understand what a QR code is, which was mostly just geeky people. Now the default camera app on all smartphones can scan QR codes and everyone knows what they are, even your parents, and we all use them every day to check in everywhere.
Who would have thought some good would have come out of this pandemic?
The way QR codes work now makes it a lot easier to redirect to new pages if required and shouldn't be much of a risk to adopters of this QR code to stop working like some of the ones back a decade ago.
By having a conformed Sustainable Choice QR code across many products, creating community awareness of this type of QR code could make this be like the Heart Foundation Tick, Made in Australia or the Halal certification. The little logo inside it helps it stand out from any other QR Codes that appear on product packaging.
Why is This Great for Marketers?
You don't have to have a developer or graphic designer to create this information or update it. From what I've seen, the UX for updating content is very, very simple. It will allow marketers to upload their own products and information without having to go through their own slow internal development teams. In the time you would have briefed a developer on each product, you could have just made it yourself on this third-party website.
This makes me think of how good it was when Google Tag Manager came out and marketers could simply go and set up tracking codes wherever they wanted without having to wait weeks for a developer to action something for them.
Sustainable Choice Disposal Tool
Whilst many products have instructions for disposing of the packaging, even sometimes including different parts of the packaging such as soft plastics and regular recycling, I don't think I've ever noticed any information about End of Life disposal for the products themselves. Perhaps it is mentioned somewhere in the fine print of random pieces of documentation that come with electronics that no one reads and throws out, or with the warranty information.
Example:
How to Dispose of Dilmah T-Series Designer Tea
This would be a lot of information to try and fit onto a teabag.
How To Dispose Of Eco Turtles Bathroom Eco Cleaning
This product combination is designed that you keep using the same spray bottle, but the tablets also mostly biodegrade should you decide you want to throw them out.
My suggestion, however, would be that they should give more info for End of Life for the bottle, perhaps that feature will come later.
Google Nest Hub Recycling Instructions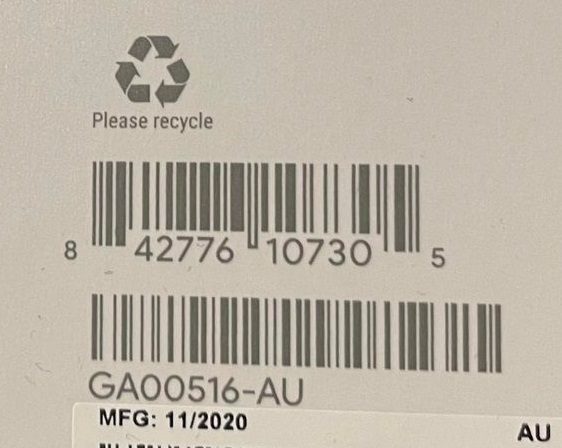 The back of my Google Nest Hub simply has a recycle logo, which would only describe how to recycle the cardboard box. There is no instruction for the plastic bags inside or what to do with the product once it's dead or no longer wanted. And yes, I almost posted this with my serial number visible, which is something you should not post online.
Loreal Men Expert Pure Carbon Anti-Blackhead Daily Face Scrub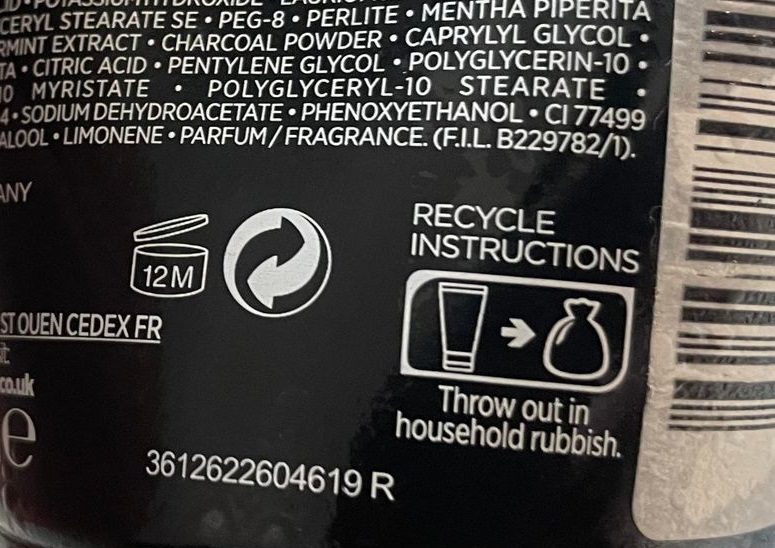 Disappointingly, this just wants to be thrown in the trash. Given this is a consumable product, I don't think much further information is needed.
Head & Shoulders Anti Dandruff Shampoo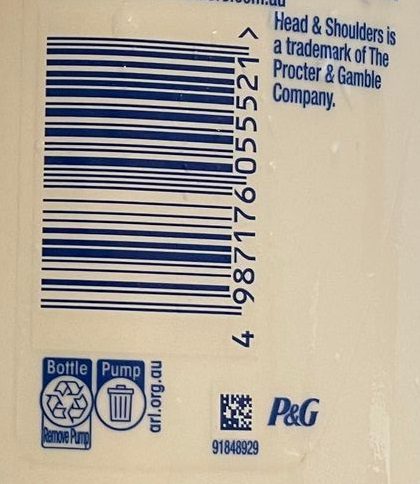 This is one of those large size shampoo bottles with a pump. This is a pretty good one for a consumable as it actually gives you instructions on the bottle itself being recyclable, and the pump is not. This is actually news to me as I've been putting the whole thing in the recycling for years. Oops.
There's definitely a lot of room on the back of most of these products for a QR code as well for more information. The reason why an online resource for this information is particularly helpful is that fit a lot more information than what will fit on the packaging, plus it can always be updated later without having to change your packaging.
I see the advantage here, in particular, being helpful for electronics companies who will be able to give more detailed instructions on how to dispose of different parts of their devices, such as foam padding from headphones, lithium batteries, cables etc.
By having these details on this website as well, someone can also access this information from Google after they have already thrown away the packaging. This site could then link to integrate with other existing websites to help users find their nearest e-waste, RedCycle or other speciality recycling services without a marketing manager having to maintain and update this information themselves or to get the budget to build this functionality into their own site.
Sustainable Choice Commitments Timeline Function
I quite like the Sustainability Commitments timeline function. I've noticed that a lot of companies have corporate timelines on their About Pages when researching articles. This timeline is interesting as it's just about the sustainable actions they've done in the past and the initiatives and goals they have going into the future. Yes, a timeline that goes into the future.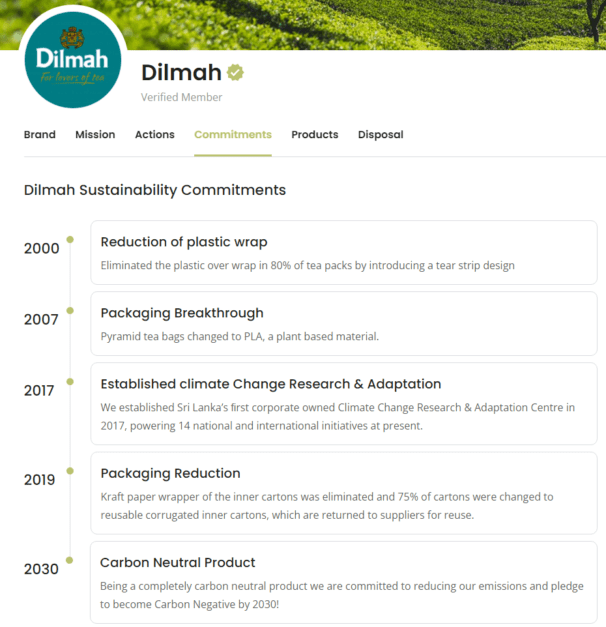 Dilmah Sustainability Commitments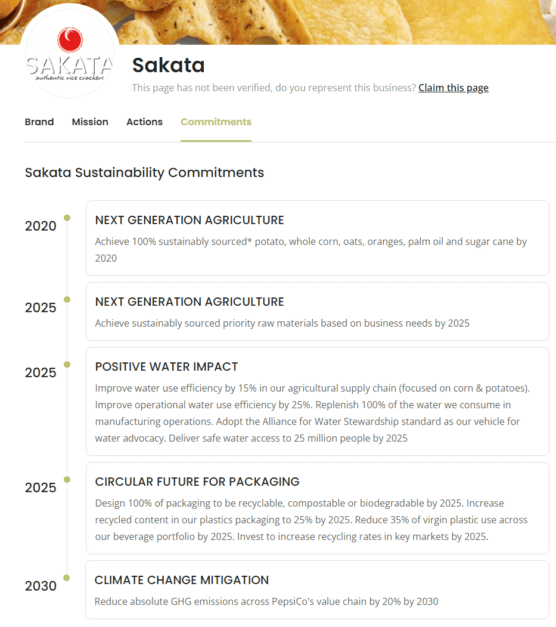 Sakata Sustainability Commitments
We are living in a time where brands are starting to realise how many people care about sustainability or eco-friendly products and options.
I see this as an opportunity for brands to share updates for their followers, kind of how campaigns share updates to backers on Kickstarter. Perhaps this will encourage their followers to share this on their social media, further spreading goodwill.
Why is the future part of the timeline important?
There has been a lot of talk about certain countries trying to get to "net-zero" emissions. And a lot of big brands operate at a bigger level than the GDP of some countries. Big brands and small alike, need to also work towards these goals in order to help countries hit these targets and this takes time.
Like in governments, brands often face a lot of red tape. It's all well and good for a marketing manager somewhere to say that we need to improve our image, but actually getting that passed through and getting all the other departments to start making changes will be a slow process. Especially when contracts and supply chains are well established.
Back in 2013, I participated in McDonald's in Australia's Open Doors event, where you could go do a guided tour of 1 of 200 restaurants. I was the only dork who actually turned up to my session, so I got to chat 1 on 1 with the franchisee of the Wyndhamvale McDonald's in Melbourne, Victoria.
One thing that stood out to me that I'd never considered was that when a new menu item comes to McDonald's or any other major chain, it's not a quick decision. It takes months of planning and preparation to get the supply chain ready for any new ingredients that need to be rolled out to stores nationwide.
For example, any time McDonald's in Australia brings back the McOz burger, which includes beetroot, which is not a regular ingredient there. This means they have to find suppliers of large quantities of beetroot, perhaps they need to find a new supplier or get their current supplier to start growing it in preparation. Then they need to organise transportation for processing, then to the restaurants etc. The planning involved just getting a different vegetable organised for a national franchise could take 6-12 months. If a company needs to cut emissions, change multiple materials, develop more recyclable or sustainable packaging, this could become a very long-term project.
Knowing and understanding that change takes time and that brands are working on improving might be enough to change consumer choices in advance, at least to consider these brands over those who have no intention of improving their global footprint. It's good to know which brands care, even if they are not reaching their potential just yet.
Businesses are not there yet in terms of getting fully sustainable. This platform gives businesses a chance to promote their most sustainable products, and if people buy these it helps send a signal to the brand that their most sustainable products are the ones that people want and that they should continue to move other product ranges in this direction.
Conclusion
This platform looks like a promising way to allow people to make informed choices about the brands that they support and to find specific recycling information about the products that they already buy. Given there isn't much like this yet, this site has the potential to be found in Google as well for people searching for this information, so it would get traffic from people Googling and ending up here even if they don't have the brand recognition yet.