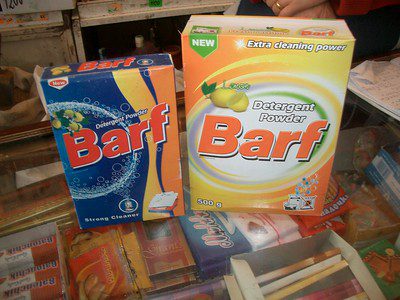 (Part 1 of a 3 part series. See part 2 for more examples, and part 3 for debunked ones.)
Manufacturers try to keep brands, model names and slogans consistent across international markets as possible for obvious reasons. Sometimes they catch poor meanings in local languages and dialects before launch, and sometimes they don't. These brand blunders are a favorite for marketing textbooks, news sites, and business blogs, although rarely are the sources are verified. After all, why let the truth get in the way of a good story, right? Wikipedia have a list, but here are 10 verified examples not listed on Wikipedia.
True:
Barf Soap, "barf" meaning "snow" in Farsi. Other than a food or drink, I can't think of any other worse product category that could have a name synonymous with "vomit" in English.
American frozen food brand Nancy's launched mini quiche party appetisers along with a 2010 print magazine advertising campaign with the slogan "Petite bites. Big Compliments". By mixing French in with English, they're capitalizing on a concept known as "language fetishization". This concept is common throughout the world retail and music, with sometimes non-sensical use of English inserted with local languages.
The problem? "petit bite" translates to "little dick".
McDonald's, continually using new slogans tried to capture the youth market with "I'd Hit It". Unfortunately it's slang for "I'd have sex with it."
Mind you, we live in an era where Netflix show Big Mouth has a running joke about a character having sex with food.
Incidentally, today I learned that sexual attraction to food is called sitophilia. Thanks, Wikipedia!
Japanese corporation Panasonic launched touch screen computer in 1996 with the aid of 1940s American cartoon character (and Universal Brothers Studio mascot) Woody Woodpecker. In addition to licensing the likeness of the character, they named the PC "The Woody" and used the slogan "Touch Woody — The Internet Pecker"
Sportswear firm Umbro released the shoe model Zyklon in 1999, a name shared by the poison used in Nazi gas chambers. While not listed on the shoe itself, the name, chosen by the designer was on boxes. Jew-larity ensued.

An incubus, as depicted in Henry Fuseli's 1781 painting The Nightmare.

Similarly, Snopes verifies that Reebok released the "Incubus" shoe, named after the mythological sleep-rape demon. Apparently the label went unnoticed on boxes for a year until ABC news broke the story in 1997.
Personally, I don't think was scandalous, but according to Cracked, "Reebok shipped out a bunch of labels to cover over the name on approximately 53,000 shoeboxes."

Gaming company Sega has to insist on the pronunciation to "See-ga" in all of its advertising, because "Say-ga" is Italian slang for male masturbation.
When Ikea launched in Thailand in 2011 they had to change a couple product names, as their "Redalen" bed, named after the Norwegian town, in Thai resembles a euphemism for sex. Similarly, the "Jättebra" pot plant is also a Thai slang term for sex.
Even more unfortunate, the Ikea "Gutvik" children's bunk bed sounds very similar to "good fuck" in German.
Multinational confectioner Mondelez has to be careful in Russian-speaking markets, as when said out loud It sounds like a vulgar term for oral sex. Still, Kraft did their due diligence when choosing the name, included two rounds of focus groups in 28 languages, including Russian. They determined misinterpretations in any of the tested languages to be low-risk.
Personal story. A now defunct Singaporean client of mine called NKA expanding into Western Australia at the time wanted to call their West Australian branch WANKA. Explaining to them that WANKA sounds like "wanker" (a British and Australian term for "male masturbator") was not sufficient for them to understand the issue. The language divide was so great, I had to demonstrate the hand movement for them.
Further reading:
Part 2 of this series, mainly focusing on cars
Part 3 of this series for famous examples debunked