Working in digital marketing, it's been very interesting to get a close look into how some of my clients are thriving (online retailers) and being totally unable to operate (some b2b services, entertainment etc). I thought it would be interesting, and hopefully helpful to share some of the creative ways entrepreneurial businesses are quickly pivoting to keep their doors open during this coronavirus pandemic.
I started my digital marketing career at a local nightclub and concert venues, so this seems like a good place to start this series of articles.
How are pubs handling Covid-19 Lockdown?
One of the local pubs in my home town, The Park Hotel was very quick to offer a "bring your own container" takeaway beer special similar to 7-Eleven's "7-11 Day" where you can get a Slurpee that fills whatever giant container you bring with you. This absolutely blew up on my newsfeed with locals tagging each other in the post and a few people I know actually took up this great offer.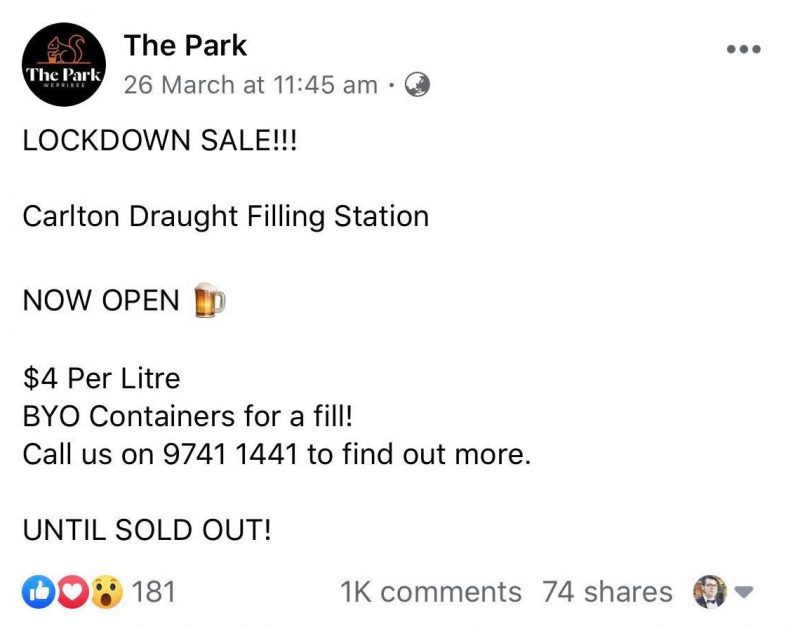 $4 per litre for beer AUD is probably cheaper than you'd pay for a "pot" of beer, the smallest size glass.
Since then, this pub and many others have pivoted to offer takeaway pub meals such as below.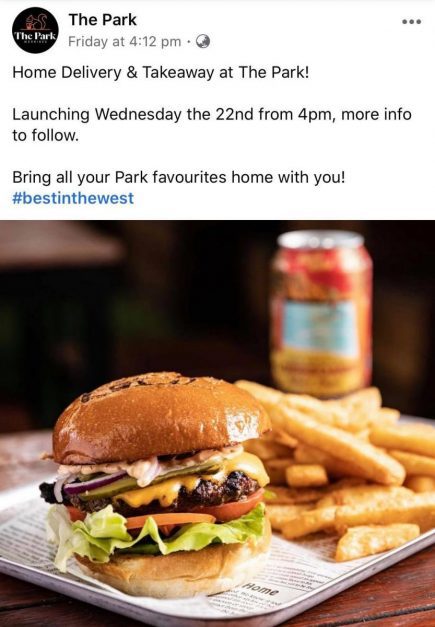 Alcohol home delivery and takeaway has also become very popular amongst pubs and bars trying to keep their doors open during this coronavirus epidemic.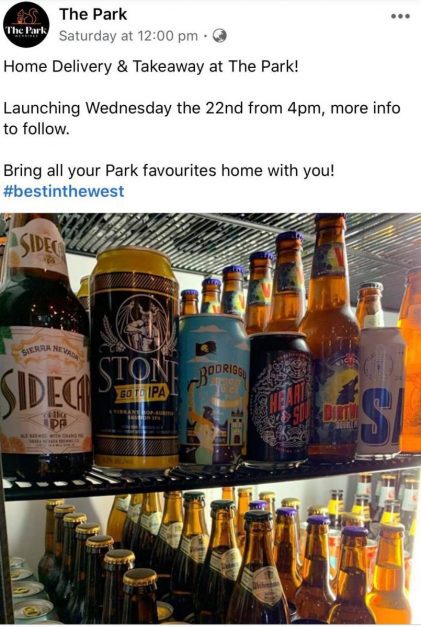 The pub nearest my work, The Golden Fleece Hotel in South Melbourne was also offering takeaway meals and turned its dining area into a makeshift bottle shop, offering takeaway beers. My colleagues and I would go and grab a beer from either there or Westside Aleworks on our lunch break up until we had to start working from home at the start of April.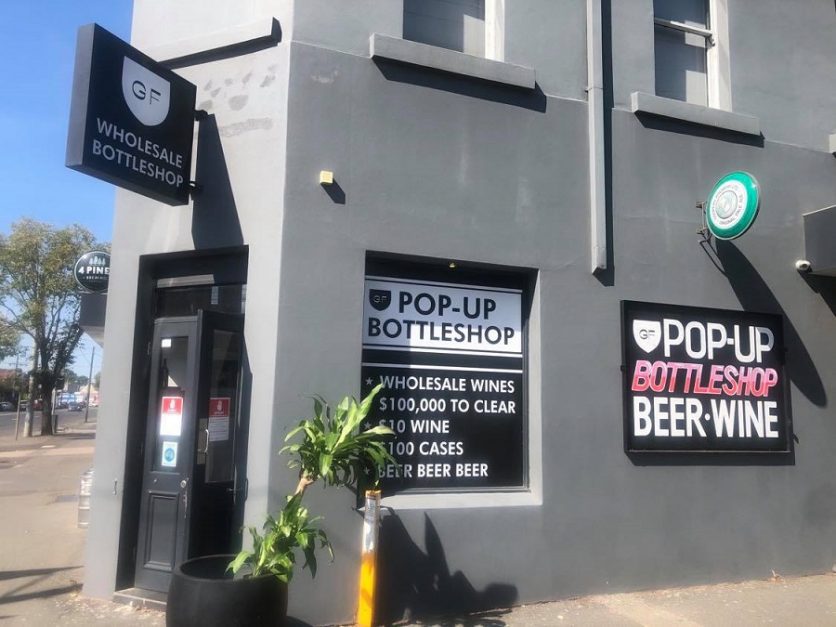 I took this photo back in March, I didn't think to take photos of the inside, but it's full of alcohol on dining tables.
Westside Aleworks is offering 500ml cans, 1L & 2L growlers to fill with their 30+ different tap beers, plus 40 different beers in cans and bottles and are still making their awesome pizzas.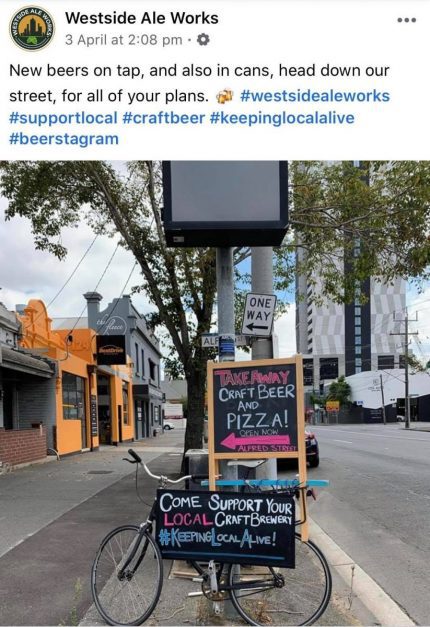 It looks like they've also started delivery, which good.
How are Bottle Shops pivoting with Covid-19 Lockdown?
I'm slightly surprised that Australian bottle shops (liquor stores) are classed as an essential service and get to stay open. I suppose history has seen what prohibition does to people and the government can earn more tax on alcohol here than they would with people making their own moonshine again.
There have been periods of panic buying of various groceries over the past few months, most famously toilet paper, but other basics like dry pasta, flour, yeast, frozen vegetables and more have also become difficult to find. Purchase limits of 1-2 per person per day have been put in place for these types of products and this has also hit retail alcohol stores.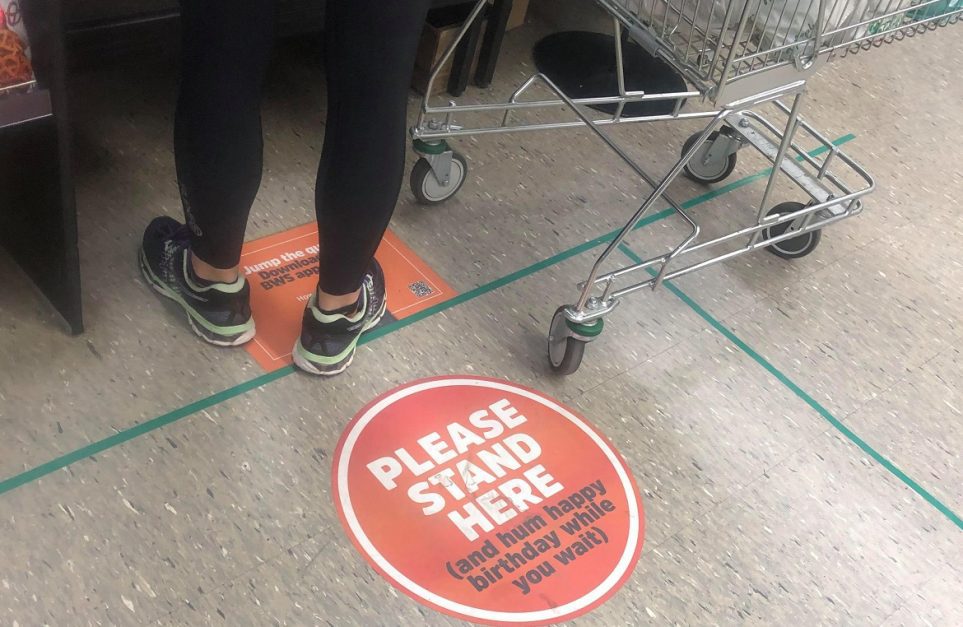 Like many stores, there's also the physical distance limits, limited patrons permitted in the store at once and minimal physical contact in transactions and plastic screens so that customers and staff cannot cough on each other.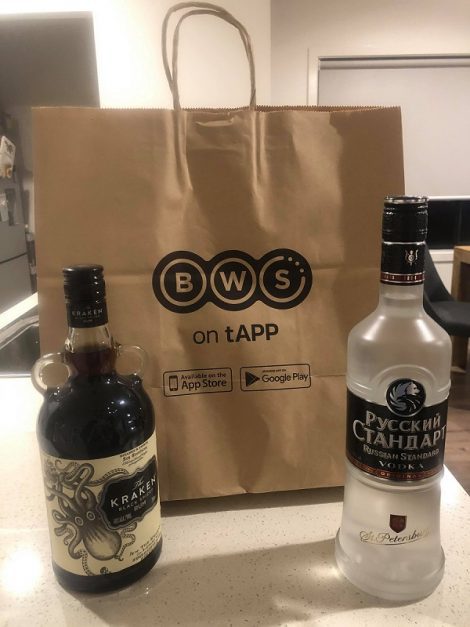 What I found most interesting is that some Australian bottle shops have started offering online ordering. Alcohol deliveries isn't totally new, but it's something that they've started advertising a lot harder now. I tried it a few days ago, where you get free delivery on orders over $100 with BWS and our delivery arrived in about 30 minutes rather than the 1 hour or so that it had suggested. Pretty good service.
What I found good about ordering alcohol online from BWS was that I could easily see what was on sale from each category, I got the two bottles above plus a slab of beer saving about $20-25 off their usual prices plus getting free and fast delivery almost as fast as if I'd done a round trip to the store myself.