Having been stuck at home for months for most of  2020, Among Us has recently become a massive social game that friends and coworkers alike can play for free online from their phones. It is also available very cheap on PC.
Among Us is quickly becoming a cult classic and is becoming big in pop culture. You'll even see Among Us custom meme stickers and Among Us Merchandise everywhere.
We've been playing this game constantly with friends and people from work and sharing memes on our work chats, work reports and emails. Here's a collection of Among Us memes that I've saved from the various Among Us meme pages on Facebook.
Whilst this article is really just a collection of memes, I hope it encourages you to play this great game with the team whilst you're isolated.
Where did I steal these Among Us Memes?
Join these Among Us meme groups on Facebook to get spammed with the latest dank content.
Among Us Susposting – here.
Among Us meme group – here.
Among Us Imposting – here.
These groups all have over 100K users but seem to have pretty similar content since memes are made to be shared. Here's some of the best and worst I've collected over the past few weeks. Feel free to steal and share. If you know the credits for any artwork in this article, please let me know and I'll update.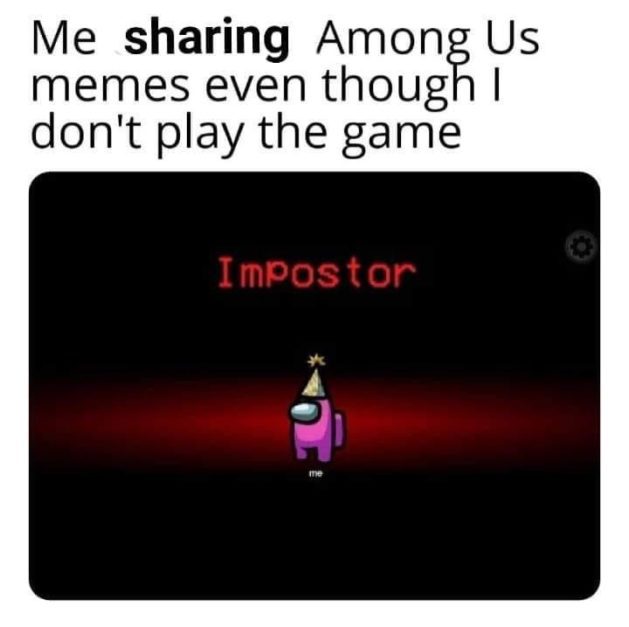 I shared this meme with work friends before I actually played my first game of Among Us.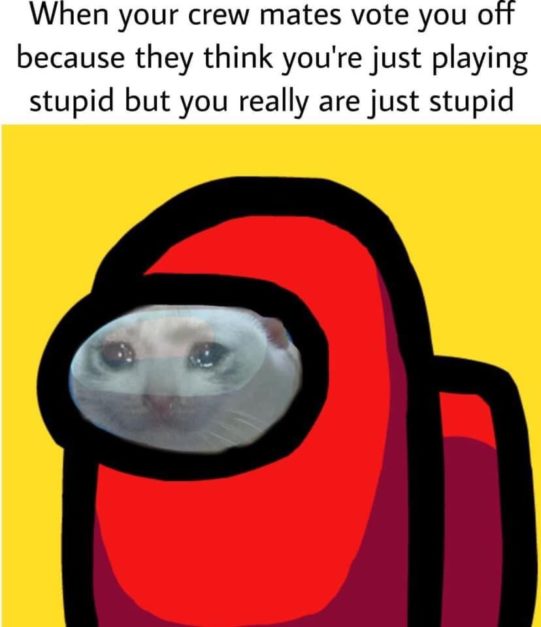 This is exactly how I felt in my first few games of Among Us.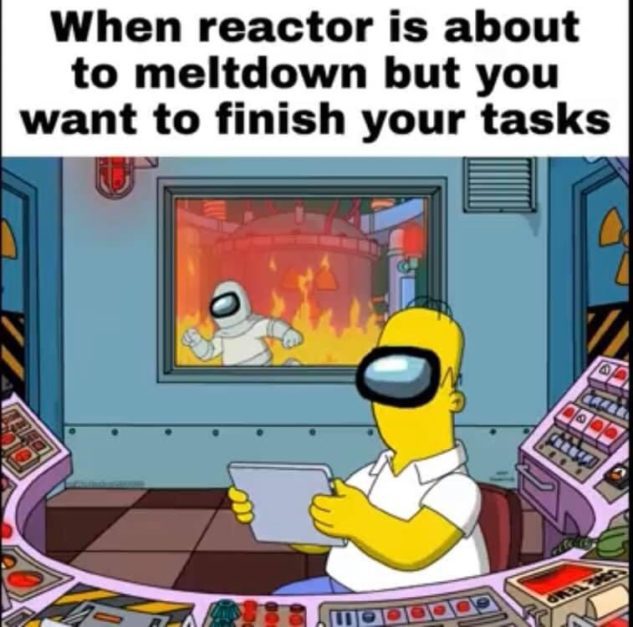 When the reactor is about to meltdown, you sometimes just have to hope your teammates can take care of it.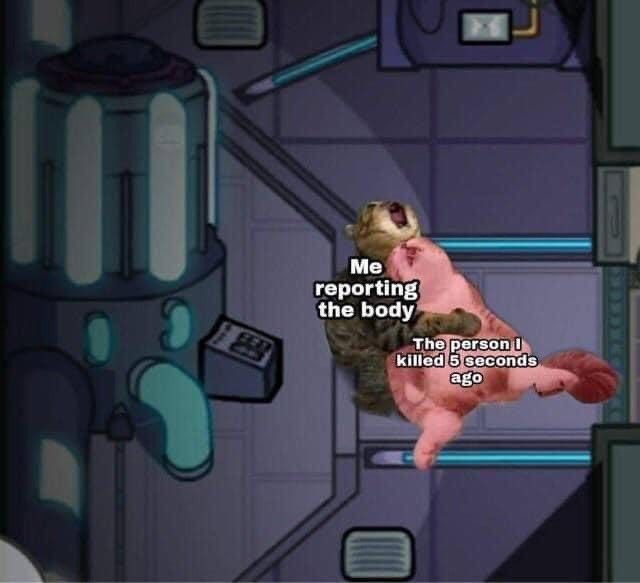 I never self-report in Among Us. Maybe I should.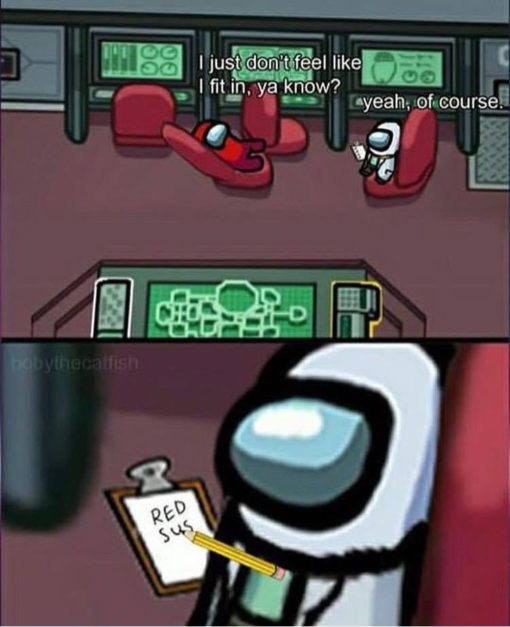 I feel like no matter what you do in this game, people will think you're sus.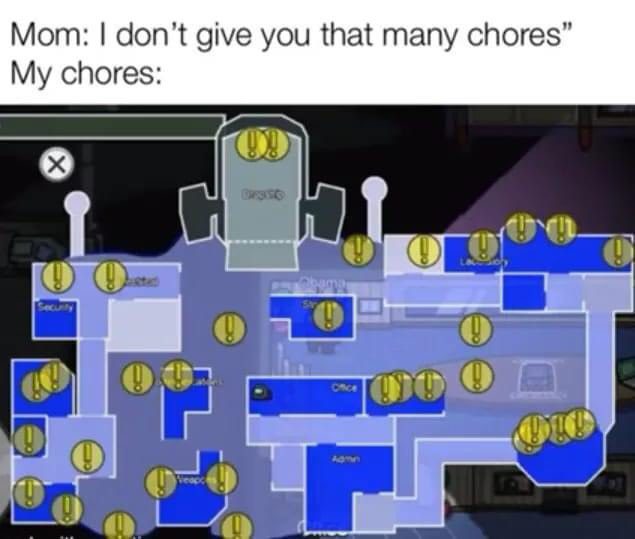 My partner gives me so many tasks to clean the house, it looks exactly like this.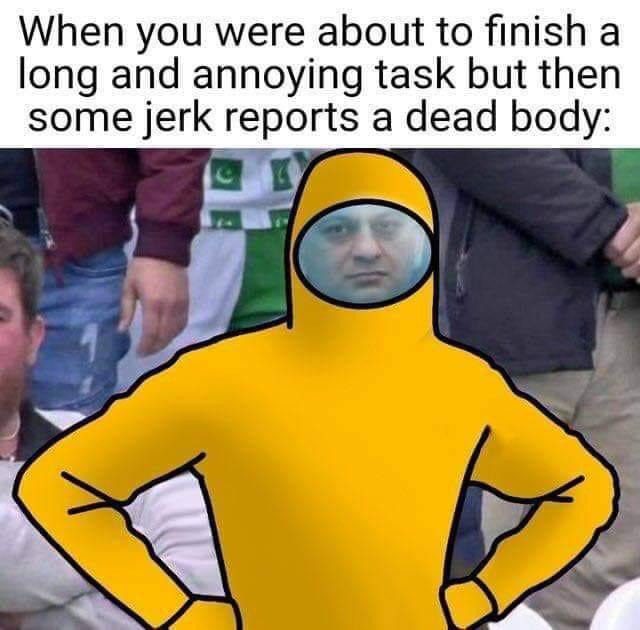 I feel like almost every game I'm about to finish a task and someone reports a body. This is particularly annoying when you're learning the harder tasks.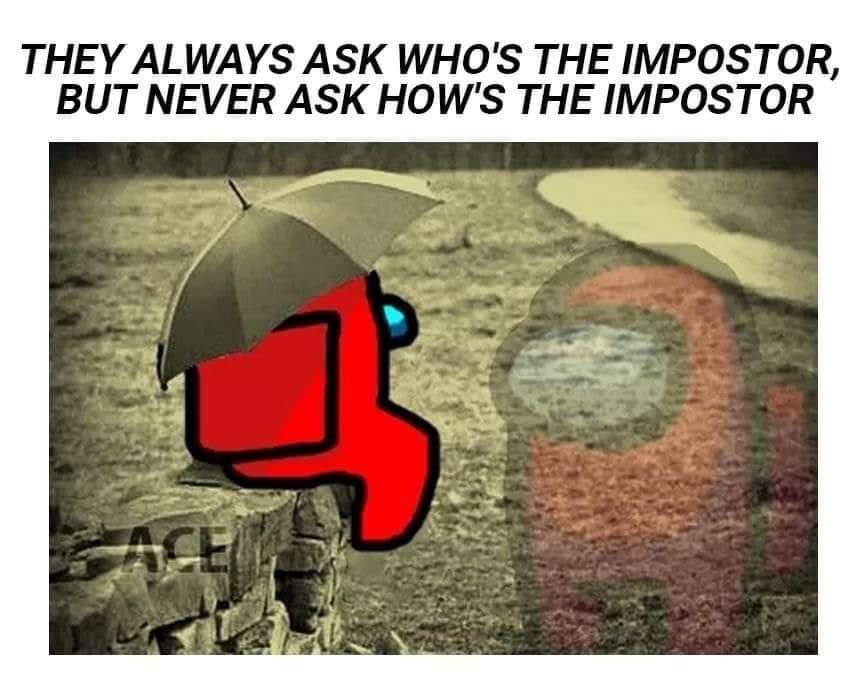 I must say, I've never wanted to know how anyone is in this game.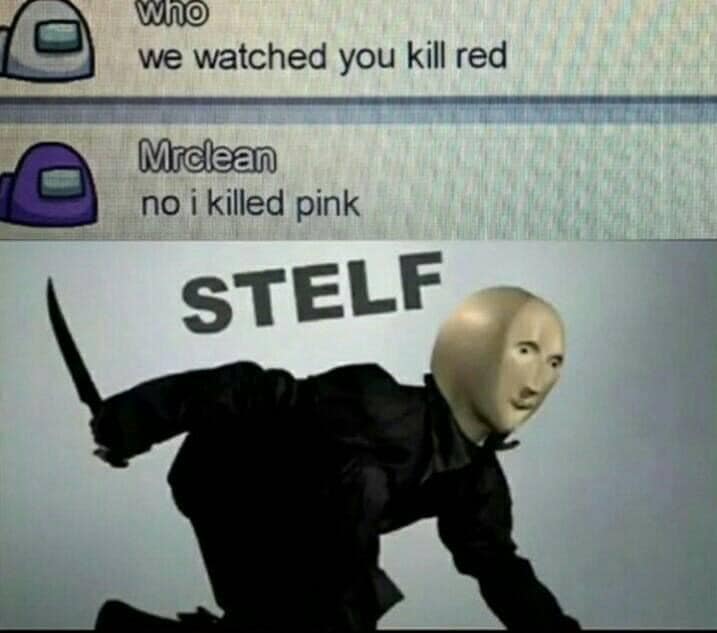 It's always awkward when you're the imposter and get accused of killing someone that another imposter took care of.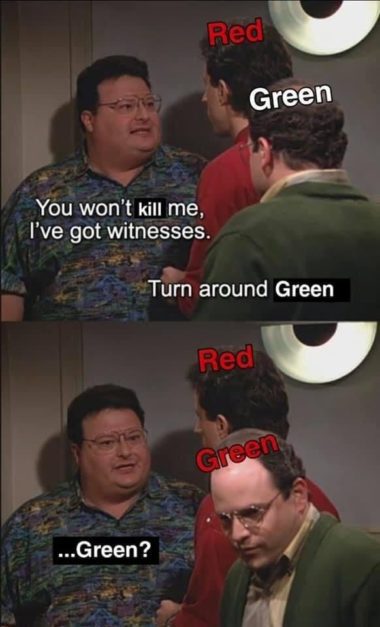 It's so hard to know who to trust. I've teamed up with the wrong people far too many times.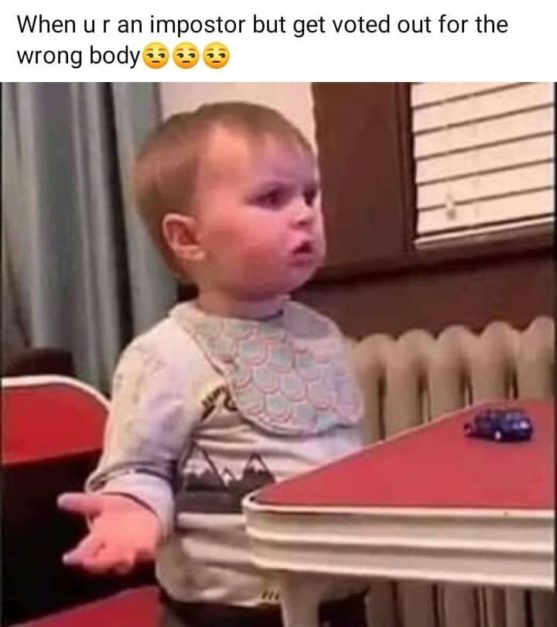 I hate getting voted out for the wrong body.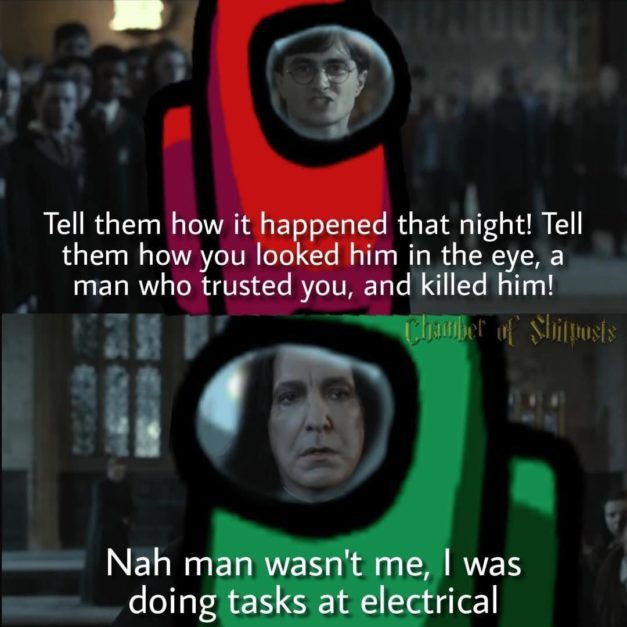 Doing tasks in electrical is the easiest excuse.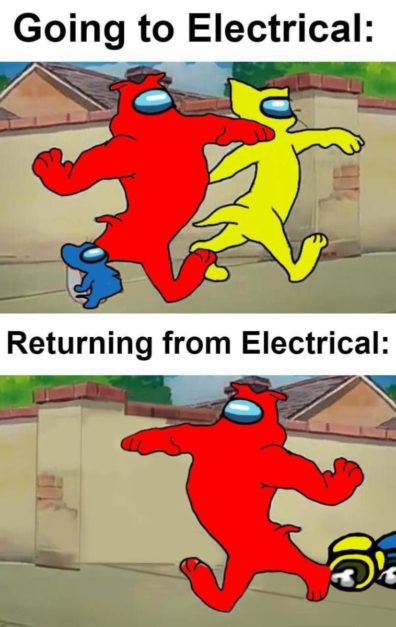 Everyone dies in electrical.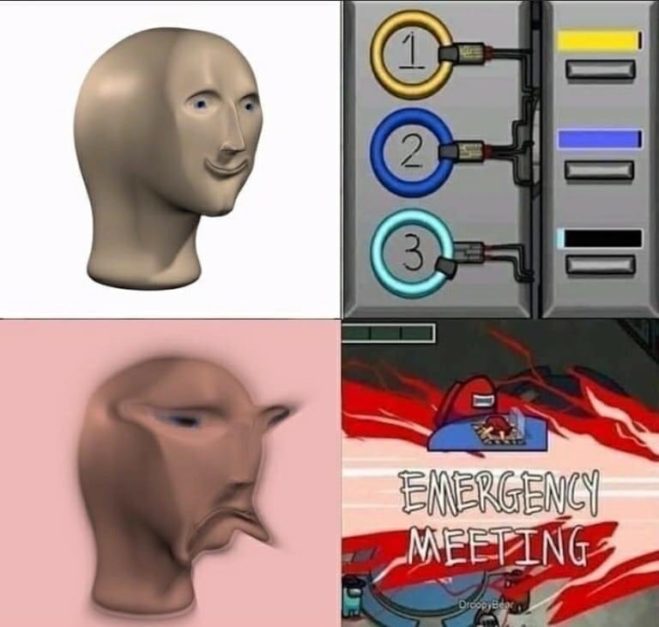 I've literally had this happen to me.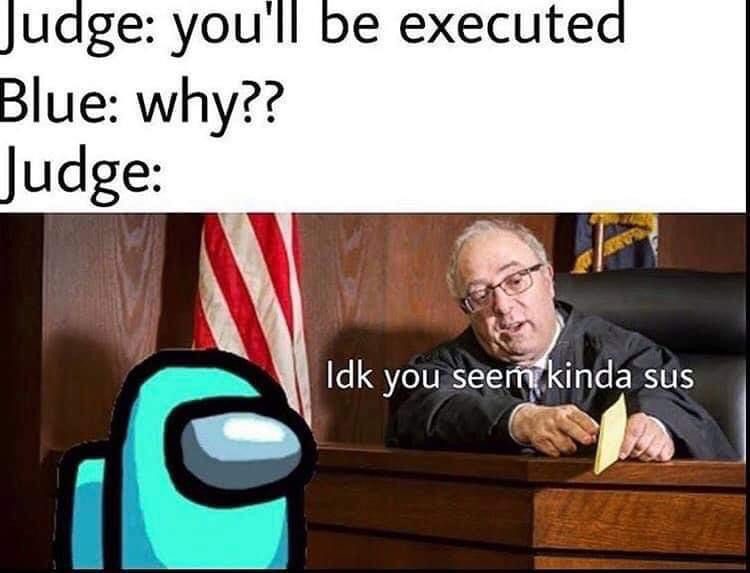 Cyan is always sus.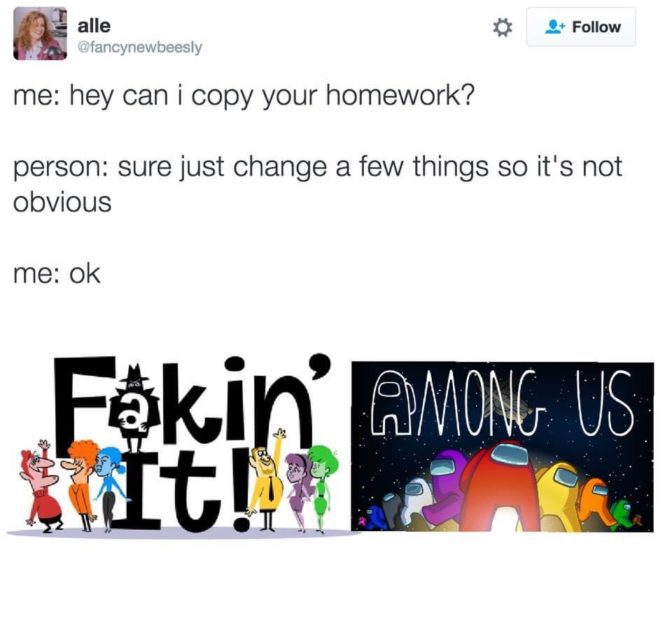 Fakin' It by Jackbox Games is also a lot of fun, but you need to be in the same room. Among Us is great as you can play online.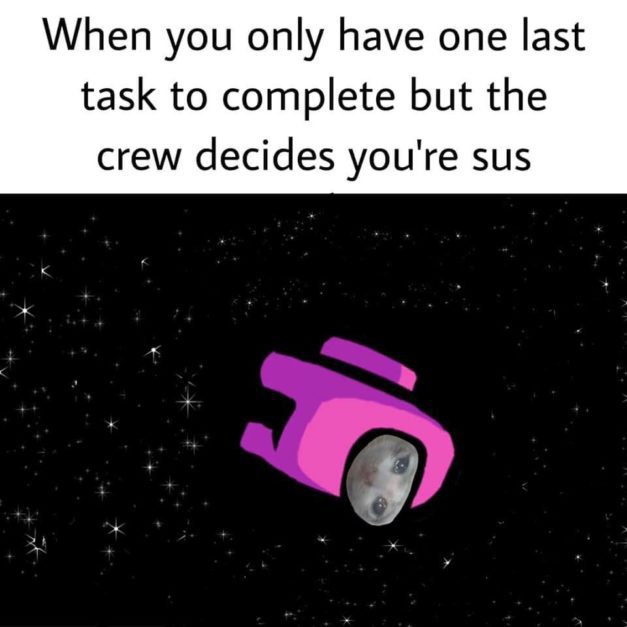 It's frustrating when you're literally doing everything right and still get voted out.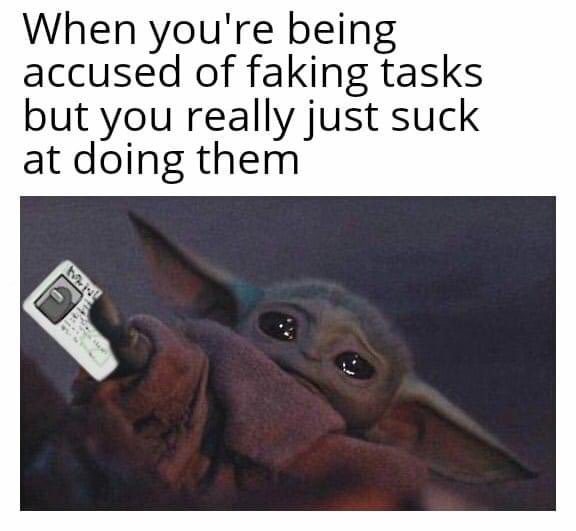 This happened to me at the start. A few tasks have quite a learning curve for them.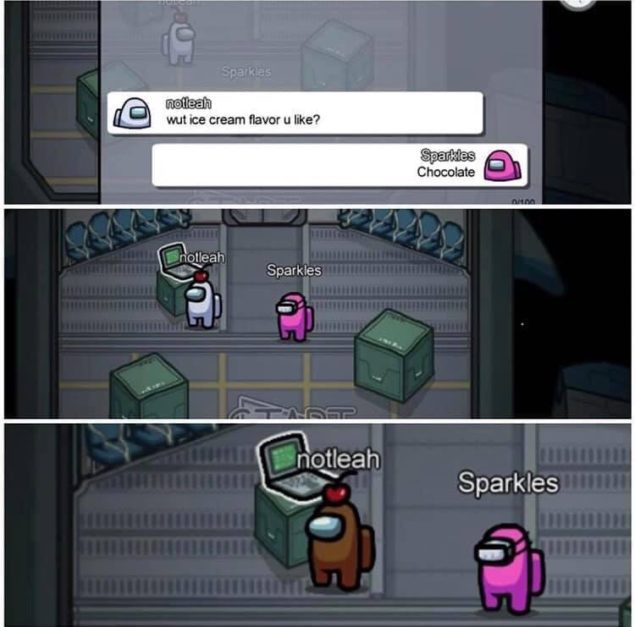 This is one of the cutest stories ever. I wonder if they're married now.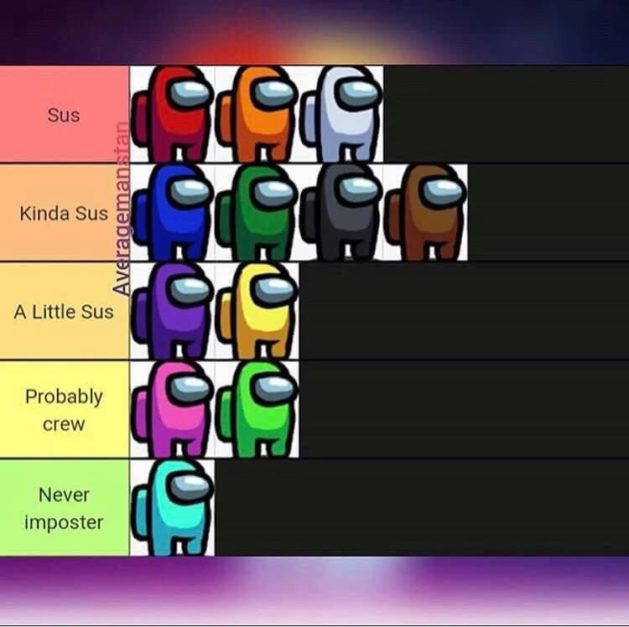 This was made by a Cyan player.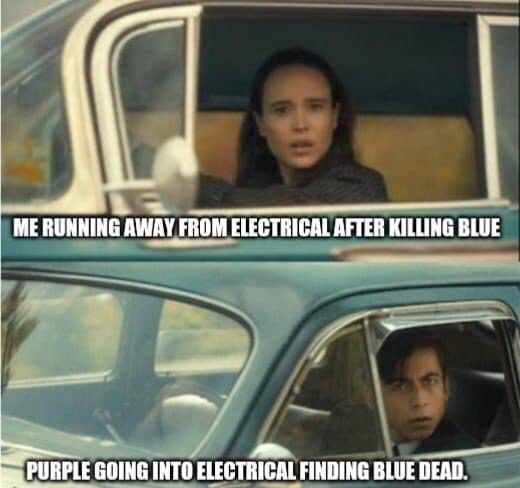 Always sus when you're running away from a room with a body in it.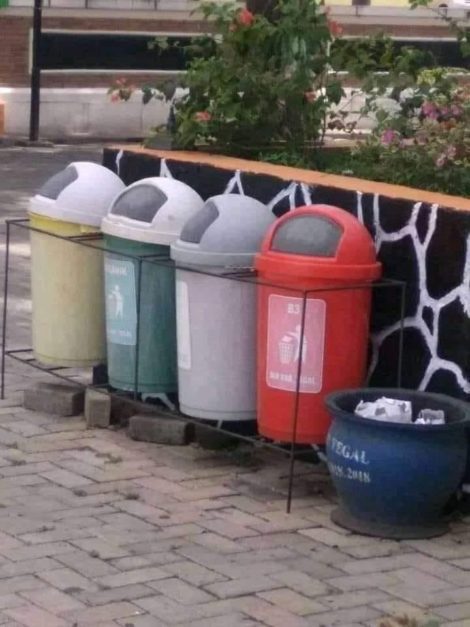 These rubbish bins are sus.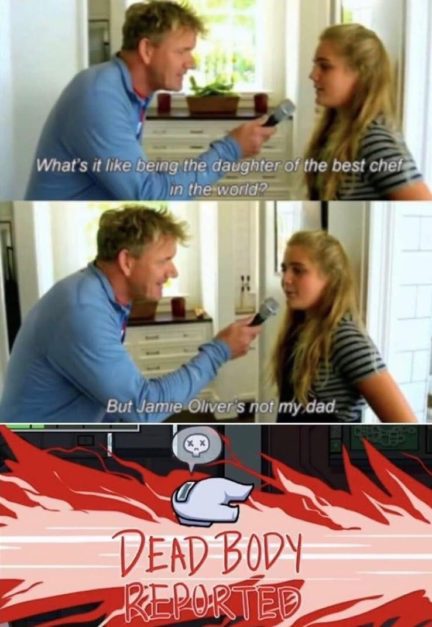 I rarely feel bad for Gordon Ramsey, but ouch.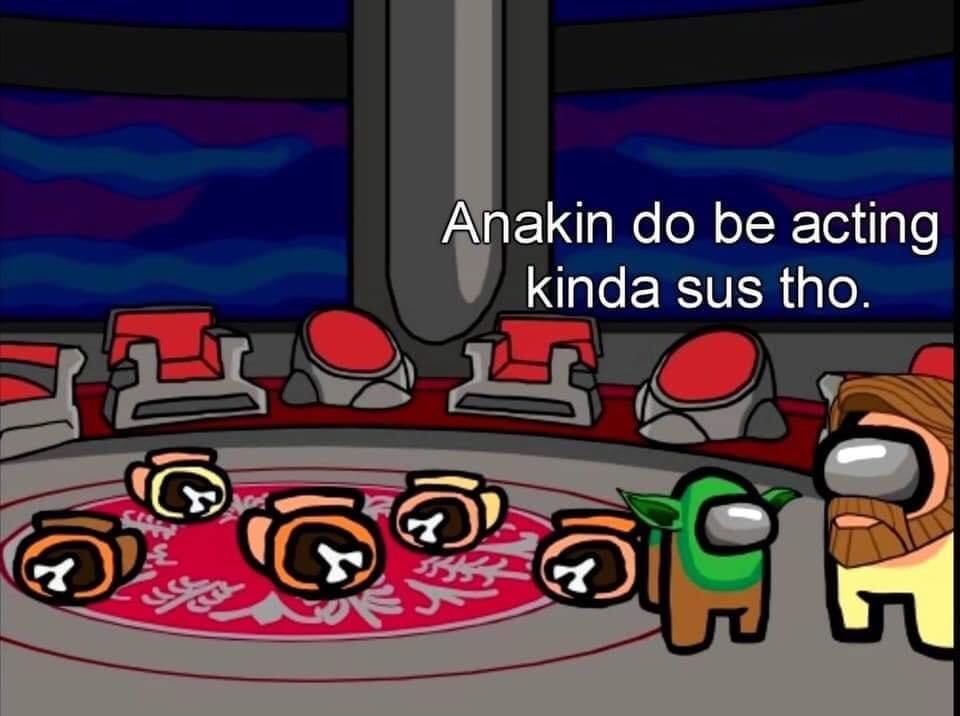 Anything involving the scene in Star Wars Revenge of the Sith involving Anakin killing the younglings is always good with me.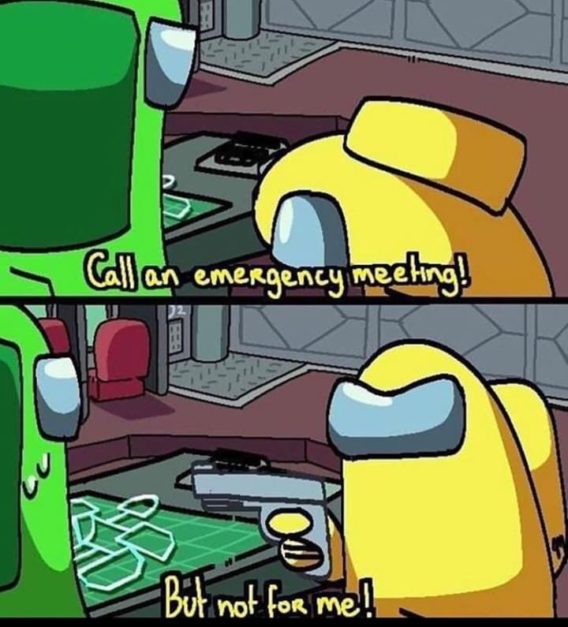 Killing someone in the cafeteria is risky.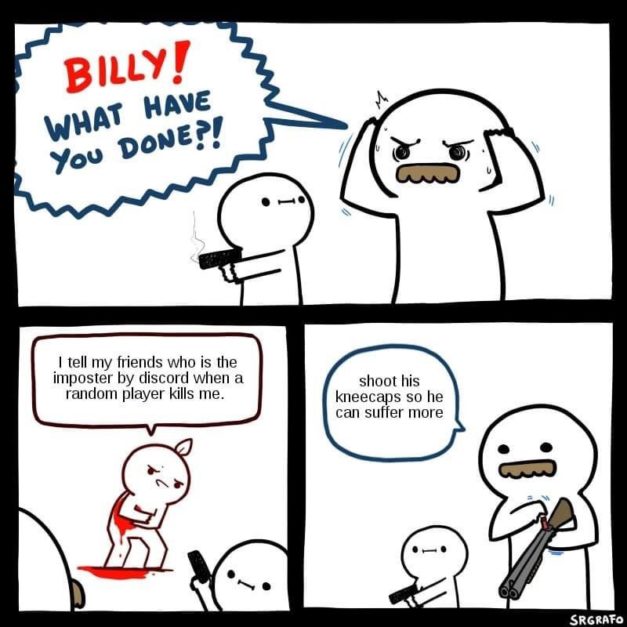 I hate people who cheat in Among Us, but I do enjoy playing over audio chat with friends and colleagues instead of text.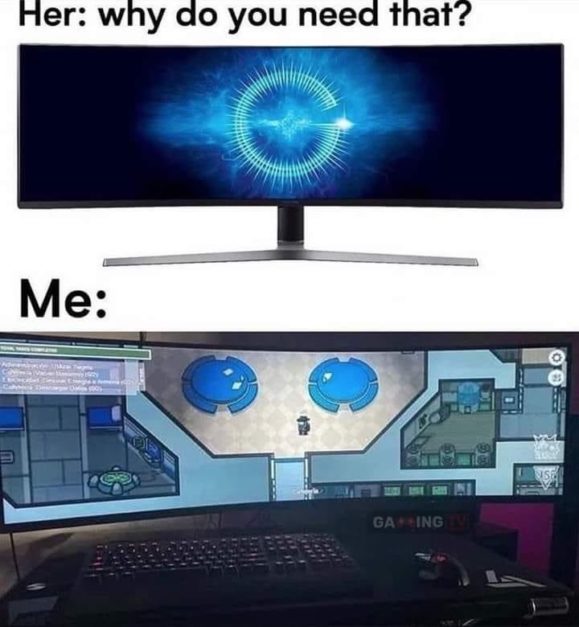 I wish I had one of these giant screens, but the line of sight into this game doesn't work like that.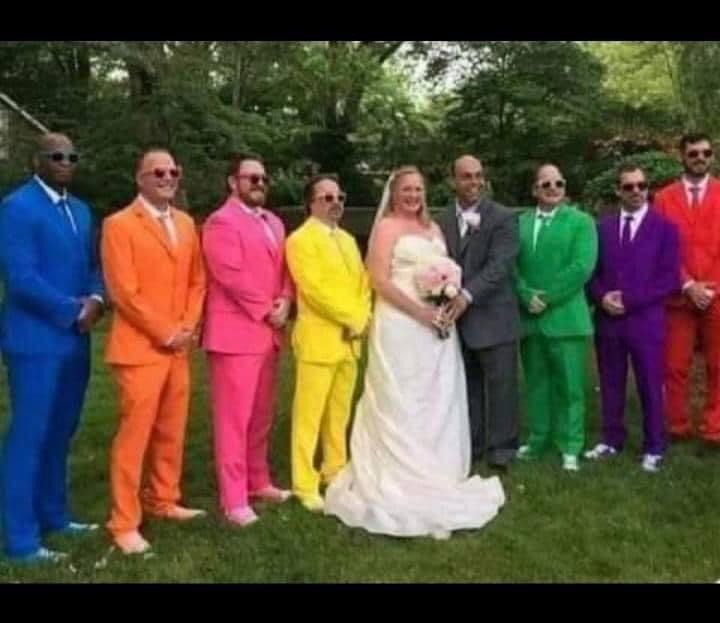 This is the most suspicious wedding ever.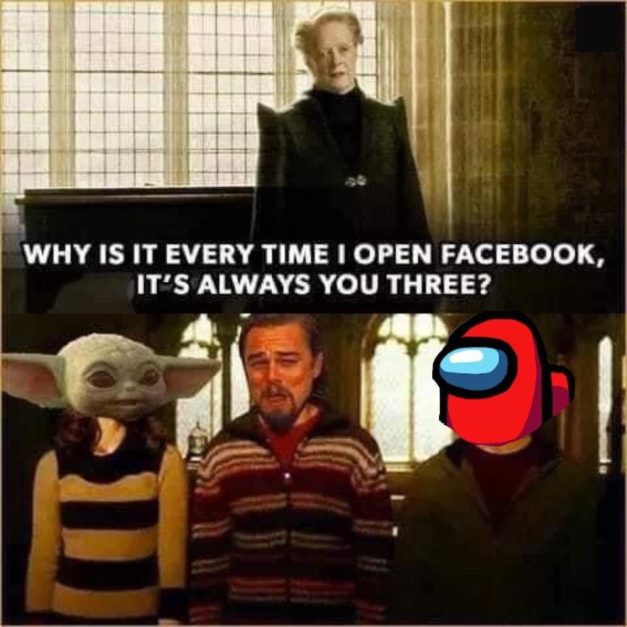 I'm happy seeing these memes on Facebook.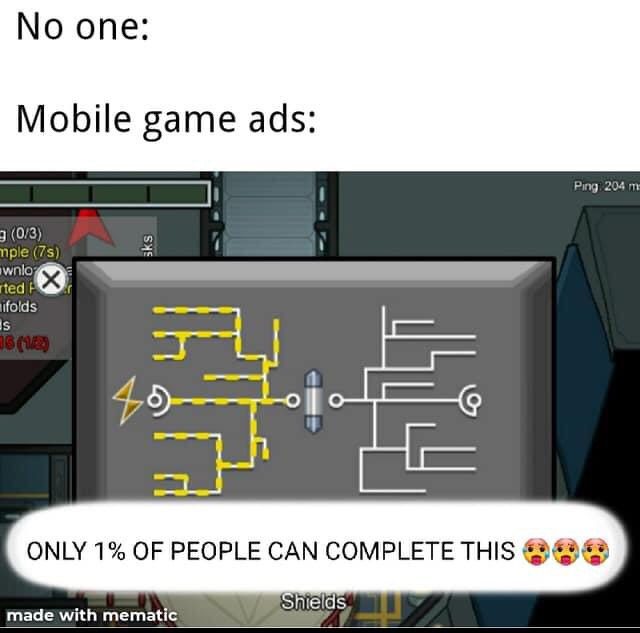 Mobile game ads are 100% like this.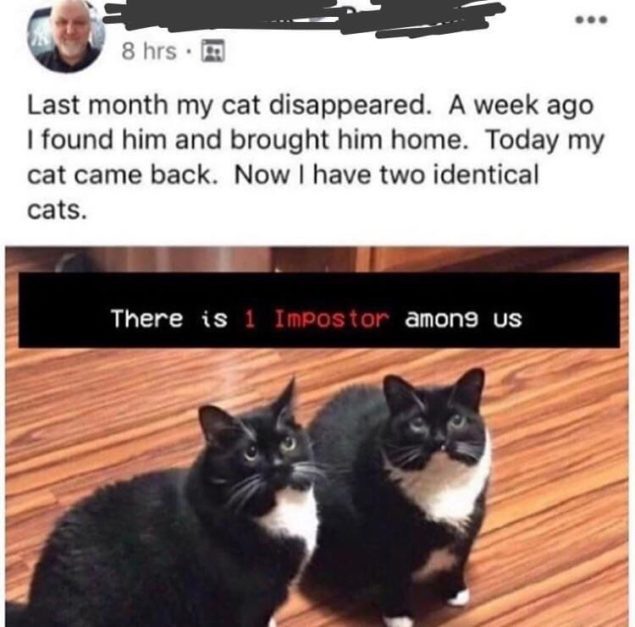 This is a good problem to have.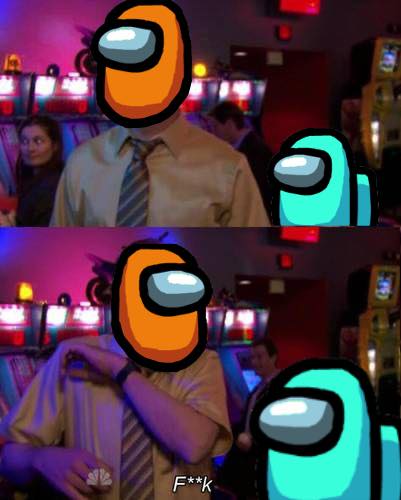 People just hate Cyan.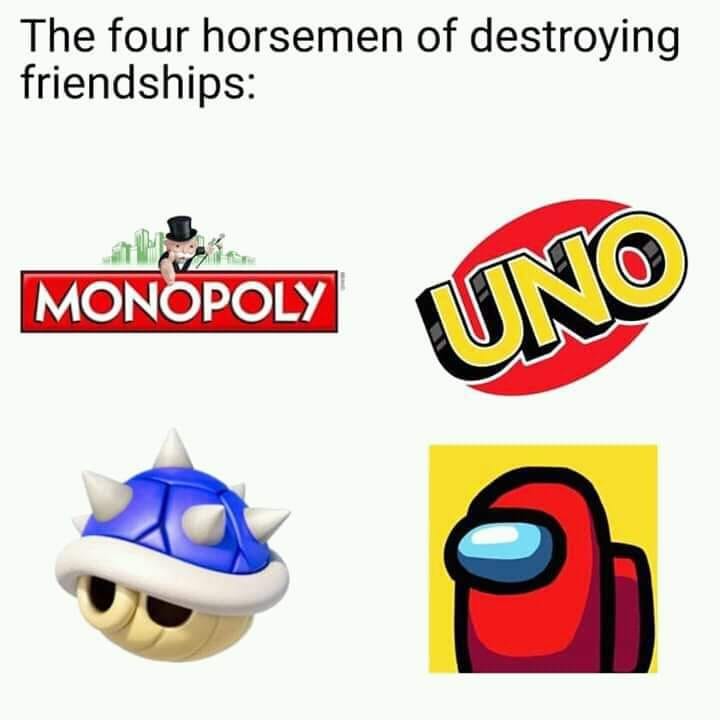 Among Us has joined Monopoly, Uni and Mario Kart's Blue Shell as the ultimate friendship destroyer.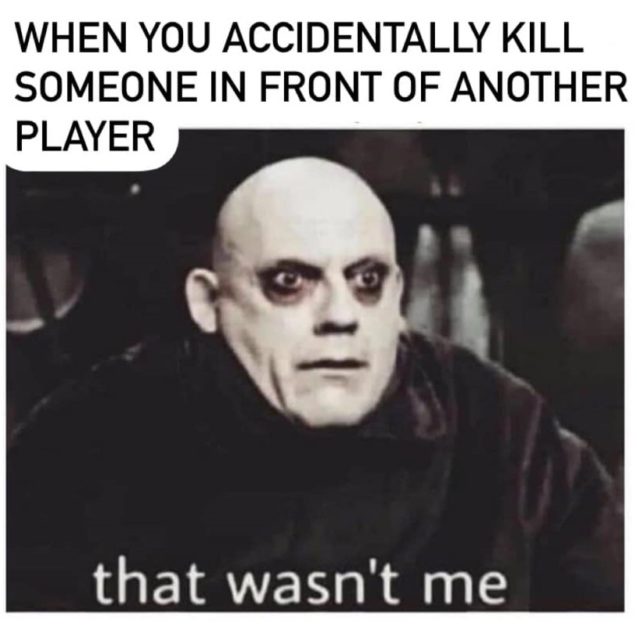 There's nothing more awkward than being caught red-handed and you can't do anything about it except a lie.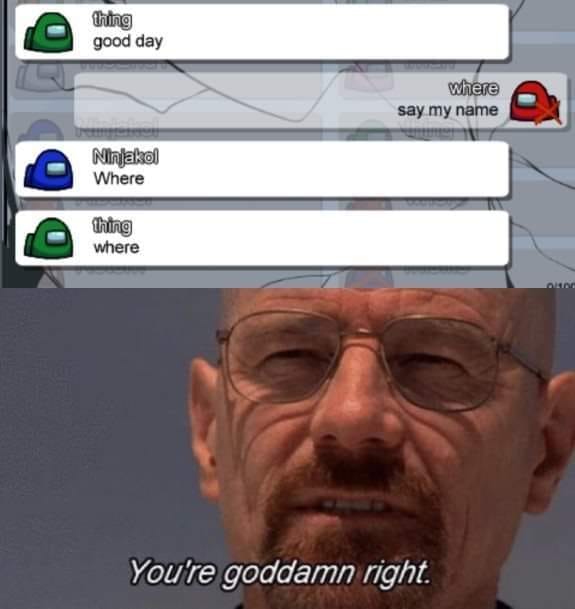 "Where" is the most used word in this game.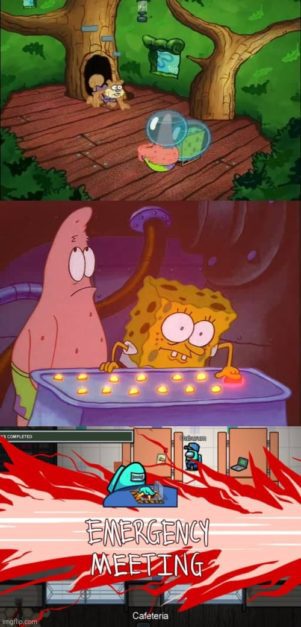 Popping out of a vent when there are too many crewmates in the room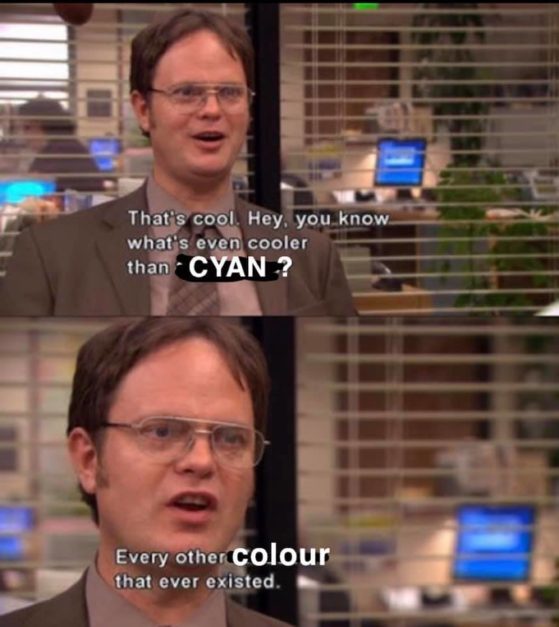 Everyone hates Cyan.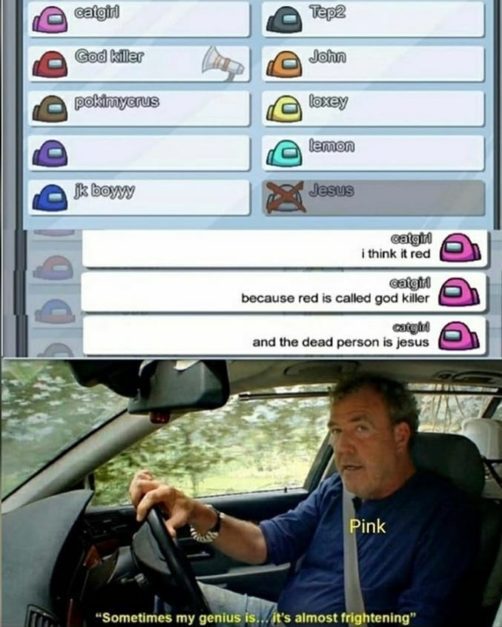 It's actually pretty annoying when people blame you based on your name.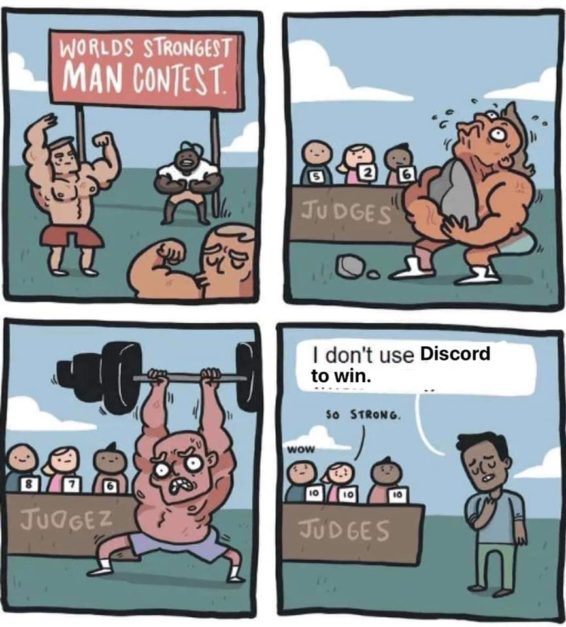 Strong players don't cheat.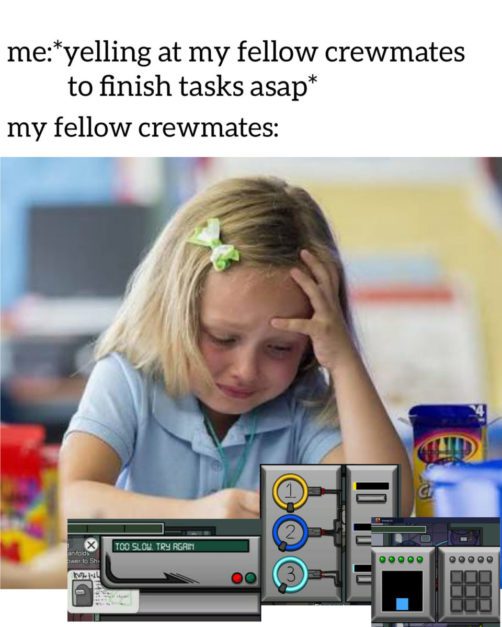 These are some of the hardest tasks in Among Us.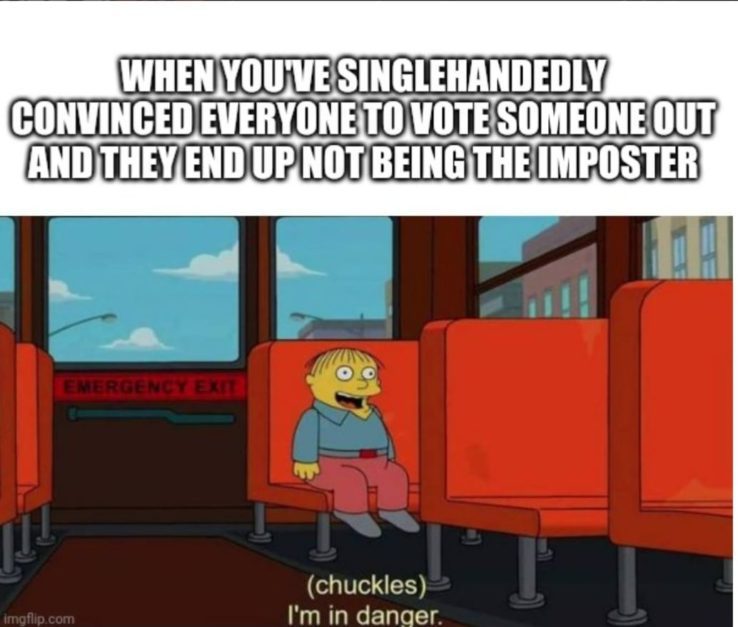 There's nothing worse than getting everyone to vote with you and then being wrong.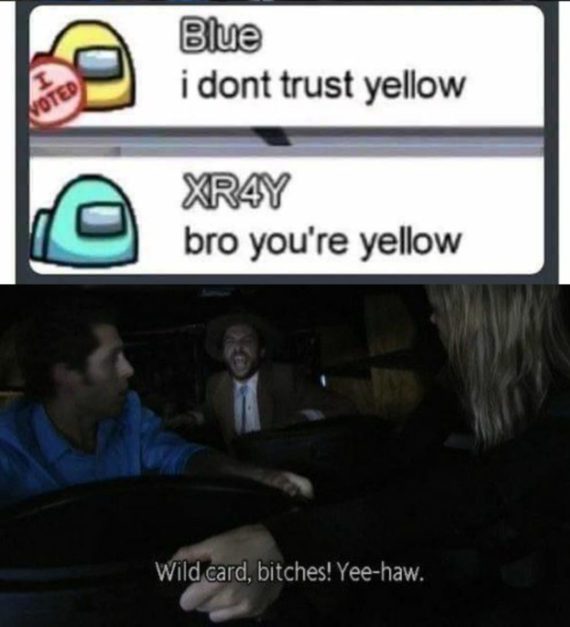 I think a lot of players get a kick out of confusing everyone.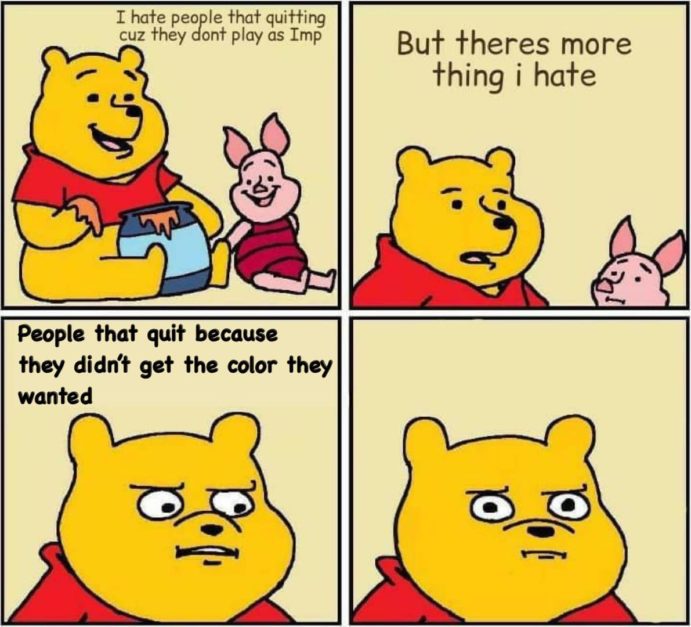 People quitting the game over such trivial things really ruins the game.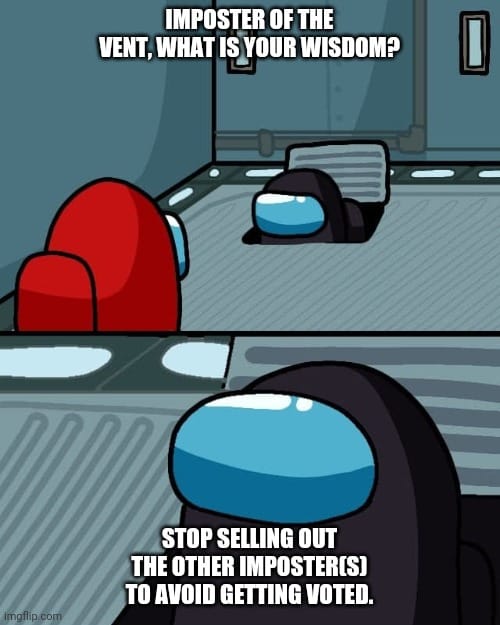 When you're playing with 2-3 imposters and they rat you out… Terrible!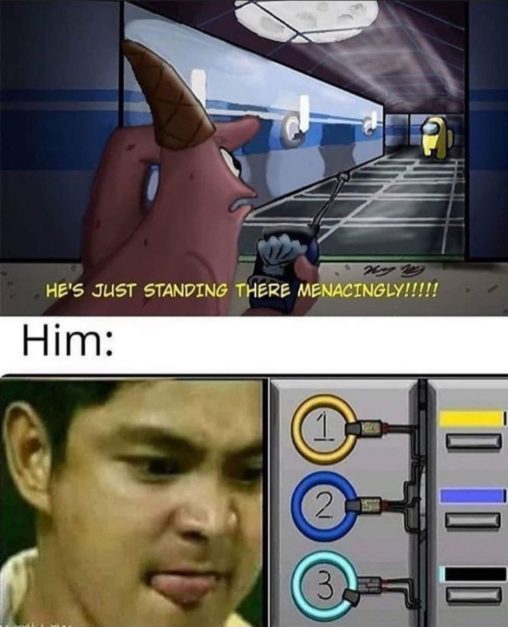 This task is actually really hard.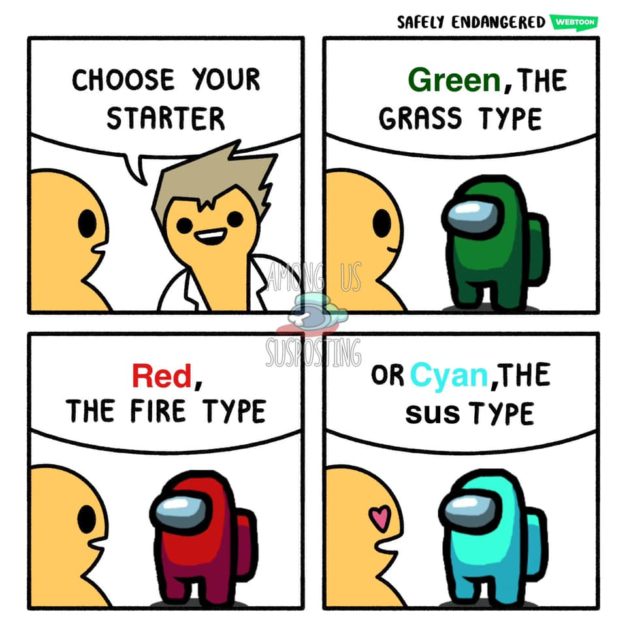 Cyan is the sus type Pokemon.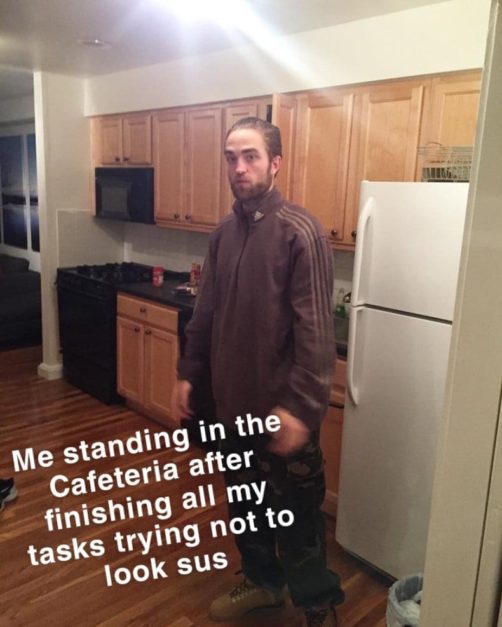 It's always awkward knowing what to do after you've finished your tasks without looking sus.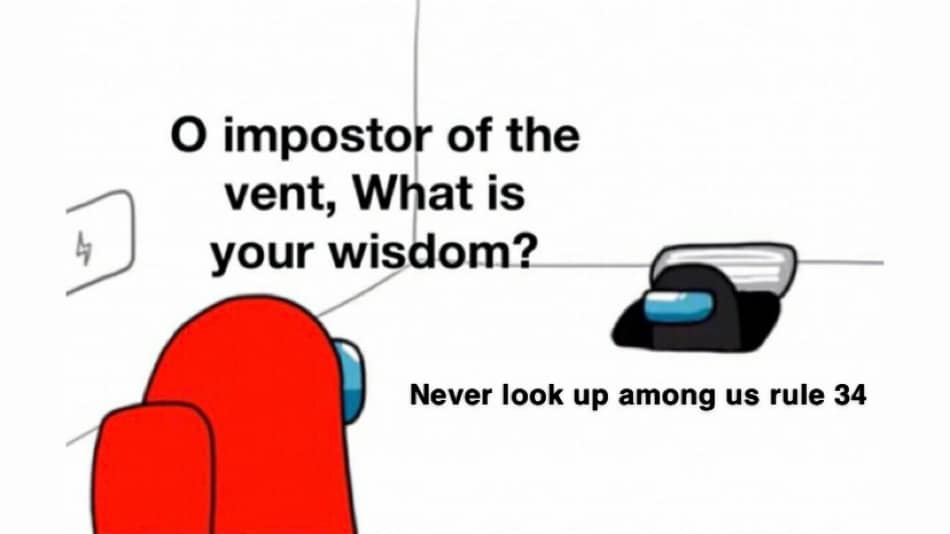 If you don't know what Rule 34 is, you're lucky.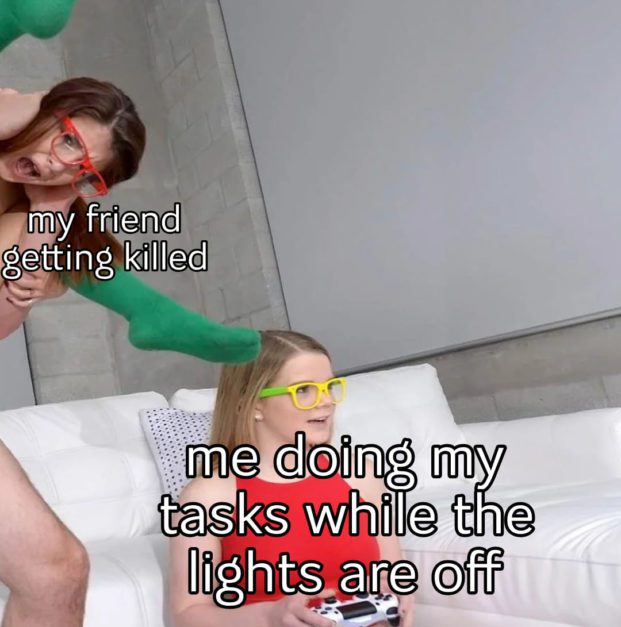 I've had people die right next to me when I'm doing tasks before.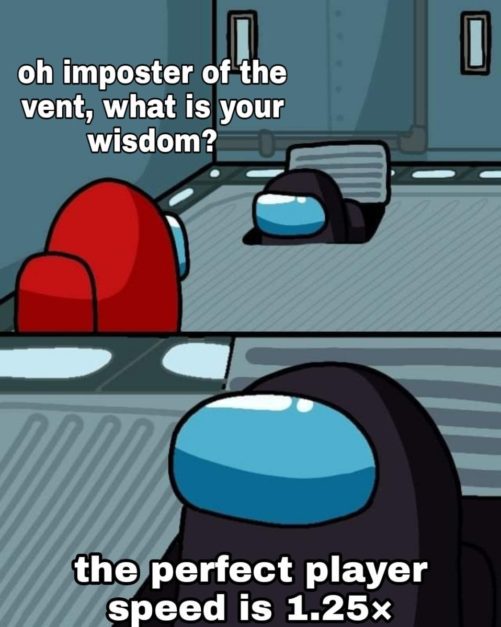 It's good that you can change the speed in the game, making it slightly faster is good.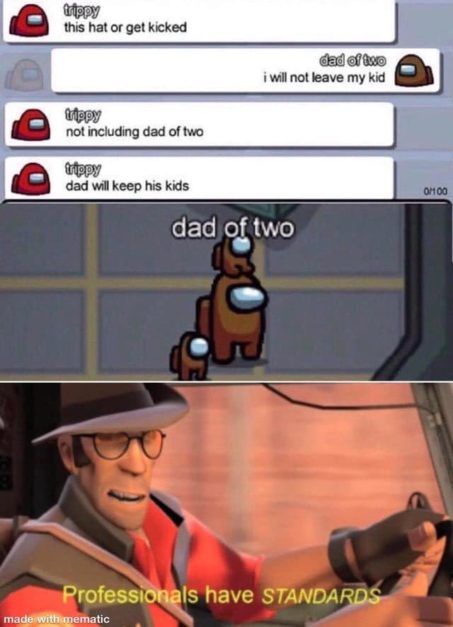 I love dad of two who will not leave his kid.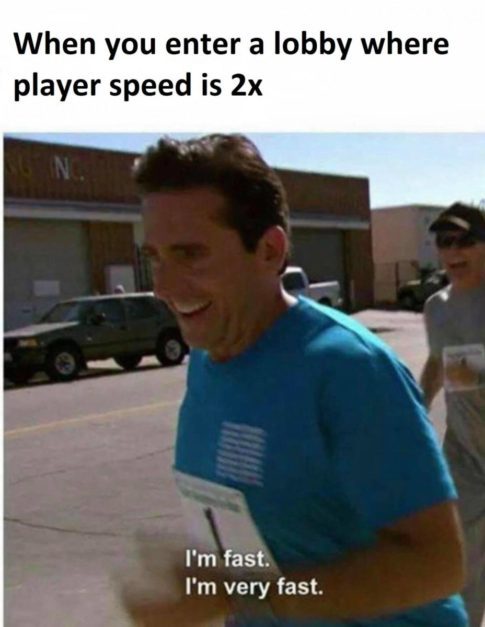 Playing Among Us on 2x speed is really hard the first time you try it.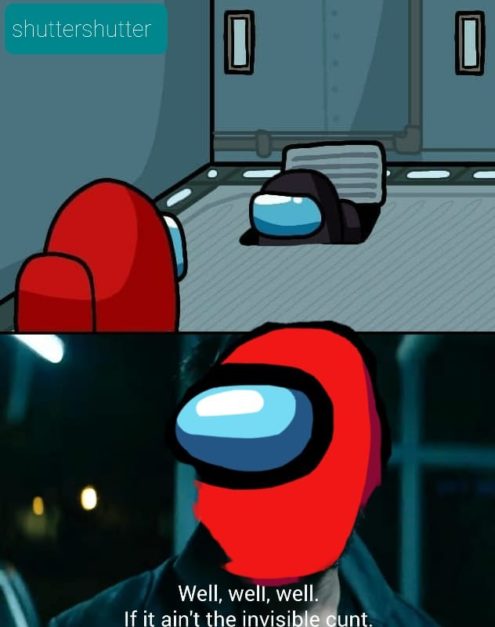 If you haven't watched Amazon Prime's tv series The Boys, get on it!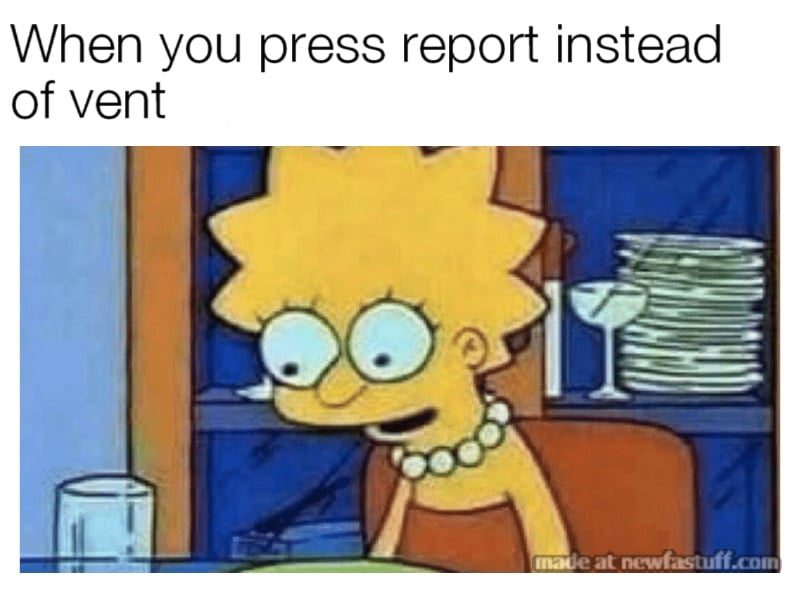 Be careful which button you press when you're near a body impostors.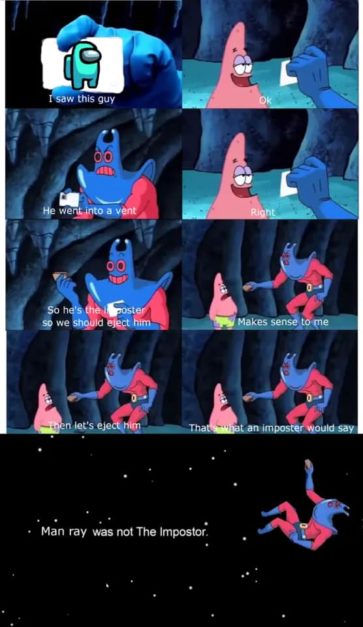 It's always sad when you say everything right but still gets ejected.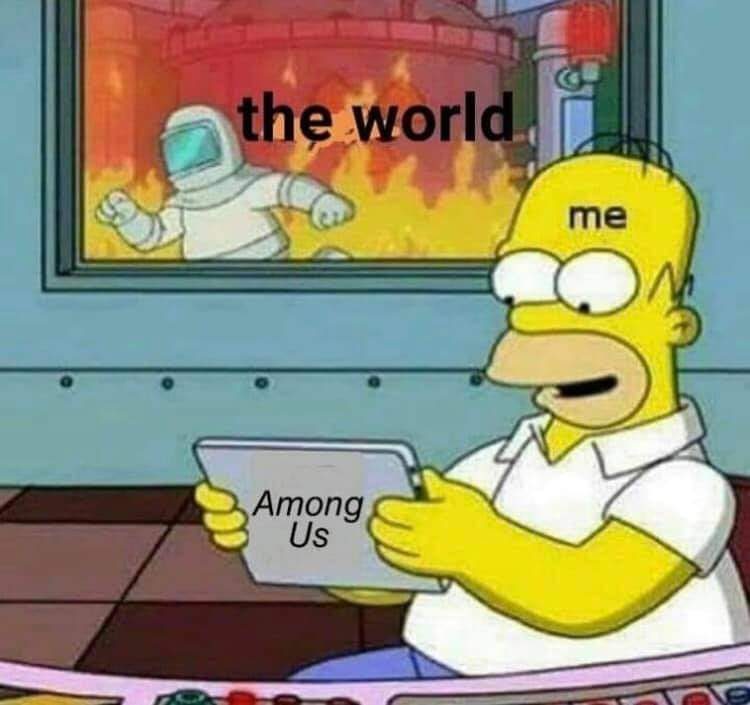 This is the distraction we needed for 2020.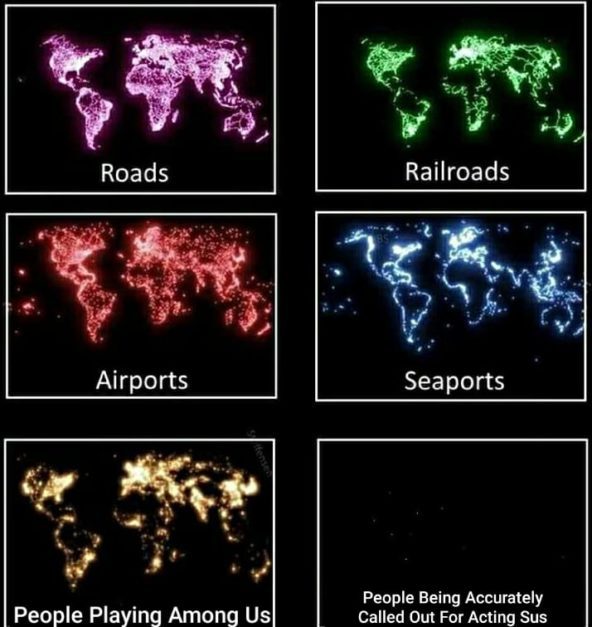 Most players are not actually sus at all.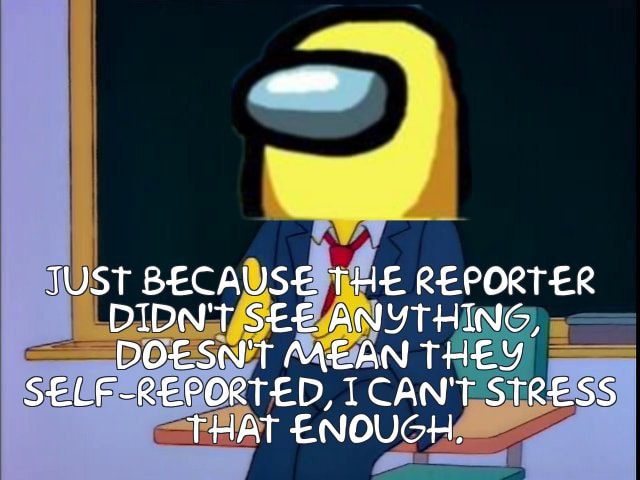 I've found people getting called out for self-reporting, voted off and were actually innocent many times.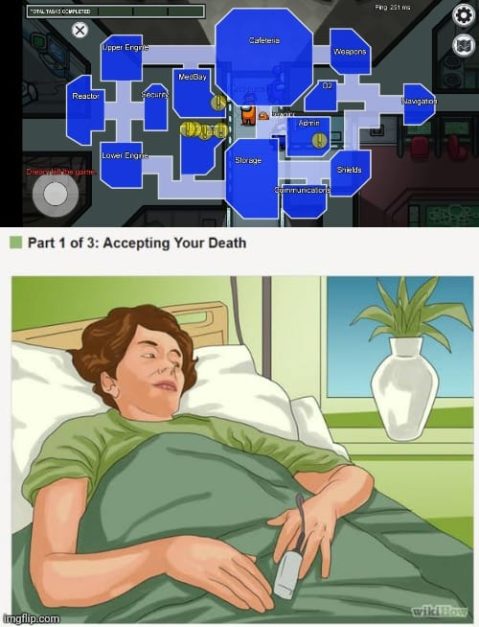 If you have to stay in Electrical all game, you're probably gonna die.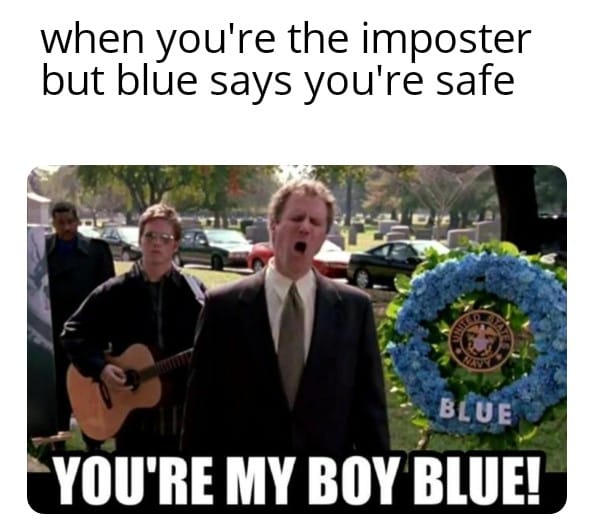 Love it when someone backs me and I'm actually the impostor. I'll kill them last.
I need to start saying "allegedly" during gameplay.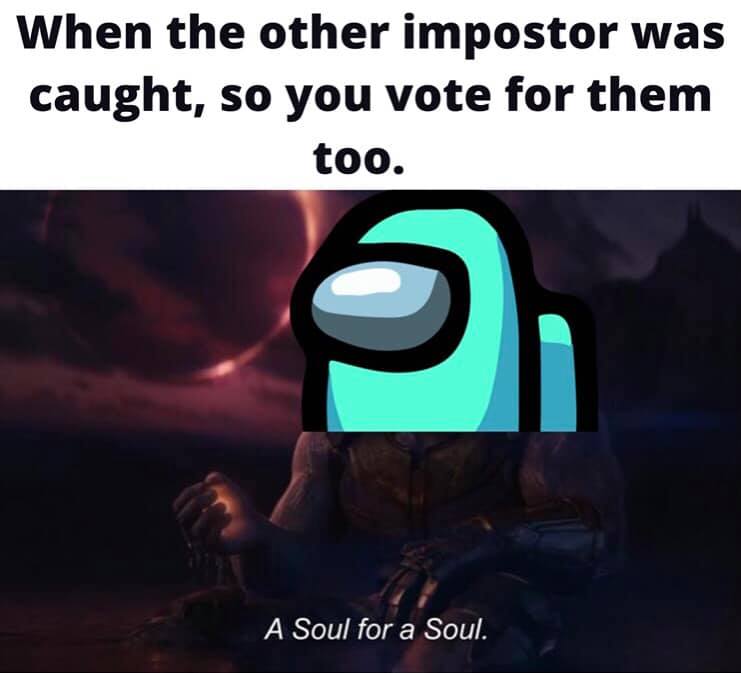 You gotta do what you gotta do to stay off the radar.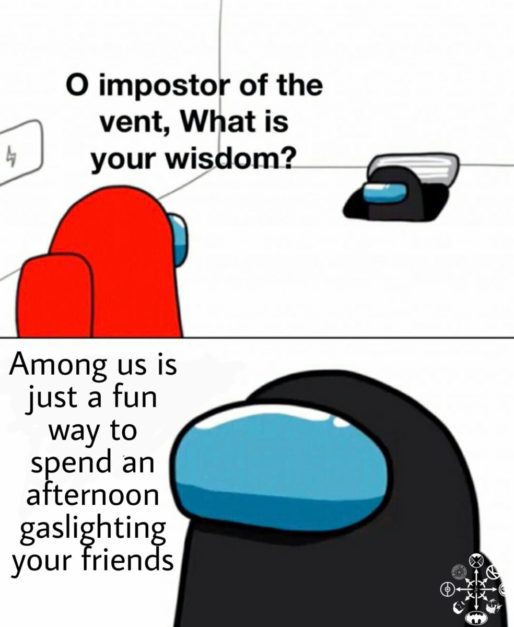 Among us and card games like Werewolf, The Resistance, Coup and Secret Hitler are seriously making us all great at gaslighting our friends.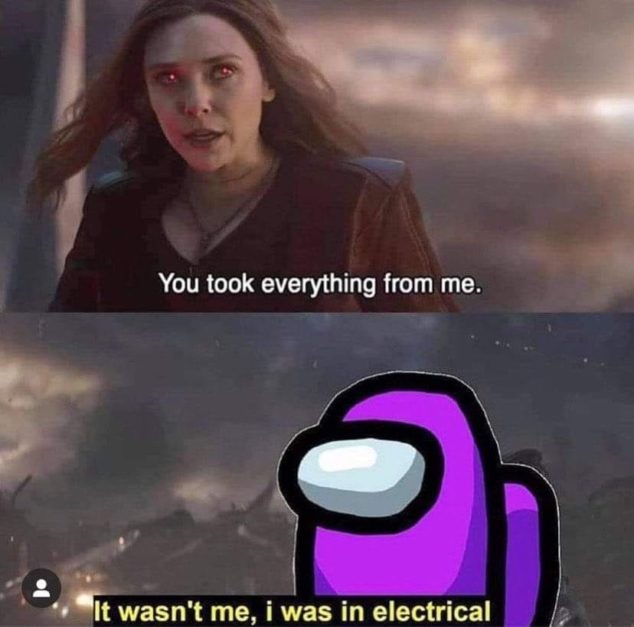 It wasn't me, I was in electrical.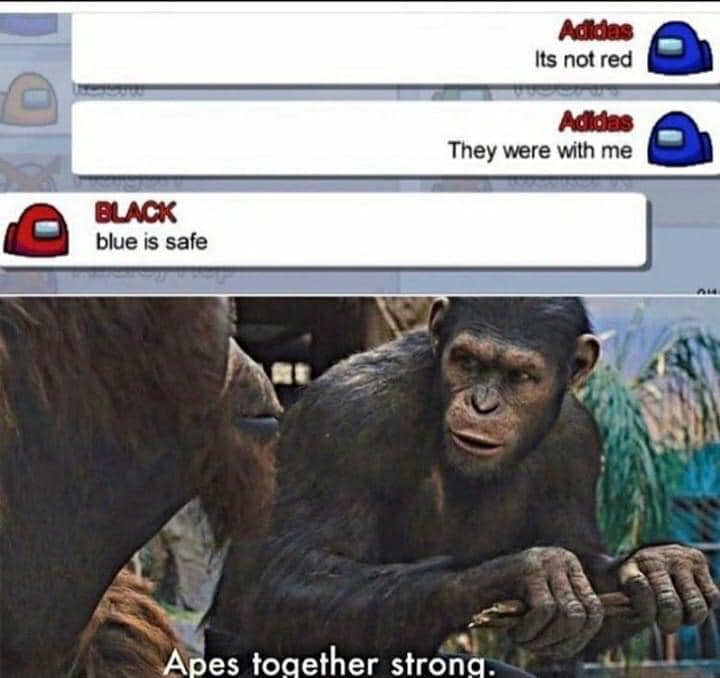 Apes together strong.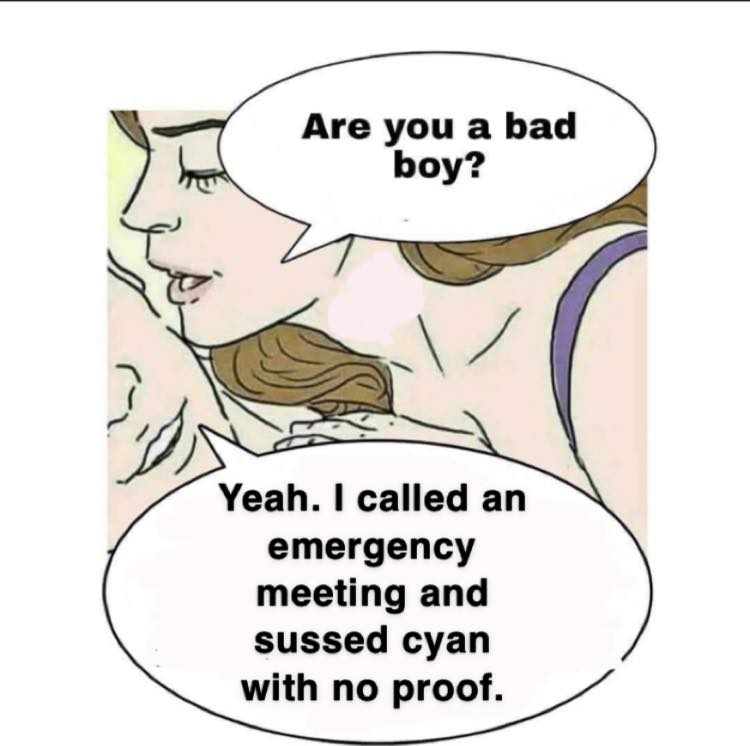 I hate it when people do this.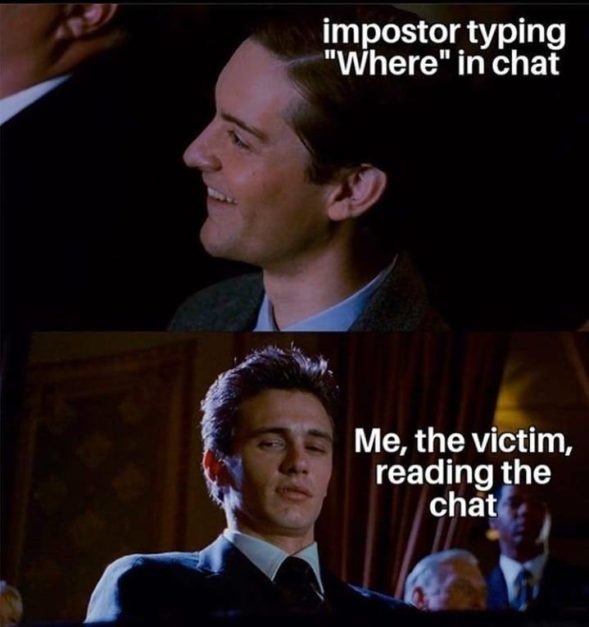 This Spider-Man meme is great.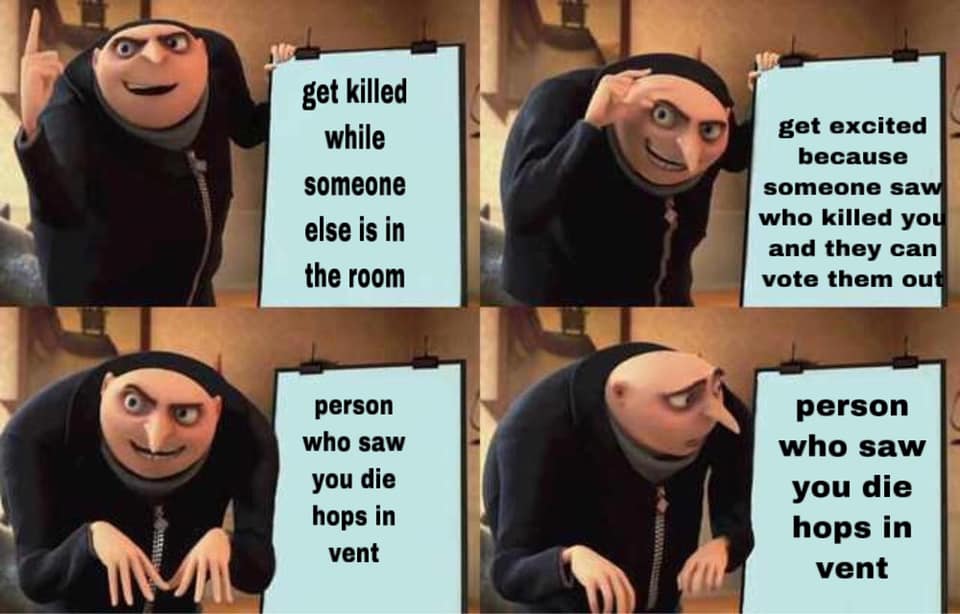 This has happened to me.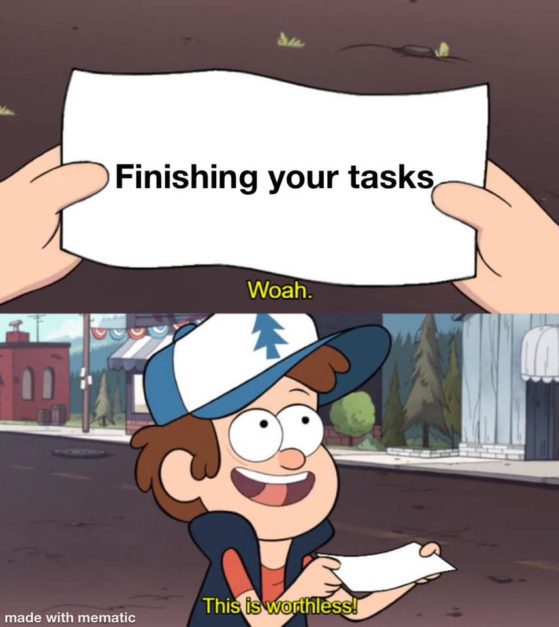 When there's nothing to do after finishing your tasks.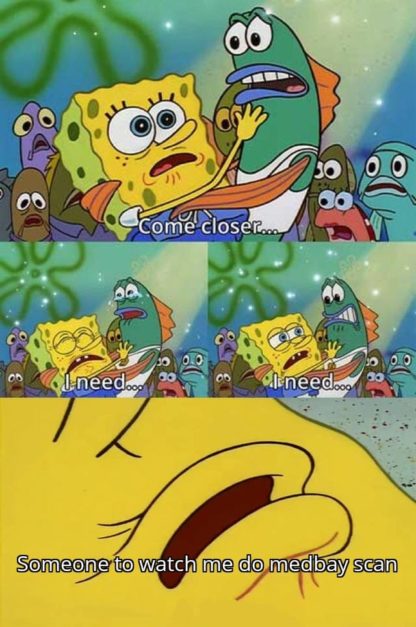 Please watch me medbay scan.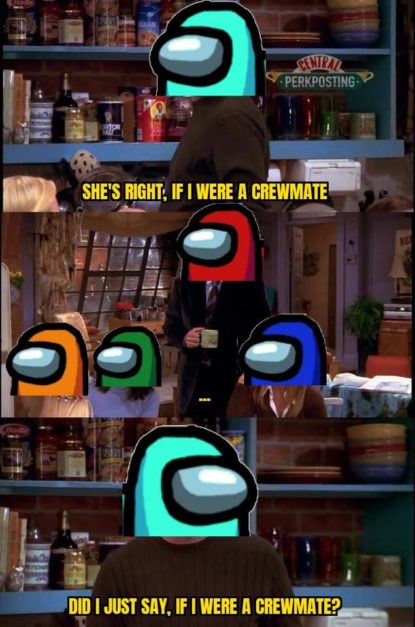 "If I were a crewmate…"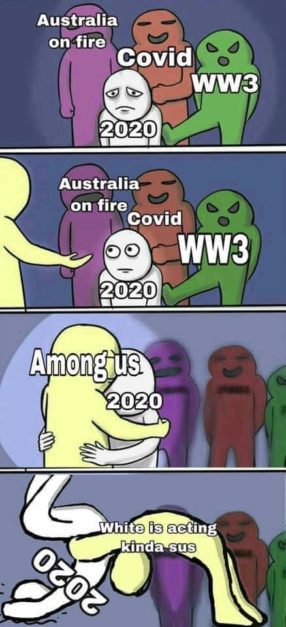 As an Australian, Among Us is definitely one of the few positives of 2020.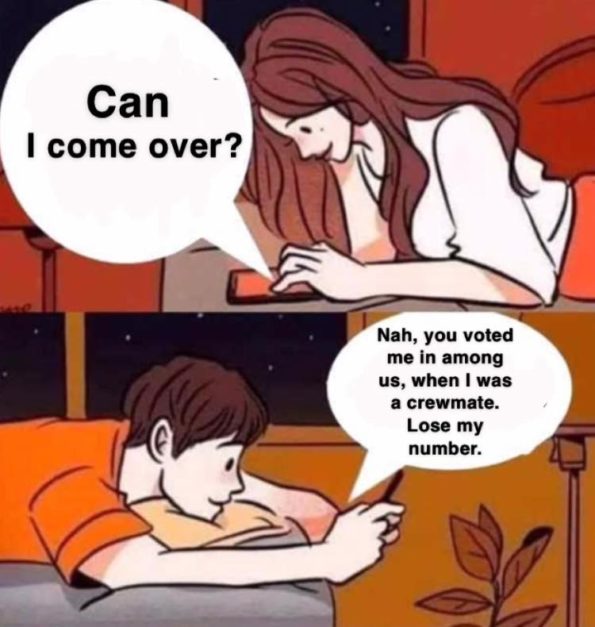 This game can definitely put strains on relationships.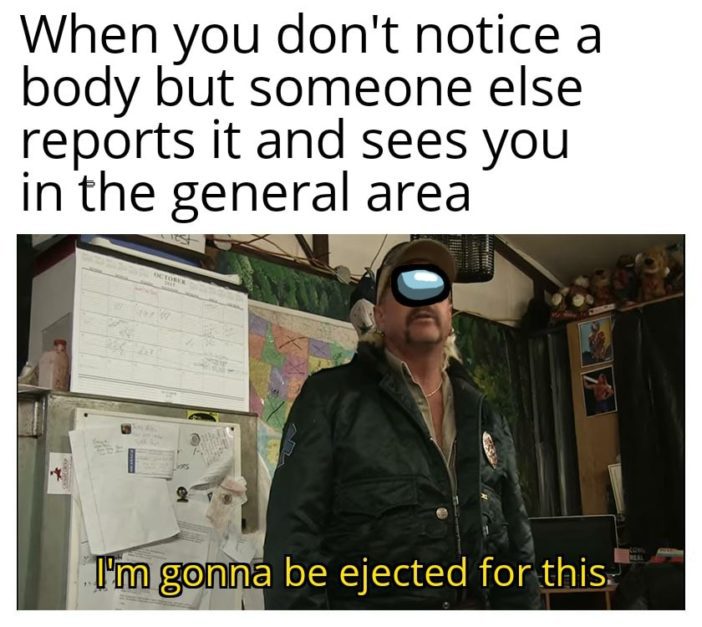 I miss Tiger King memes.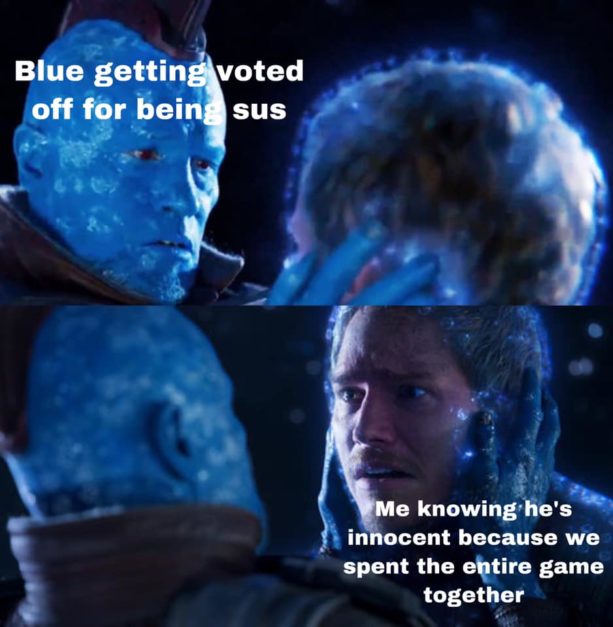 This is always sad when someone you know is good gets voted out.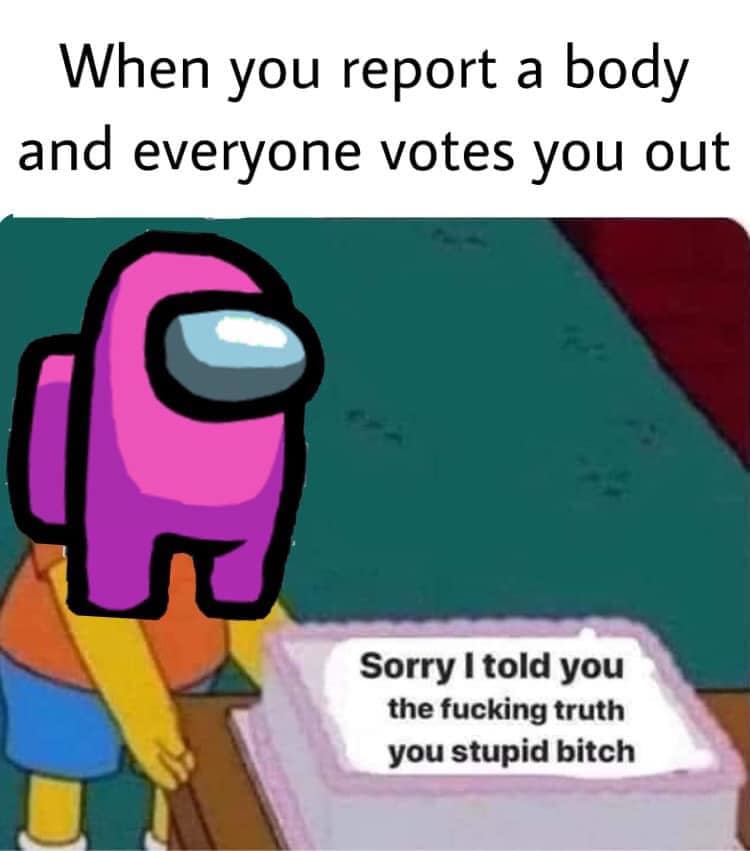 This sucks.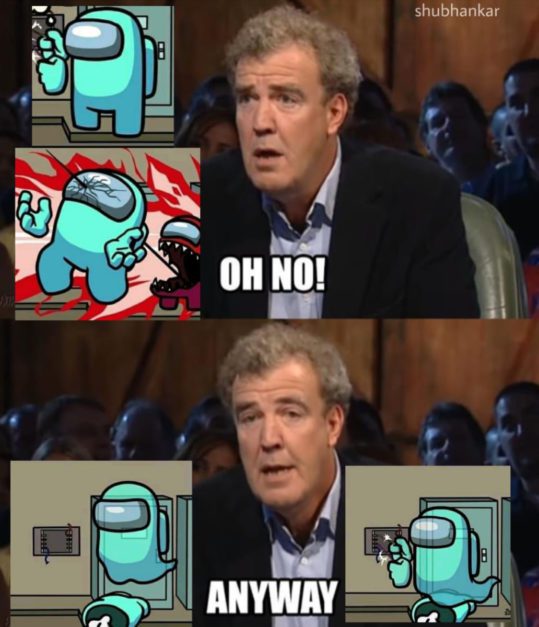 When you die, you still gotta do your job or you won't win.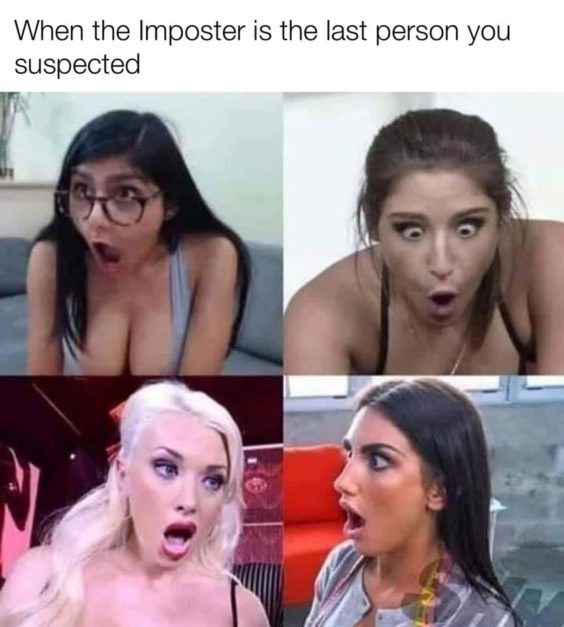 My face.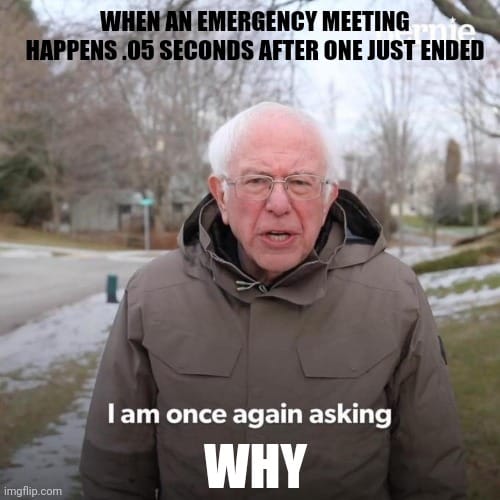 Stop doing emergency meetings unless you have a good reason.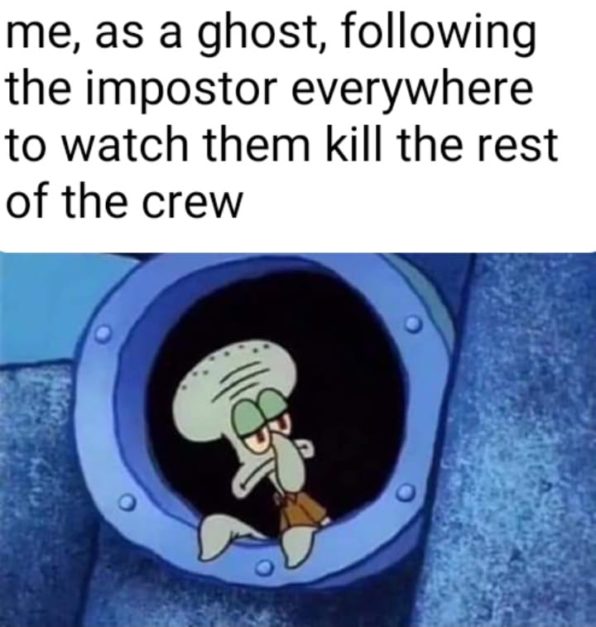 I only do this after I finish my tasks.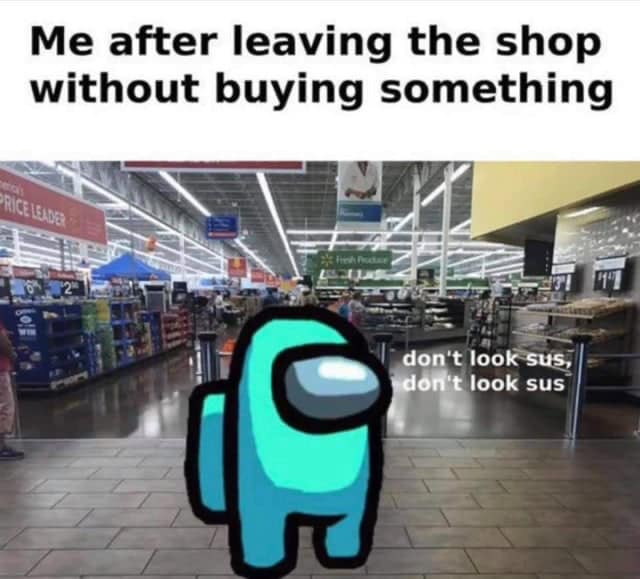 As a kid, I was always worried about looking sus when leaving a shop.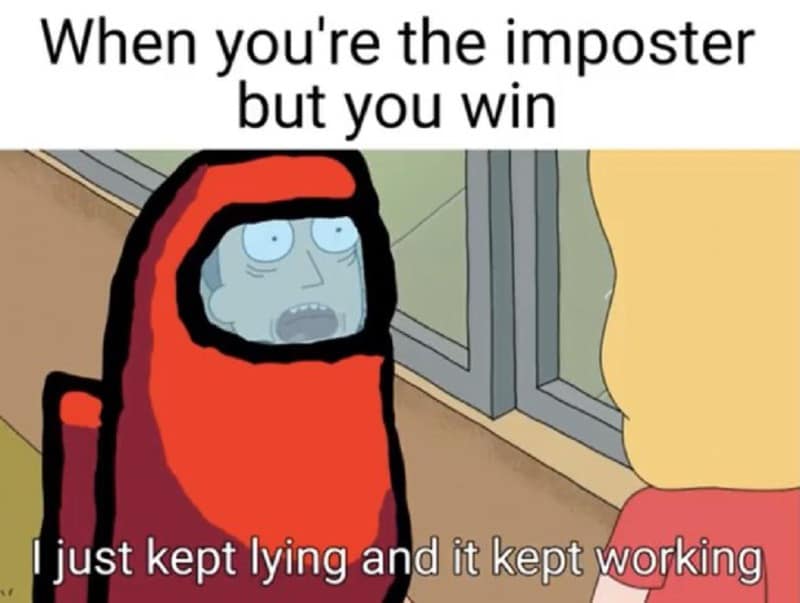 Classic Jerry.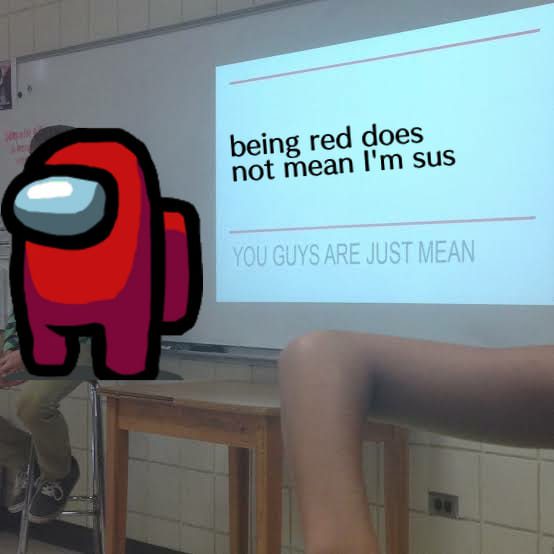 Don't vote randomly based on colour!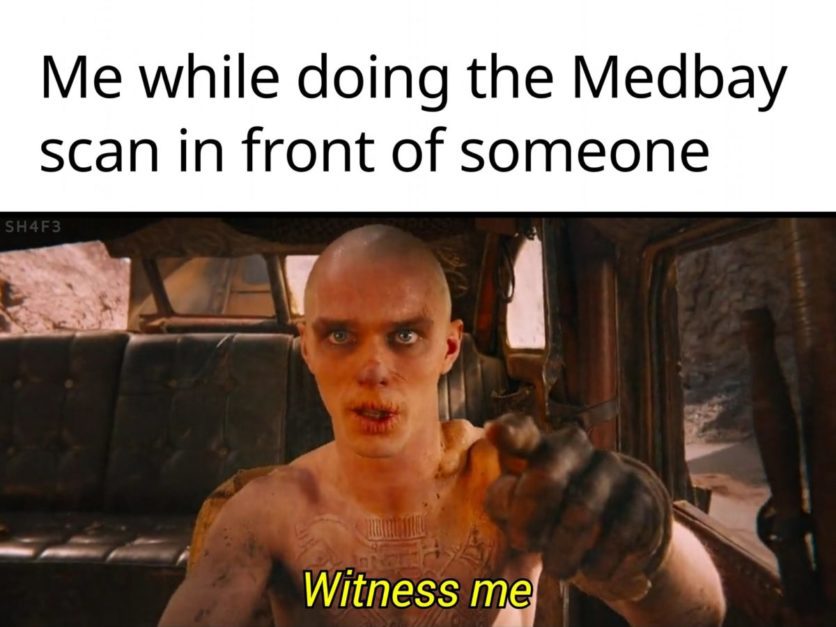 I feel like these guys from Mad Max fury road when I'm making sure I'm seen scanning in medbay.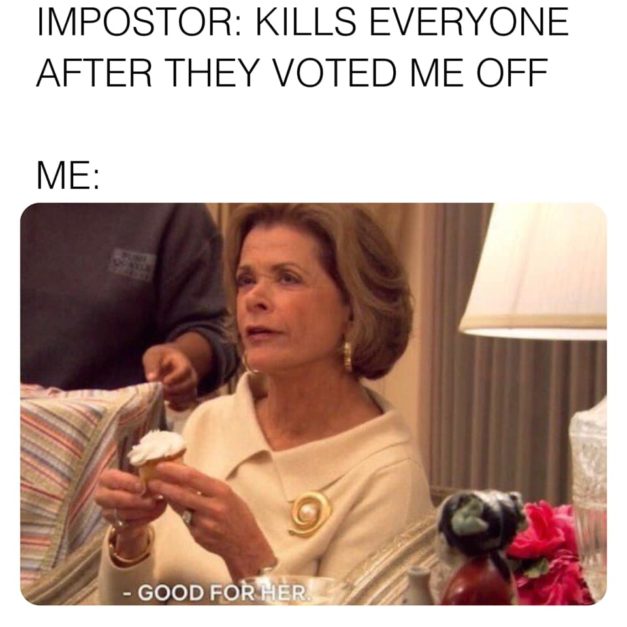 You can't help but be a little spiteful when you're voted out and you're crew.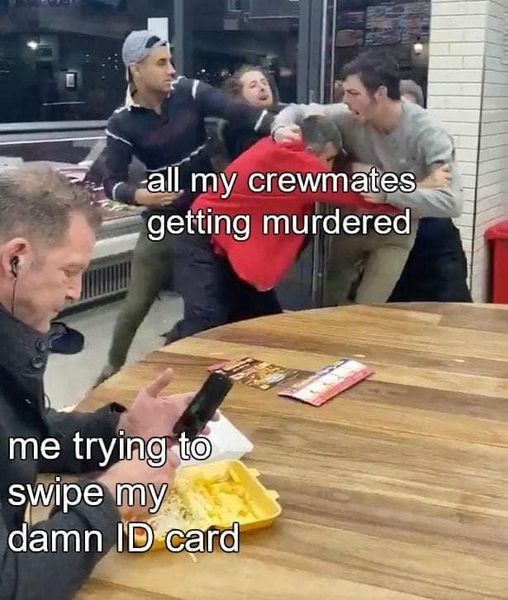 Swiping ID can be hard.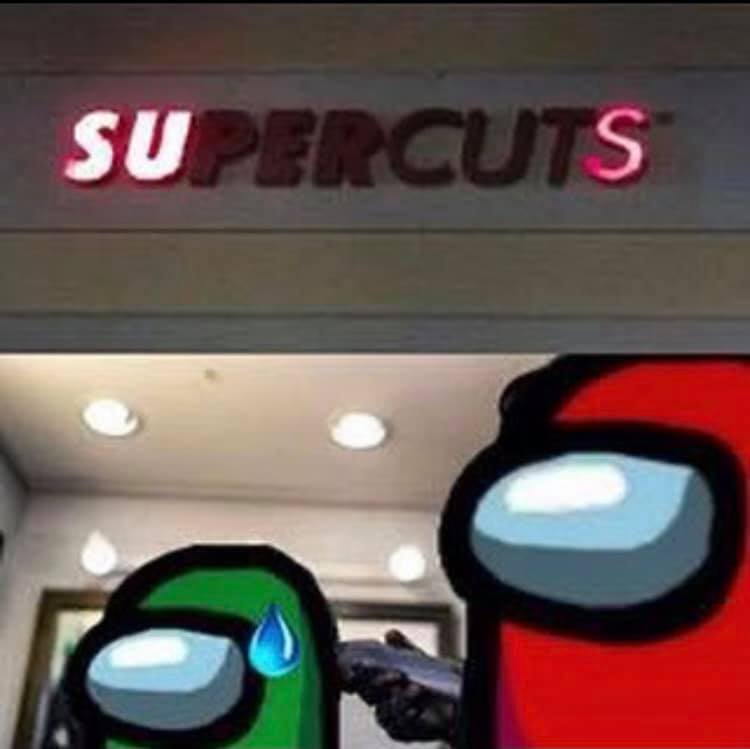 I would not get my hair cut at this place.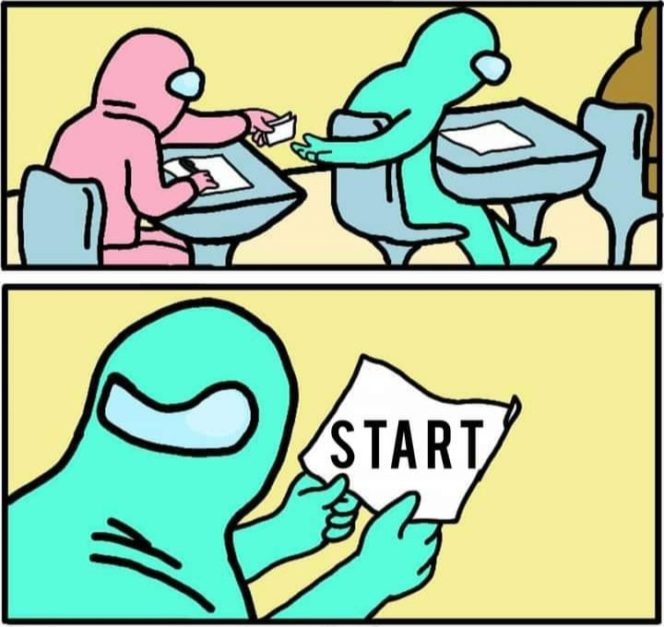 Hate people who keep spamming "start" when the game isn't even full.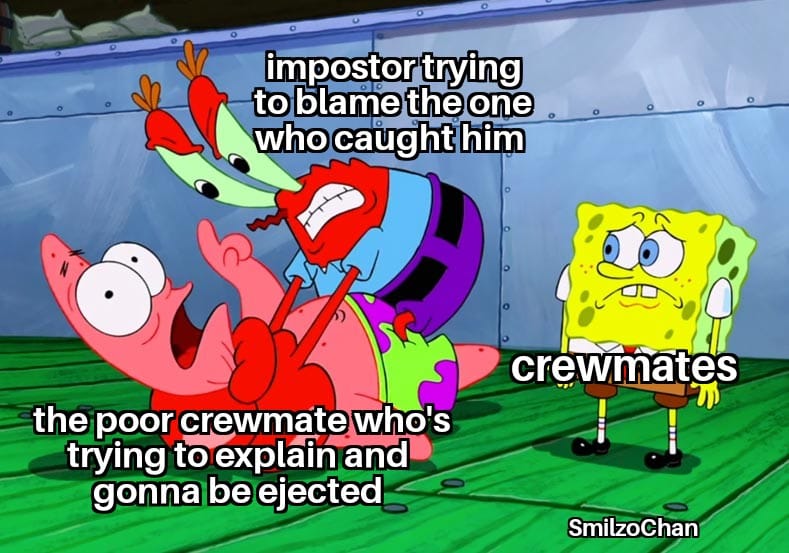 This is always difficult to watch.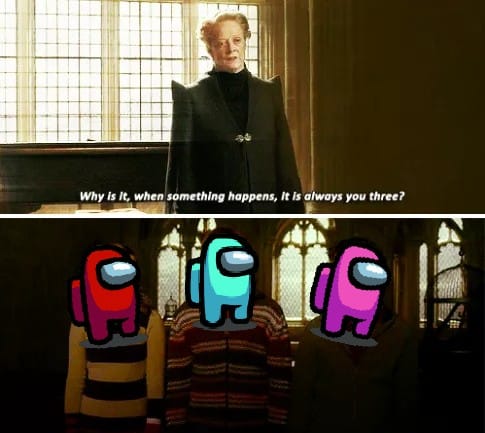 Red, Cyan and Pink, so suspicious.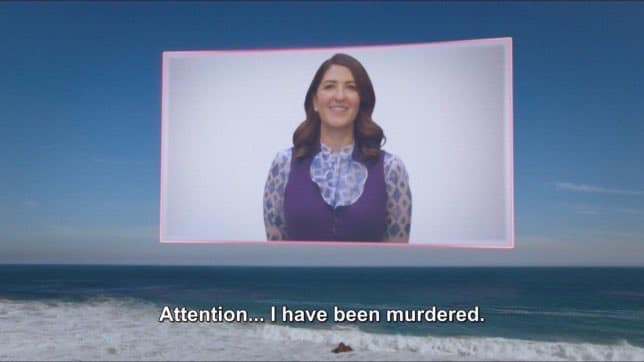 I hate it when I'm killed somewhere that won't get noticed quickly.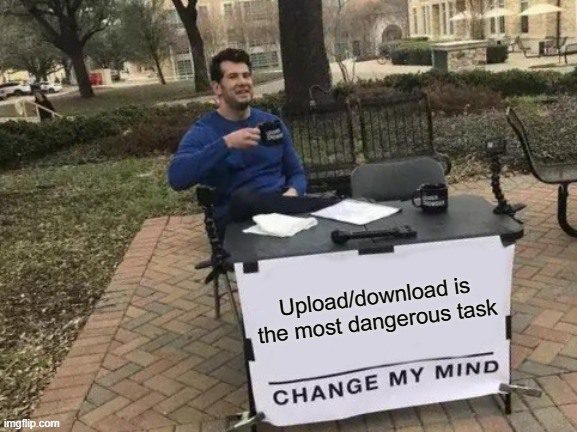 I disagree with this as it's actually easy to do, just takes time.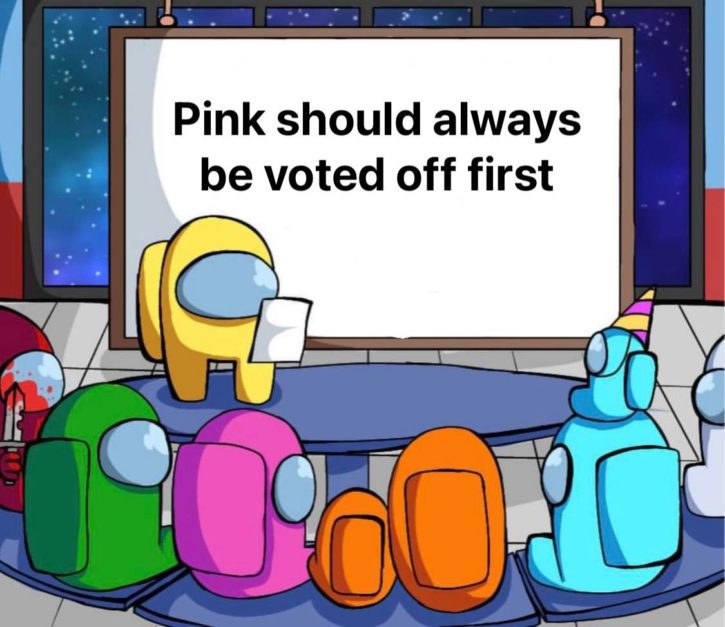 I've actually seen someone try and vote someone out at the start for being pink. "No one chooses to be pink".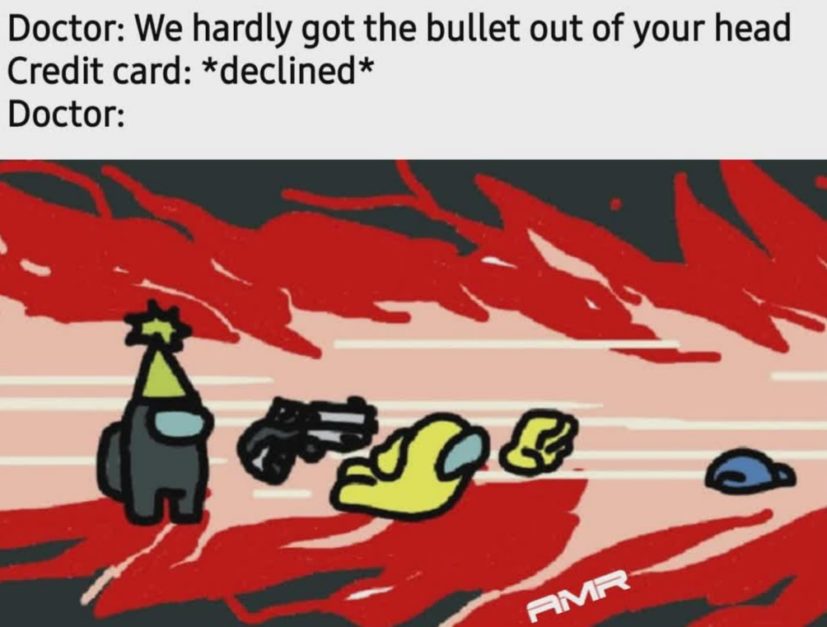 American Healthcare System.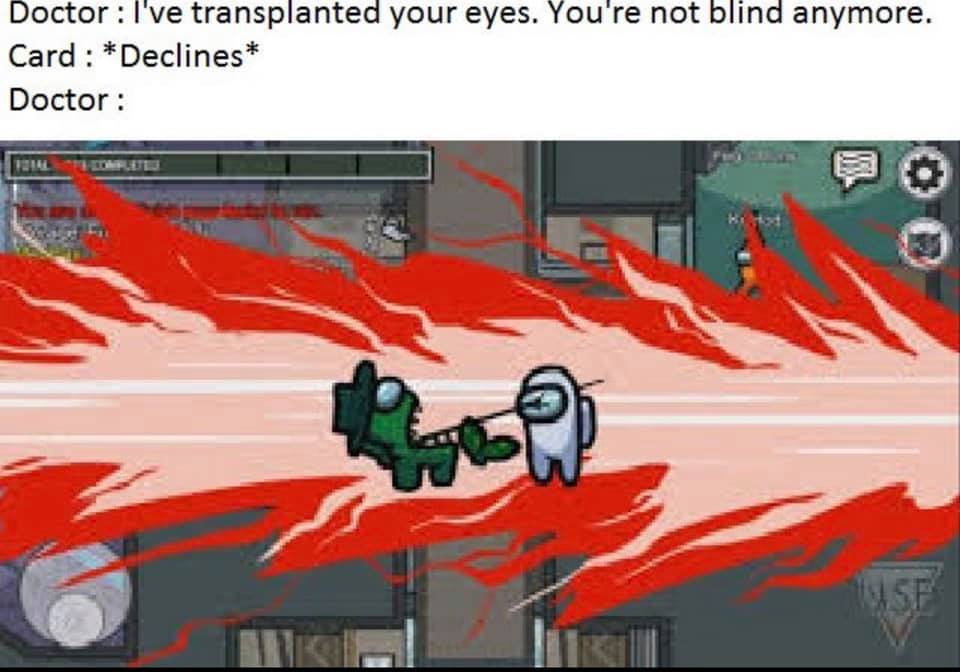 Again, the American Healthcare System.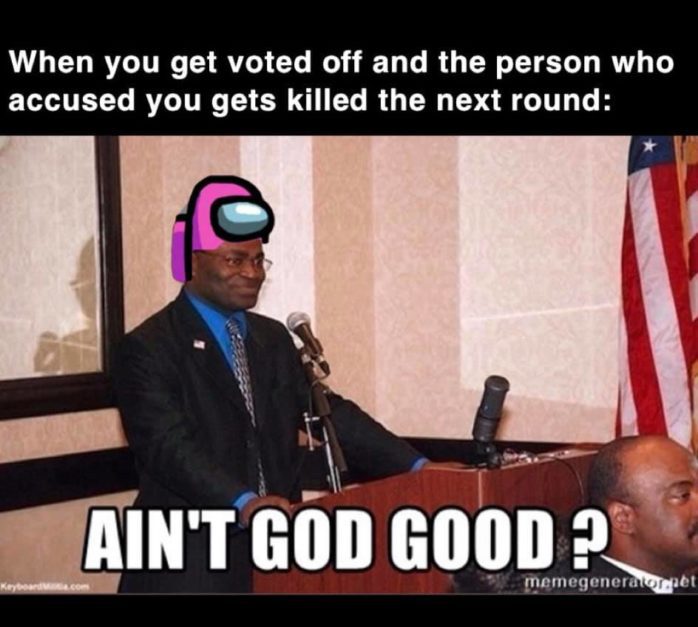 I love it when this happens.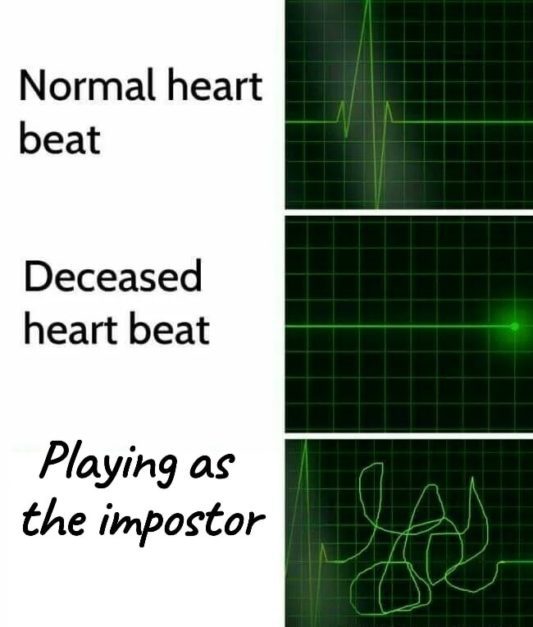 It can be quite stressful.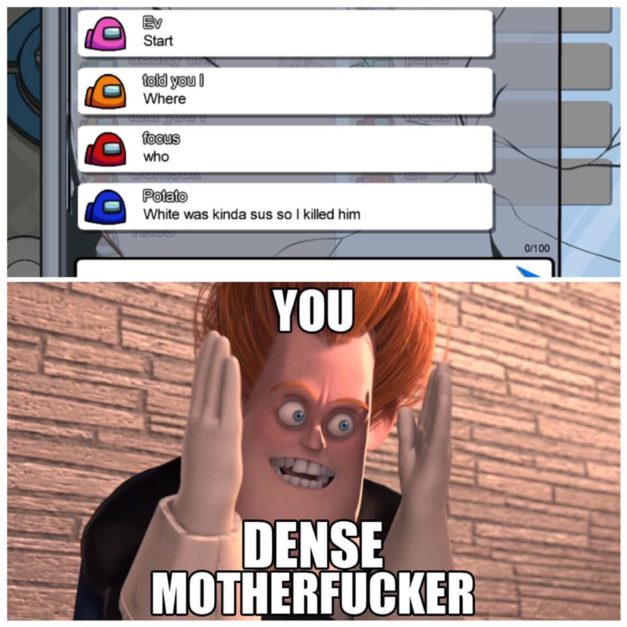 I doubt this really happened.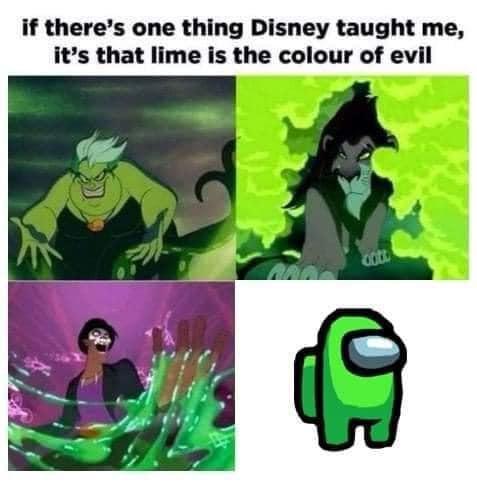 Lime green is truly the colour of evil.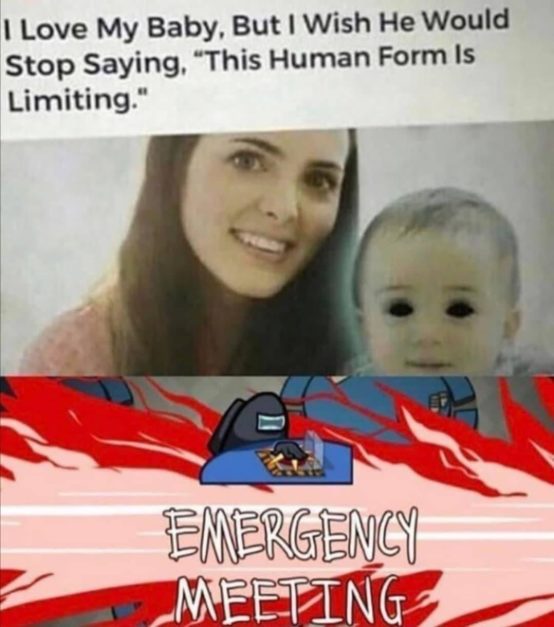 I have no idea where this meme originated and I don't care to find out.
I need to use the cameras more.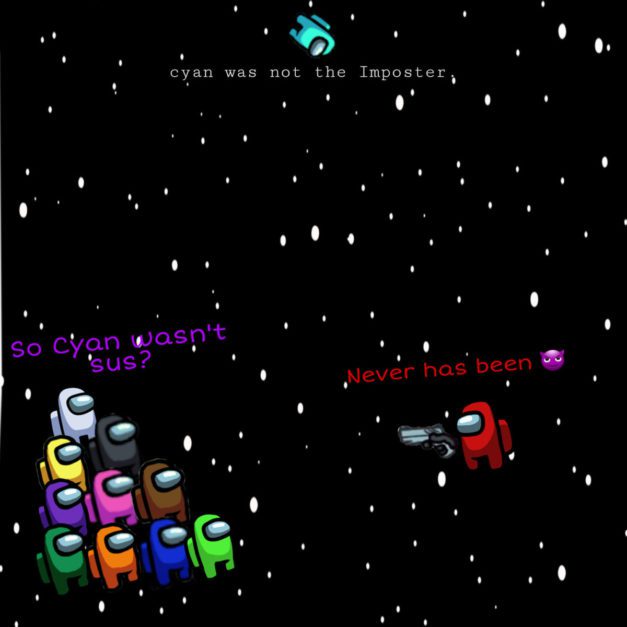 So Cyan wasn't sus? Never has been.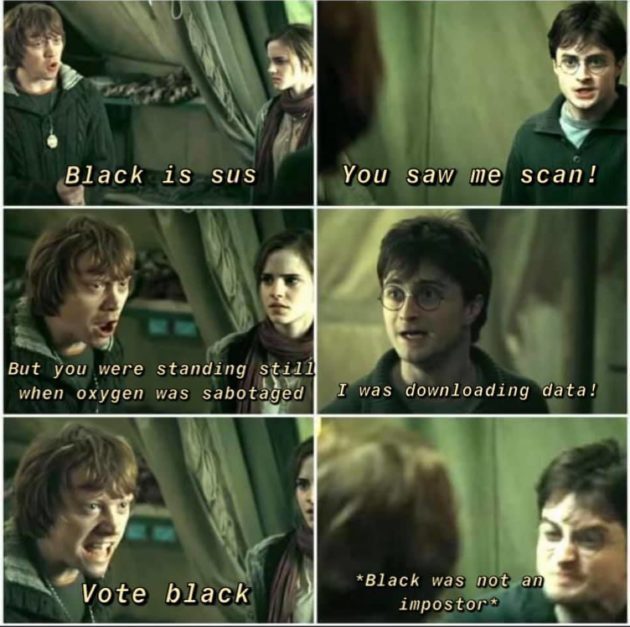 This is frustrating.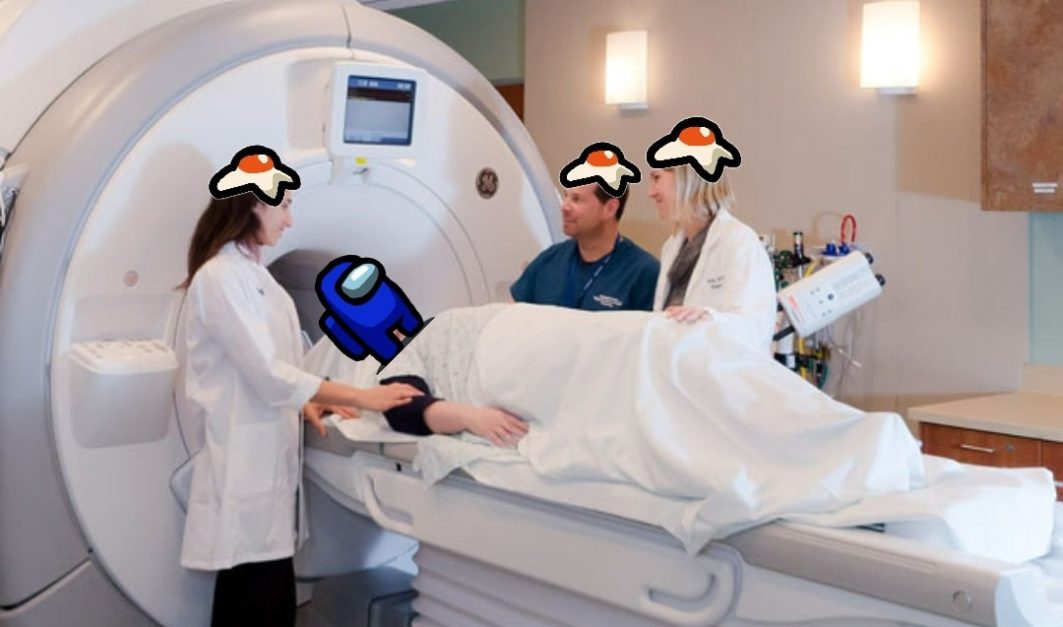 Everyone watching me scan in medbay.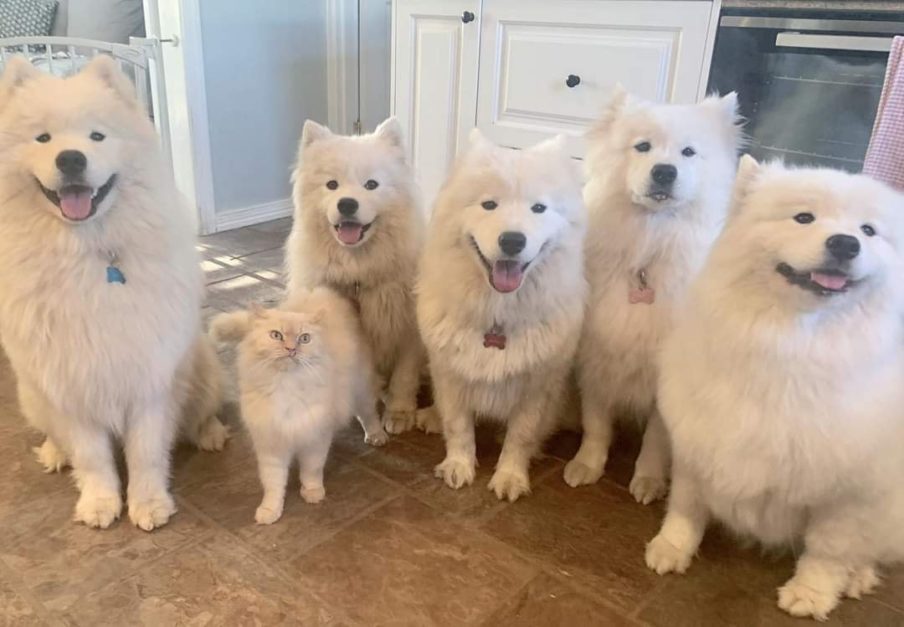 There's an impostor here…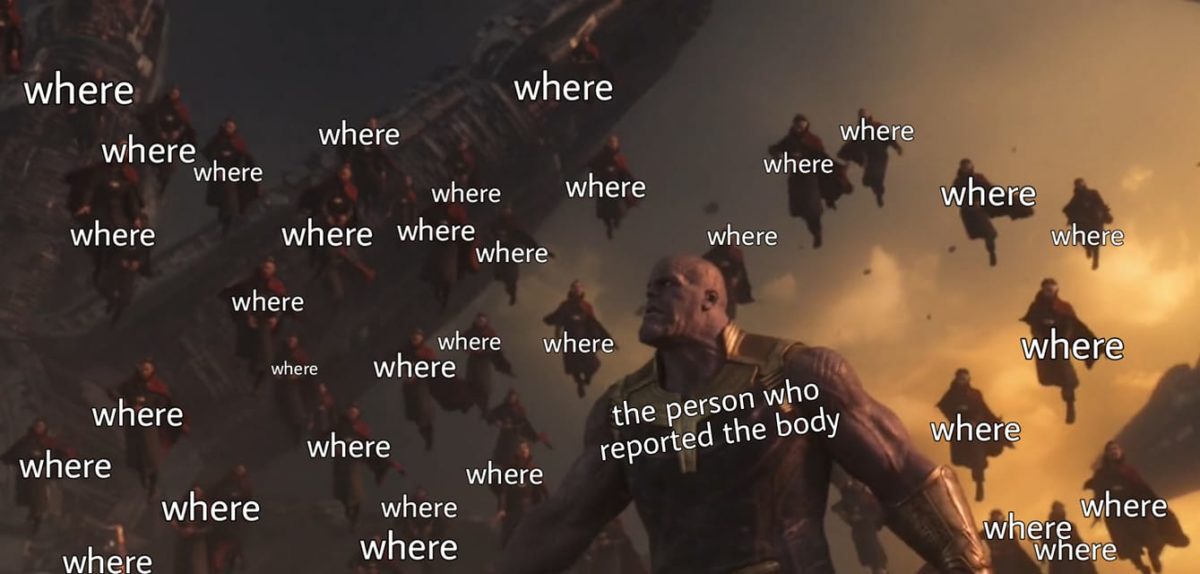 Everyone spamming "where" the second a meeting is called.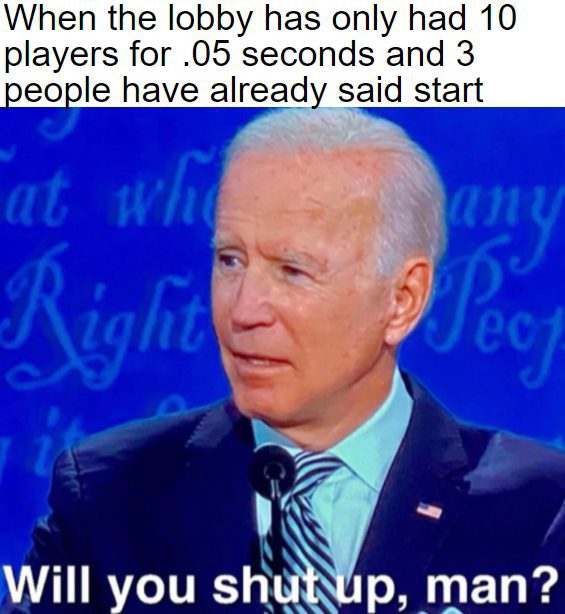 Will you shut up, man?
This woman's just obsessed with me.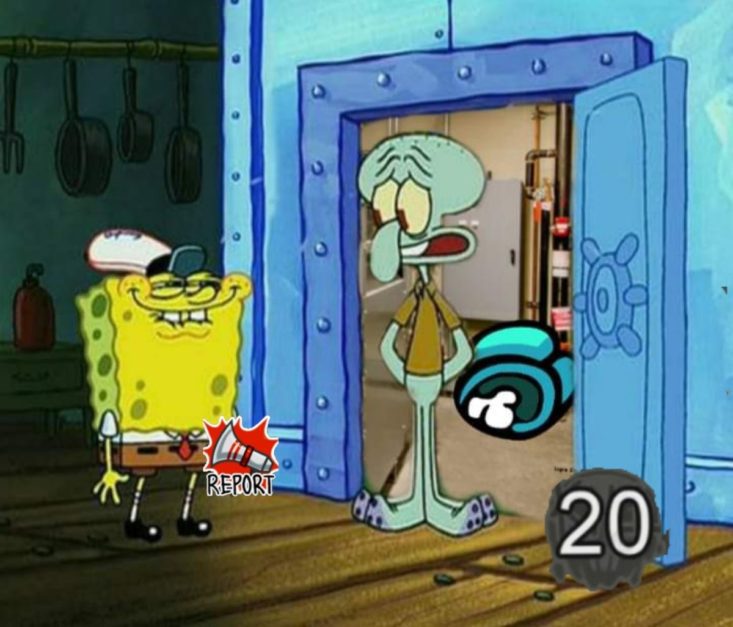 Busted.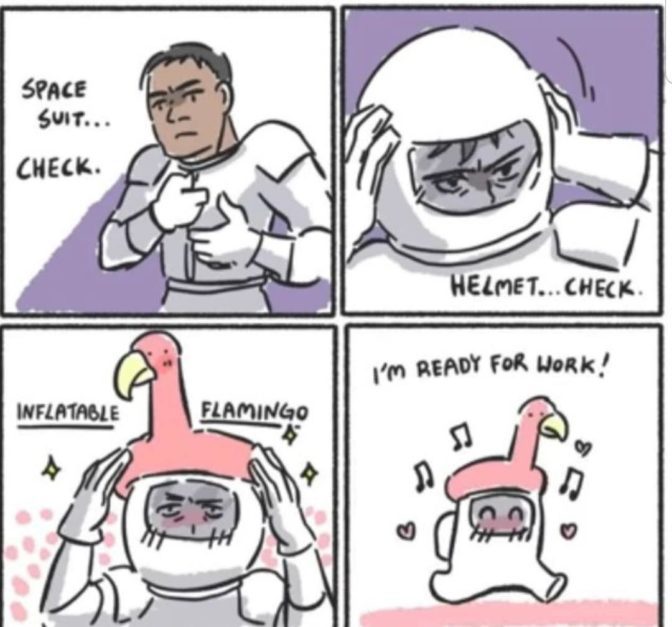 Unfortunately, the artist's name wasn't included in this.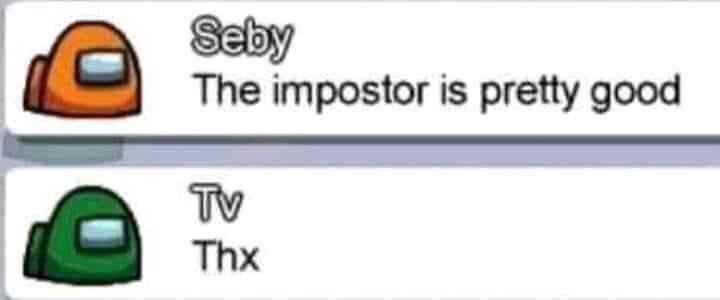 I need to try this.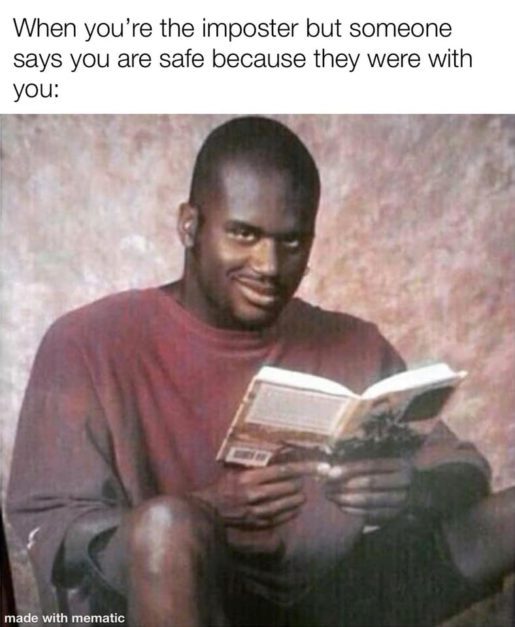 I definitely make the Shaq reading face when this happens.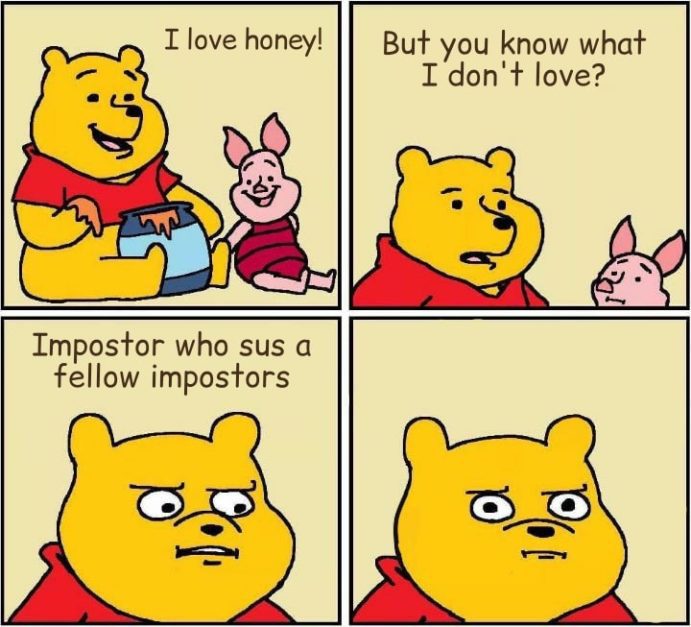 Impostors need to stick together.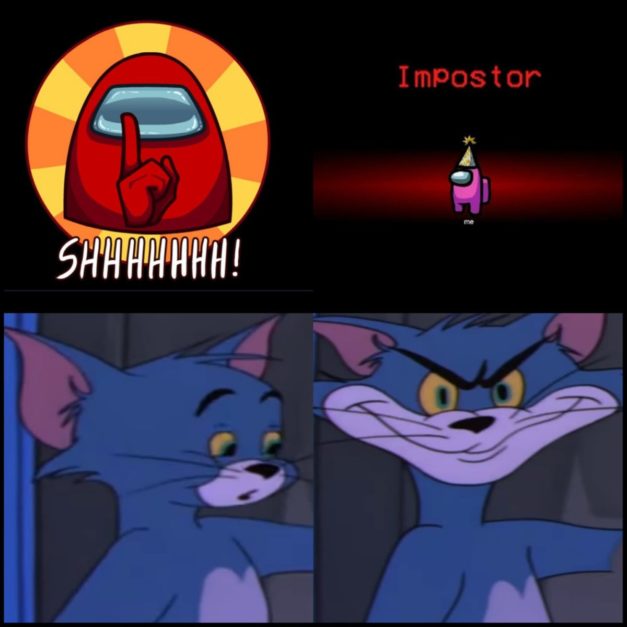 Gotta be careful not to make this face on when on Google Hangouts or Discord.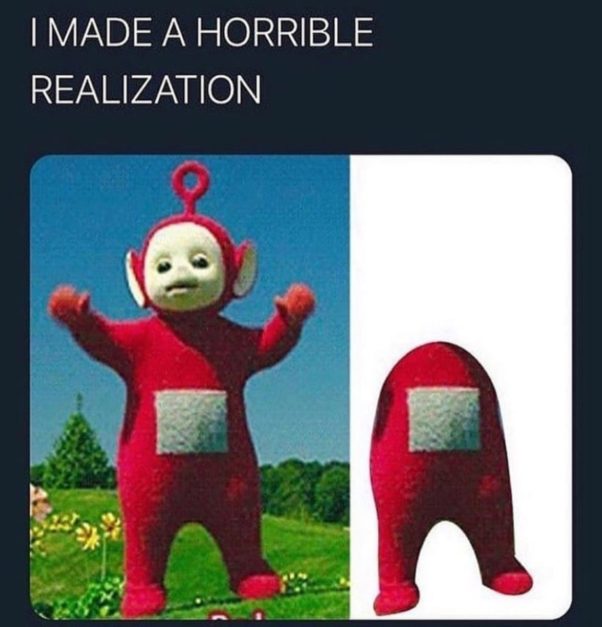 This can't be unseen.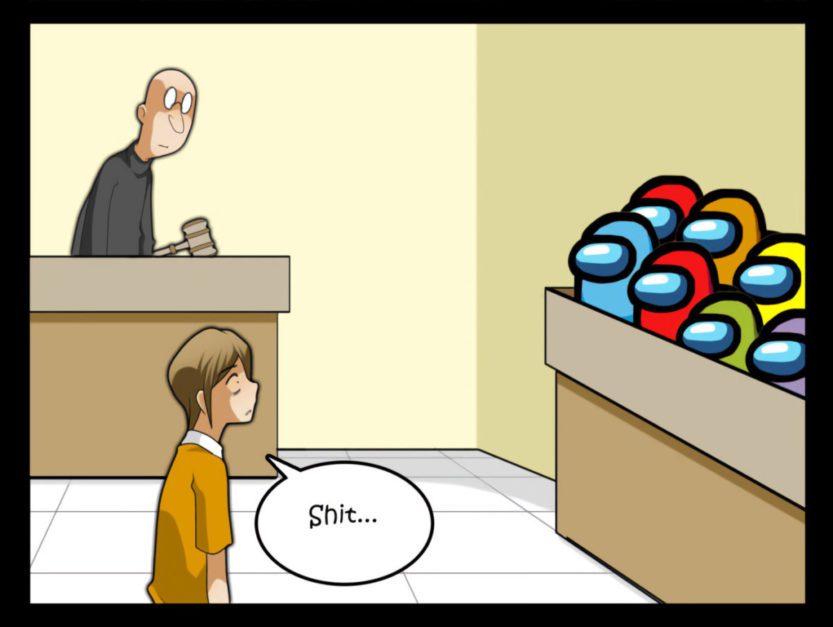 Pray you never have Among Us players on your jury.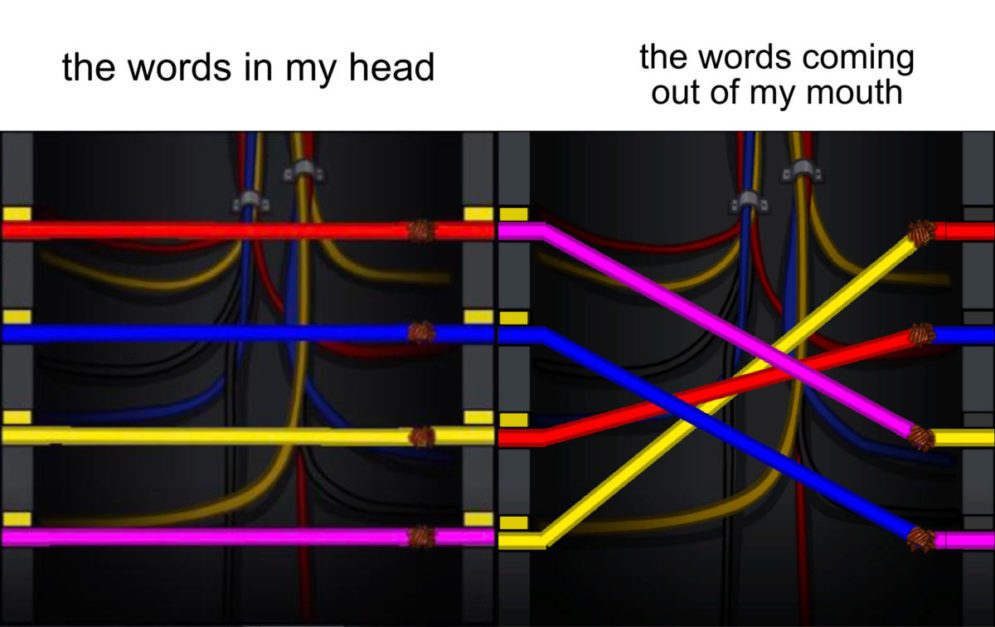 We've all been there.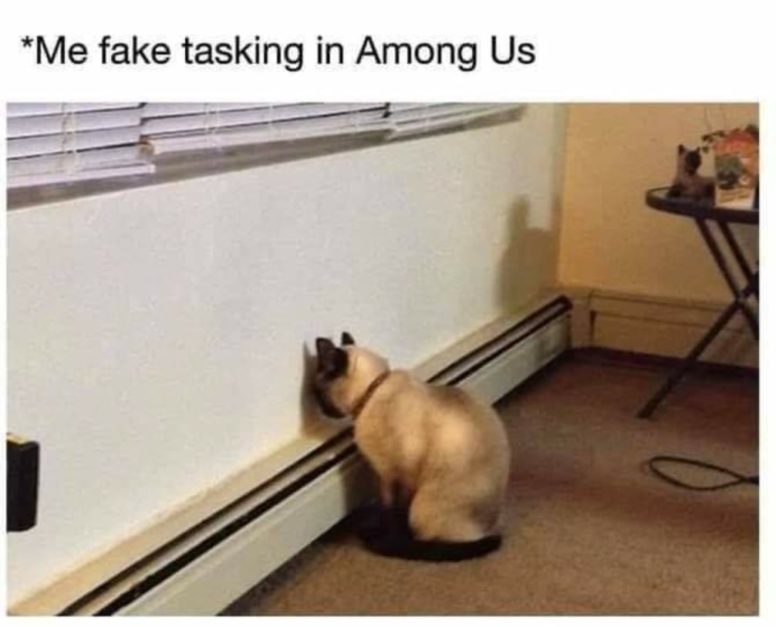 This how I felt when I tried the newer maps as Imposter but didn't know where the real tasks were.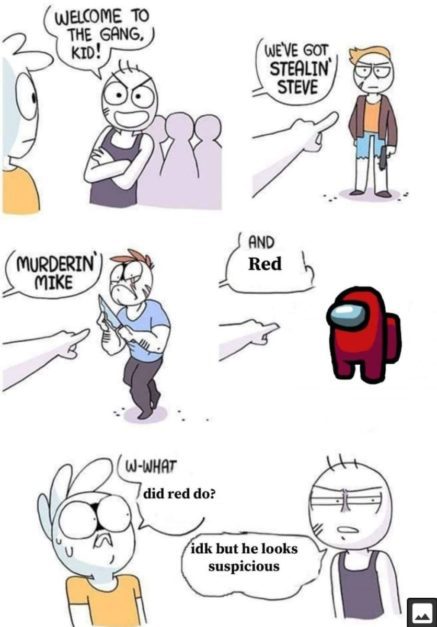 Red is scarier than Murderin' Mike and Stealin' Steve.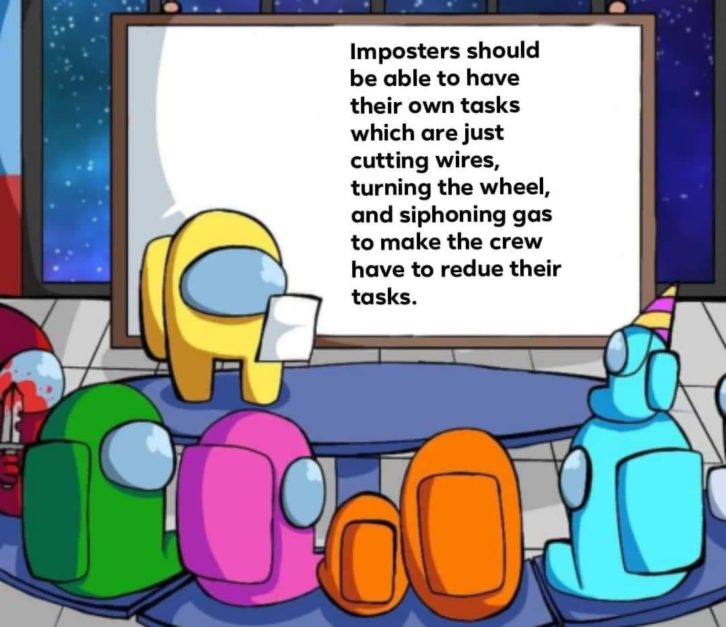 This would actually be a cool feature.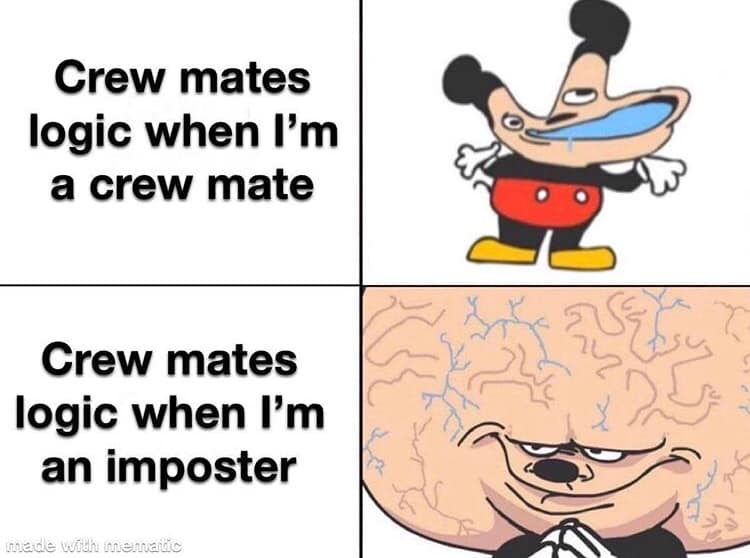 Yikes.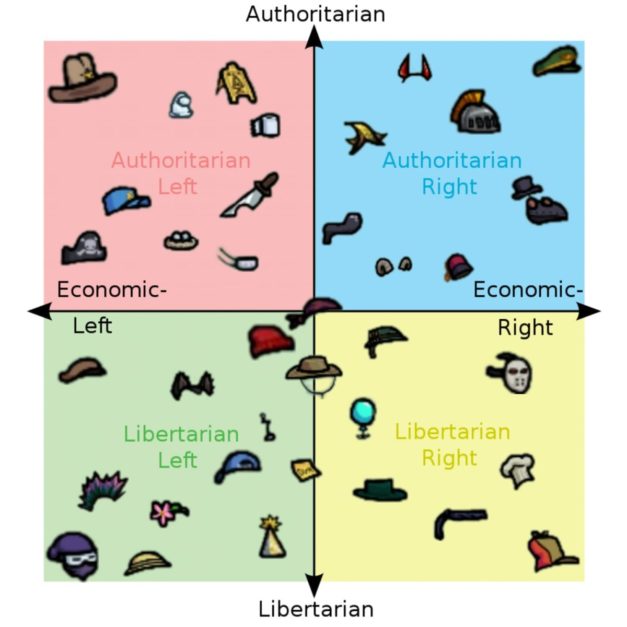 Among Us hat political map.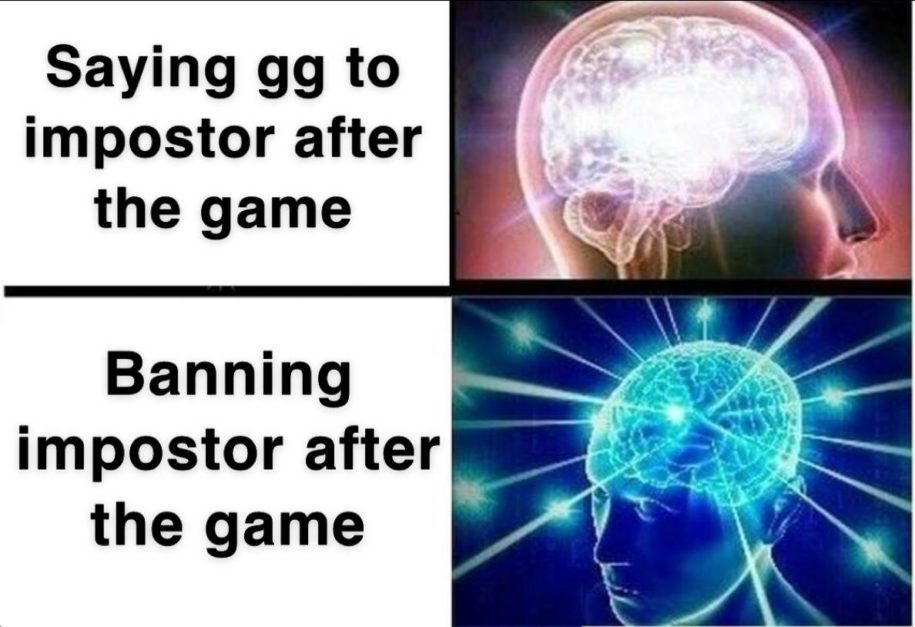 Nah never ban a good impostor.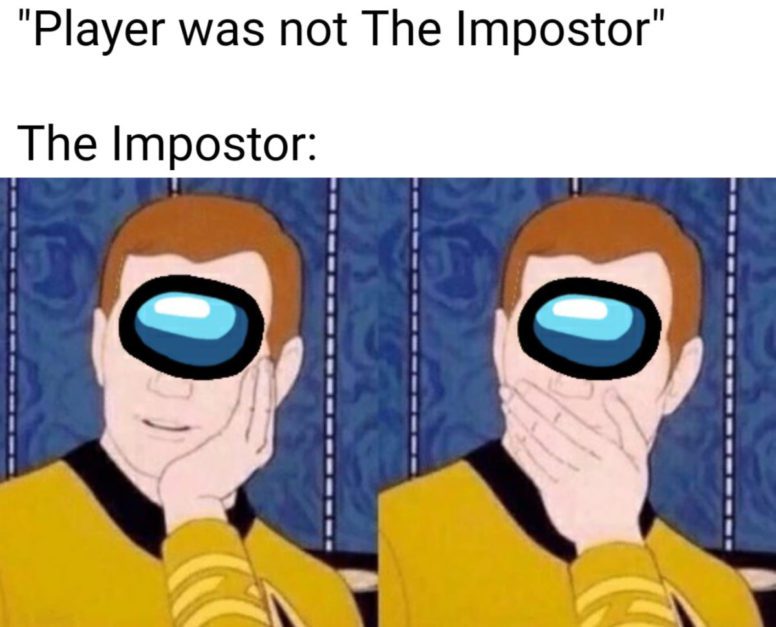 When you gotta fake being shocked.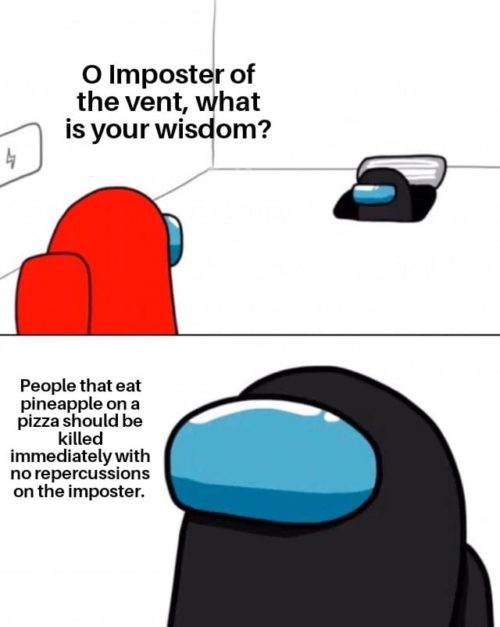 Pineapple on pizza memes crossover with everything. PS. I eat pineapple on pizza but I don't go out of my way to order a pizza with pineapple. I'll take it if it's free though.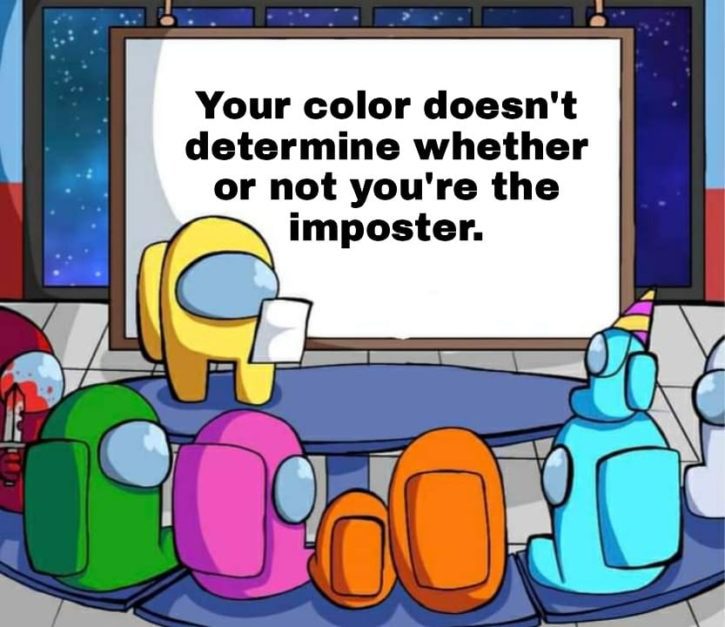 I've only just now Googled the spelling of Imposter or Impostor. Both are correct but "Impostor" is the more common spelling.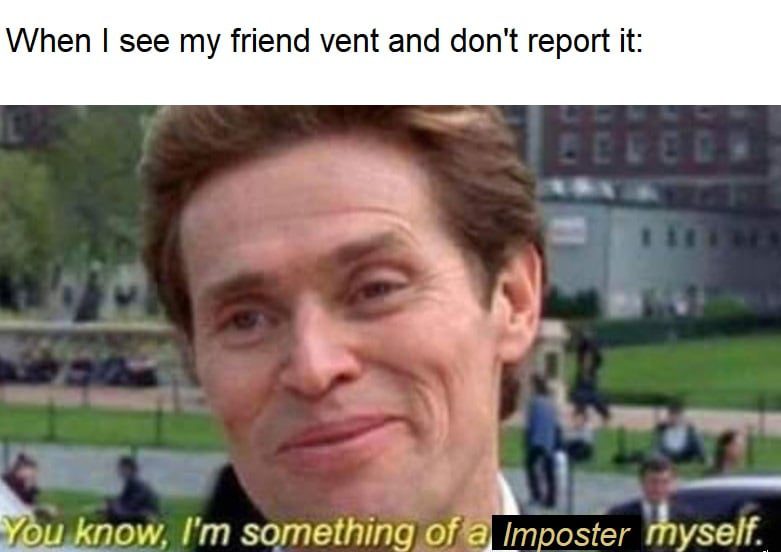 You should not report your fellow imposters.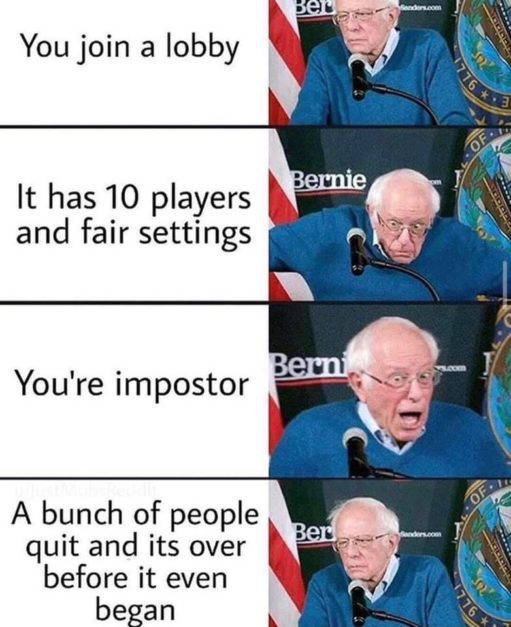 STOP QUITTING IF YOU DON'T GET IMPOSTOR.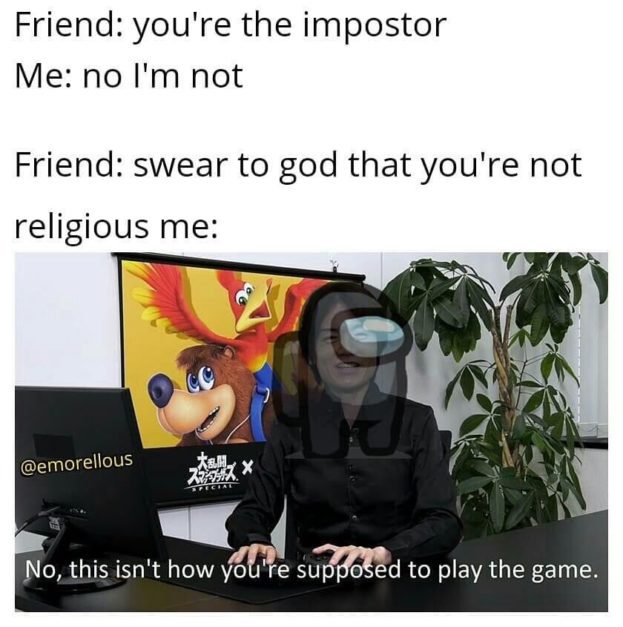 I'm not religious but love a good Masahiro Sakurai "No, This Isn't How You're Supposed To Play The Game" meme.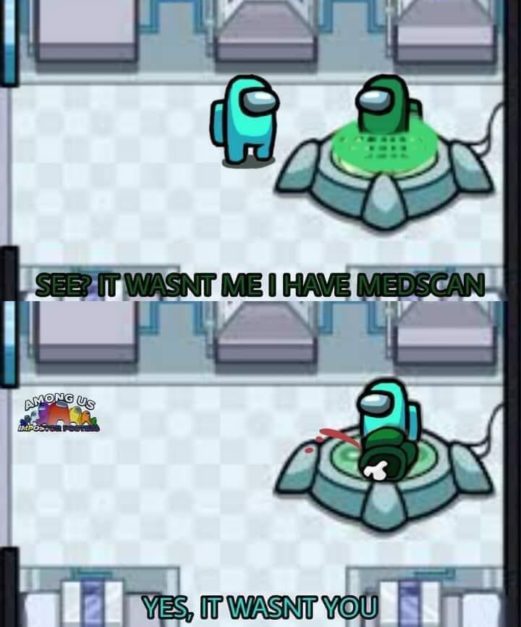 This is the ultimate betrayal.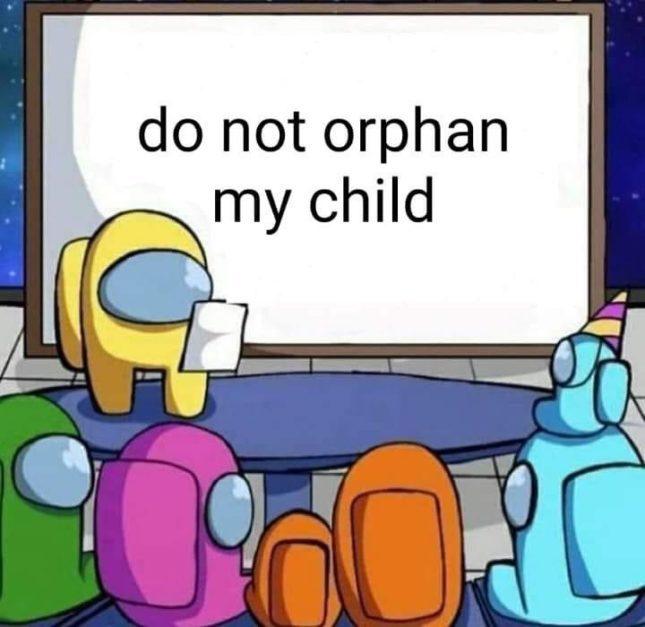 Please think of the poor orphan kids in this game.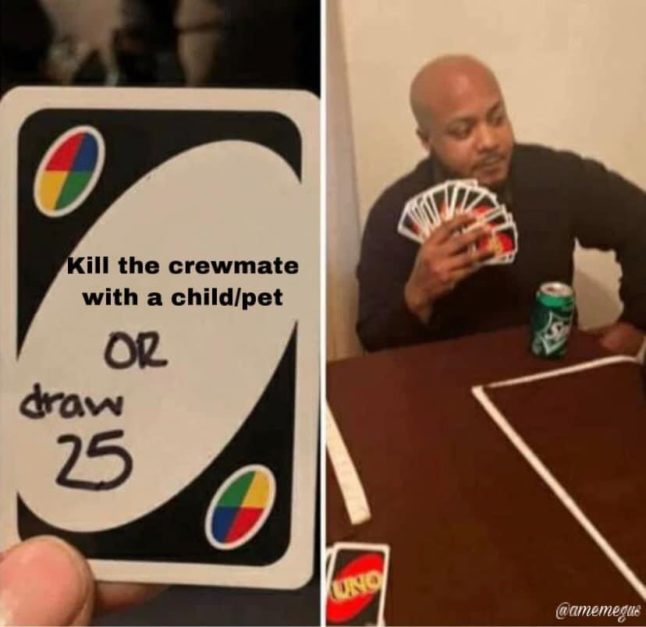 I love how people love children and pets in this game.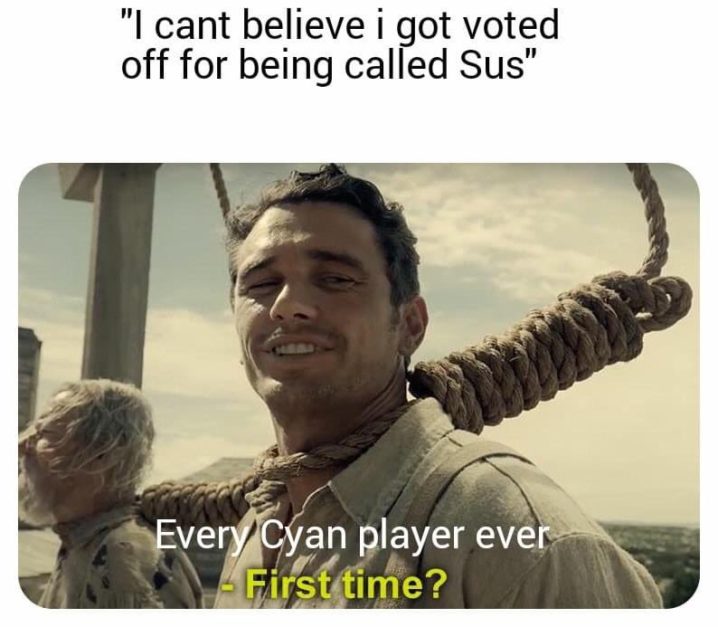 Poor Cyan players.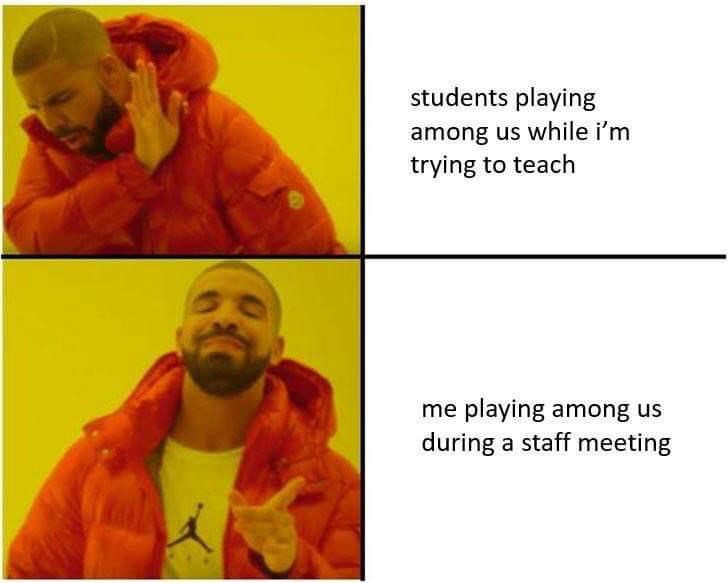 I'm pretty sure my teacher friends do this.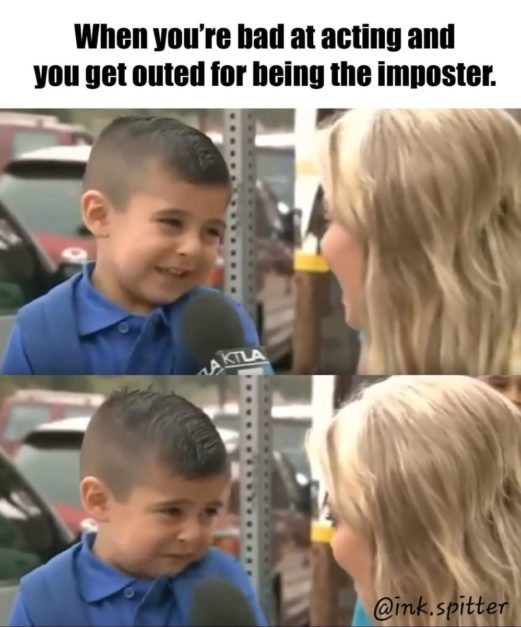 Some people are terrible actors.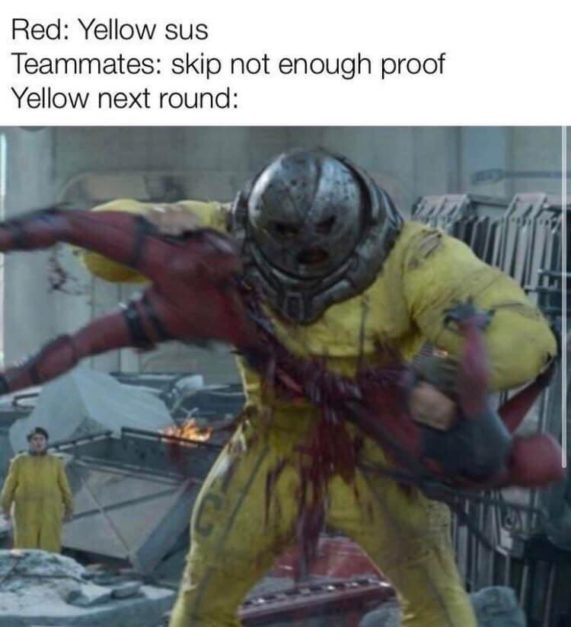 Yep, this is pretty common.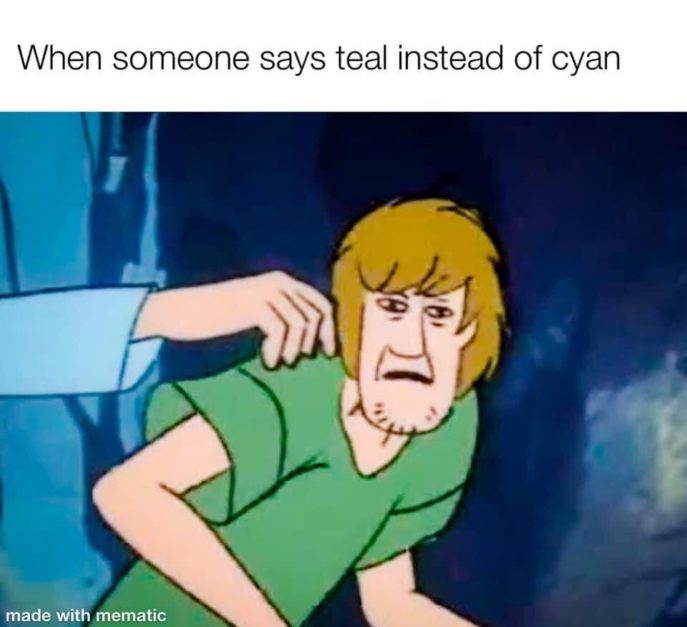 I've never seen anyone say teal instead of cyan.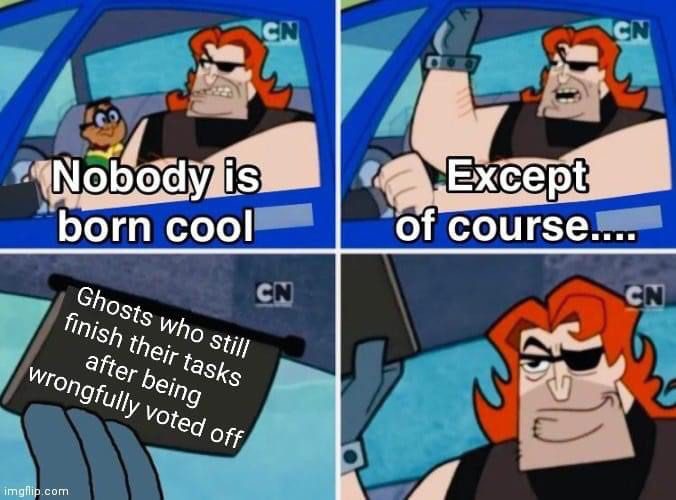 Please finish your tasks, ghosts.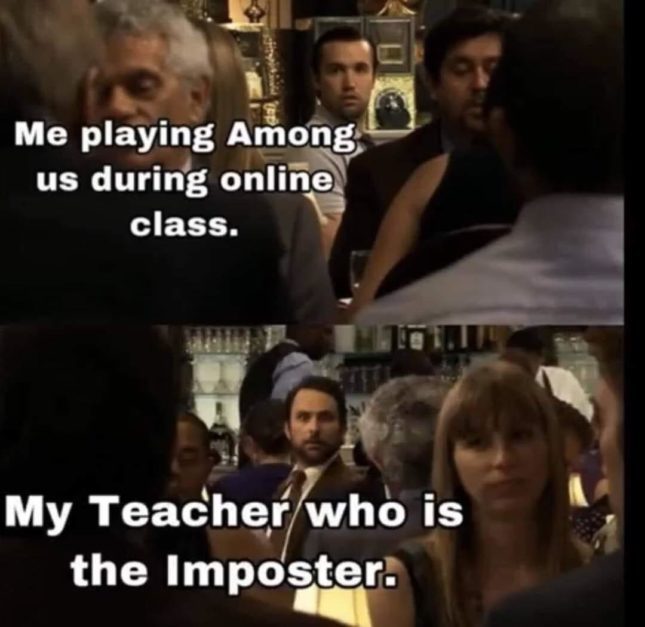 Unlike you'd recognise the teacher's username but sure, I love It's Always Sunny in Philadelphia.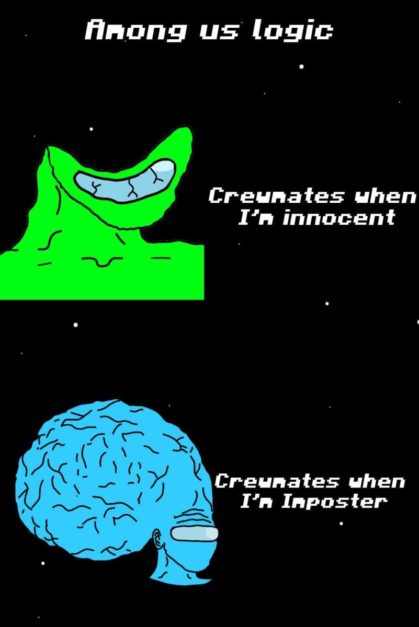 This is pretty similar to another one. Sorry.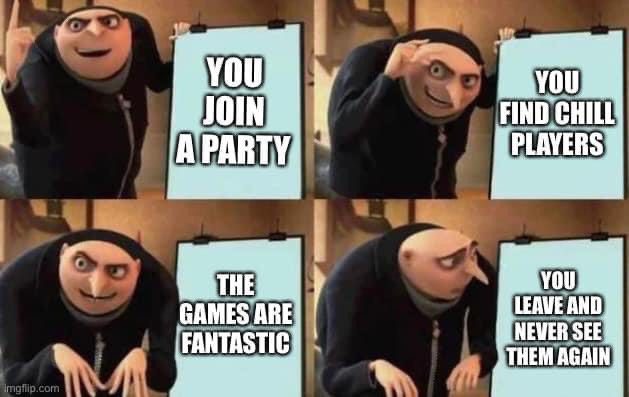 I've played with some really good players and I miss them.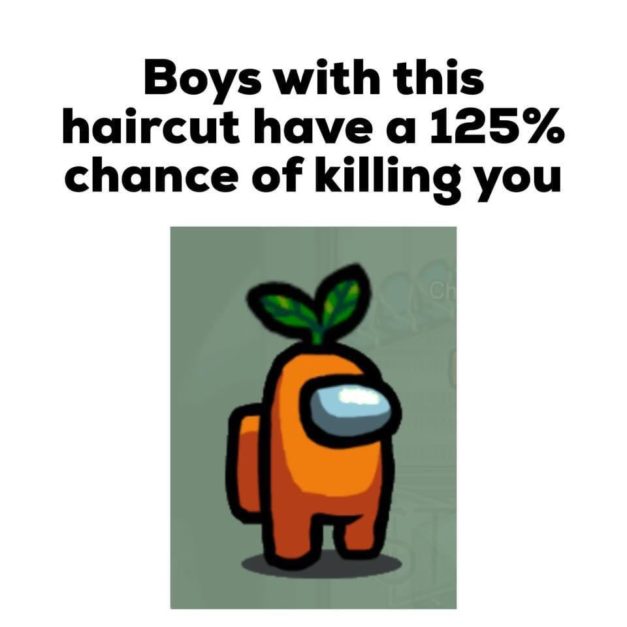 Don't trust a carrot.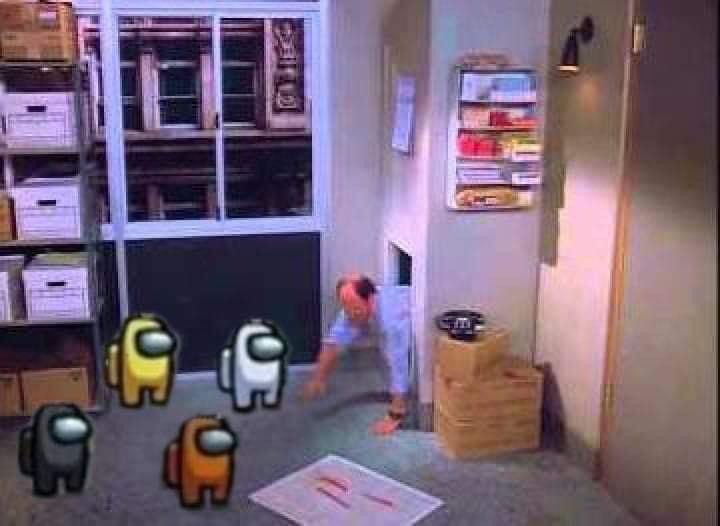 Oh no.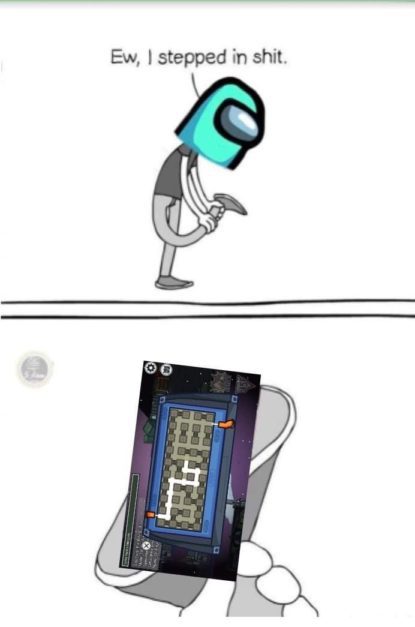 This is 100% the very worst task.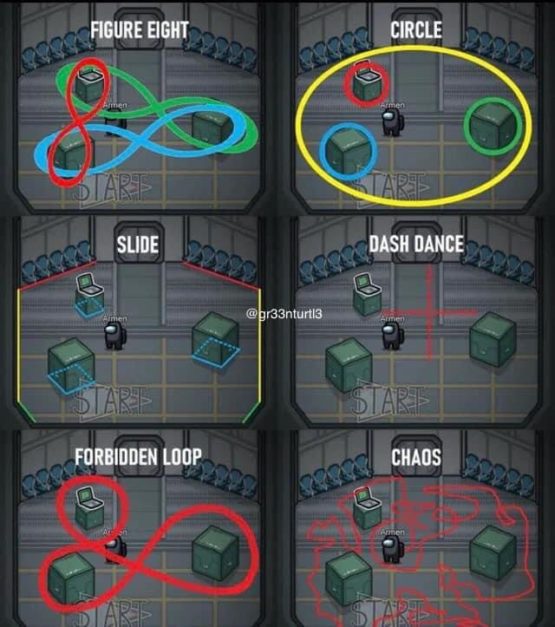 One of my work friends always gets people to race whilst waiting for the game to start. It's just a round circuit counter-clockwise.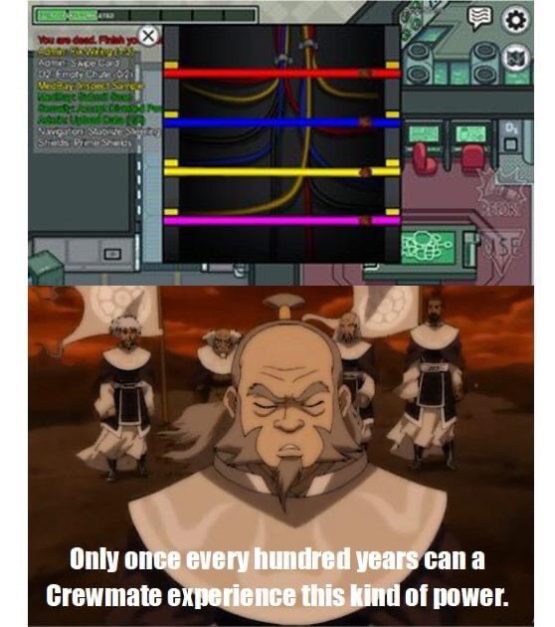 This has been getting more and more common for me.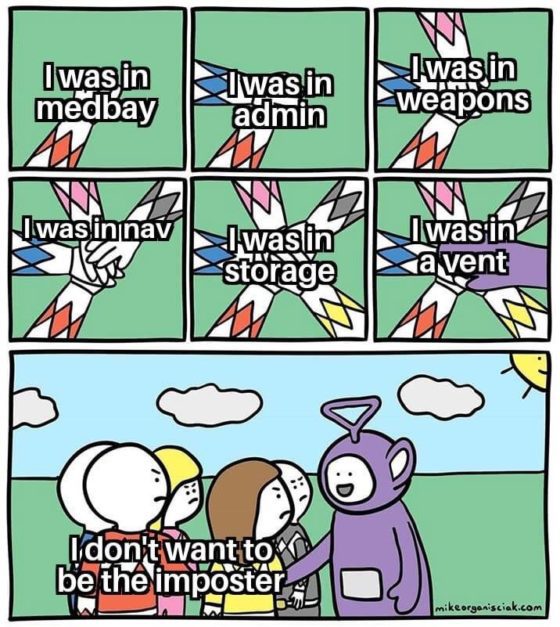 Don't be like that.
Sabotaging the lights is a good strategy.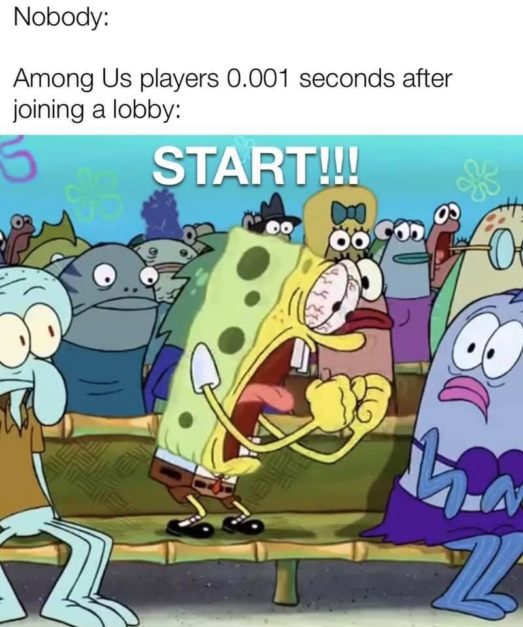 These are the worst people.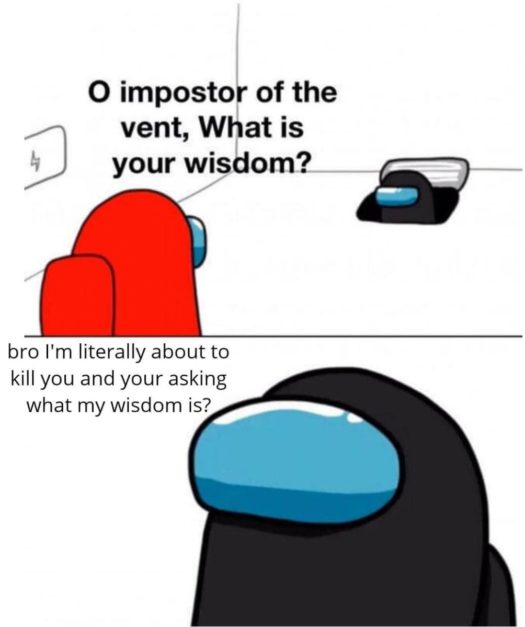 This is a pretty dumb meme template I guess.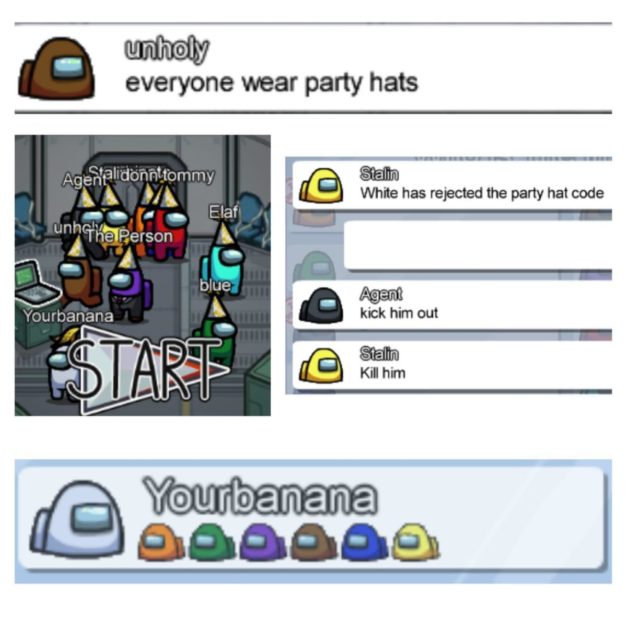 Don't mess up the party hat code.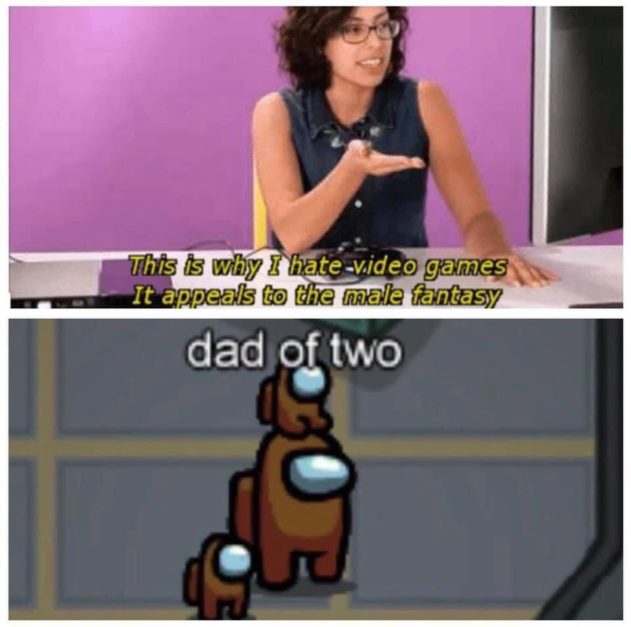 No comment.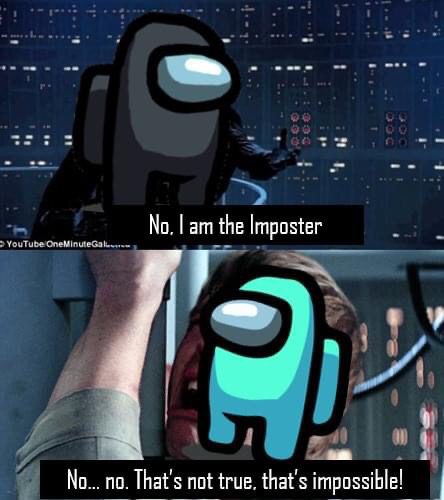 There can be some massive shocks in this game.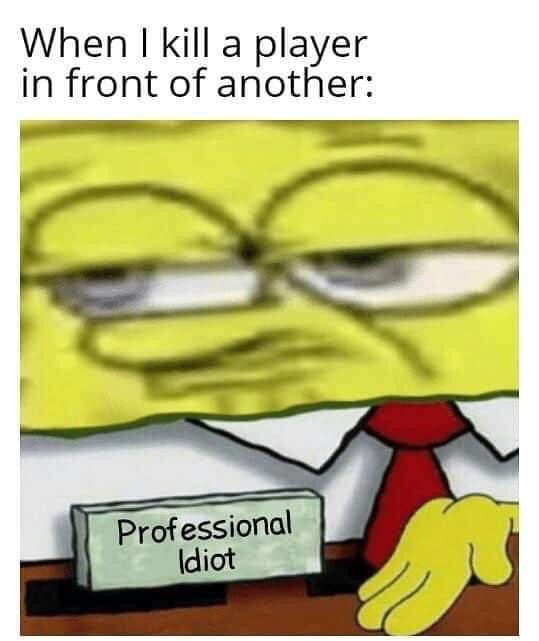 It happens.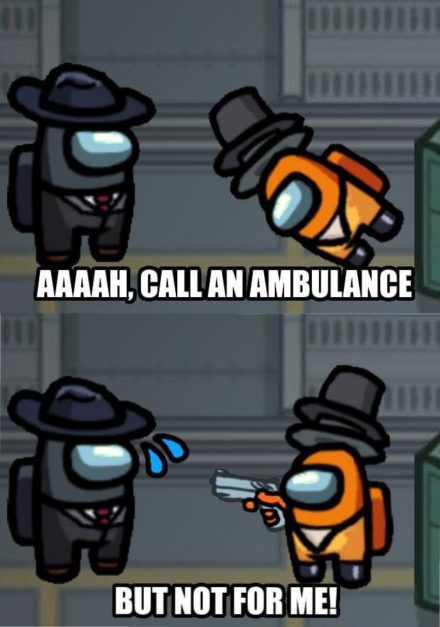 I love this meme even if it doesn't really make sense for Among Us.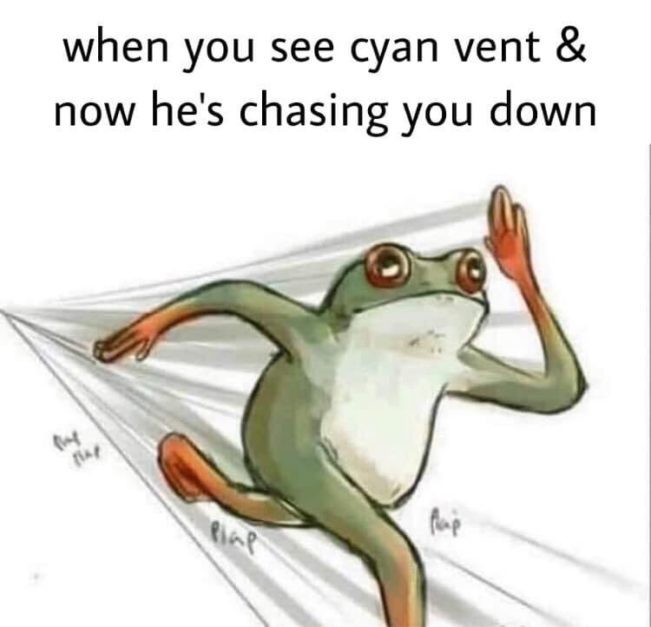 Gotta get to the button. Gotta call a meeting.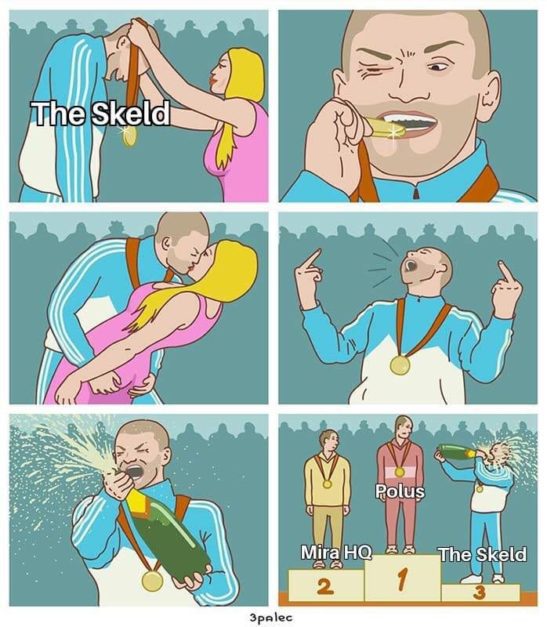 One of my friend groups spent weeks playing only on The Skeld, always too scared to try Mira HQ or Polus. It gets boring always playing the same levels, you've gotta try Polus and Mira HQ!!!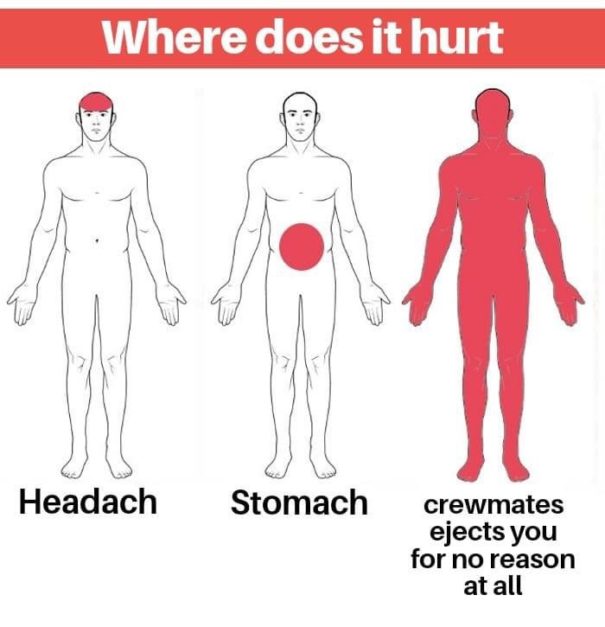 This actually does hurt at times.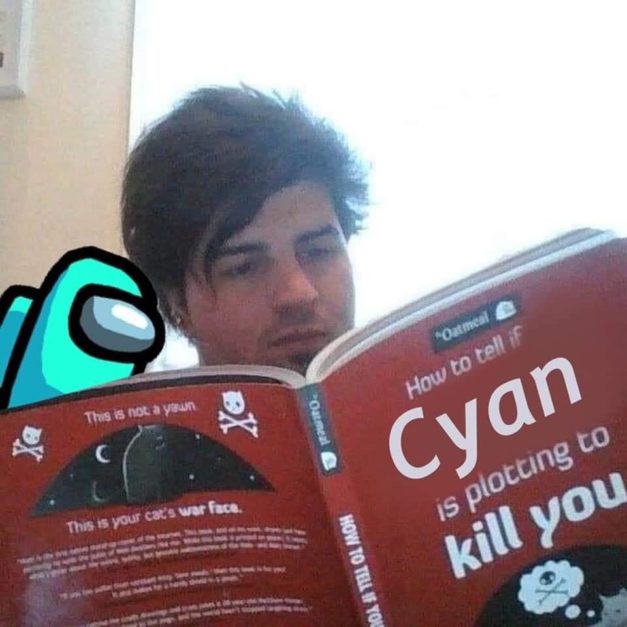 Cyan is always plotting to kill you.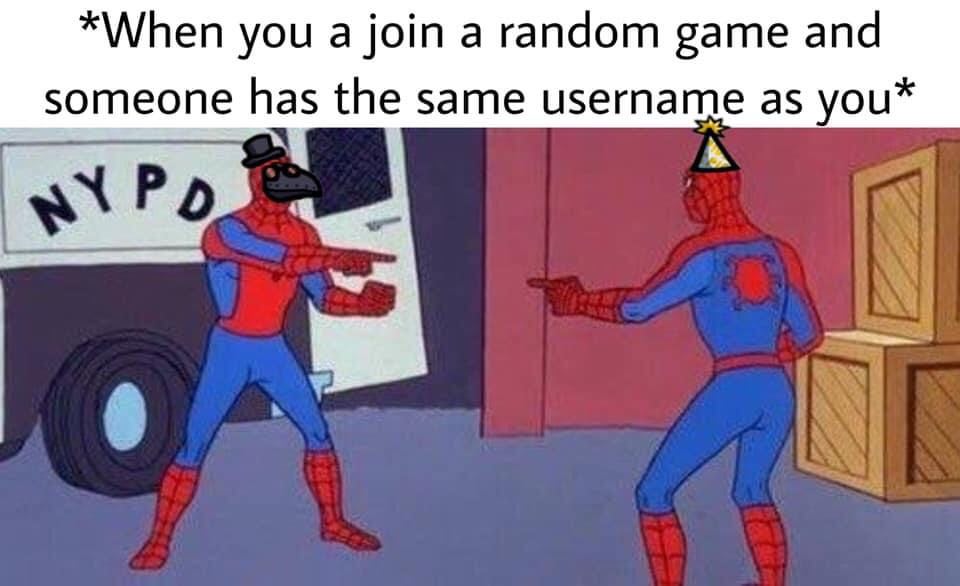 This has never happened to me… I guess not many people want to be Keith.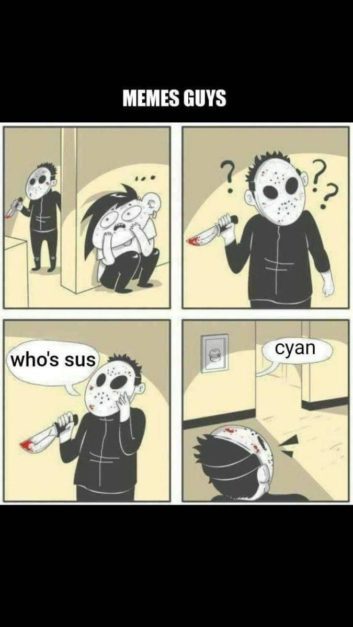 Yep.

I wish the children could kill the other children.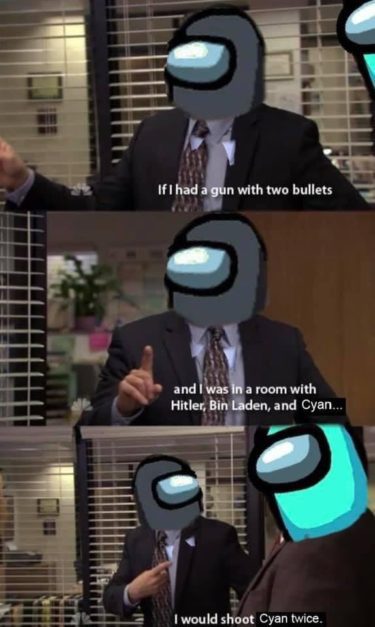 Ouch.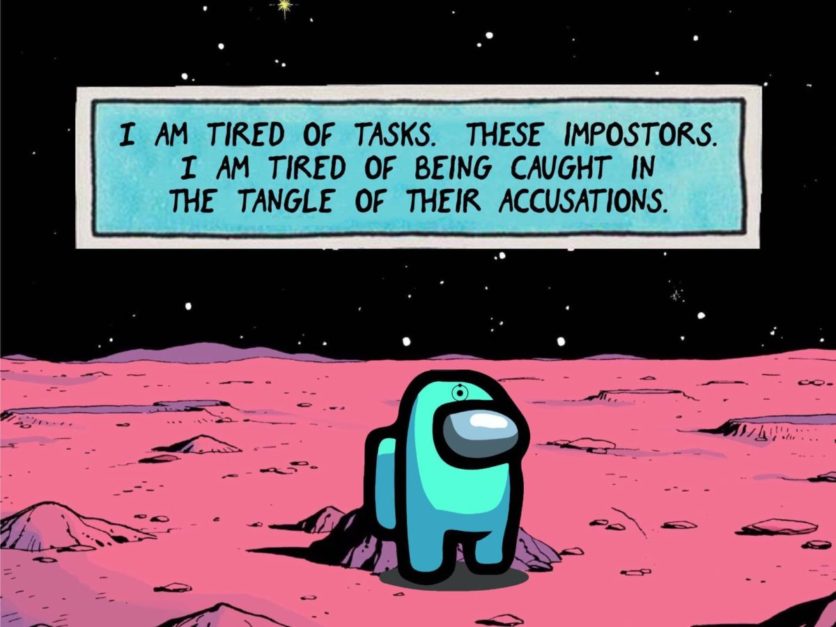 I love Dr Manhattan.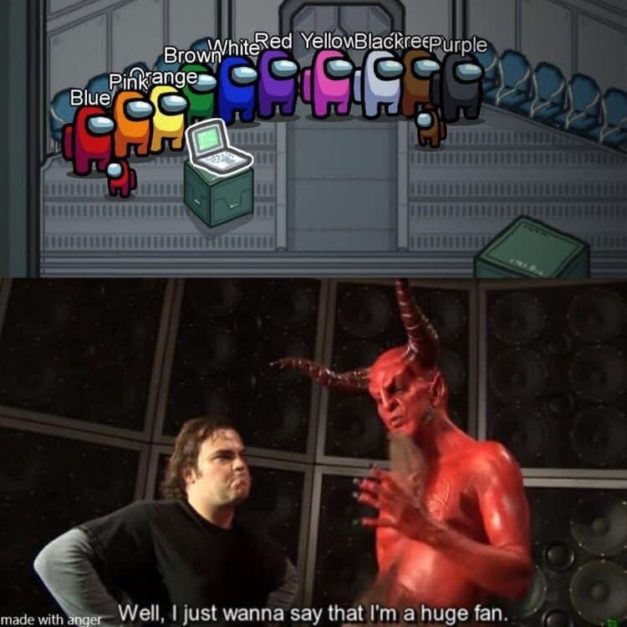 I hate players who have colours as their names.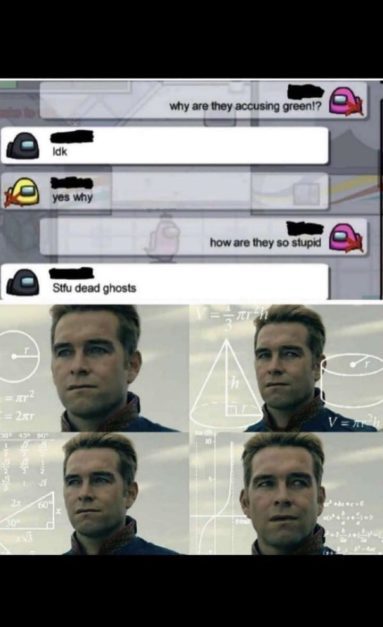 This is good.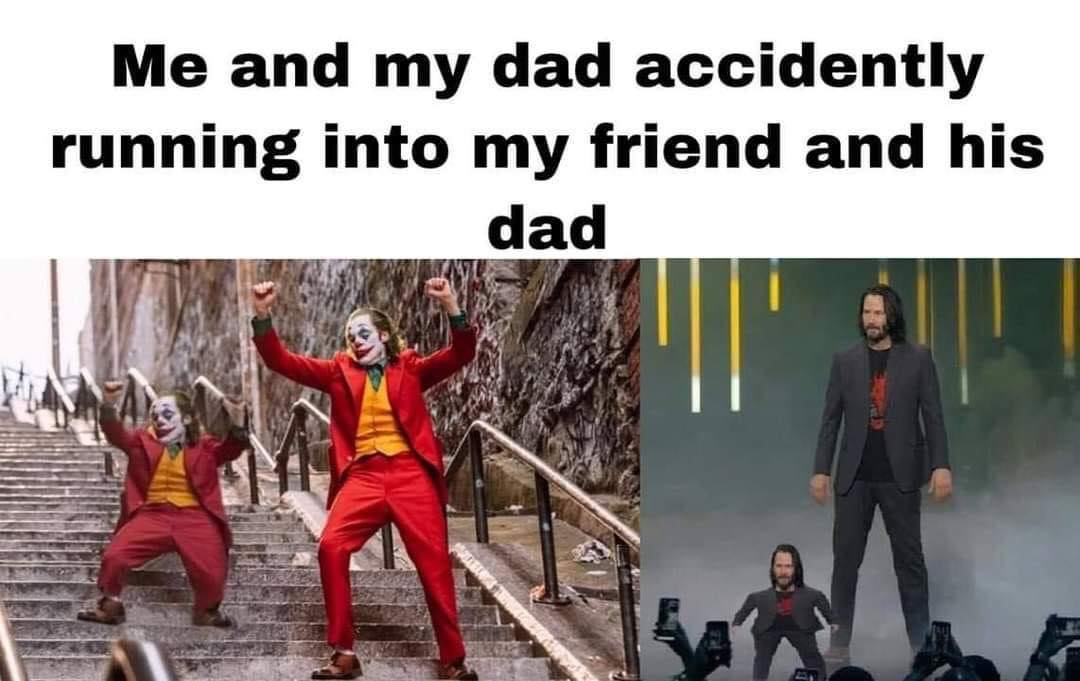 This is so cute.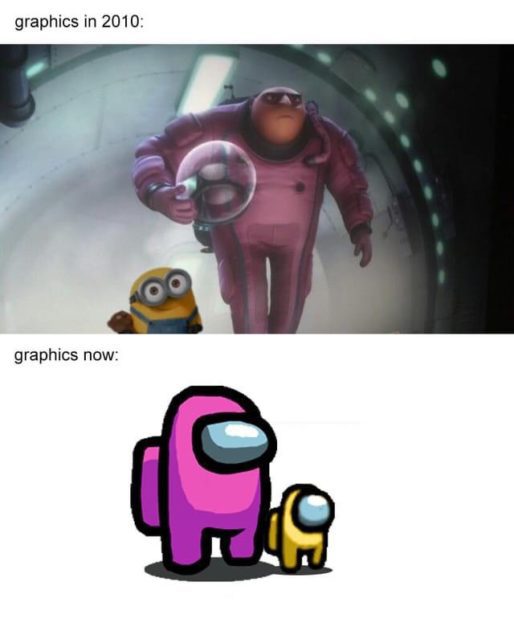 I love these simple graphics.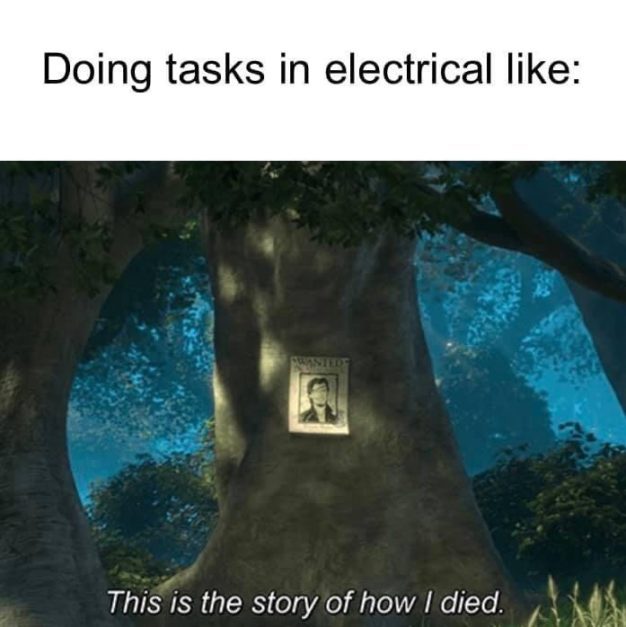 RIP.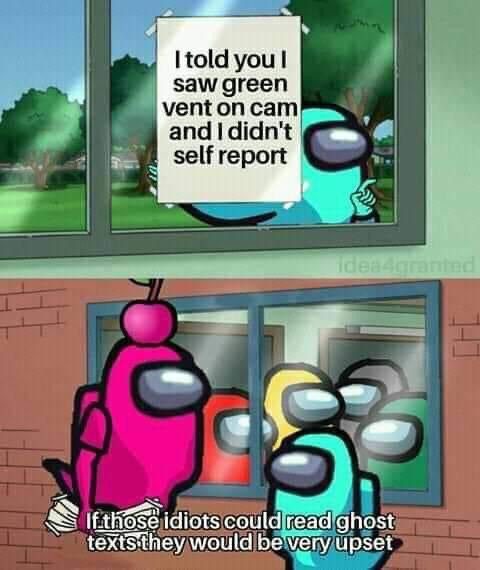 Love King of the Hill.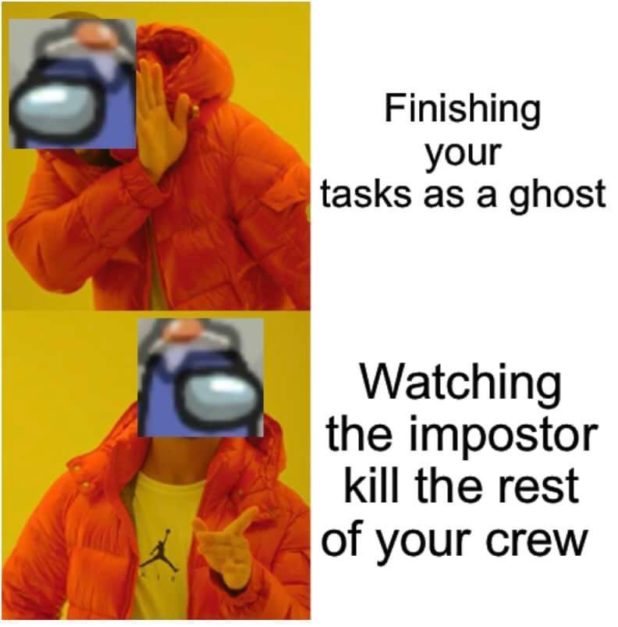 I'm way more familiar with the Drake meme than I am his actual music.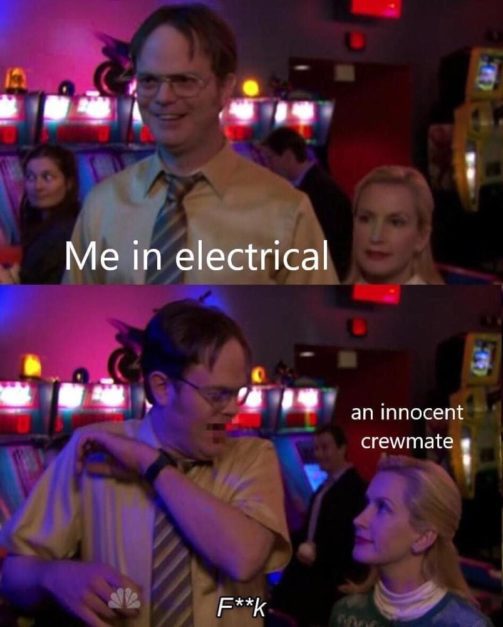 This is slightly different from the previous version.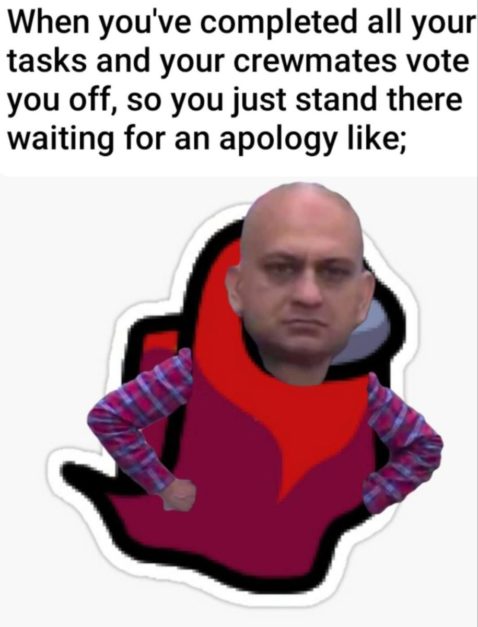 You won't get apologies in this game.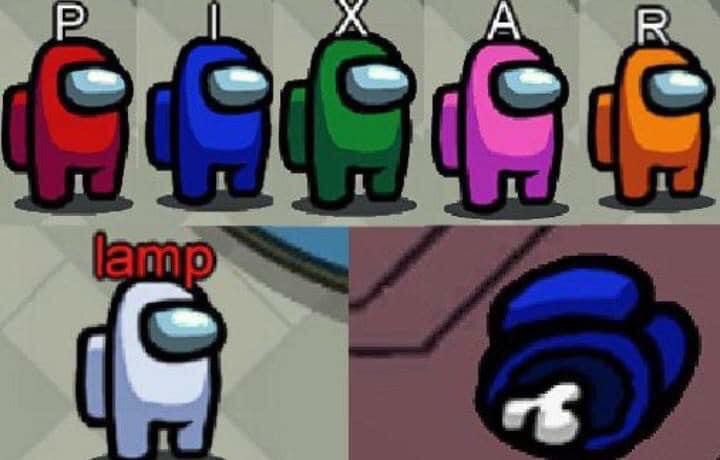 This is clever.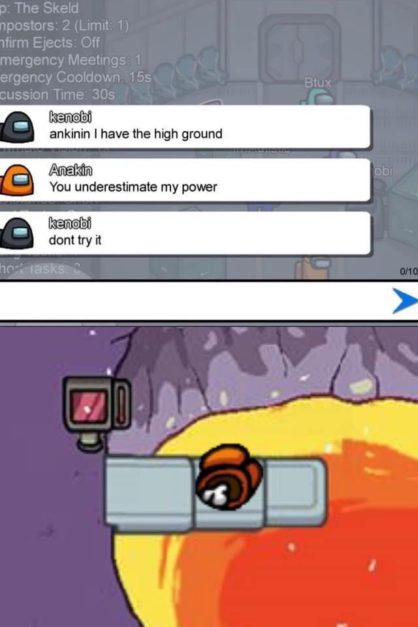 Another Obi-Wan Kenobi & Anakin Skywalker Star Wars Episode 3 meme.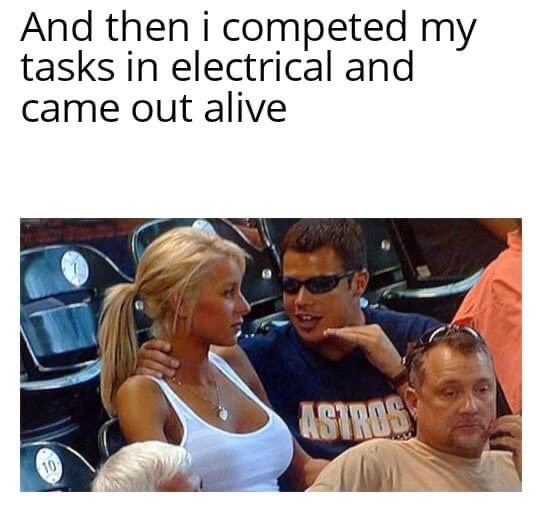 This is worth bragging about.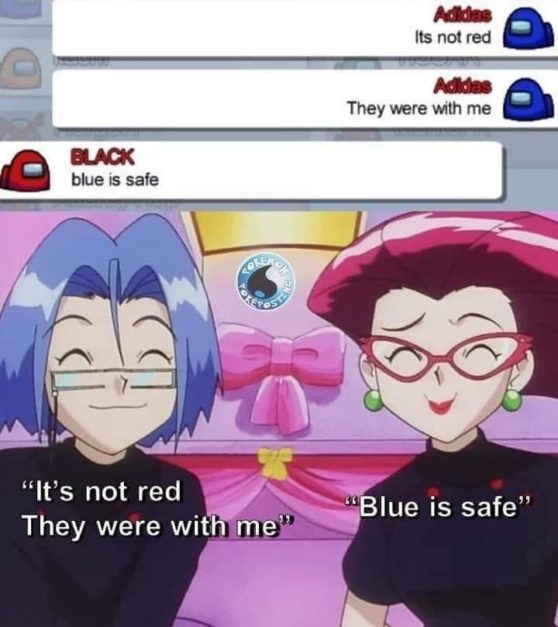 I've done this.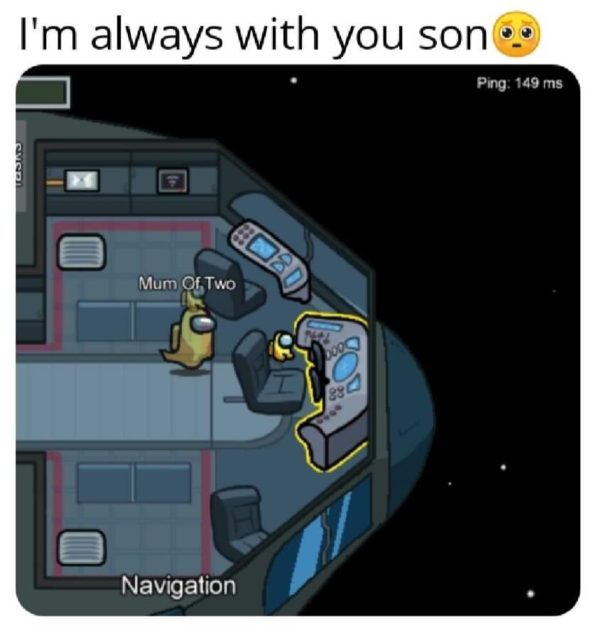 Sad story.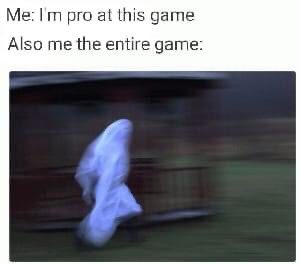 When you think you're good bust you actually spend most of your time as a ghost.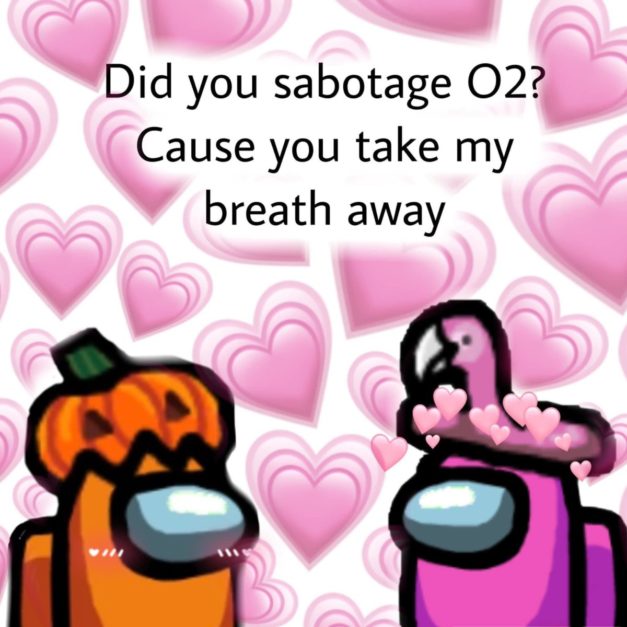 Save this one for Valentine's day.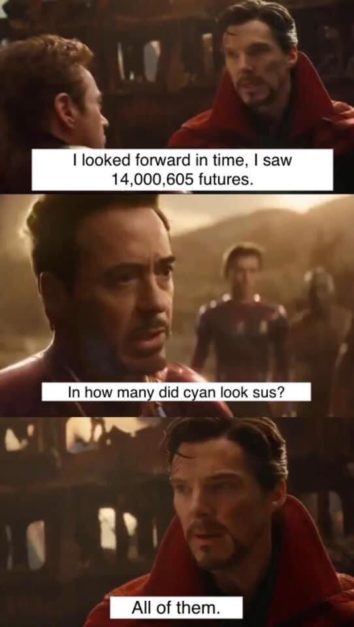 Even Dr Strange knows that Cyan is always sus.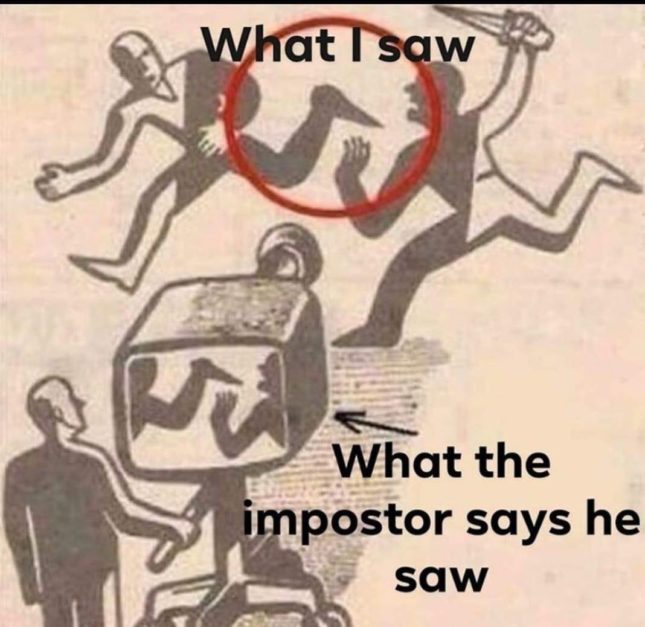 Classic impostor move.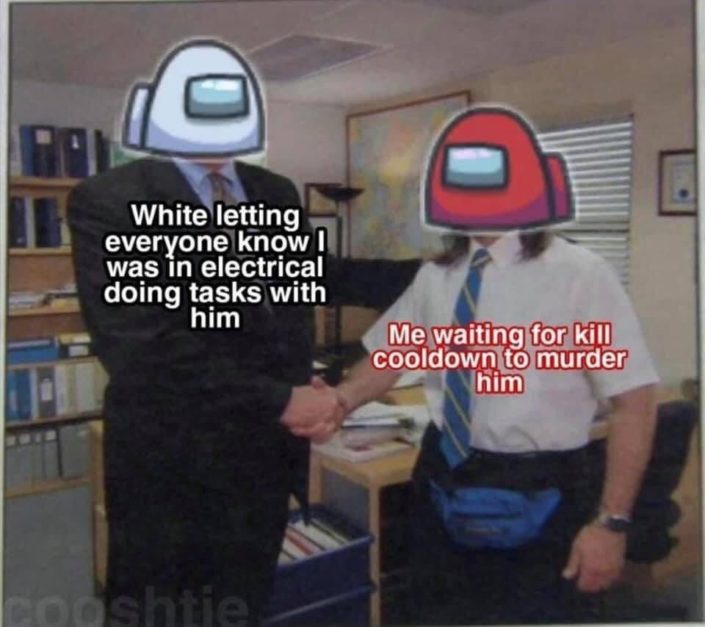 Using cooldown as a time to earn trust is a good tactic.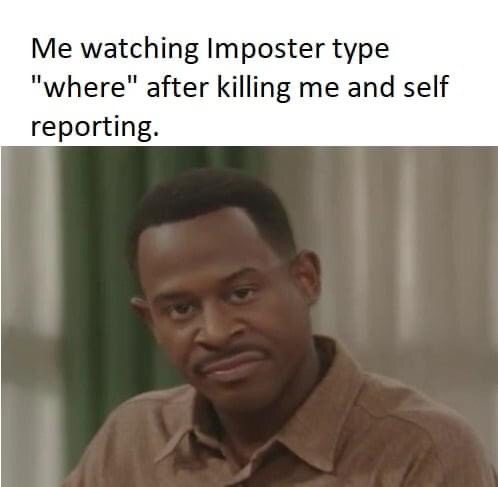 This gotta be annoying.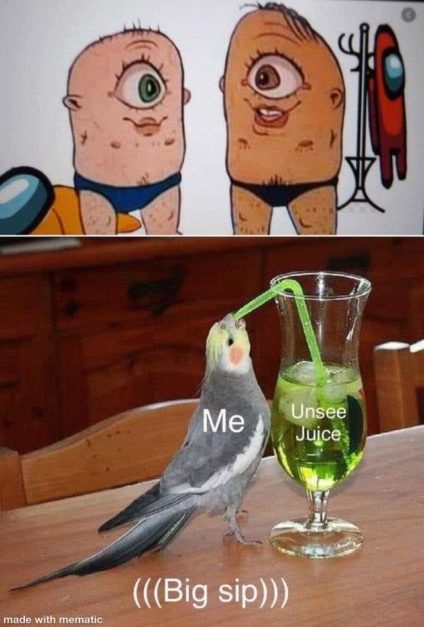 Not sure of author credit, but maybe they don't want their name attached here.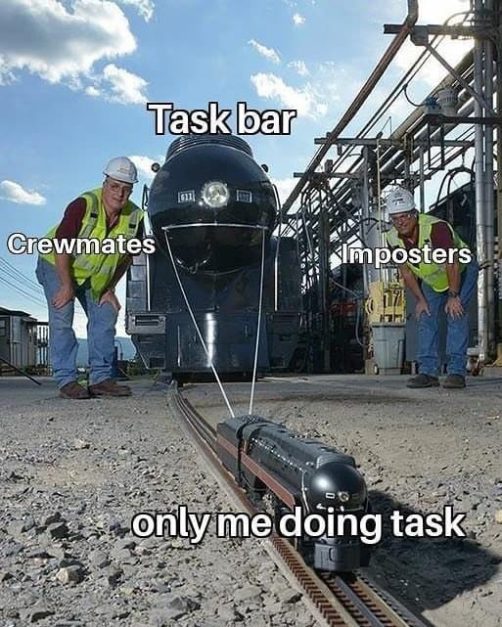 Please do your dang tasks.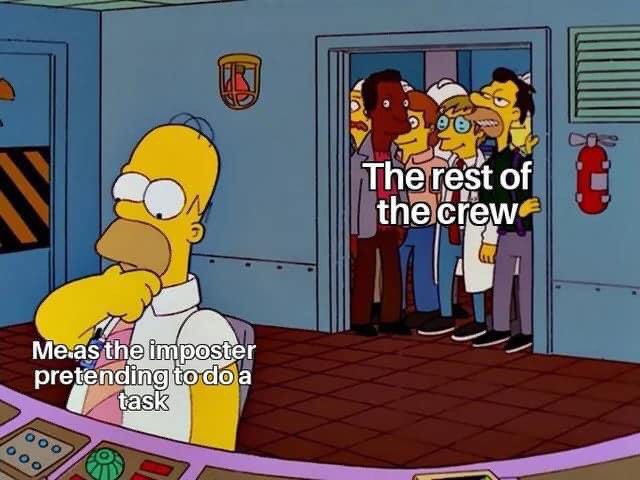 It's really hard to be imposter on a map you don't know well.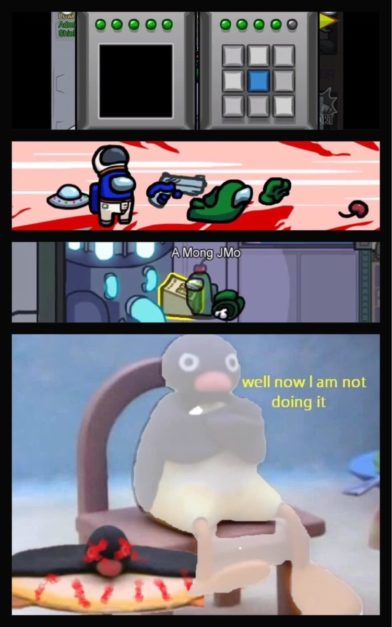 Hate this task, but there is definitely less pressure to do it first try when you're dead…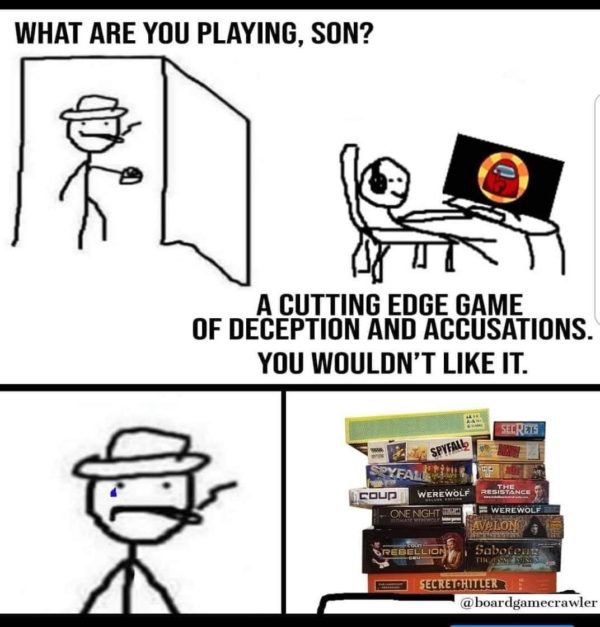 I love games like Coup, Secret Hitler, Avalon, The Resistance, One Night Werewolf etc.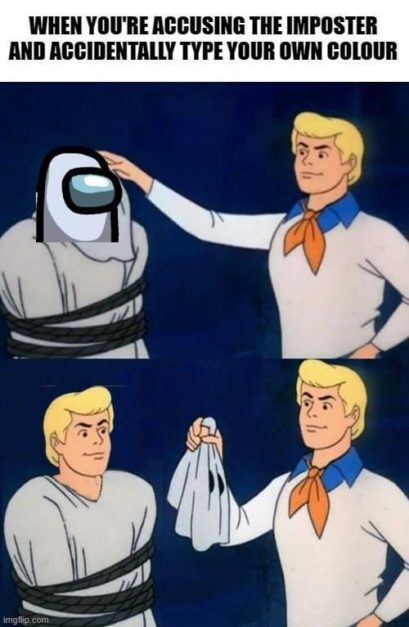 I've never done this.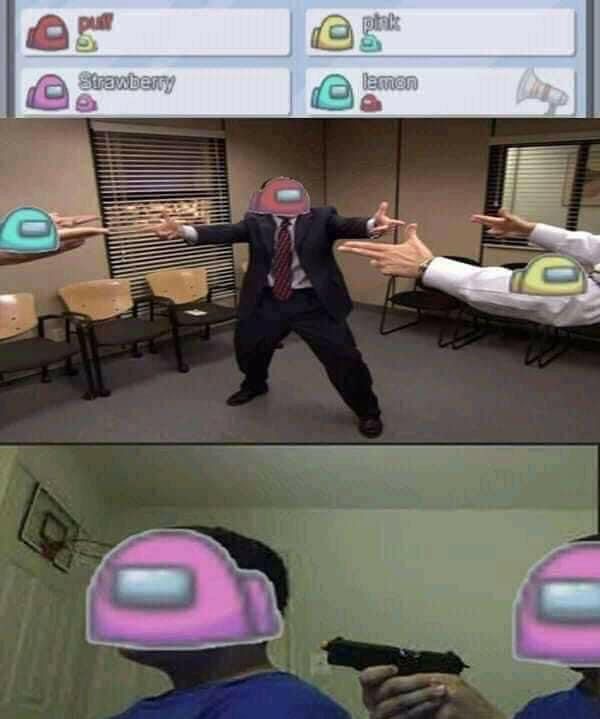 Why?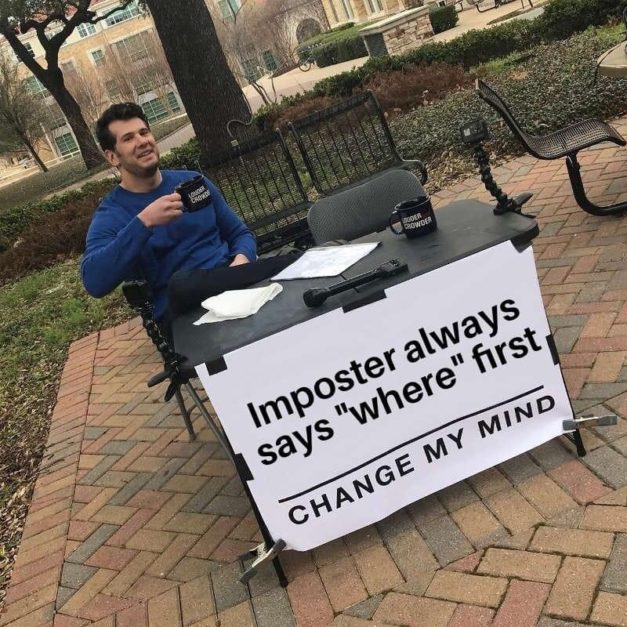 This seems accurate, always trying to deflect attention.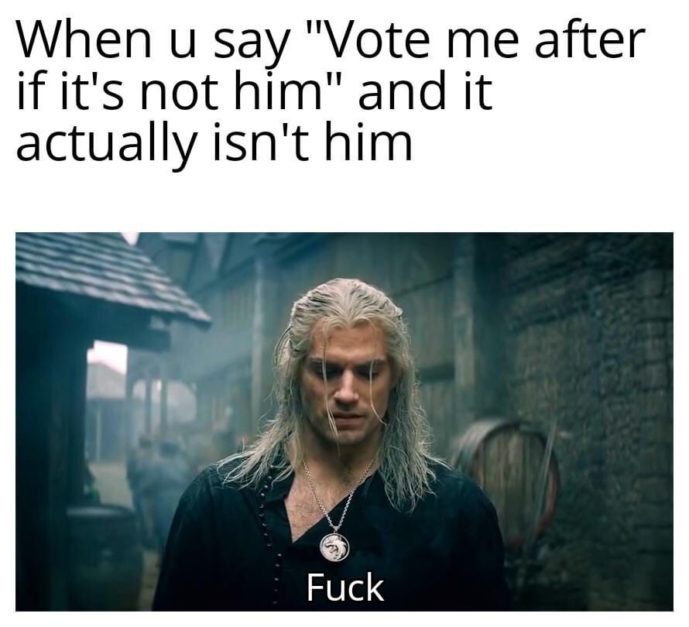 Poor Geralt of Rivia. I'm keen for the next season of The Witcher by the way.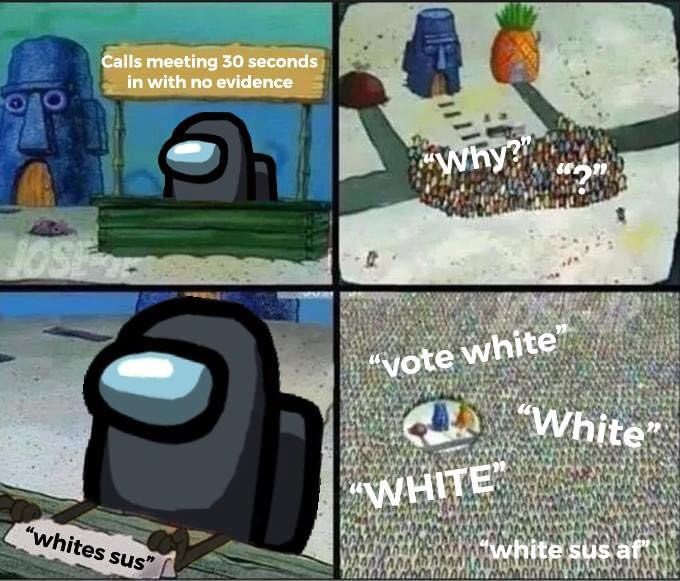 Terrible.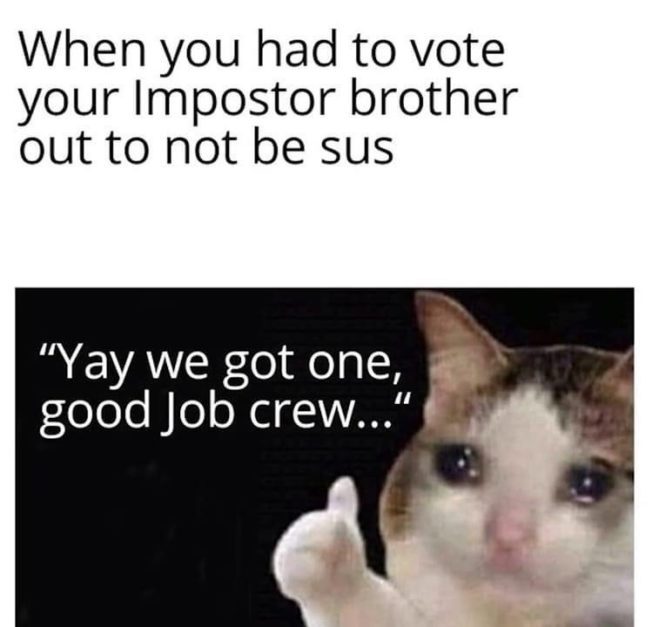 This is kinda how it feels sometimes.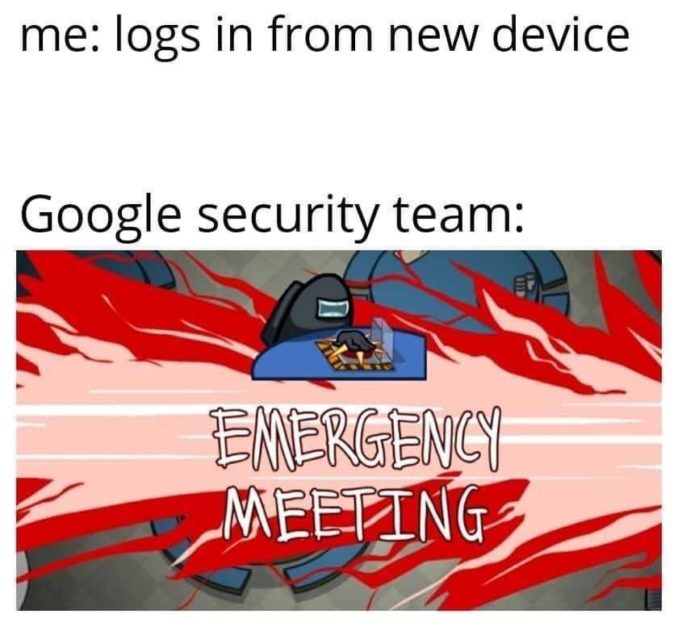 I like that they do this, yet it drives me crazy at the same time.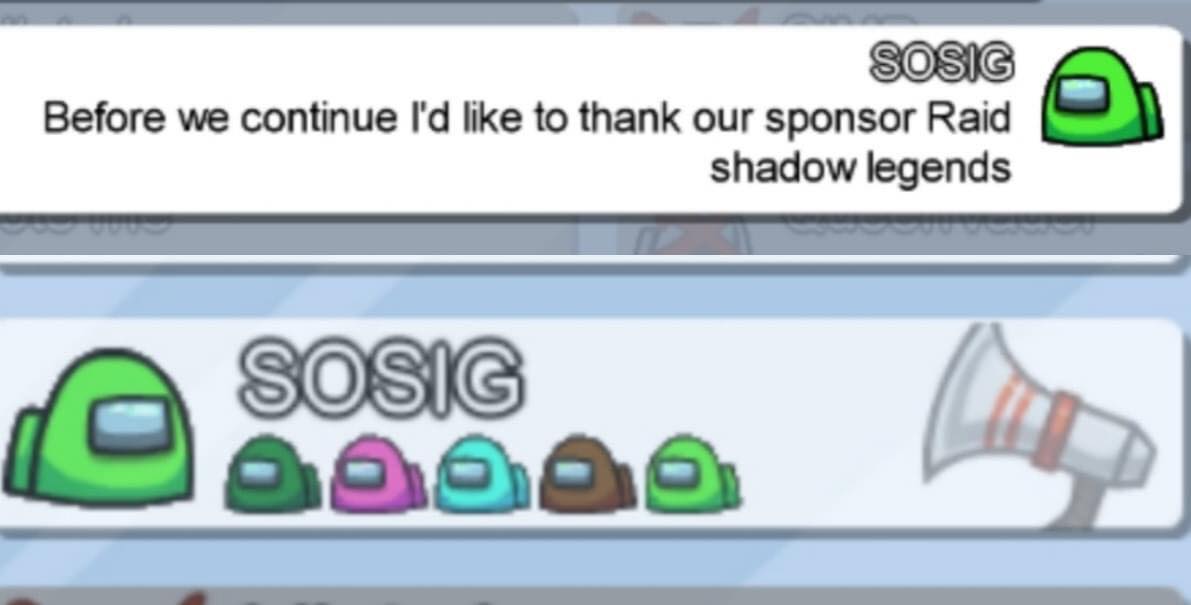 I'm definitely sick of ads or sponsored YouTube videos from Raid Shadow Legends. Go away.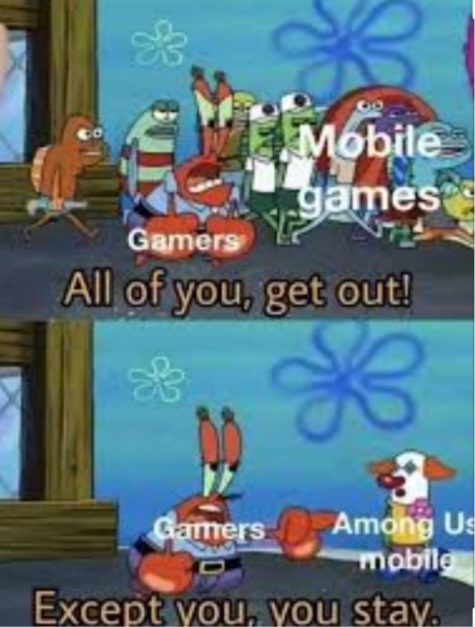 Among Us being the one good mobile game, especially since you can crossplay with PC.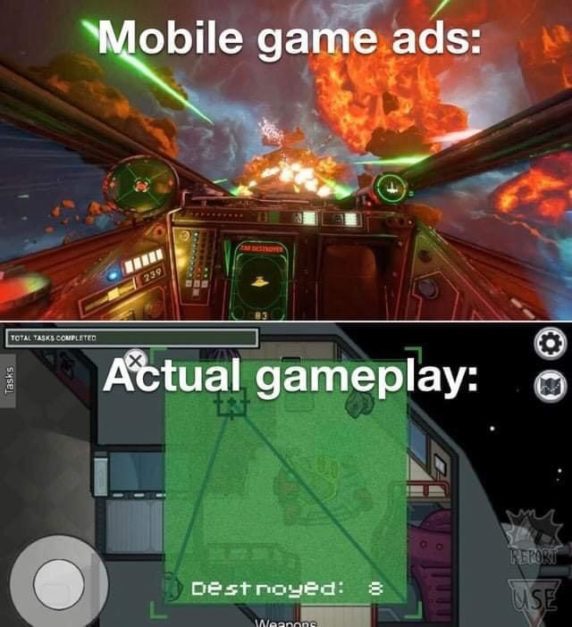 I swear some mobile games put more budget into their ads than into their entire games.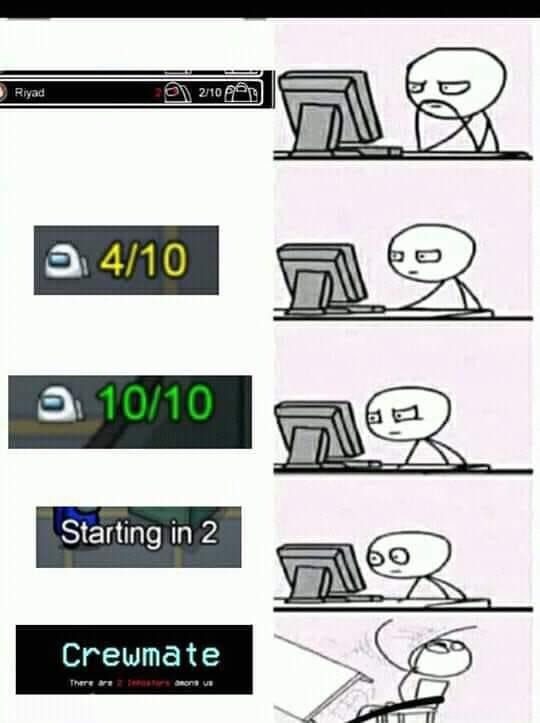 The life of an idiot.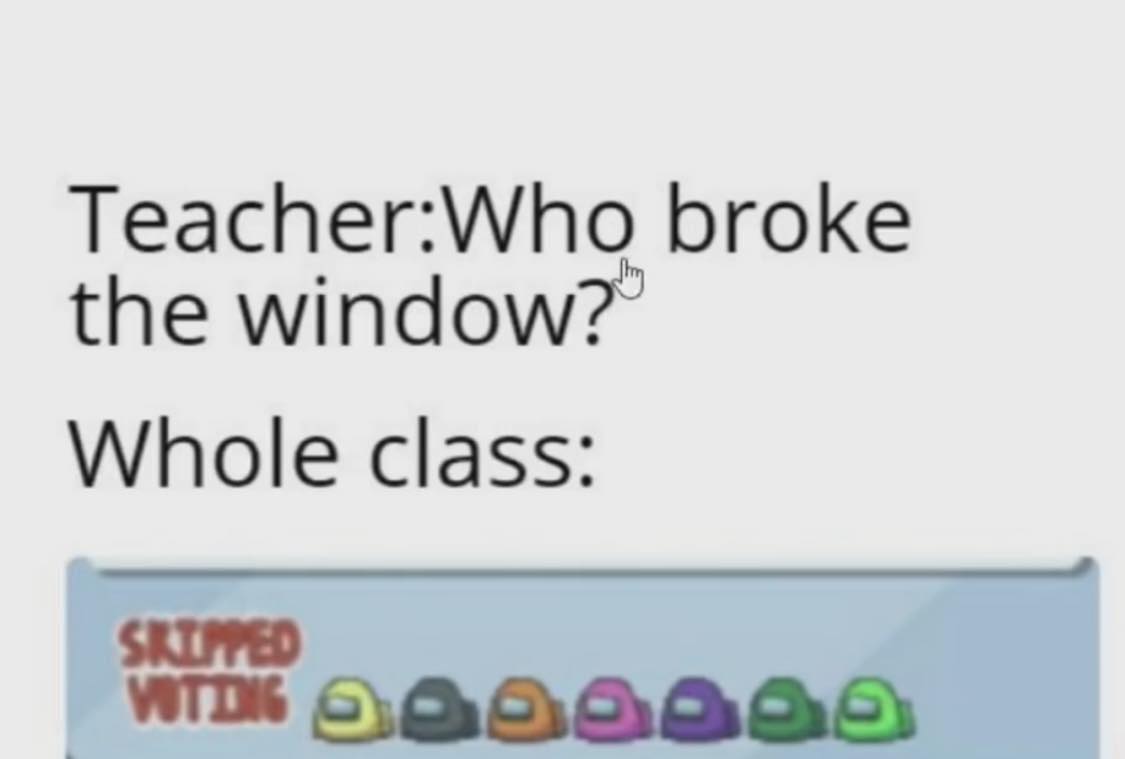 It's good when kids stick together I guess.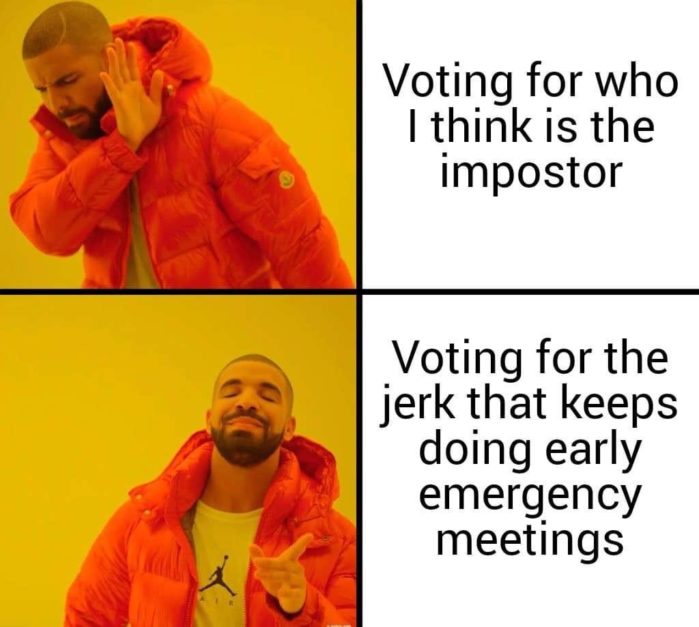 Yeah, go away.
Why do people accuse the dead?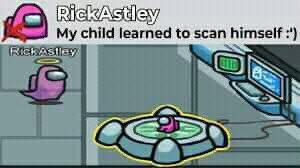 A sad but cute story.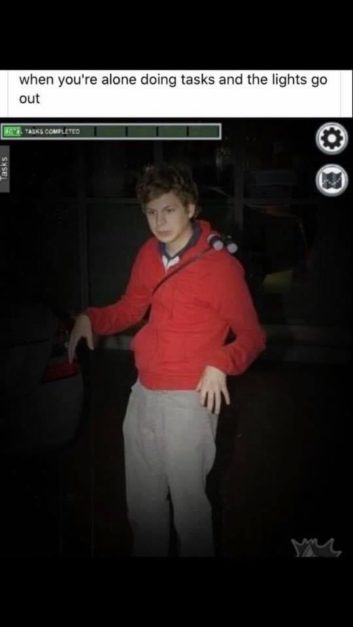 I love Michael Cera.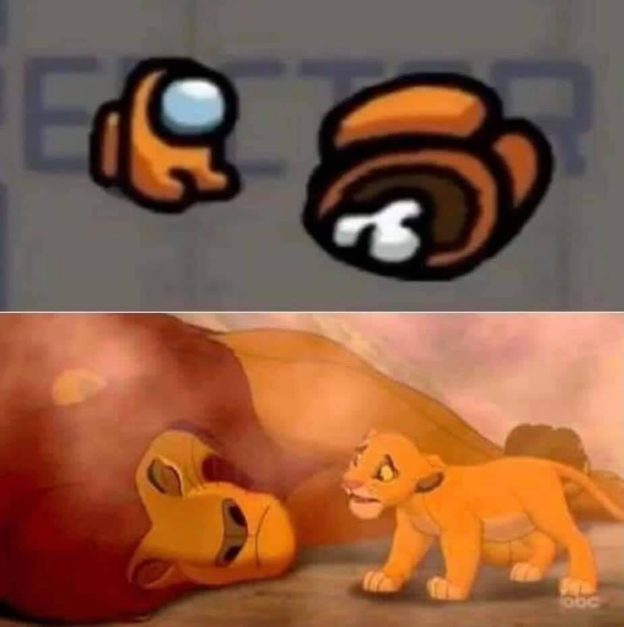 Another Lion King meme right in the feels.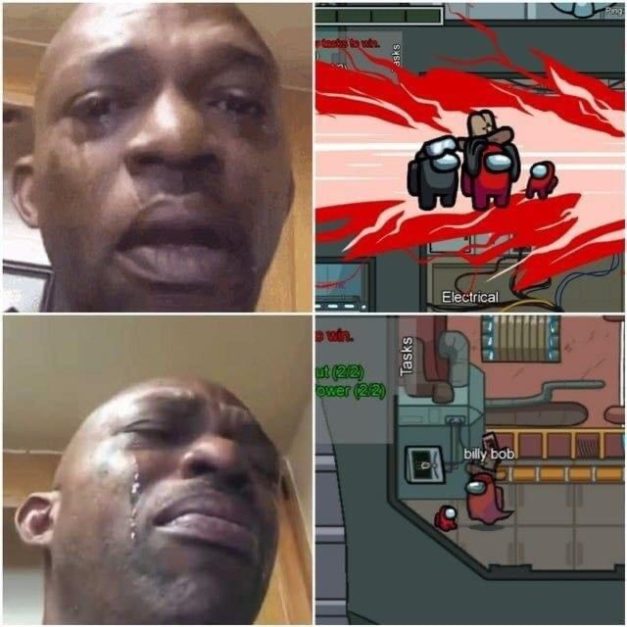 Another sad one.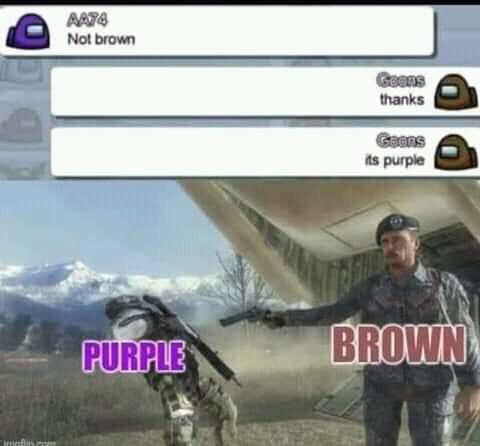 Ultimate betrayal.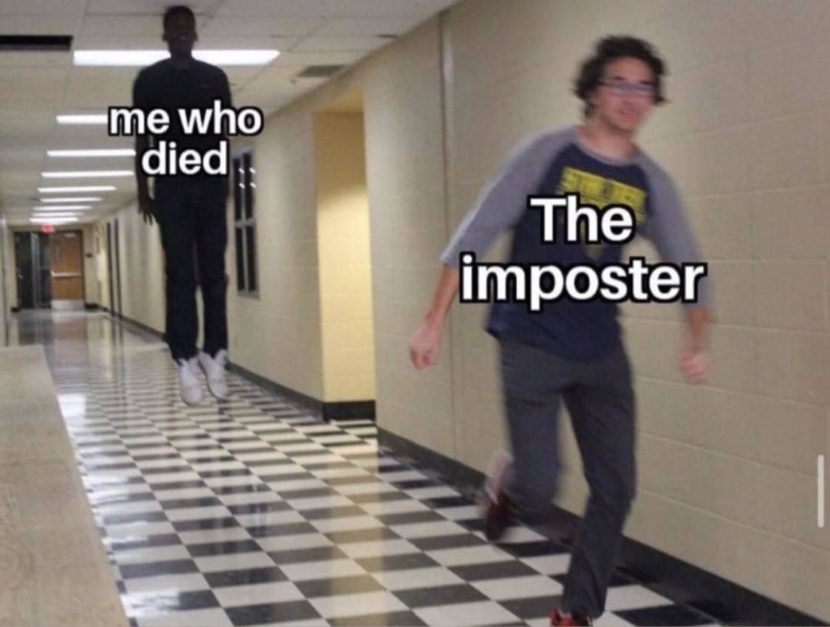 You should only really follow the imposter if you've finished your tasks.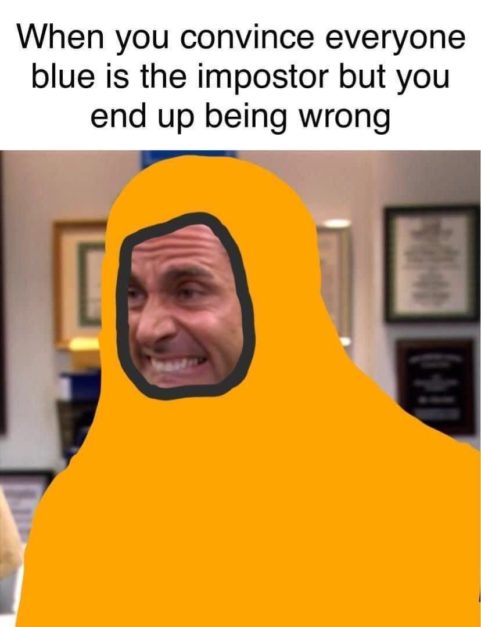 This is never nice.